If you are visiting Yosemite National Park and are looking for a fun place to stay that's unique, cozy, and incredibly Instagram-friendly, then this is the perfect place! Autocamp Yosemite has the perfect mix of campground vibes with the added bonus of some luxury modern amenities. Our three-night stay at Autocamp Yosemite was our first visit to an Autocamp location and it definitely lived up to expectations. Keep reading for our full review of the Autocamp Yosemite Airstream campground.
↓ Keep reading to for the full review + pics ↓
Autocamp Yosemite Review of the airstream campground
We live in our DIY renovated 1972 Airstream travel trailer, so naturally we are harsh critics of all things Airstream and Autocamp Yosemite did not disappoint! The campground is tucked away on forested land in Midpines, California. It's a 45 minute drive to reach Yosemite Valley, which might sound far but keep in mind that the only other lodging options that are closer are campgrounds, RV parks, or maybe a few Airbnb rentals. Plus, the drive is beautiful and goes by quickly! 
Related: Visiting Yosemite in April
The property is large with a whopping total of 86 Airstreams, a few tiny-home style cabins, and luxury tents. There's plenty of space to wander throughout the property and with campfires burning, people riding bikes around, friends throwing frisbees on the lawn, and the sound of a beer being cracked open in the distance, it truly feels as if you're walking through a campground in Yosemite valley. Autocamp Yosemite does an excellent job at bringing people together through its beautiful and inviting common spaces, pool area, dining area, and outdoor communal fire pit. And every morning you're invited for a complimentary breakfast of delicious coffee, yogurt, and pastries. The store is fully equipped with high end foods in case you've forgotten anything, and Yosemite branded goods should you want to bring home a keepsake. There's a daily shuttle that takes you into Yosemite National Park if you'd like to leave the car behind, and free mountain bikes for you to use on a first-come first-served basis. They've truly thought of everything for making this Airstream glampground a wonderful place to enjoy the great outdoors.
Tips for making your Autocamp Yosemite stay even better
Coffee and breakfast are complimentary, and delicious 😉 Take advantage of it every morning!
Pick up your choice of drink, s'mores materials, and any food you'd want before arriving. They do have some food for sale at the store on site, but the options are fairly limited. They did have some nice looking cuts of meat available for grilling up though.
The Autocamp store and front desk are open 24 hours, which is really convenient.
There's complimentary wifi throughout the entire campground. And best of all, it works great!
Don't forget your swimsuit! The pool is a nice place to cool off during the hot summer days.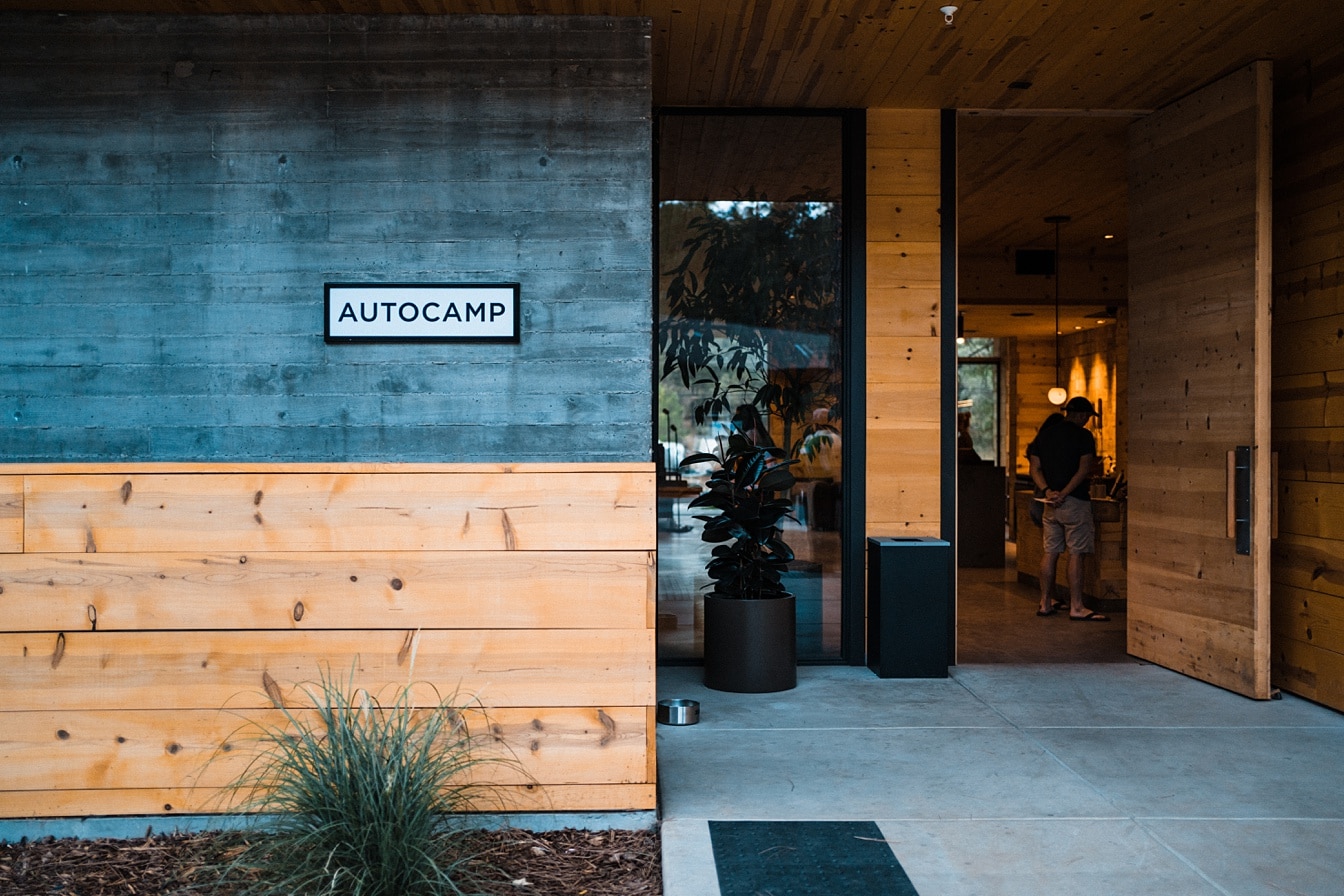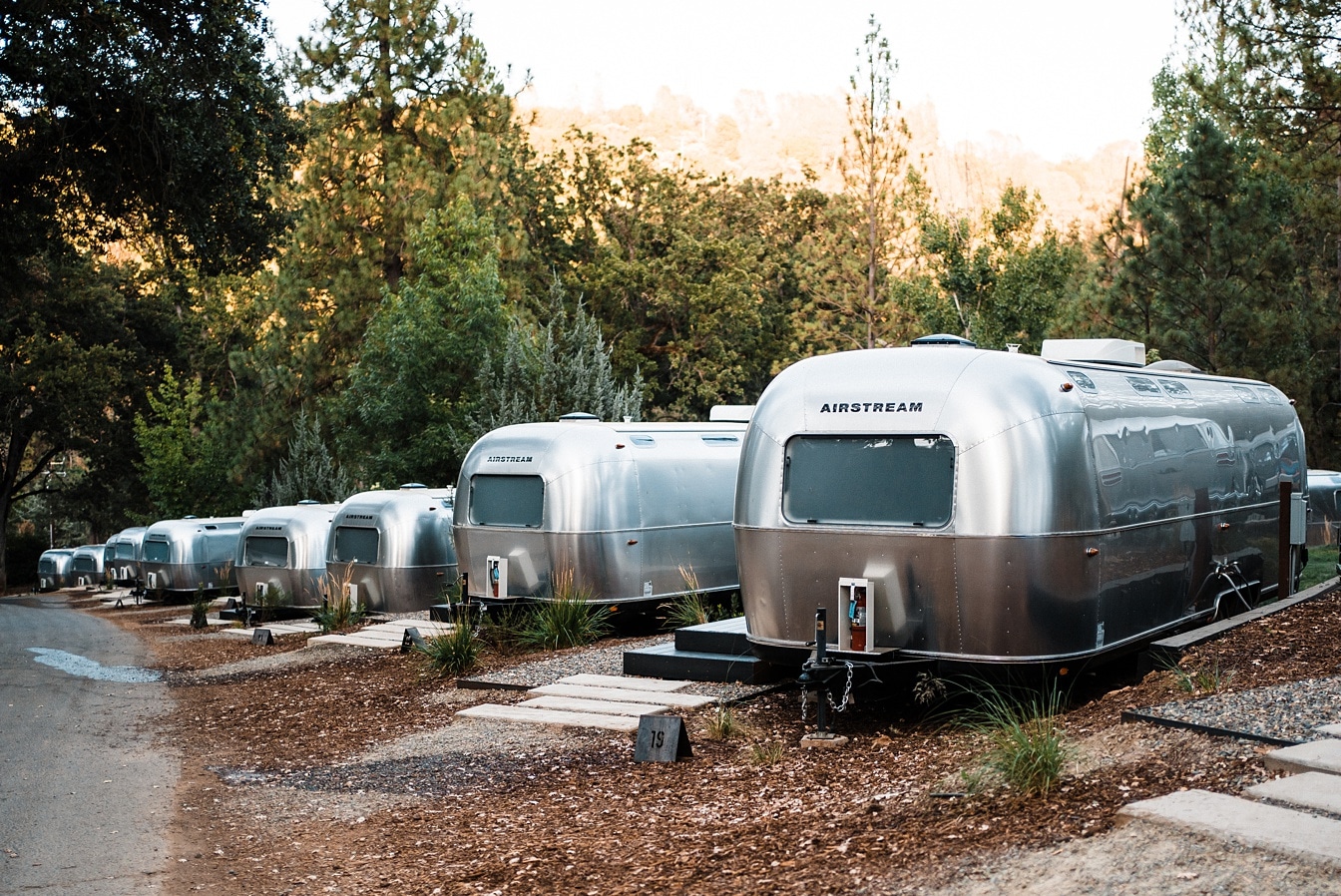 Autocamp Yosemite Review | Inside the Airstream
We have ripped apart and built back up our very own airstream, lived in it full time for 4 years, re-renovated it, and have been inside countless other Airstream builds – I'd say we're near experts at this whole Airstream thing. And coming from us experts, we absolutely love the Autocamp Airstreams. The design isn't like any other brand new Airstream that's being manufactured these days (which lack style in our opinion and is why we built our own). No, the Autocamp Airstreams are tastefully modern with simple design and a subtle camp vibe; absolutely perfect for a luxury glamping experience at the entrance of Yosemite National Park.
Related: Our DIY Renovated Airstream
Each Airstream comes with a kitchenette, mini fridge, microwave, full dining set, wine glasses, a french press with ground coffee, a cast iron skillet to cook over the fire pit, a bundle of fire safe wood for making a fire at night, an LED lantern for taking outside at night, a t.v. with cable, air conditioning for the hot days and heat for the cold ones, a comfortable queen bed, built-in bluetooth speakers to bump your tunes, a closet with robes, a futon couch, two big blankets to wrap up in at night, and a beautiful bathroom to shower in after a long day of exploring the park. Did you get all that?? Our applause to Autocamp Yosemite for not only thinking of everything one could possibly need on their weekend getaway, but for also making it all so beautiful with modern design!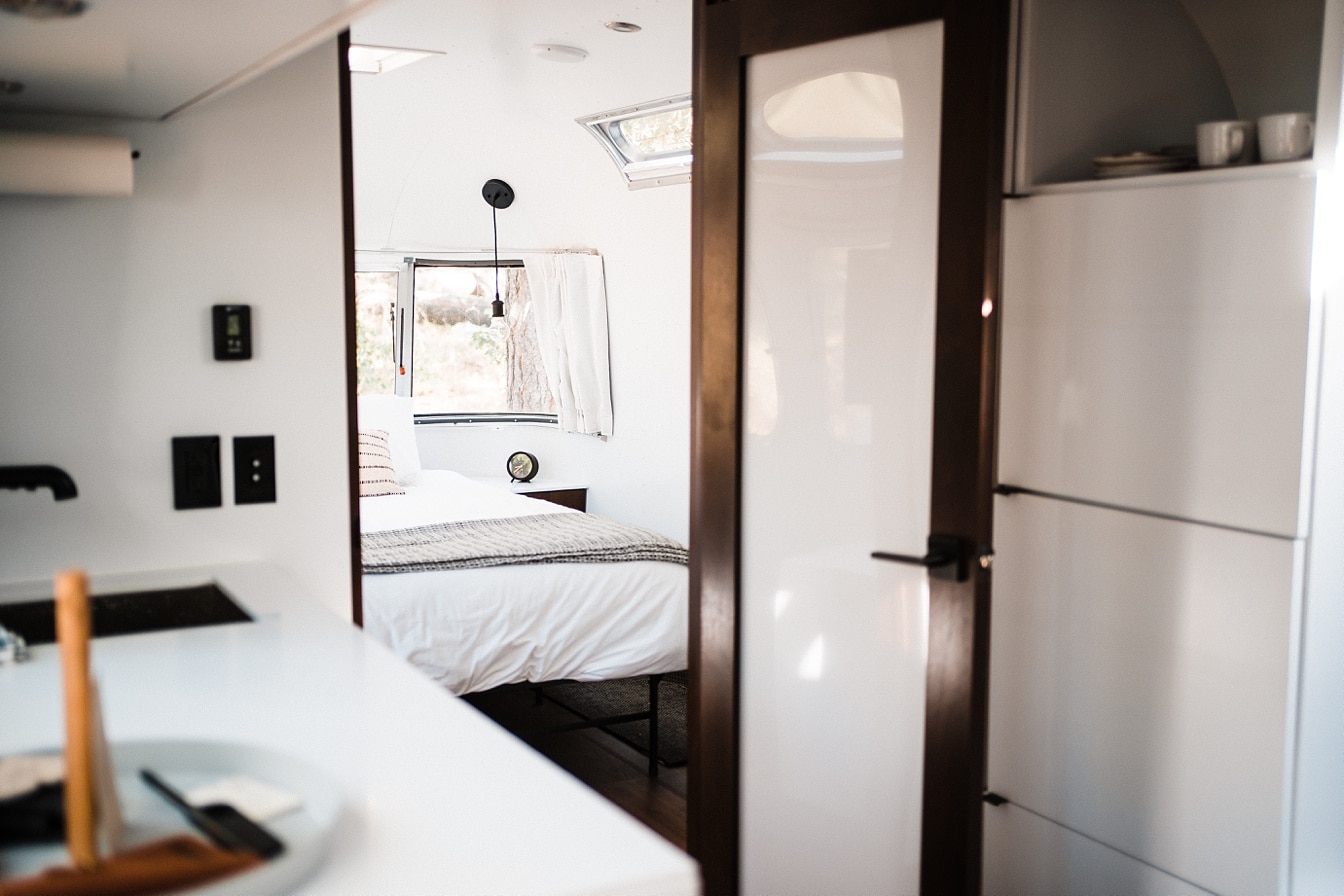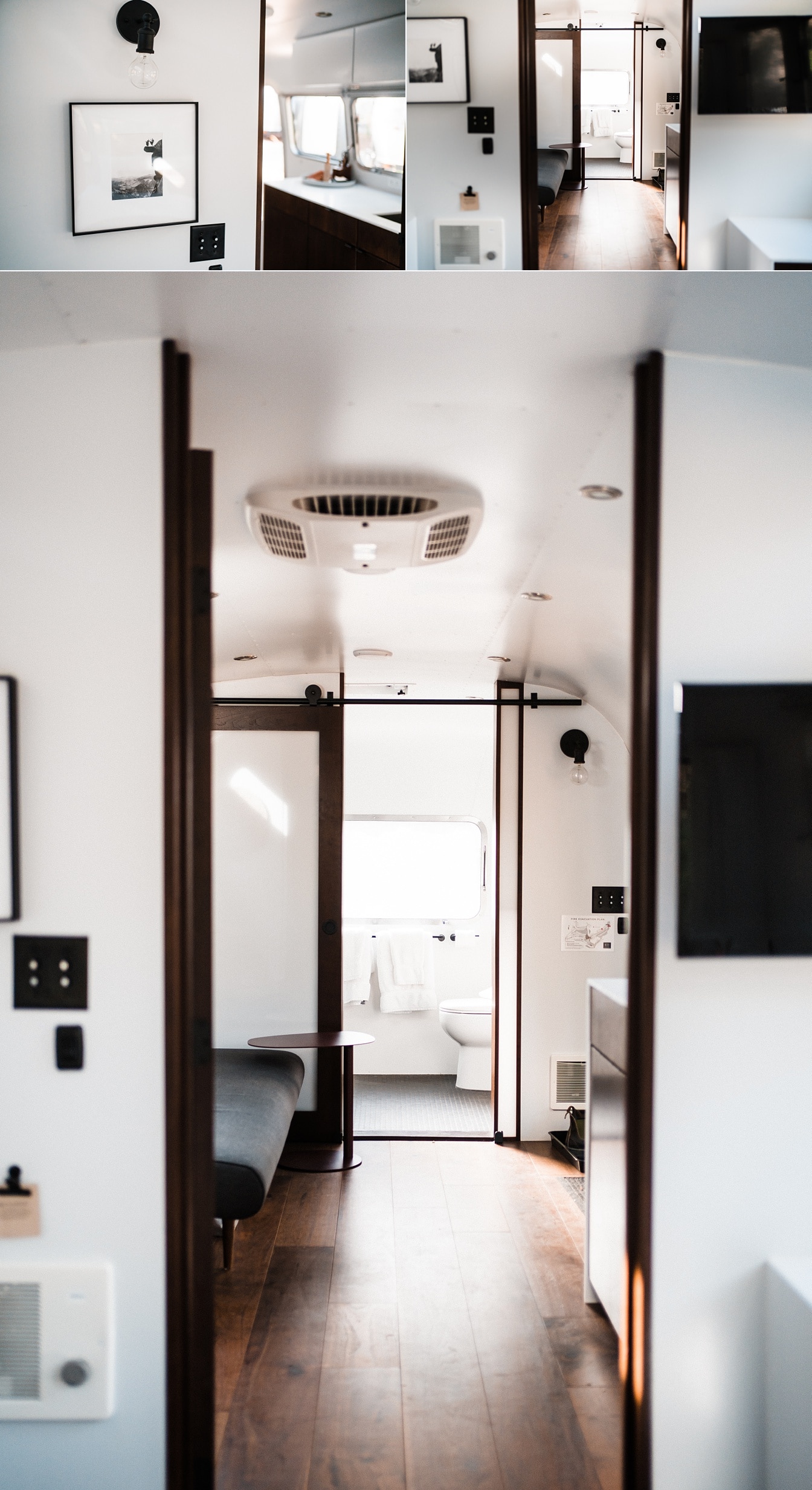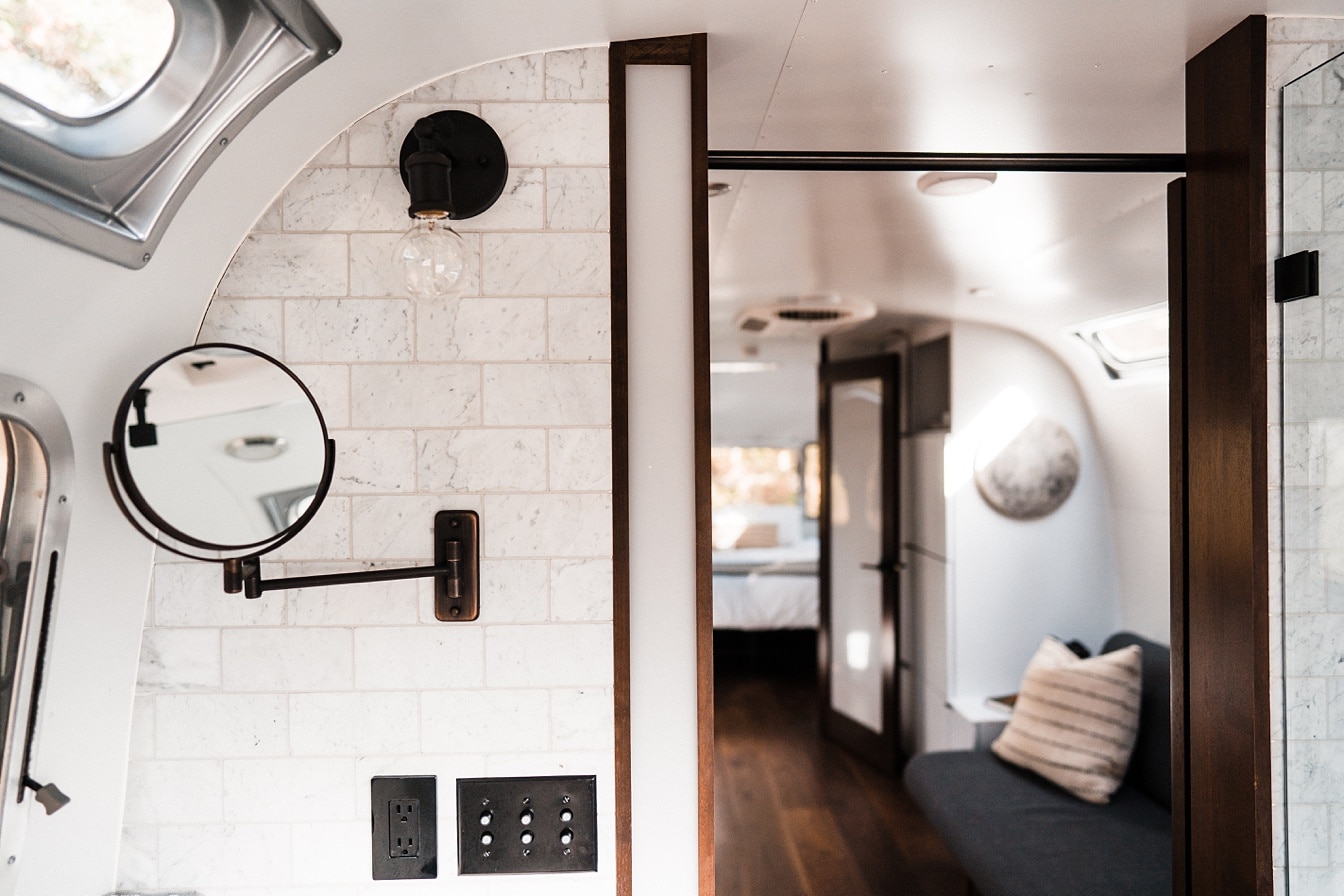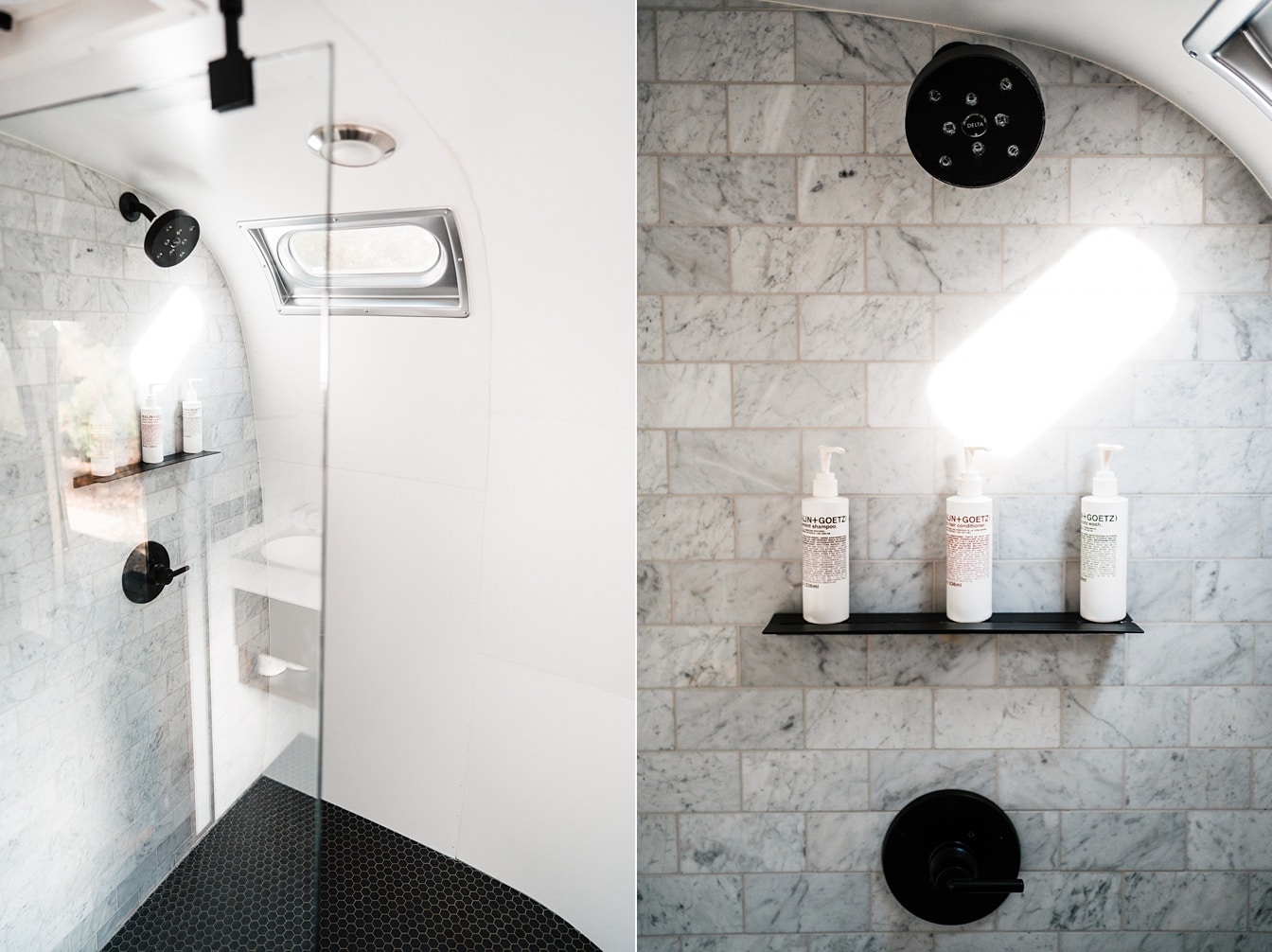 Autocamp Yosemite and your outdoor space
As if the beautiful airstream and inviting common spaces weren't enough, Autocamp Yosemite created fun, private outdoor spaces to enjoy at each campsite. There's a big round table fit for 4 people to enjoy a meal at and a fire pit to gather around at night. Since all airstreams come with exterior outlets and the entire campground has wifi, we were able to get work done outside in the early morning before heading into the park! The fire pits are also equipped with a cooking grate so you can cook up a delicious meal over the fire. We made steak and salmon our first night and it had the best smokey campfire flavor! But if you'd prefer to skip the fire meal, you can grab a gourmet dinner at the Autocamp restaurant, which offers up a different menu each night.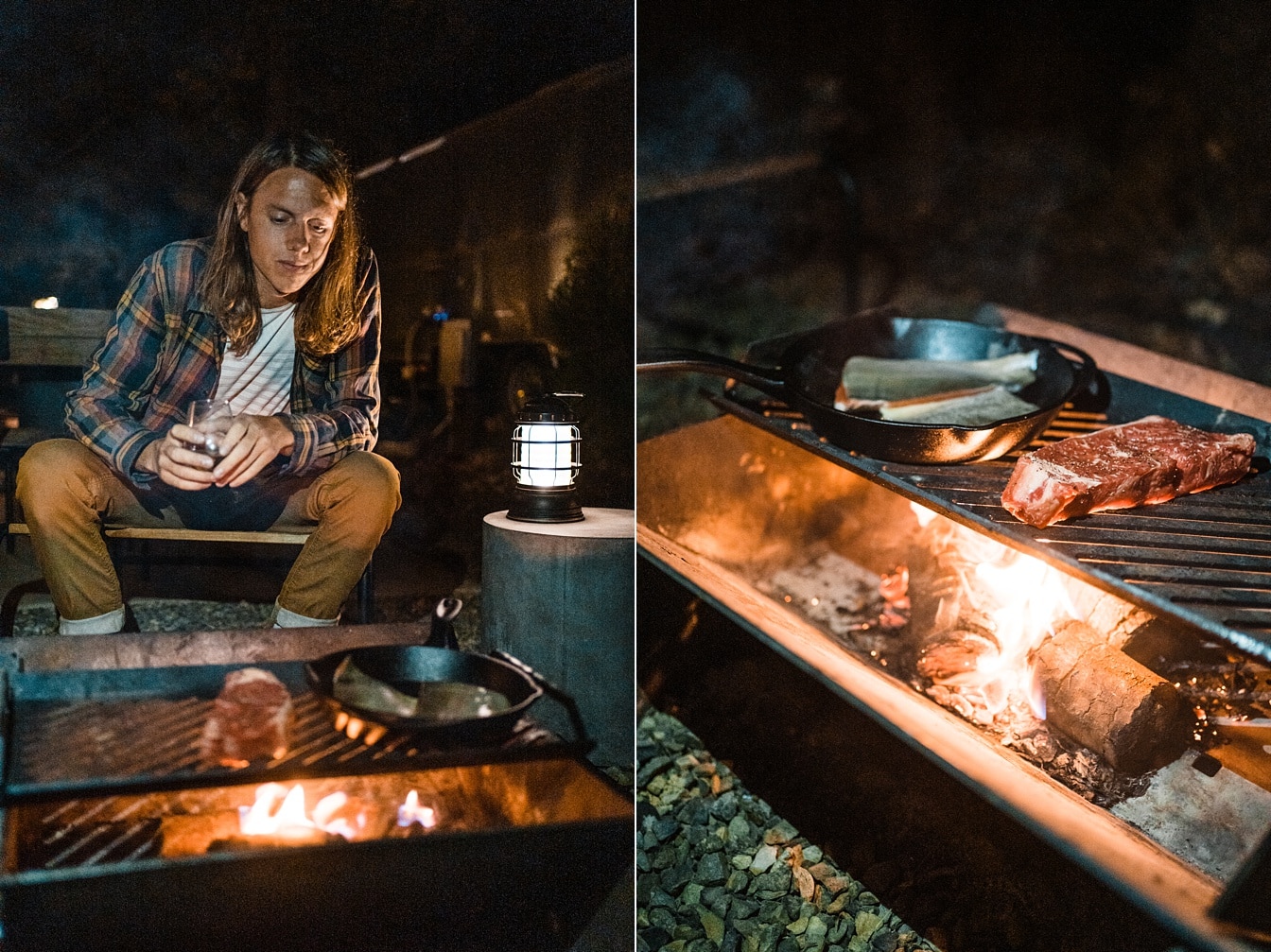 Autocamp Yosemite for WeddingS or ElopementS
If you dream of getting married in Yosemite National Park and want a unique place to stay, you may want to consider an Autocamp Yosemite Wedding. While we were there during our visit to Autocamp, we saw them setting up a beautiful wedding reception on one of the open fields on the property. We also felt the buzz of wedding guests happily wandering through the property the entire weekend. Whether you're eloping and just want a nice space for the two of you to enjoy, or having a big wedding and want to have everyone in one place to enjoy each other's company, we'd highly recommend Autocamp.
That's it! Hope you enjoyed reading our review of Autocamp Yosemite. If you end up visiting because of this article, let us know in the comments and have an awesome stay! We know you'll love it 😉