meet your elopement photographer team
elopements in wild places
What is an "adventure elopement"
choosing to forego a traditional wedding in favor of a stress-free and fun experience in the great outdoors.
More than just an elopement photographer –
When you work with our team, we help you craft an unforgettable experience that will fill you with awe and excitement all day long. We want your elopement to be a stress-free day that's all about you and your love, without worrying about anything else. We'll be there to celebrate with you and beautifully photograph every second of your adventure. When it's all said and done, you'll have incredible memories for life, plus lots of art for the walls 😉
"They captured our most authentic selves, each special moment, and the insane beauty of the landscape we were in." -A+A
– est. 2016 One of the very first elopement photographer teams
We're Gabi and Brandon Fox, the founders and original elopement photographers of The Foxes Photography. We've planned and photographed hundreds of elopements all over the world and we can honestly say, it's the best way to get married.
Our journey to elopement photography started in 2014 when we quit our city jobs, hit the road to rock climb, and traveled around the country in that spacey-lookin' thing; our DIY-renovated 1972 Airstream. We found our calling when we started photographing adventure elopements, helping pioneer a movement of inspiring couples who felt disenchanted with traditional weddings to have a wildly fun day in the wild. 
The Foxpack elopement photographer team
In 2019 we launched our elopement photography team and started The Foxpack with Hannah and Zoe. We're a tight-knit team of award winning photographers, adventure junkies, landscape explorers, nomads, and good friends, dedicated to providing the ultimate experience for your adventure wedding. Together we help plan, create, and photograph adventure elopements all over the world – when you work with one of us as your photographer, you're really getting the entire team.
collective years shooting elopements
5 star google reviews from our couples
adventure elopements the team photographed
"But when you work with The Foxes and their team, they are more than just amazing photographers." -A+L
Why us for your elopement photographer?
The 3 things that make our elopement photographer approach unique to anyone else;
We help you create a one-of-a-kind day to celebrate your love in a wildly beautiful place.
We take ridiculously incredible photos of the entire day.
We become best friends with each of our couples during the planning process so you feel incredibly comfortable and have FUN with us there to capture your day.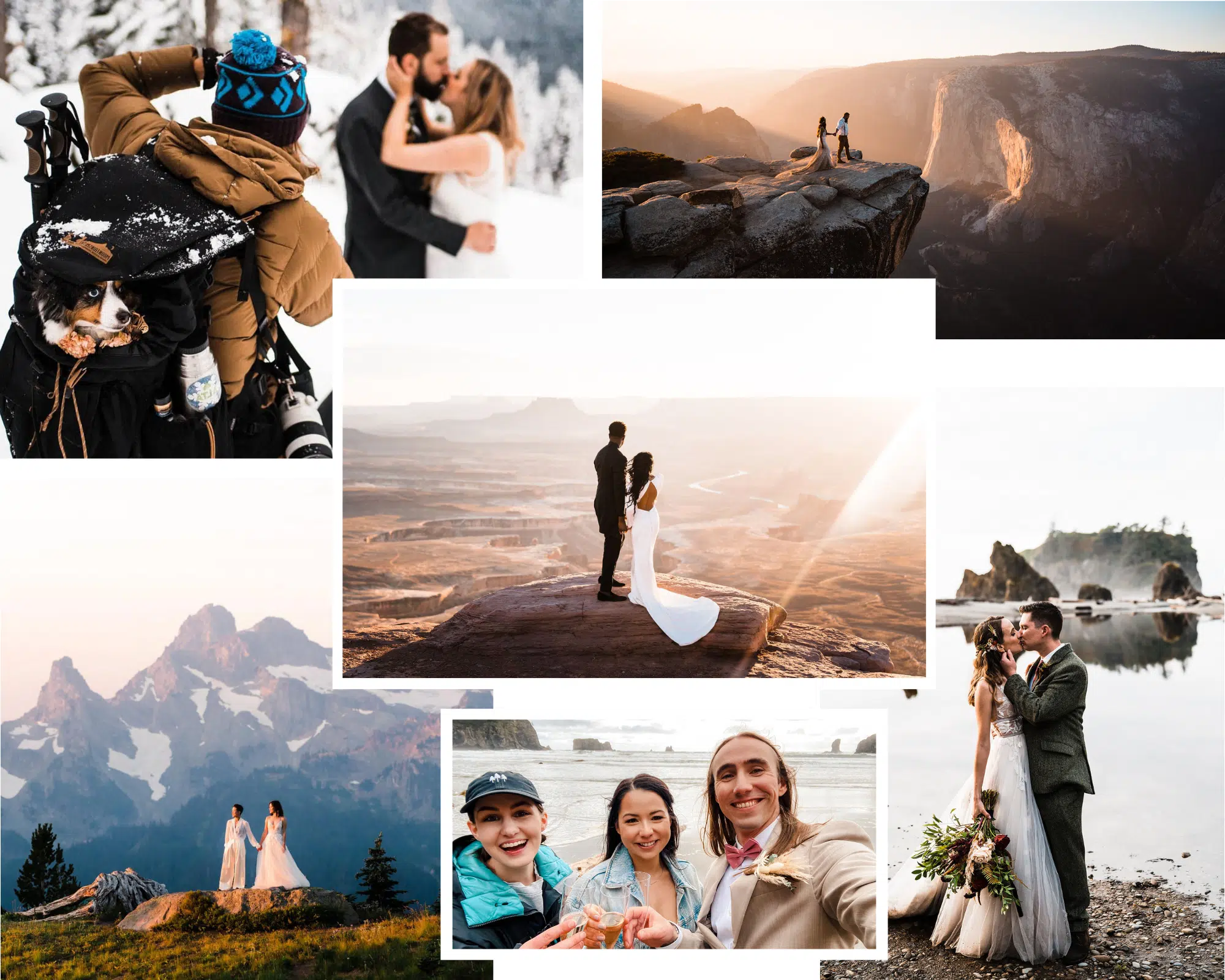 How does eloping with us work?
We hop on an introduction call where we get to know each other, hear about the vision for your day, and start the fun elopement planning.
When you've hired us as your elopement photographer, we'll send you our custom location, vendor, and timeline recommendations. Over the next few months, we'll help the most fun-filled wedding day you could imagine.
When the big day is finally here, our award-winning photography skills kick into gear as we artfully document every moment of your day.
"It's hard to believe that our elopement day was the first time we all met in person; Hannah felt like a friend with a camera (who captured breathtaking photos of us!)."
"After just one phone call with Zoë, we were completely at ease and just handed her the reigns. Letting go of the reigns was the best possible gift to receive for my wedding and Zoë dreamed up the perfect day."
"This goes without saying… but the Foxes photos are art. Beyond what you see on Instagram, they capture every detail and have a wide range of shots that will make anyone swoon."
If it isn't obvious yet, we absolutely love what we do, and we would be honored to be elopement photographer team
Get in touch with us to book a free planning call and get started chatting with your elopement photographer team! And if you'd like to keep looking through information and photos on our site, here are some links to help get you started on the journey.
Our full day adventure elopements on the blog
Here are inside peaks at some of the days we've created and photographed with our couples. This is a great way to get a feel for elopement photography, best places to elope, and what full day adventure elopements look like!
Sound like we're the one's for you?