If you've spent any time exploring our website, you probably noticed that we live and work out of an Airstream – a 27-foot 1972 Airstream Overlander, to be precise. But when we bought, it looked nothing like it looks today. It was basically just an empty shell, ready to be customized and brought back to life, which is exactly what we were looking for. When we towed it home after first picking it up, it was the beginning of a long, arduous, and dirty project that was way, way over our heads. This post is a journey of words and images through our DIY Airstream renovation.
In the summer of 2015 we gut renovated our 1972 Airstream Overlander to be our 100% self sustainable, off-grid, mobile live-work space. This project took us 6 months to complete, 4 of which we were working on it full time. We had absolutely NO PRIOR KNOWLEDGE of anything related to renovation at all. At the time there weren't a lot of other Airstream renovators to draw inspiration from or online resources so everything we did we learned how to do on the fly. We receive questions about our renovation project daily so we decided to put together this blog post in hopes to help and inspire other people taking on an Airstream renovation project.
---
Helpful renovation resources
AIRSTREAM RENOVATION PART 1: TEARDOWN
AIRSTREAM RENOVATION PART 2: STARTING TO PUT IT ALL BACK TOGETHER
So, like I said, we were in waayyy over our heads. Nevertheless, we got right to work like the naive, foolhardy DIYers we are. First order of business was to tear it apart even more, tackling all the structural issues first. We replaced some rotted floor in the rear, replaced the water tank, treated the frame, removed all the old, nasty insulation, updated the wiring…we basically took the trailer from 1972 to 2015, structurally speaking. We had no idea how to do any of this stuff, but thankfully the internet did. Still, it was A LOT of trial and error.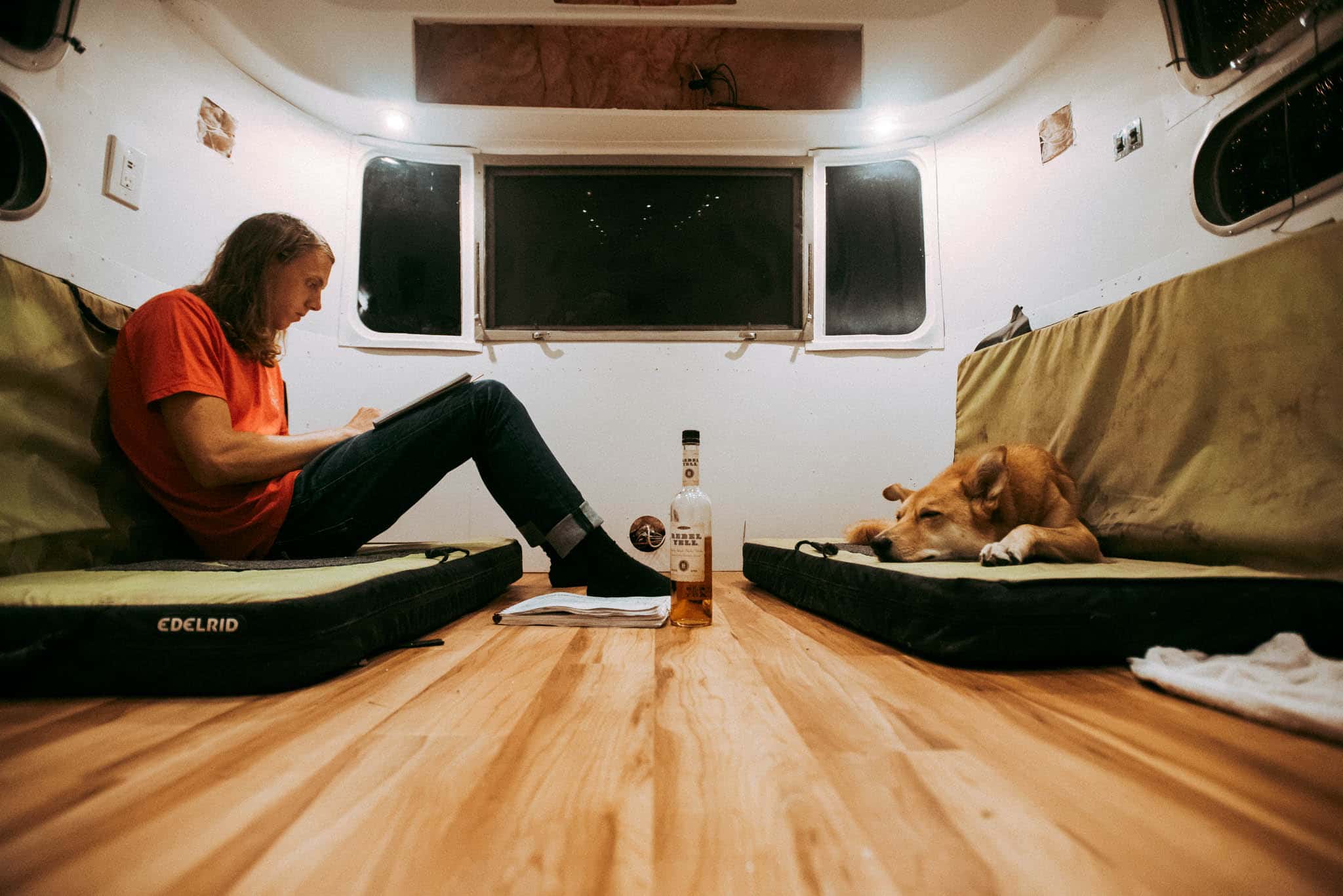 AIRSTREAM RENOVATION PART 3: THE BUILD
This was a major milestone in the entire renovation process, and one of our favorite moments. We had been working day and night in my parent's driveway for three months, and finally had the skins back in, the floors laid down, and the walls painted. We officially had our "blank canvas."
We were so excited and the idea of actually living in this thing finally seemed attainable. We ate take-out Chinese food in the empty trailer, with my parents and our dogs cozying in on the floor. We reflected on everything we had done up to this point, and fantasized about the next stage of renovation, building out the interior. Brandon and I were so giddy that we slept out there on our crash pads! This is my favorite memory from the entire renovation <3
AIRSTREAM RENOVATION PART 4: HIT THE ROAD!
Our excitement at finally reaching this point was incomprehensible. We were constantly in awe of all that we had done. We had been renovating full time for six months, and we finally had something that resembled an actual camper that could be lived in. Sure, we still had a handful of projects left, but we had enough done for the time being to hit the road! We had been living on the road already for a year and a half, but we started a whole new chapter when we took off with the Airstream in early November, 2015.
AIRSTREAM RENOVATION PART 5: KEEP RENOVATING...
Since setting out in the Airstream, we've continued to chip away at projects here and there, making small improvements to things we left unfinished. But for the most part, we haven't changed a thing, nor would we. The layout has been perfect for our daily life and it tows like a champ! Here is a collection of photos that show what the Airstream looks like at present. We took these in early 2017 at one of our favorite climbing destinations and winter hangs, Hueco Tanks, just outside El Paso, TX.
LIVING IN AND LOVING OUR DIY RENOVATED 1972 AIRSTREAM
We're so proud of the work we accomplished and love that we can now share our space with the greater community of wanderers and adventurers. We've taken TONS of inspiration from projects we've seen online, on instagram, and elsewhere, so we hope that sharing our home-on-the-road might do the same for others.
Photography and travel are easily our two favorite things in life, and it's amazing that we are fortunate enough to combine the two on a daily basis. There's never a shortage of inspiration when you can pick up go somewhere new at a moment's notice. Living in a small space and often far off the beaten path definitely has its struggles, but the forced spontaneity keeps us on our toes and influences our work in a wonderful way.
Related: Check out Apartment Therapy's House Tour of our "Dreamy" Remodel
See more of The Foxes Travel Photography
AIRSTREAM RENOVATION FREQUENTLY ASKED QUESTIONS
Q: How well does your catalytic heater work?
A: This is the best purchase we ever made. It heats up the entire Airstream within an hour and keeps it nice and toasty in freezing temperatures. We leave a nearby window cracked when the heater is on for proper airflow and have a carbon monoxide detector that we check to make sure is working regularly.
Q: What is your solar system setup?
A: This is our most asked question. We have four 100 watt solar panels that we taped to the roof with VHB tape and solar mounting brackets from amazon. They fit well even with the curve of the roof and have held up in 70+ mph winds while propped up! We highly suggest putting your panels on a tilt mount because tilting your panels will significantly increase the amount of power you're able to draw in. We have two 6 volt 225 amp hour batteries wired in series for 12 volts total. The brand is vmax and we DO NOT recommend this brand. Unfortunately we've had problems with them holding a charge and even had them replaced. We're saving up for lithium batteries. This setup is sufficient for us to run our computers all day in full sun. We're working on a separate blog post on our solar system.
Find VHB tape and solar mounting brackets on amazon.
Q: Where did you find the LED recessed lights.
A: Amazon! They're out of stock on the exact ones we bought, but these are almost identical. We recommend going with warm white lights, instead of bright white.
Q: What should we budget for a renovation like this?
A: $20,000+ total. We put about $13,000 into our renovation on top of the cost of the Airstream itself, $6,500. We bought the Airstream with cash and put everything else on the Chase Freedom 15 month 0% interest credit card. Since we don't pay rent and just campground fees, paying off the credit card at $900 per month was easy.
–The Chase Freedom card gives you $150 bonus when spending $500 in the first 3 months and 5% back on the bonus category of the month which is always either groceries, gas, department stores, or restaurants.
*This is not a sponsored add. We personally love the rewards from this credit card and only recommend this route if you're the kind of person who will actually make your payment every month to avoid interest charges after 15 months!
Q: What does your bathroom look like?
A: It's unfinished. We built a compost toilet which is amazing and was a total game changer from going out in the woods! We'll be finishing the bathroom winter 2018 and while the compost toilet we build has been great, we are going to be installing the Nature's Head Composting Toilet. The clean and simple design is worth the investment.
Q: Where did you get your new water tank?
A: We had it made from Vintage Trailer Supply. It was pricey (around $300) but it was worth it to us considering the old one hadn't been used for decades and had some nasty things growing in it. If your Airstream has had people using the water tank recently enough you can just clean it out with a bleach or vinegar mixture.
Q: Where do you park the trailer?
A: BLM (bureau of land management) land or forest service roads usually provide a beautiful (and free) campsite that we can stay on for 2-8 weeks. To find these sites we research the area on google to find BLM land and learn what the rules for camping on it are. Then we'll scout out the location when we get there to make sure we can make it with the airstream. Yes, we've gotten into hairy situations in which we had to back out or turn around and find a plan b, but for the most part we've been pretty lucky with our spots. When we have to be near a city we search craigslist for tiny house parking. That's a little harder to come by since those spots are highly desired, but if we keep an eye on Craigslist for long enough, something good always comes up. You can only stay at campgrounds for 2 weeks so that's only an option for short stays. Our last resort is an RV park because they're usually pretty pricey and pretty crammed.
Q: Where did you get your oven?
A: It's a used Force 10 oven we found on craigslist that originally lived on a boat in Massachusetts. It was caked with sea salt when we bought it and cleaned it up as best we good. The stove top works just fine but the oven hardly works. I don't know if that's because we bought it used or if the Force 10 ovens don't work well in general. I wish we had done more research on them before we bought them but the standard RV suburban ovens don't have great reviews either. Your best bet is finding an original one that came with the Airstream. Our friends have one and their oven works perfectly!
Q: Do you have the files for the CNC cut furniture?
A: No we don't. Unfortunately we didn't keep those files 🙁 If we did and had a penny for every time someone asked for them, we'd probably have one hole dollar 😉
Q: Did someone help you with electric and plumbing?
A: No, not at all. We (and by we, I mean Brandon) did a SHIT TON of research on all this stuff. He drew out many electrical and plumbing maps (which we recommend saving in case you need to get to a certain wire in the future), read many online articles, and watched lots and lots of youtube videos. Once we were ready to start wiring there was a lot of trial and error and had taking apart/re-doing it quite a few times. It's a big headache and can seem like a daunting task but I PROMISE YOU, just keep at it and it will start to make sense and come together. Also, plumbing was super easy, don't get stressed about that part.
This is a constantly growing list of Q and A's. If you have a question that wasn't answered here just email us directly at hello (at) thefoxesphotography.com and we'll do our best to get back to you! Please don't fill out the contact form on our contact page, that's for couples inquiring for our business and Airstream inquiries tend to get lost in the shuffle.