Your guide to having the best Utah elopement!
One of the best (and hardest) things about eloping in Utah is all the amazing options this state offers when it comes to getting married in a stunning landscape. On one hand, you can't really go wrong wherever you decide to elope here. On the other hand, making a decision on where to elope in Utah is hard! But don't worry, we got you. This guide to having the most epic Utah elopement will help you pick the perfect elopement location for your day – and give you a bunch of ideas for your mini moon adventure!
↓ Keep reading for the full story + pics ↓

Our guide to eloping in Utah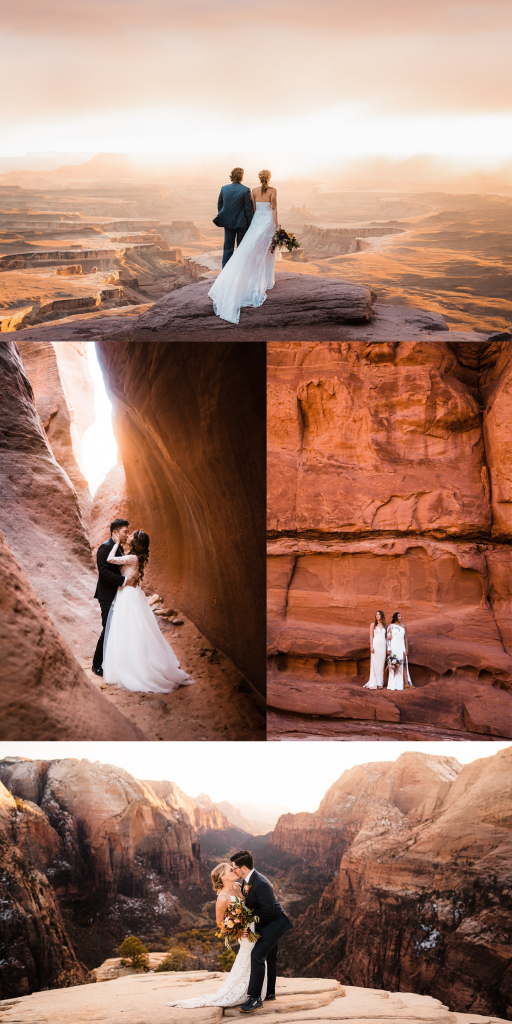 Best time to elope in Utah
Because it is mostly desert, the best times to visit Utah are in the spring and the fall. These times of year have the most moderate weather. Our favorite months are March, April, October and November because the crowds are usually lower and the weather is sunny but not hot yet! The summer months of June – September can get extremely dry and hot, with risks of flash flooding from summer thunderstorms. Summer temperatures frequently break 100 degrees throughout the state! 
Although some hikes, like The Narrows in Zion, are refreshing in the summer, they can also get very crowded. The winter, though a bit chilly, can be a beautiful time to elope in Utah. The beauty of snow blanketing the hoodoos of Bryce Canyon or the mesas of Zion is unreal. And you'll experience the least amount of crowds in the winter than any time of the year.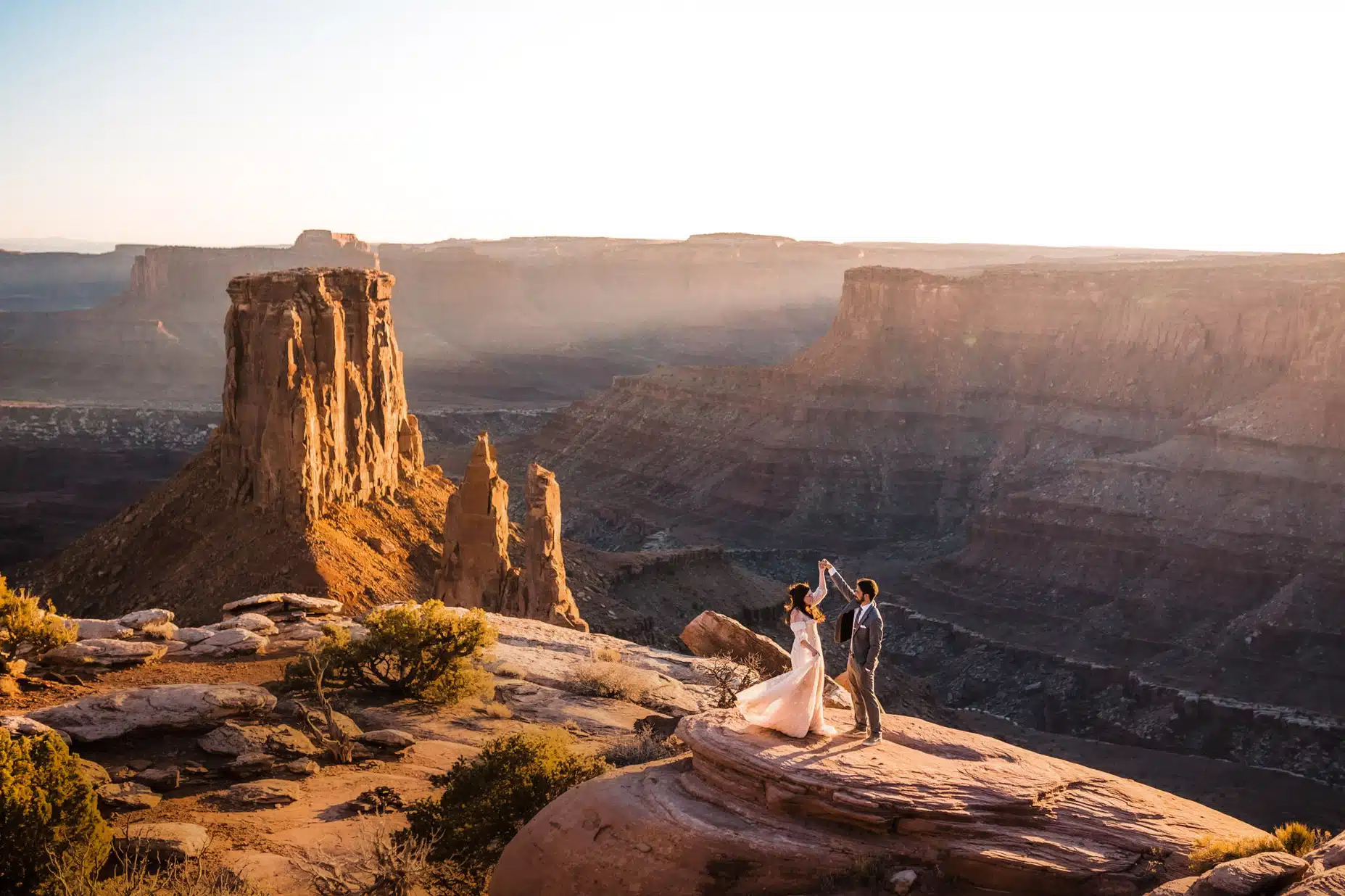 Utah is home to the "Big 5" as they call it. Zion National Park, Bryce Canyon National Park, Canyonlands National Park, Arches National Park, and Capitol Reef National Park. As if that wasn't enough, Utah also features 7 National Monuments, 6 National Forests, 4 National Historic Trails, the Glen Canyon National Recreation Area, and the Golden Spike National Historic Site, plus vast swaths of BLM (Bureau of Land Managament) land! Seriously, Utah is STACKED. Check out this Complete List of Utah National Sites to learn more. 
Here's our list of the 9 most epic places to elope in Utah: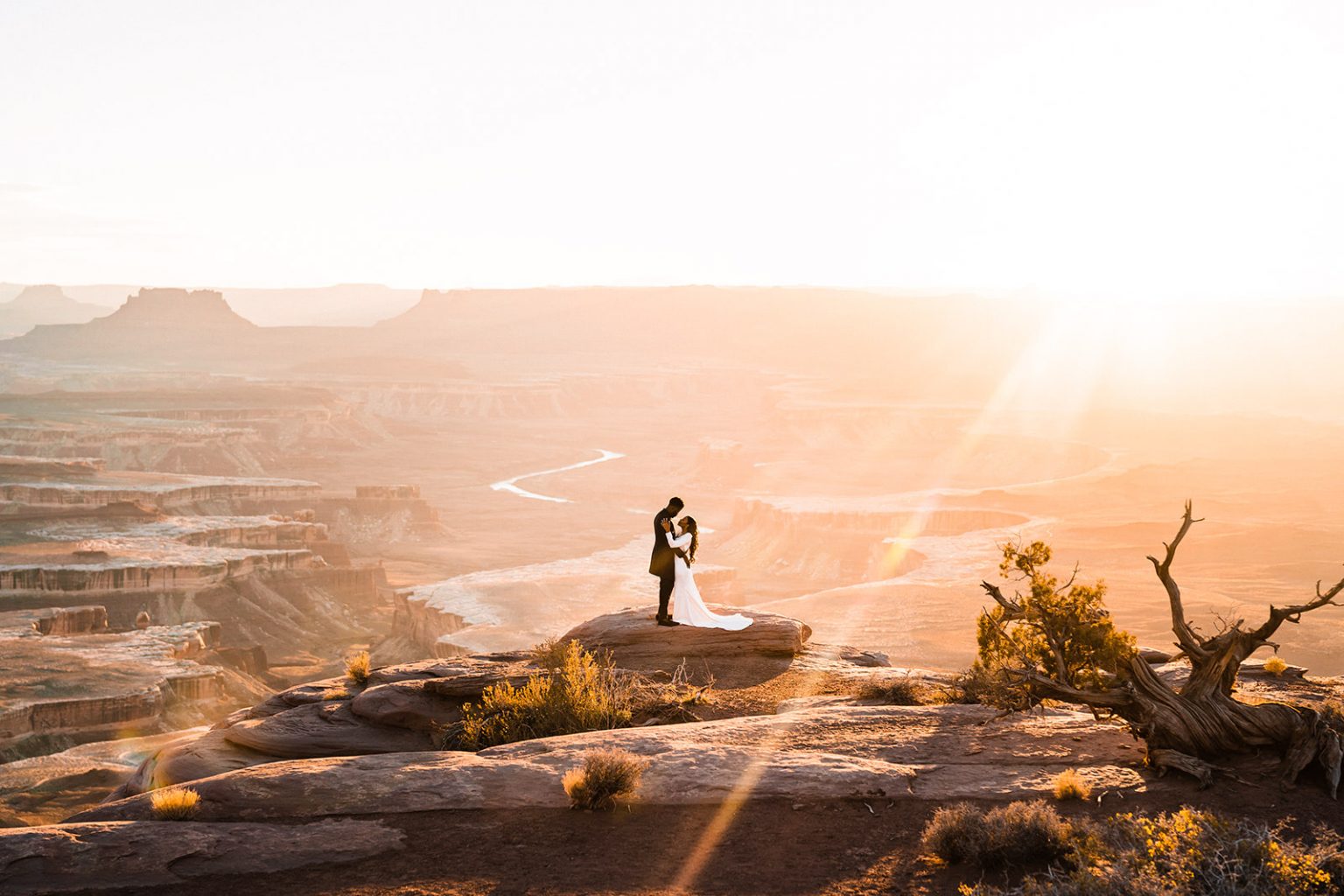 Eloping in Canyonlands National Park
The Moab desert can be a week (or life) long road trip in and of itself! With must-see hotspots like Canyonlands National Park, Arches National Park, Dead Horse State Park, and Moab BLM land, you will have a blast exploring these so close, yet so different places. Our first stop is Canyonlands National Park, full of countless rain and river carved canyons and buttes, Canyonlands is a desert wonderland. Here, you get to experience a preserved wild west landscape that appears to be out of an old western film. Check out a real elopement in Arches and Canyonlands National Park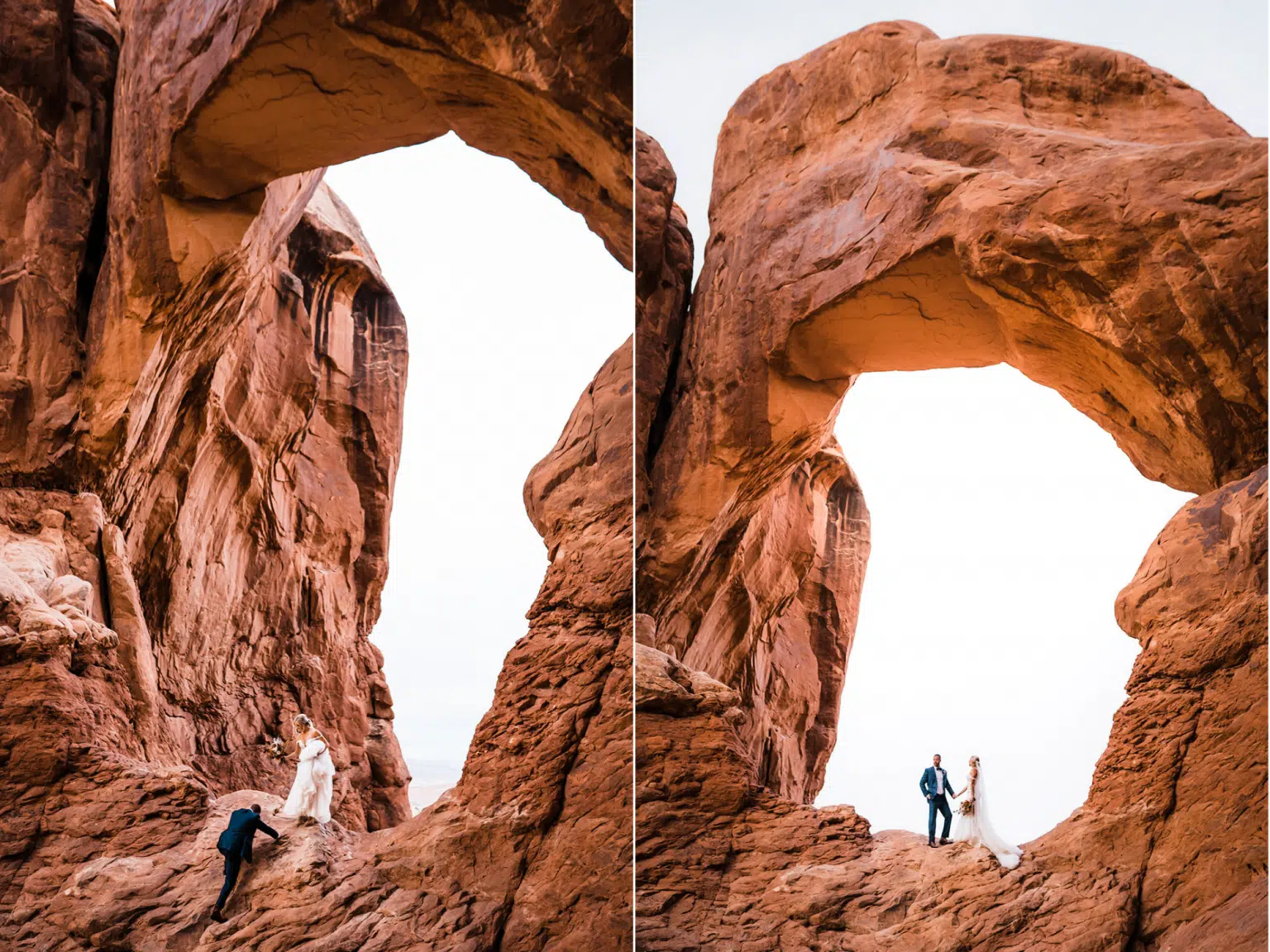 Eloping in Arches National Park
We've still never encountered anything quite like the wild terrain of Utah, and Arches National Park might be one of the most unique places of them all. This park is covered in balanced rocks, pinnacles, and of course, over 2,000 towering red rock arches! The majestic landscape is formed by wind, rain, and river erosion. There is no shortage of Kodak moments here!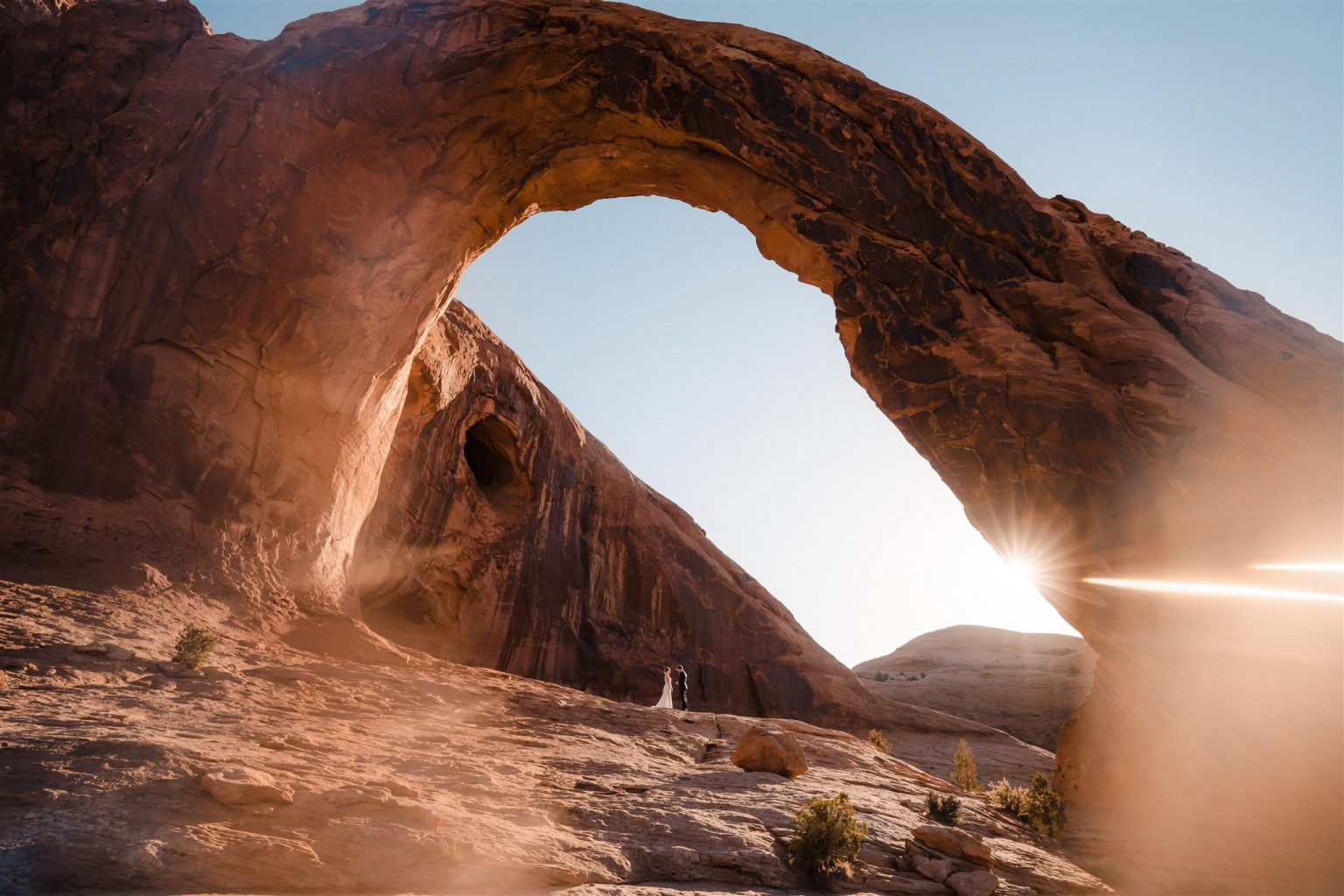 Undeniably out most favorite places for eloping in Utah is Moab BLM, or Bureau of Land Management, land is publicly owned and preserved. Similar to National Parks, the mission of the BLM is "to sustain the health, diversity, and productivity of the public lands for the use and enjoyment of present and future generations." Moab's BLM land is in the heart of the Colorado Plateau, and is a mecca for rock climbers, mountain bikers, and river rafters. Grand sandstone walls, muddy jeeping roads, puppy romps, laughs upon laughs, and desert sunset light, fill your elopement day out here. Grand sandstone walls, muddy jeeping roads, puppy romps, laughs upon laughs, desert sunset light, and a whole lotta love. It's a different kind of adventure, one that feels free and open, like you're on a different planet with no rules or restrictions. Just out there, all alone with the vast desert to yourselves, exploring the canyons and vistas that seem to go on forever!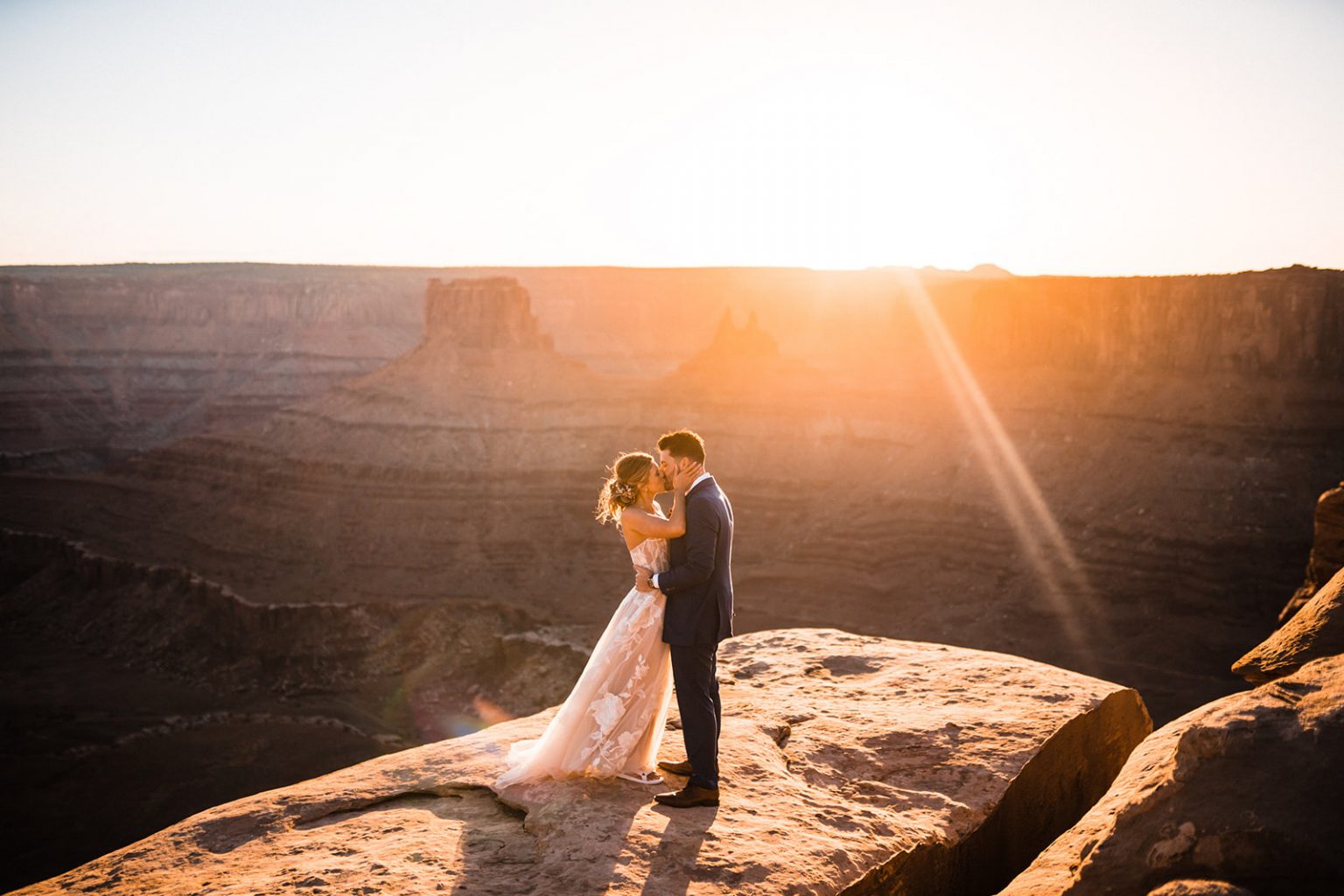 Eloping in Dead Horse Point State Park
You can't talk about eloping in Utah without bringing up Dead Horse Point State Park. Perched on a peninsula 2,000 feet above the Colorado River, hikers are treated to endless cliff views over dramatic sandstone canyons, contrasted with the snowy peaks of the La Sal Mountains in the background. Because of this unique peninsula formation with almost 360 degrees of cliffside views, Dead Horse Point State Park is easily one of the best places to elope in Utah. Every trail features epic photo spots to capture some iconic Utah elopement portraits. You really can't go wrong having your Utah elopement here, you just might want to skip reading about how the park got its name 😉
Your Utah elopement photographer is the most important decision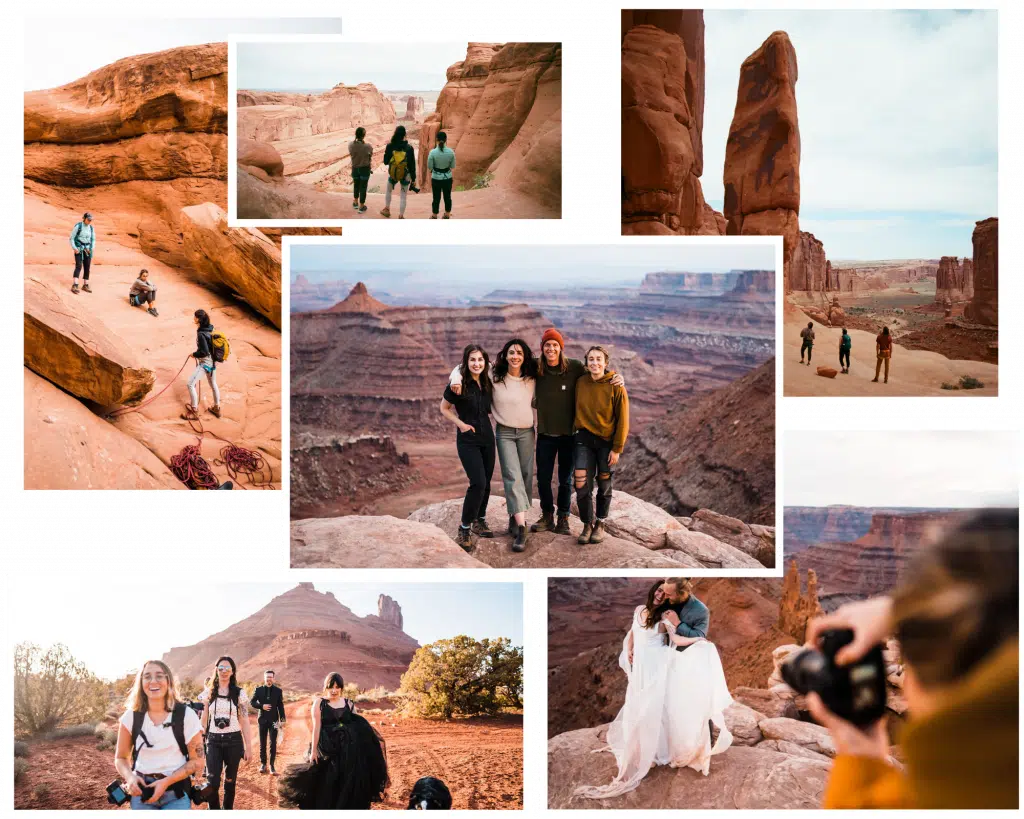 We've planned and photographed 300+ elopements all over the world and are based in Utah for half of the year – we are Utah elopement photography and planning experts.
You're likely traveling from halfway across the country to elope in Utah. Working with a photographer you can trust to do justice in capturing you in this wildly beautiful landscape is so important! We know all the nooks and crannies of this entire area, so you'll be able to lean on us for our expertise to plan the best possible day.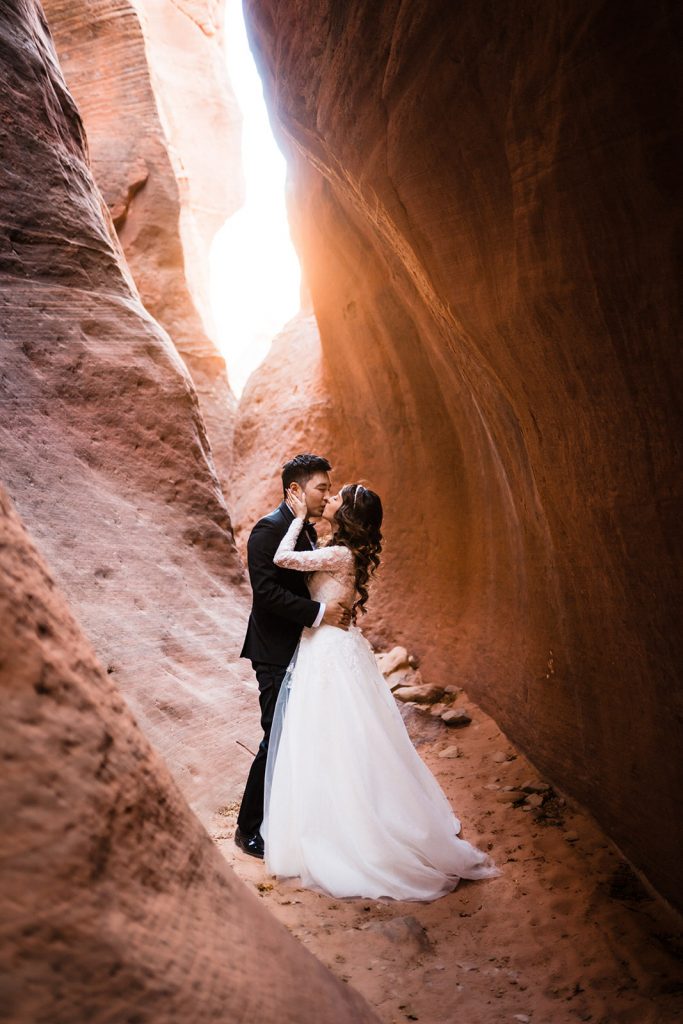 Eloping in Zion National Park
Zion is located in the southwest corner of the state. The closest major airport to Zion National Park is actually Las Vegas, Nevada. We like to call Zion the "Yosemite of the desert" or "Red Yosemite." Standing in the Zion valley, you're surrounded by towering red sandstone cliffs. These cliffs are home to some of the world's most unique hikes, which make for some epic Utah elopement photos! 
In addition to scenic cliff overlooks, there are also mysterious slot canyons, rolling sand dunes, enchanting desert pools, and even some waterfalls. With all of these incredible landscapes to explore, Zion is easily one of Utah's best places to elope. Check out this Zion Elopement for inspritaion!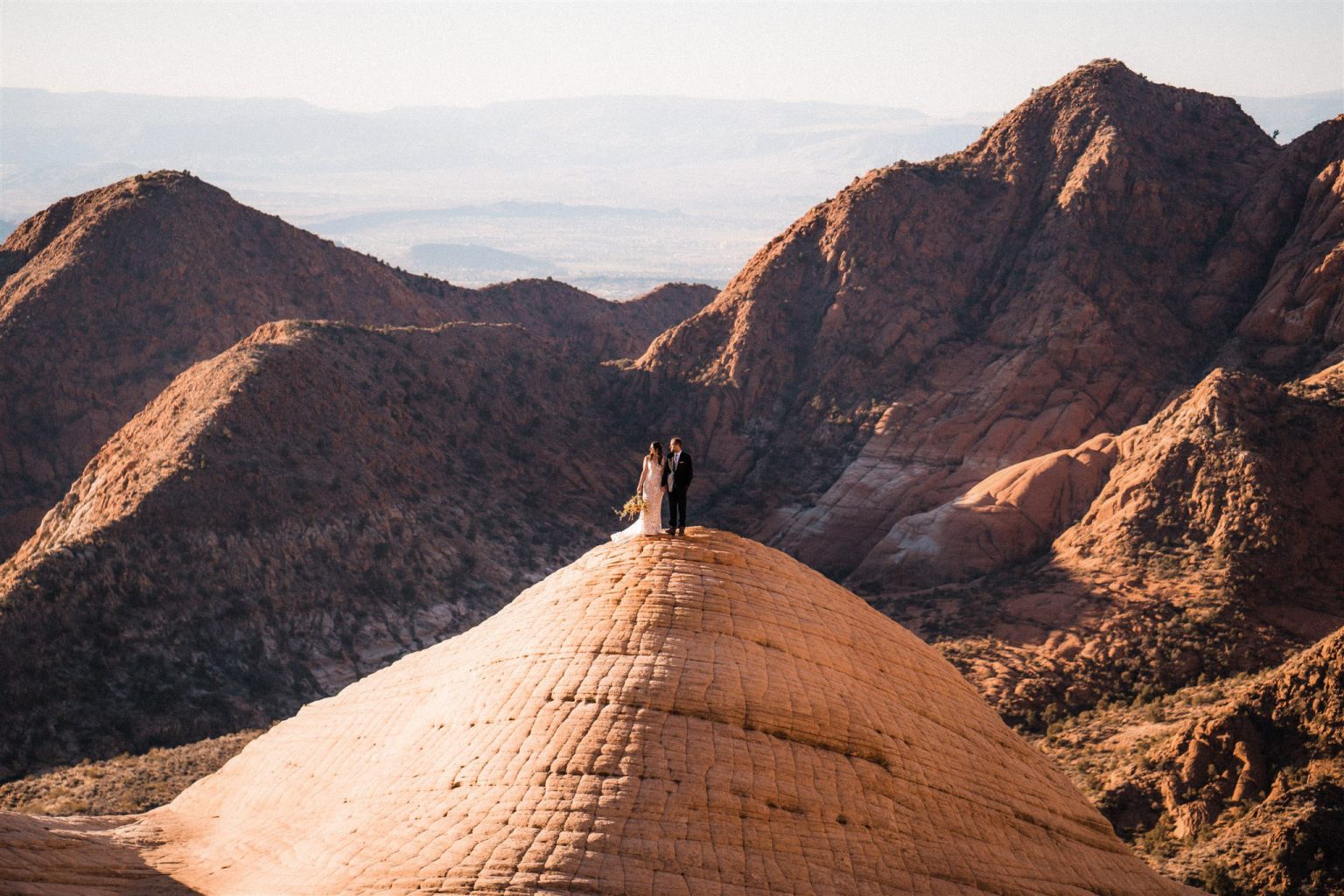 Eloping in Capitol Reef National Park
Capitol Reef is pretty unreal too, located in the heart of red rock country. This secret gem of Utah is filled with canyons, cliffs, bridges and domes in what is called the "Waterpocket Fold",  a geologic wrinkle on the earth that extends nearly 100 miles! There is no shortage of prime elopement photo ops in this landscape. As we mentioned earlier, Capitol Reef is pretty close to Bryce Canyon, so you can easily explore both of these beautiful areas if you're eloping in Utah.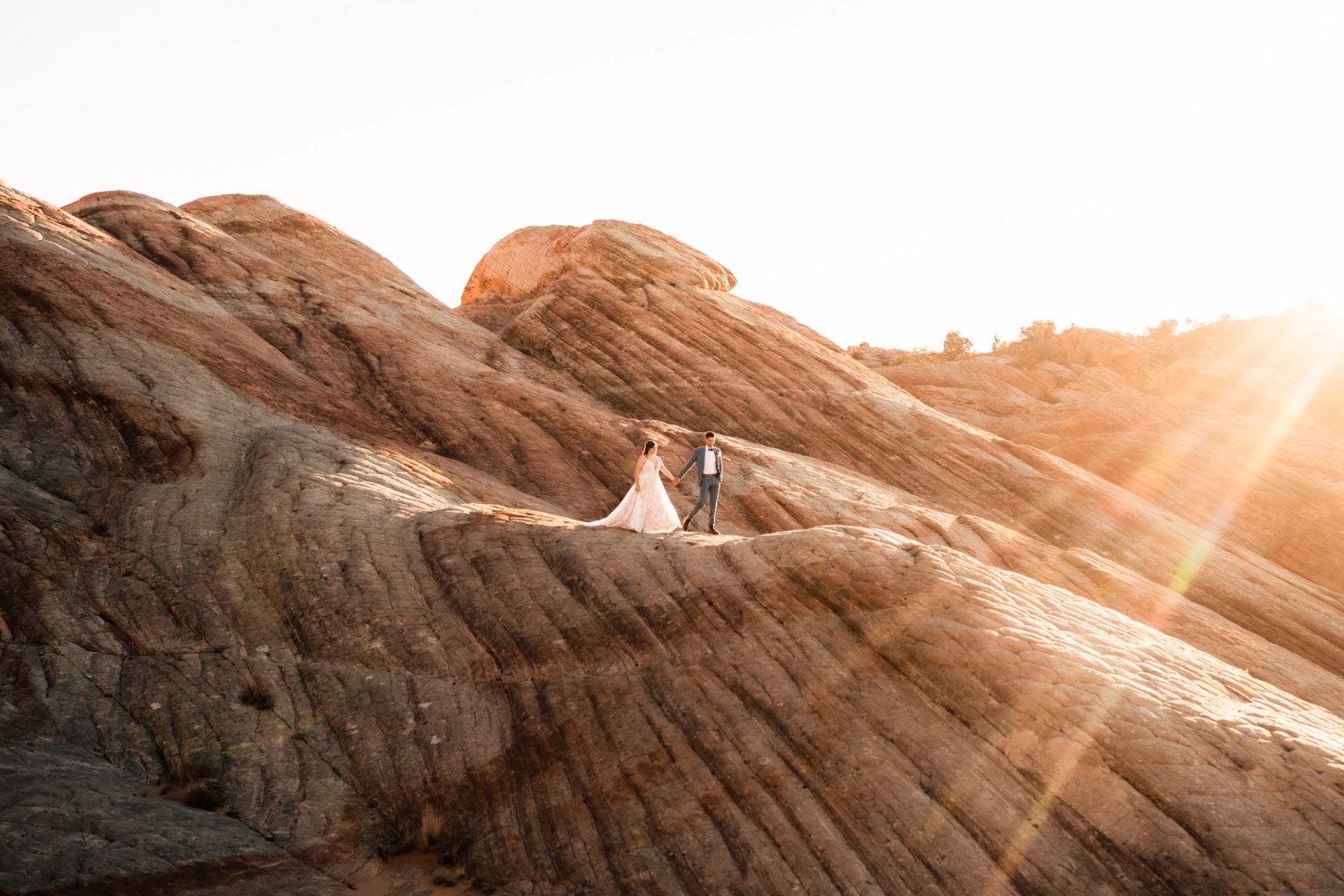 Eloping on Utah Public Land
Outside of Moab BLM, there are many other BLM and Public Lands in Utah, spaning over 22.9 million acres throughout the state! The BLM oversees public land, much like National Parks or National Forests, but typically designates them for other uses like livestock grazing or alternate types of recreation. If you prefer to avoid crowds and to travel on a budget, exploring these parts of Utah for your elopement might make the most sense for you. There are beautiful hidden gems all over the Utah desert that aren't part of the National Park system. They're often a lot quieter but equally as mind blowing for you Utah elopement. 
The Utah BLM has something for every kind of adventurer. If you love mountain biking, plan to spend some time riding slickrock in Moab. If you dig crazy off-roading, check out the Little Sahara! Want to explore some epic slot canyons? Try canyoneering in Bell Canyon, Crack Canyon, Coyote Gulch, or Spook Gulch. You could honestly spend months taking advantage of all the fun activities Utah has to offer, without even entering a National Park.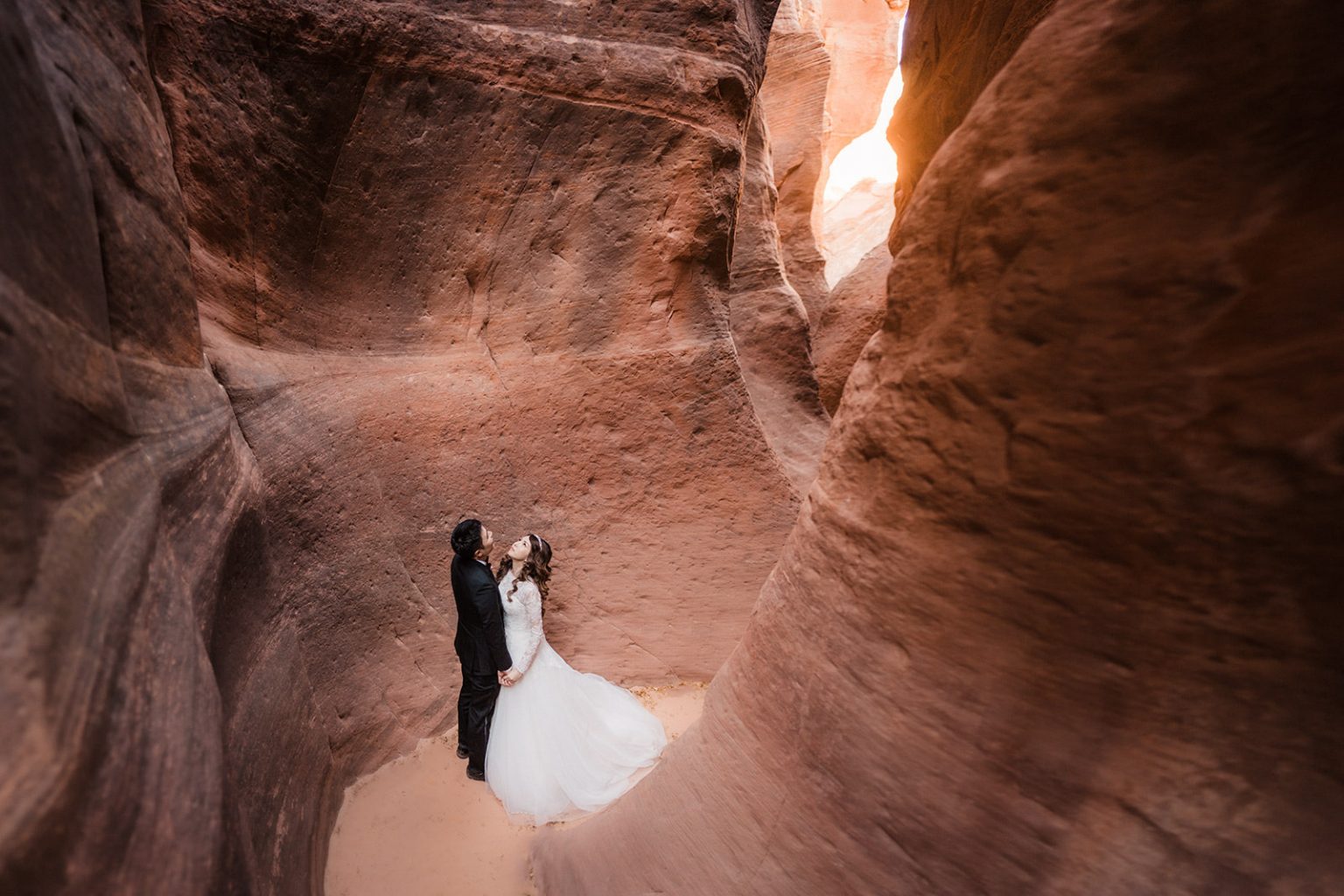 Eloping in Utah Slot Canyons
Slot Canyons are one of the most unique natural features you can find in this world, and Utah is absolutely STACKED with them. Visiting one of Utah's many slot canyons during your elopement adventure is definitely something to consider. Slot canyons are an amazing location for Utah elopements because it gives you a perfect location to visit during the middle of the day, when the temps are hot and the light is harsh out in the open desert. Plus, the walking through a narrow canyon where you can literally touch either side with outspread arms is pretty cool. And it goes without saying that these slot canyons make for some incredible Utah elopement photos.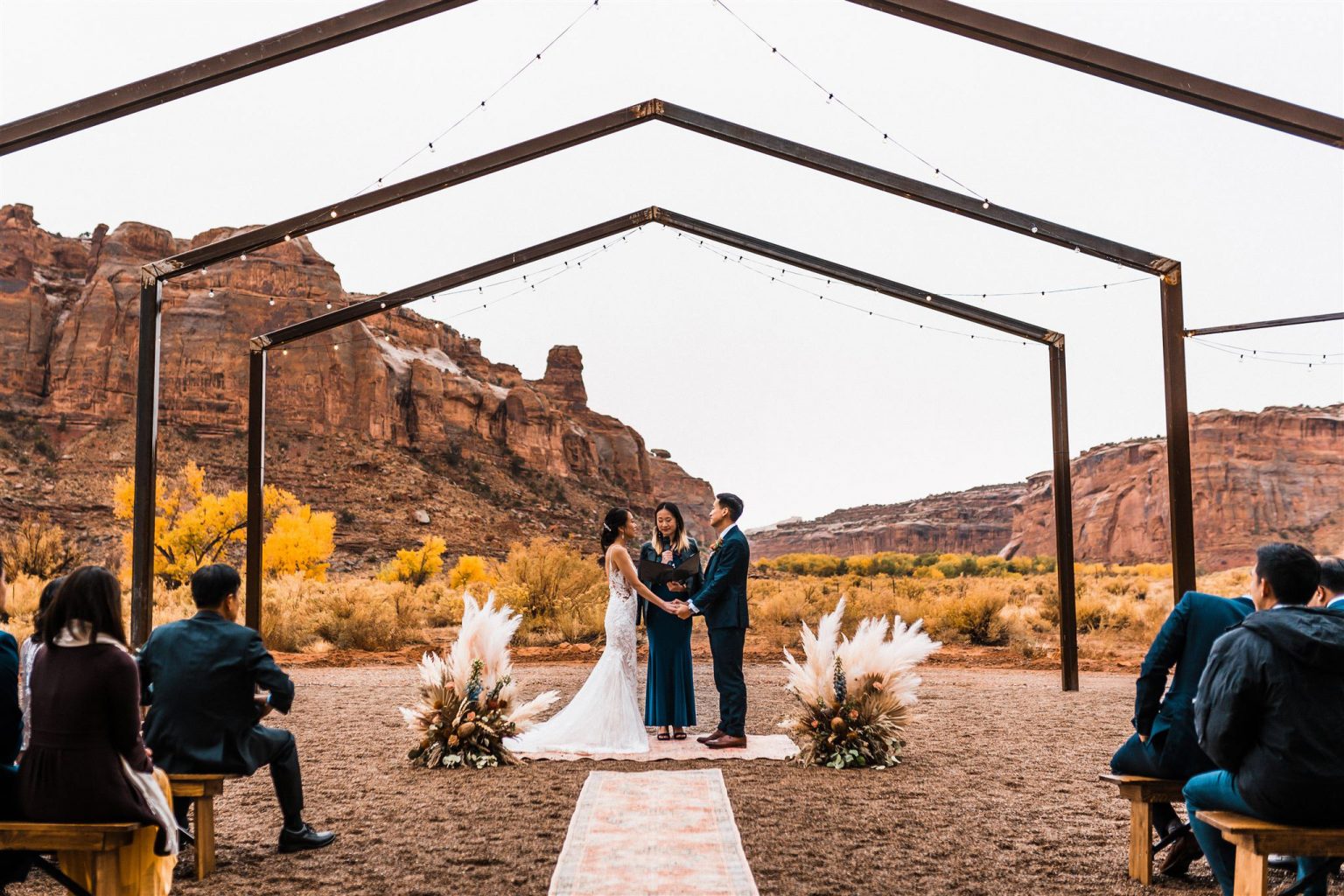 Sometimes couples want to elope just the two of them AND they want an intimate wedding with their closest friends and fam. Our feelings on the matter… why not do both? Spend the first part of your day watching the sun rise, reading private vows to each other, and dancing your way through the desert cliffs and canyons. Then head back to a jaw dropping Utah wedding venue to meet your family for an evening ceremony, a tasty dinner, and a night of celebrating with the people who love you most in the world. There are a handful or really beautiful and unique wedding venues around Zion National Park and in Moab, making those areas a great place for an adventure wedding! And check out our favorite wedding venue for Utah elopements, The Red Earth Venue.
Utah elopement packages FAQ's
How much does it cost to elope in Utah?
It costs under $200 to elope in Utah. Utah marriage certificates are around $30 and National Park Permits are around $150.
How do I legally elope in Utah?
You apply for a marriage license at any county clerk's office and it is valid anywhere in the state. There is no waiting period, you will both need your social security cards, photo IDs, a licensed officiant, and two witnesses to sign the marriage license. A license fee is charged in most counties and is usually around $30. It's best to check for all details at the the Utah Courts website.
Where can you elope in Utah?
The best places to elope in Utah are at one of the five national parks or on Utah public lands.
Do you need witnesses to elope in Utah?
You need a licensed officiant and two witnesses to sign the marriage license to elope in Utah.
Can you elope in Zion National Park?
Yes, you can elope in Zion National Park by obtaining a Special Use Permit. Wedding party size is limited depending on location and the permit application fee is $100.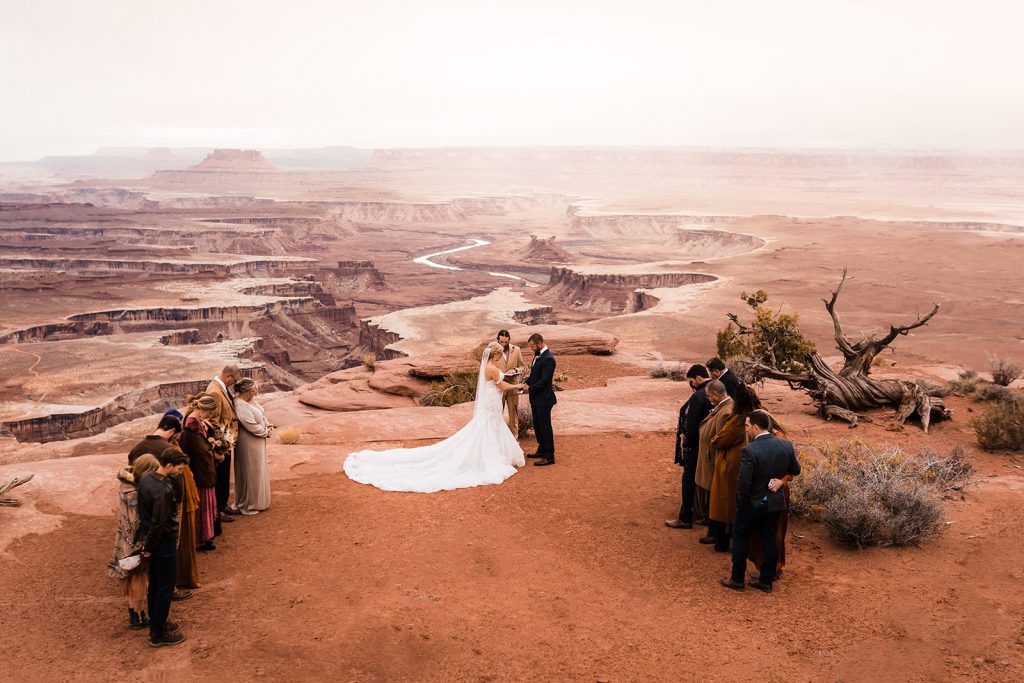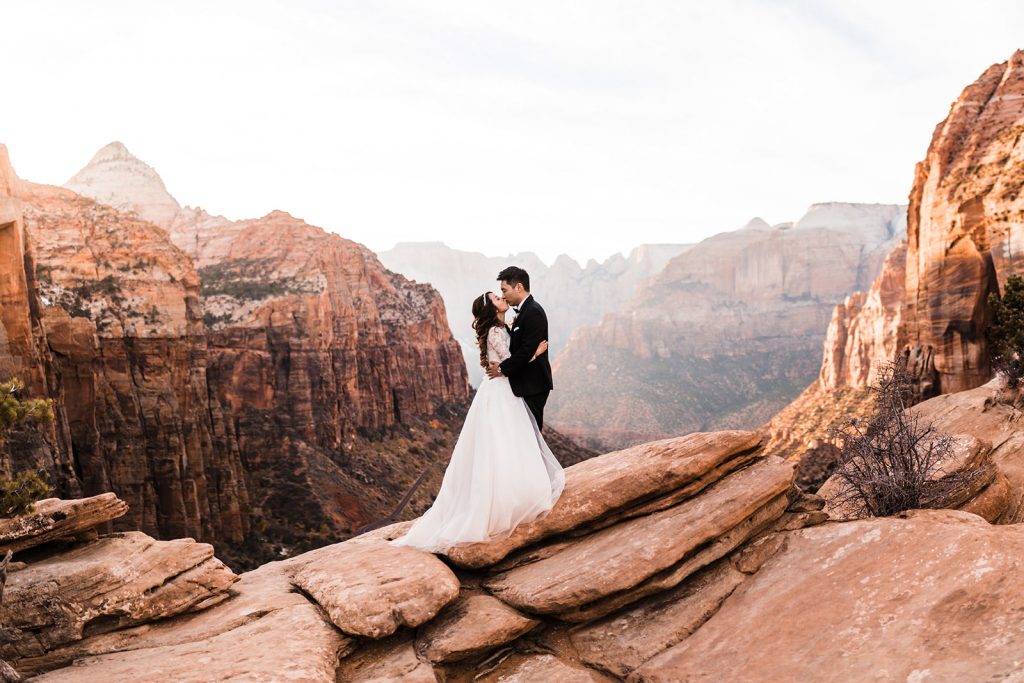 Here are inside peaks at some of the days we've created and photographed with our couples for their Utah elopements. This is a great way to get a feel for our Utah elopement photography, where to elope in Utah, and what full day adventure elopements look like!
Want us to photograph your Utah elopement?
Hope you found our tips on eloping in Utah helpful! As you can see, we LOVE talking about elopements and the wild desert landscapes Utah has to offer. If you're considering eloping in Utah, don't hesitate to reach out for a free planing call with us!
-Brandon, Gabi, Hannah, and Zoe