One of the best (and worst) things about eloping in Utah is all the amazing options this state offers when it comes to getting married in a stunning landscape. On one hand, you can't really go wrong wherever you decide to elope. On the other hand, making a decision on where to elope is hard! But don't worry, we got you. This guide to the best places to elope in Utah will help you pick the perfect elopement location for your day – and give you a bunch of ideas for your mini moon adventure!
↓ Keep reading for the full story + pics ↓

best places to elope in utah: the need to know
best time to elope in utah: spring, fall, and winter
Because it is mostly desert, the best times to visit Utah are in the spring and the fall. These times of year have the most moderate weather. The summer months of June – September can get extremely dry and hot, with risks of flash flooding from summer thunderstorms. Summer temperatures frequently break 100 degrees throughout the state!
Although some hikes, like The Narrows in Zion, are refreshing in the summer, they can also get very crowded. The winter, though a bit chilly, can be a beautiful time to elope in Utah. The beauty of snow blanketing the hoodoos of Bryce Canyon or the mesas of Zion is unreal. And you'll experience the least amount of crowds in the winter than any time of the year.
utah has 5 national parks! (and that's not all)
 Utah is home to the "Big 5" as they call it. Zion National Park, Bryce Canyon National Park, Canyonlands National Park, Arches National Park, and Capitol Reef National Park. As if that wasn't enough, Utah also features 7 National Monuments, 6 National Forests, 4 National Historic Trails, the Glen Canyon National Recreation Area, and the Golden Spike National Historic Site, plus vast swaths of BLM (Bureau of Land Managament) land! Seriously, Utah is STACKED. Check out this Complete List of Utah National Sites to learn more. 
the best landscapes for eloping in utah
In these national parks and protected lands, you'll find a wide and beautiful variety of landscapes: Vast deserts / epic mountains / sandstone cliffs / deep slot canyons / natural bridges and arches / prehistoric villages / petroglyphs and fossils / lush wildflower meadows / bristlecone pine forests / massive domes and buttes / hoodoos and needles / balanced rocks and red rock fin – how's that for variety?!
getting married in utah: the legal deets
You can apply for a marriage license at any county clerk's office and it is valid anywhere in the state. There is no waiting period, so you could literally pick up the marriage license in the morning and elope in the afternoon! You will both need your social security cards, photo IDs, a licensed officiant, and two witnesses to sign the marriage license. A license fee is charged in most counties and is usually around $30, but some do not charge. It's best to double check before you go! For more details, visit the Utah Courts website.
So, WHERE are the best places to ELOPE IN UTAH?
Click one of the links below to jump to more info about that area, or keep scrolling to read about all the best places to elope in Utah.
The Moab desert can be a week (or life) long road trip in and of itself! With must-see hotspots like Canyonlands National Park, Arches National Park, and Moab BLM land, you will have a blast exploring these so close, yet so different places.
Canyonlands National Park: Full of countless rain and river carved canyons and buttes, Canyonlands is a desert wonderland. Here, you get to experience a preserved wild west landscape that appears to be out of an old western film. Check out a real elopement in Arches and Canyonlands National Park
Arches National Park: This park is covered in balanced rocks, pinnacles, and of course, over 2,000 towering red rock arches! The majestic landscape is formed by wind, rain, and river erosion. There is no shortage of Kodak moments here!
Moab BLM land: BLM, or Bureau of Land Management, land is publicly owned and preserved. Similar to National Parks, the mission of the BLM is "to sustain the health, diversity, and productivity of the public lands for the use and enjoyment of present and future generations." Moab's BLM land is in the heart of the Colorado Plateau, and is a mecca for rock climbers, mountain bikers, and river rafters. 
Distance from Salt Lake City: About a 3.5 hour drive to Moab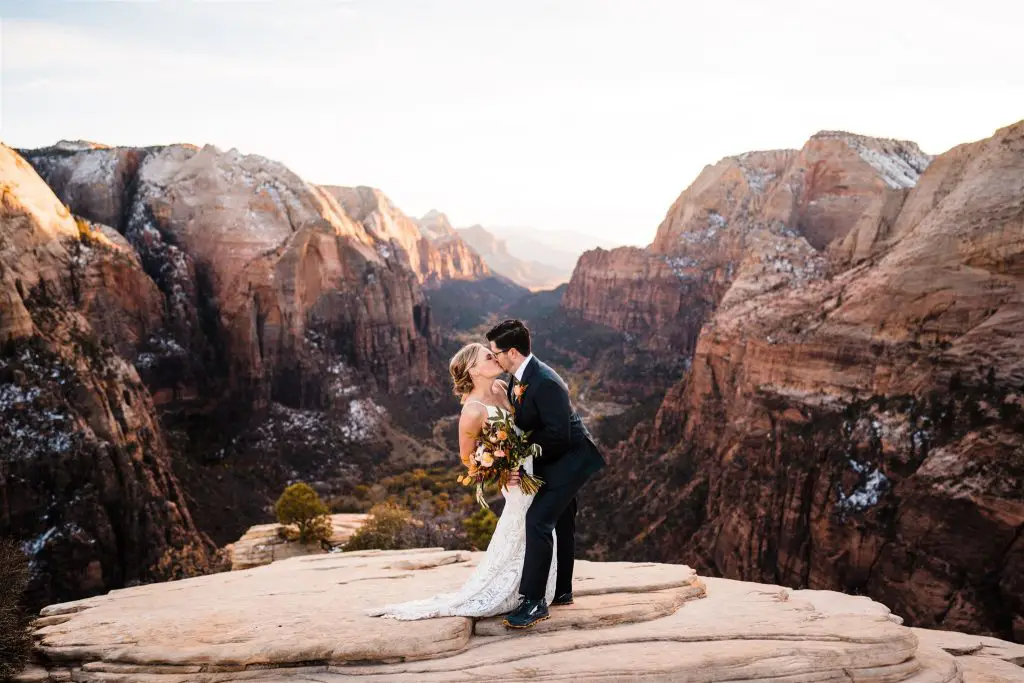 eloping in zion national park
Zion is located in the southwest corner of the state. The closest major airport to Zion National Park is actually Las Vegas, Nevada. We like to call Zion the "Yosemite of the desert" or "Red Yosemite." Standing in the Zion valley, you're surrounded by towering red sandstone cliffs. These cliffs are home to some of the world's most unique hikes, which make for some epic elopement photos! 
In addition to scenic cliff overlooks, there are also mysterious slot canyons, rolling sand dunes, enchanting desert pools, and even some waterfalls. With all of these incredible landscapes to explore, Zion is easily one of Utah's best places to elope. 
Zion elopement lodging: There are some super cool glamping tents and luxury condos right outside the park in Springdale. St. George is about an hour away and the biggest city with the most amenities. But our personal favorite place to stay is in our Airstream on the beautiful BLM land just outside the park!
Drive time from Salt Lake City: 4.5-5 hours
Drive time from Las Vegas: 2.5-3 hours

eloping in bryce canyon national park
Bryce Canyon National Park is defined by the pointy hoodoos that formed over thousands of years of erosion. This might be the most unique looking landscape in all of Utah! It's also one of the coolest places to visit in Utah, with summer highs often only reaching the 90s. In the winter the hoodoos are blanketed in snow, which might be the most beautiful time to visit of all.
Best Elopement Road Trip: Taking the Highway 12 Scenic Byway from Bryce Canyon through the Grand Staircase-Escalante National Monument and finishing at Capitol Reef National Park! The highway 12 scenic byway through the Escalante has a gorgeous panoramic landscape. It was even given the "All American Road" award in 2002. The road passes through several Utah hotspots, including Red Canyon, Bryce Canyon National Park, Grand Staircase-Escalante National Monument, petrified forests, over Boulder Mountain in the Dixie National Forest, and finishing at Capitol Reef National Park. That road trip would make for an awesome adventure elopement!
Best place to look for lodging: We recommend a groovy camper van when exploring this area. But there are cool towns scattered throughout highway 12 that are also worth mentioning. The towns of Tropic, Escalante, and Boulder each have their own rich wild west history, in addition to native history, and they still embody those rad old western vibes in their hotels and inns! 
Driving time to Bryce from Las Vegas: 4-5 hours
Driving time to Bryce from Salt Lake City: 4-5 hours
eloping in capitol reef national park
Capitol Reef is pretty unreal too, located in the heart of red rock country. This secret gem of Utah is filled with canyons, cliffs, bridges and domes in what is called the "Waterpocket Fold",  a geologic wrinkle on the earth that extends nearly 100 miles! There is no shortage of prime elopement photo ops in this landscape. As we mentioned earlier, Capitol Reef is pretty close to Bryce Canyon, so you can easily explore both of these beautiful areas during your elopement.
Best place to look for lodging: The town of Torrey, located near the entrance of Capitol Reef, was founded in 1880 by the "Rocky Mountain Riders", a group of cavalry cowboys. It's a good spot to look for lodging and a unique experience. We still recommend the camper van route for maximizing the nature experience out here! 
Driving time from Salt Lake City: ~3 hours
Driving time from Bryce to Capitol Reef: 2 hours
The Utah Desert BLM (Bureau of Land Management) land spans over 22.9 million acres throughout the state! The BLM oversees public land, much like National Parks or National Forests, but typically designates them for other uses like livestock grazing or alternate types of recreation. 
Why should you elope on BLM land? If you prefer to avoid crowds and to travel on a budget, exploring these parts of Utah for your elopement might make the most sense for you. There are beautiful hidden gems all over the Utah desert that aren't part of the National Park system. They're often a lot quieter but equally as beautiful. 
The Utah BLM has something for every kind of adventurer. If you love mountain biking, plan to spend some time riding slickrock in Moab. If you dig crazy off-roading, check out the Little Sahara! Want to explore some epic slot canyons? Try canyoneering in Bell Canyon, Crack Canyon, Coyote Gulch, or Spook Gulch. You could honestly spend months taking advantage of all the fun activities Utah has to offer, without even entering a National Park.
Best places to look for lodging: There are tiny western style towns scattered throughout Utah near these recreation sites. If you are avoiding the tourist traps by touring BLM land, then camping or a camper van is probably your best choice.
Check out a real elopement on Utah BLM
eloping in the boneville salt flats
If you've ever dreamed of what it might look like to walk on a huge, white cloud, you need to visit Utah's salt flats. In the evening, the stars have no competition and light up the sky. For you off-roaders, the flats even have a designated BLM international speedway! Go-cart races are frequent and entertaining to watch.
The Bonneville Salt Flats are west of the Great Salt Lake, and cover over 30,000 acres. That's a lot of salt. Salt amplifies many things including UV radiation, heat, and cold. During the summer, the flats spike above 100 degrees! In the winter, it also can get well below freezing. The salt flats are not for the lighthearted, and being prepared with sunscreen, water, jackets, and spare tires is very important. 
Something to note – this area can get tricky when rain or standing water is around. The BLM recommends avoiding the area during storms, or the spring in general. It's better to visit this beauty during the day in the summer or fall, after checking the weather reports!
Driving time from Salt Lake City: 1.5-2 hours

Best place to look for lodging: Wendover, the closest city to the flats, lies right on the border of Utah and Nevada. It was established to be a station on the intercontinental railroad in 1908. West Wendover, which is the Nevada part of the city, has funky old timey casinos and even more recreation areas.
eloping in the uinta-wasatch-cache national forest
Of the several National Forests in Utah, the Uinta-Wasatch-Cache is the most unique. Located in the eastern part of the state, it is far from the stereotypical Utah desert. Alpine lakes, bristlecone pine forests, and towering mountain peaks make up this National Forest. If you are into scenic backpacking or horseback riding, you should head in the direction of this forest!
Best thing to see before/after the elopement: Deep within the mountains, a strange, remote limestone cavern resides. The Timpanogos Cave National Monument has some crazy limestone formations that almost look like aliens or sea creatures! The cave was formed through fault movement, which you can even see along the walls walking inside. It's an otherworldly location to explore if you are yearning for something different.
Best place to look for lodging: Camping out here is the best way to experience this wild and mountainous region. But if you'd like something a little less rugged, there are plenty of rustic cabin rentals to be found. For something different, there's an old timey wagon train inn, called Conestoga Ranch Glamping Resort, which is a fun and unique choice. 
Drive time from Salt Lake City: 2-3 hours
some final tips for choosing the best place to elope in utah
You really can't go wrong with a Utah elopement. The state is clearly full of one-of-a-kind landscapes to explore with endless epic photo ops. Making your decision on where to elope probably isn't any easier after reading this guide haha. So here are some final thoughts for helping you narrow it down.
focus on the experience, not just the photos.
You're going to get epic photos if you elope in any of these places, trust us photographers 😉 Instead of getting wrapped up in the kind of photos you want, it's much better to focus on the overall experience. Do you want some luxury accommodations for your elopement night? How much do you mind crowds? What kinds of amenities would you like to have close by? What kind of weather do you want to elope in? These factors can help you narrow your decision down pretty quick!
when do you want to elope?
If you have your hearts set on a specific elopement date or time of year, that could have a big impact on the best place to elope in Utah. If you really want to get married in the summer, the desert locations are going to be pretty brutally hot. Bryce Canyon might be the best spot to go if you still want that wild desert landscape this time of year due to its higher elevation. If you're flexible on dates, see when your photographer plans to be there. We always plan to be in these locations at the best time of year for weather and crowds.
how much adventuring do you want for your elopement?
The most popular destinations will often have plenty of options when it comes to trails and difficulty. So whether you want to hike 1 or 10 miles on your elopement day, there will probably be a perfect option for you. Other locations might be a bit more limiting, with only longer hikes if you want to experience the best views. We recommending hopping on All Trails to quickly explore the trails in each area so you can get a feel for how much hiking you might have to do there.
have an awesome utah elopement!
We hope this guide was helpful as you start to plan an epic Utah elopement. It's a place we return to every year, and we'd love to help you find the best place to elope in Utah for your wedding day! This article just scratches the surface of eloping in Utah. If you'd like to work with us for your big day, we'll hook it up with all of our favorite places to elope and help you plan and document an unforgettable adventure!
Sound like we're the one's for you?