Everything you've ever wanted to know about planning your Zion National Park Elopement.
Zion National Park offers a unique and unforgettable experience for adventurous couples looking to elope amongst nature. With towering red rock formations, sweeping views of canyons, rolling sand dunes, the beautiful Virgin River, and winding slot canyons Zion has tons of variety in its landscape. We like to call it the Yosemite of the desert because of the stunning cliffside locations overlooking the vast valley below! And while Zion might be what brings you to this area, there's so much to explore outside of the national park, highlighting the incredible landscape that the south west corner of Utah has to offer. With tons of lodging options and yummy places to eat in the area, you can have luxury amenities with epic adventure for your Zion National Park elopement. 
↓ Keep reading for the full story + pics ↓

Zion National Park Elopement Guide
Best places to elope in Zion National Park
Whether you're a seasoned hiker or a first-time visitor, Zion National Park is a must-see destination that offers an unparalleled connection to the beauty of the natural world. To access the park, visitors enter through the South Entrance to take a shuttle to the more popular locations like Angels Landing, the Narrows, or Emerald Pools. You can avoid using the shuttle to access some of our other favorite locations, like the Canyon Overlook trail, the BLM (Bureau of land management) land just outside the park, or surrounding state parks.
As you explore the park during your Zion elopement, you'll be swept away by awe inspiring views, creating the perfect setting for a truly romantic and adventurous elopement. Imagine exchanging your vows at sunset on the top of a canyon, with the orange and pink hues of the sky painting the perfect backdrop 😍 And after the sun sets and the sky grows dark, it becomes an exceptionally special time to stare up at the stars. The park has actually been designated as a Dark Sky Park by the International Dark-Sky Association, making it an exceptional location for stargazing and an incredible ending to your Zion National Park elopement 😉
Here's our list of 7 jaw-dropping places to elope in Zion National Park:
Eloping at Zion Canyon Overlook Trail
If you're looking for classic Zion Canyon views then look no further! We love this spot for sunset after a day spent exploring in other locations because of the way the sun sets down the canyon creating the most beautiful light rays that cast a glowing light on the surrounding sandstone peaks. One of things we love about this trail is all the extra photo ops along the way, even though it's on the shorter side at just under a mile we love taking our time with couples and snapping fun pics during the hike out. We've even seen the canyon view sprinkled with snow during both the spring and fall time which looks so beautiful against the red rock.
Check out a Zion National Park elopement where we ended at the day at Zion Canyon Overlook Trail!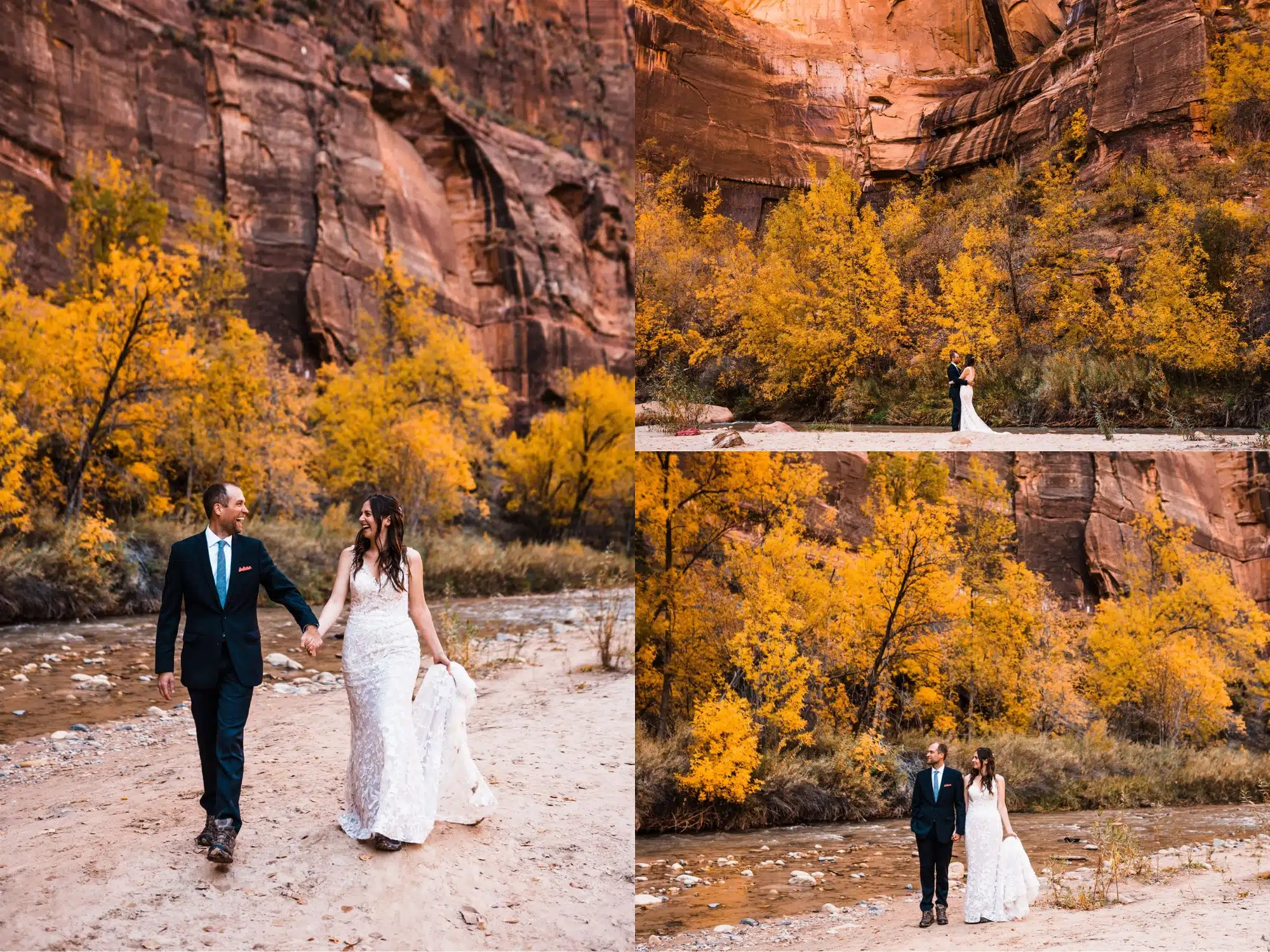 Eloping at The Temple of sinawava
The Temple of Sinawava is a one of a kind natural amphitheater located at the end of the Zion Canyon Scenic Drive. The Temple of Sinawava is named after the Paiute Indian mythological figure Sinawava, who is believed to have once lived in the canyon. It's the last shuttle stop along the scenic drive and it's also the starting point for the Riverside Walk, which is a paved trail that follows the Virgin River upstream for about 2 miles, this is also how you access the narrows. The walk takes visitors through a narrow canyon, past towering sandstone cliffs, hanging gardens, and even waterfalls! It's one of the six locations inside the park where you can have your ceremony. During the fall time you can see the quaking aspen's start to turn into a beautiful amber color. We love this spot if you plan to have a ceremony with guest because it's an easily accessible flat and mostly paved trail to reach the river.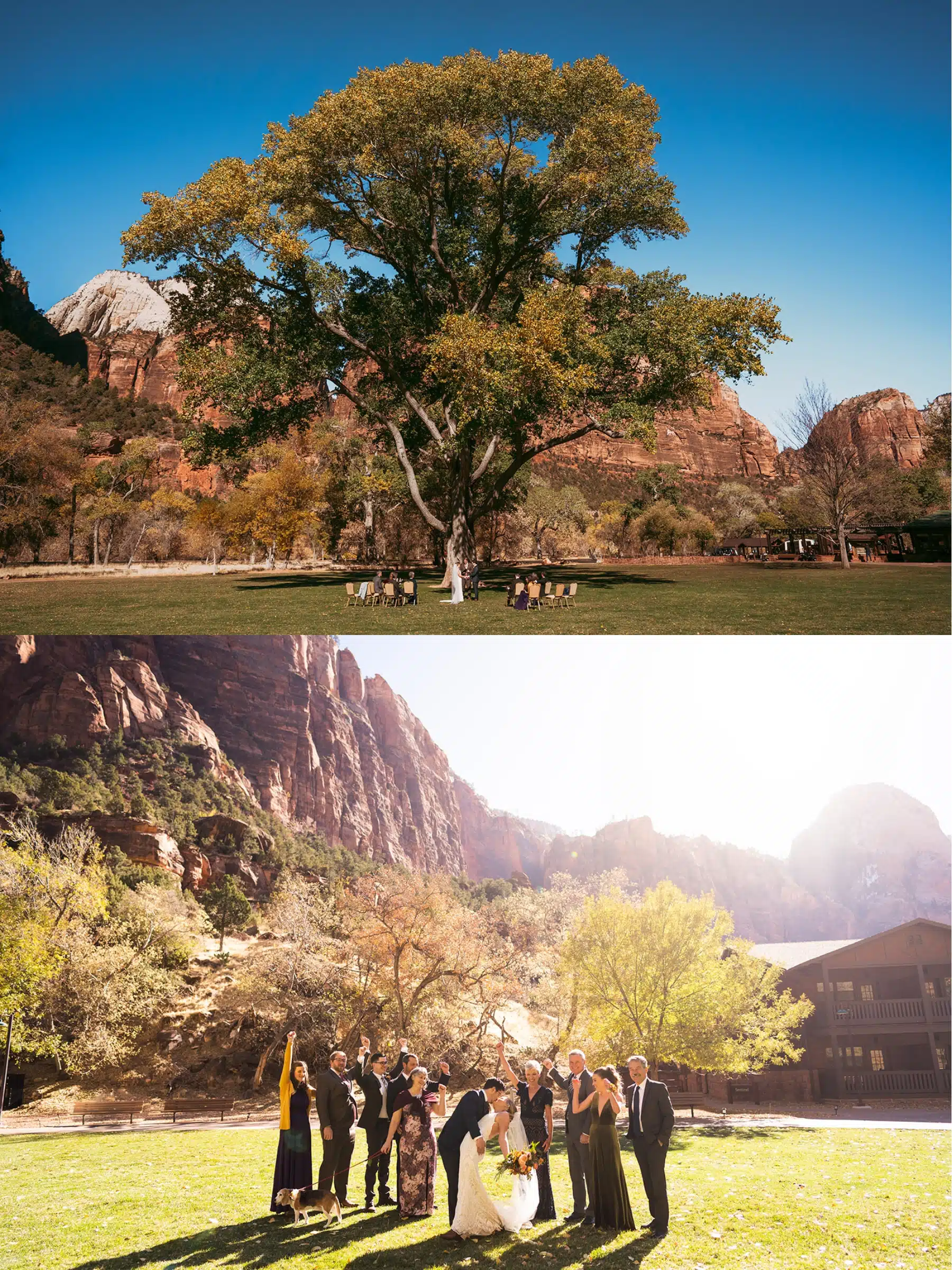 Eloping at The Zion Lodge Lawn
The Zion Lodge Lawn is located just outside the Zion Lodge, which is a historic lodge built in 1925 and also serves as the only lodging option inside the park. The lawn provides a lush and green backdrop, with towering sandstone cliffs and trees creating a natural and serene environment. The sound of the nearby Virgin River can also be heard. This spot is very accessible making it a great spot to exchange vows with guest and celebrate your elopement day before heading out to do some more adventuring. 
Eloping at The Nature Center Lawn
The Nature Center lawn is another great spot to host your Zion National Park Elopement ceremony. Similar to the Zion Lodge Lawn this location is surrounded by the natural beauty of the park, with views of towering sandstone cliffs and lush trees. The Nature Center Lawn tends to be less visited compared to the Zion Lodge Lawn. The lawn also connects to the Pa'rus Trail which is a paved trail that runs along side the virgin river and is the only dog friendly trail inside the park. We love walking the Pa'rus Trail after some photos around the lawn because of the variety the trail has to offer. It's also amazing being at the bottom of the canyon surrounded by the cliffs before making your way up towards the top of the canyon and seeing it all from a totally different view point.

Eloping around Zion at Roadside Locations
There are tons of amazing road side locations throughout the park where we can pull over and snap a bunch of epic photos with little to no hiking required. All of these spots are pretty accessible and make for great add on stops while driving to and from other locations we can shoot at! Because these spots aren't actual trailheads they tend to be have less people around making it the perfect time to break out your cute picnic set up or exchange private vows within the park. Stopping at some of these spots are a great way to add variety to your day and see some hidden corners of the park you might not otherwise think to stop at.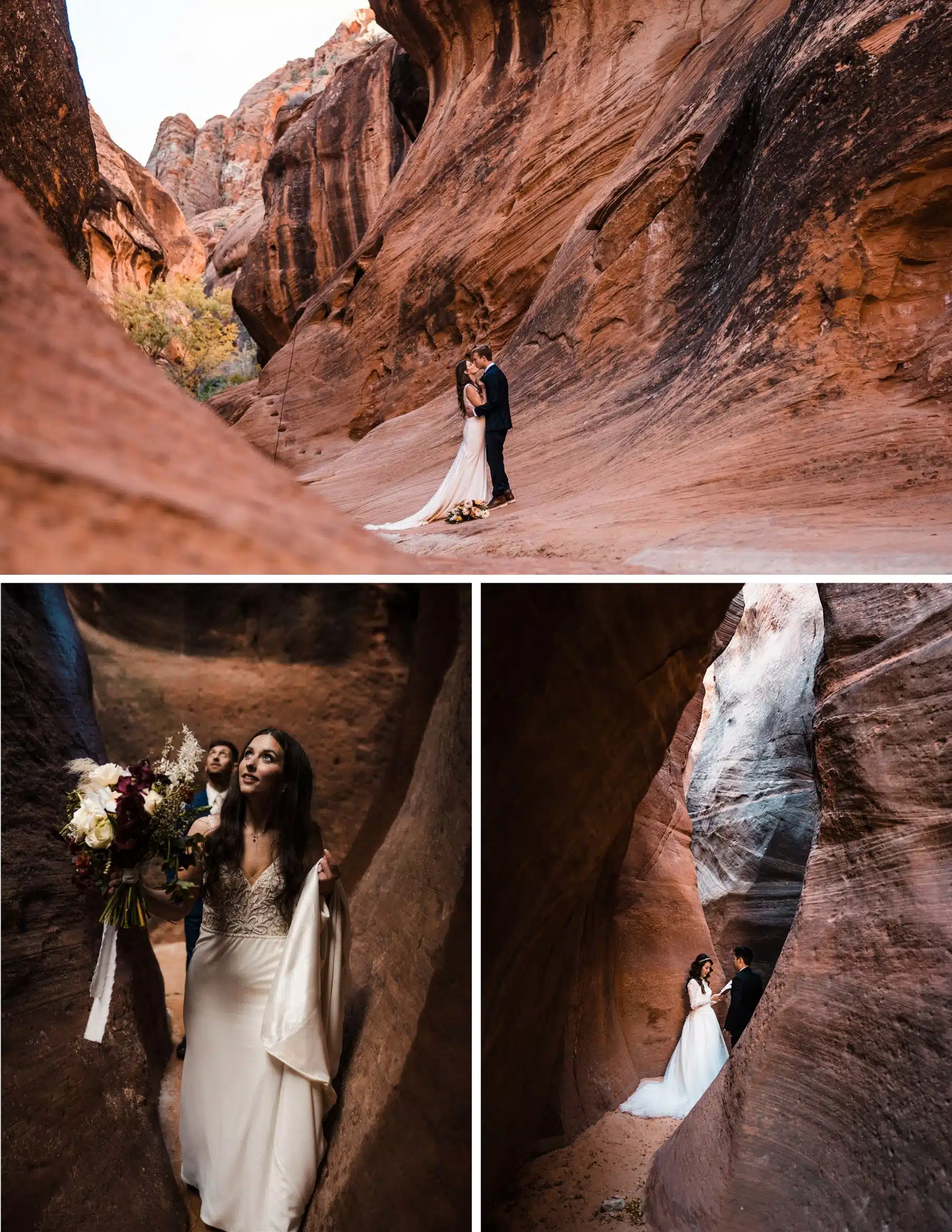 Eloping at Zion Slot Canyons
If you're planning a Zion National Park elopement, you must include a visit to one of the slot canyons at some point during your trip. These natural wonders are unlike anything else – imagine walking through a narrow canyon with towering walls that have been sculpted by water over centuries. As you gaze up at the sunlight filtering through the twists and turns, you'll be struck by the vibrant colors and mesmerizing patterns that seem to shift and change with every step you take. And the best part? There are several slot canyons to choose from each with their own unique views. Some canyons are skinny and narrow while others can be wide and grand. Some will have us walking through red sugar sand while other's have us hopping over puddles with water running through them. There are tons of slot canyons in this corner of Utah and while some more technical canyoneering might not be feasible on your elopement day this is a super fun activity to do on the days before/after your elopement, either just the two of you or with your guest! Guide companies like this one are your best bet if you want to further explore these amazing wonders.
Check out this Zion elopement where we started off the day exploring a slot canyon!
Eloping at BLM Outside of Zion National Park
There are quite a few state parks and BLM areas outside of Zion National Park that don't have nearly as many visitors but still offer some of the most epic views for your elopement. Permits usually aren't necessary, and there are tons of locations that are very accessible for ceremonies with guests. These locations are also dog-friendly making them a great spot to have a quiet ceremony among the landscape, a celebratory picnic with your friends and family, or even a great first look spot before we head into the park for the rest of your Zion National Park elopement! BLM land has so much to offer in terms of activities, from hiking out to Mars-like views, mountain biking some of the world's best trails, jeeping along epic cliff sides, or even exploring sand dunes in UTVs. We really love all that BLM land has to offer!
Your Zion elopement photographer is the most important decision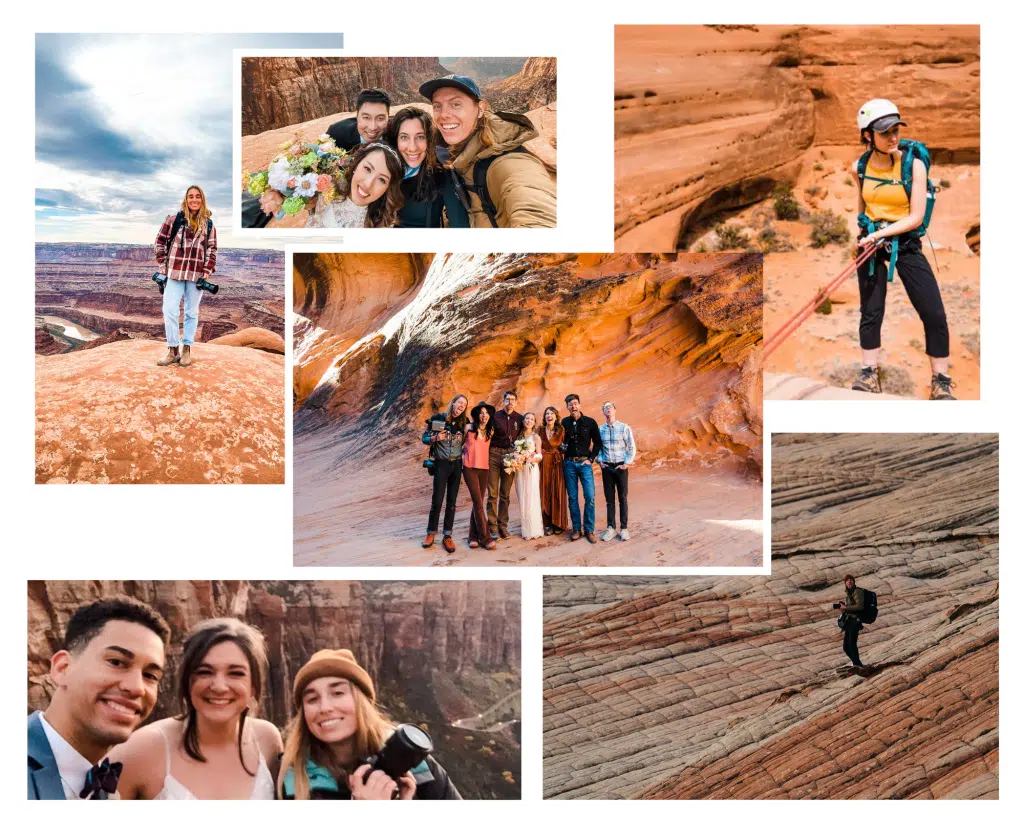 We've planned and photographed 300+ elopements all over the world and return to photograph Zion National Park every year – we are Zion elopement photography and planning experts.
You're likely traveling from across the country to elope in Zion National Park. Working with a photographer you can trust to do justice in capturing you in this wildly beautiful landscape is so important! We know all the nooks and crannies of this entire area, so you'll be able to lean on us for our expertise to plan the best possible day.
Everything you need to know for planning Your Zion Elopement
The closest major airport to Zion National Park is Las Vegas, Nevada and from there it's an easy (and beautiful) 2 hour drive. Some couples will fly directly into the St. George airport which is a smaller regional airport, which is much closer but usually more expensive. Most couples stay in Springdale because it is minutes from the west entrance of the park and it has a ton to offer. There are also plenty of amenities like restaurants, bars, spas, adventure outfitters, gas stations, and food markets so its the best of both worlds being out in nature with easy access to nearby luxury!
What is the best months to elope in Zion National Park?
Our favorite times to elope in Zion are March, April, October, and November.
Spring and fall are the best times to visit the park as the temperatures are much cooler than they are in the summer. Additionally, spring and fall are considered the "off-season," so we don't have to worry about summer crowds. Lodging options are also easier to come by, along with off-season pricing. 
Bonus for eloping in Zion in October – Although the Narrows is open year-round, the water temperatures tend to get too chilly for hiking during the winter. Therefore, October is one of the last great months of the year to check the Narrows off your bucket list!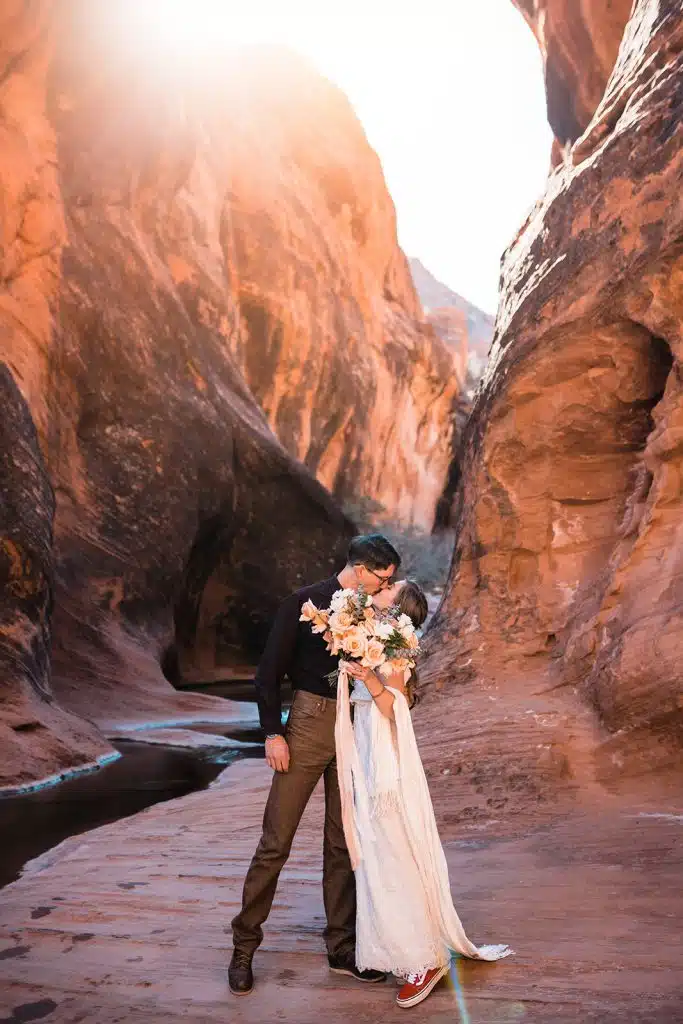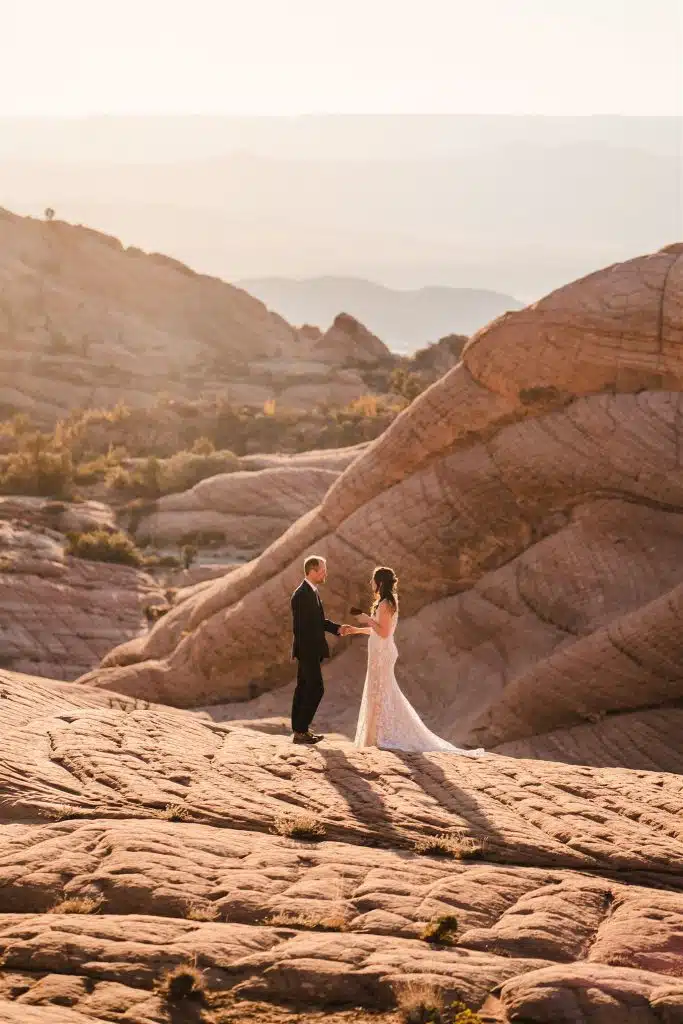 How much does it cost to elope in Zion National Park?
Average couple spends $7,000 – $15,000 for their Zion National Park elopement.
The must-haves for your Zion National Park elopement is your wedding attire, marriage license, special use permit, lodging, and your photographer. Some other things to consider factoring into your budget would be florals, hair + makeup, officiant, cake, and your food for the day.
The total cost of the elopement varies greatly based on how elaborate you want it to be and how many guests you're inviting, but here's a breakdown of what to expect:
Photographer: $5,000-10,000 | Hair & Makeup $500-1,000 | Flowers $500-800 | Officiant $600-1,200 | Marriage License $69 | Special Use Permit $100-200 | Lodging $200-1,200 | Flights & Car $500-1,400
How to get married in Zion National Park?
A marriage license is required and some locations require permits.
You will only need to apply for a permit if you are planning on having your ceremony within the National Park. The process is pretty simple and something we help all of our couples out with. You will obtain your permit from the National Park Service website and fill out the application with your desired location and time. You don't need a permit if you plan on only doing wedding photos in the park or for BLM locations outside of the park.
For the marriage license – Utah has no waiting period and the license expires after 32 of applying. The fee is $50 and you can apply at any county within Utah. The closest county to Zion is Washington County. You can find all the info you need and apply through their website here.
Zion National Park elopement packages and FAQ's
Where can I elope in Zion National Park?
There are 6 designated locations in Zion National Park that are approved for wedding ceremonies and each location allows different group sizes. However, you are allowed to take wedding photos just about anywhere inside the park. We have amazing recommendations to get you those classic Zion views.
Do you need a permit to elope in Zion?
You do need a permit to have an elopement ceremony inside Zion National Park. The permit fee is $100 and you can find all the information on how to apply on the National Park website.
Can you get married in Zion National Park?
Zion National Park does allow wedding ceremonies to take place inside the park. While you are allowed to take your wedding photos throughout the park your actual ceremony will require a special use permit and take place at one of the designated ceremony sites approved by the park.
See more Zion National Park elopements
Here are inside peeks at some of the days we've created and photographed with our couples for their Zion elopements. This is a great way to get a feel for our Zion National Park elopement photography, where to elope in Zion, and what full day adventure elopements look like!
Want us to photograph your Zion elopement?
Hope you found our tips on eloping in Zion National Park helpful! As you can see, we LOVE talking about elopements and the wild, unearthly landscapes Zion has to offer. If you're considering eloping in Zion National Park, don't hesitate to reach out for a free planing call with us!
-Brandon, Gabi, Hannah, and Zoe