Everything you've ever wanted to know about planning your Iceland Elopement.
Iceland elopements basically put adventure elopements on the map. Epic photos of couples standing below massive waterfalls, running along black sand beaches, soaking in geothermal pools, and exploring glacial lagoons made couples say, "I can do THAT for my wedding?!" 
As photographers, we thought Iceland was overhyped and overcrowded. Until we finally went there for ourselves. Wow were we wrong. No amount of hype can live up to experiencing Iceland for yourself. We were instantly enchanted by this magical country and blown away by the endless photo spots and variety in the landscape. 
Now, it's a place we return to every year. In this post, we'll tell you all about eloping in Iceland – the logistics, the must-dos, where to find fairies…if you're considering an Iceland elopement, we're pretty sure you'll be convinced by the end of this post.
↓ Keep reading for the full story + pics ↓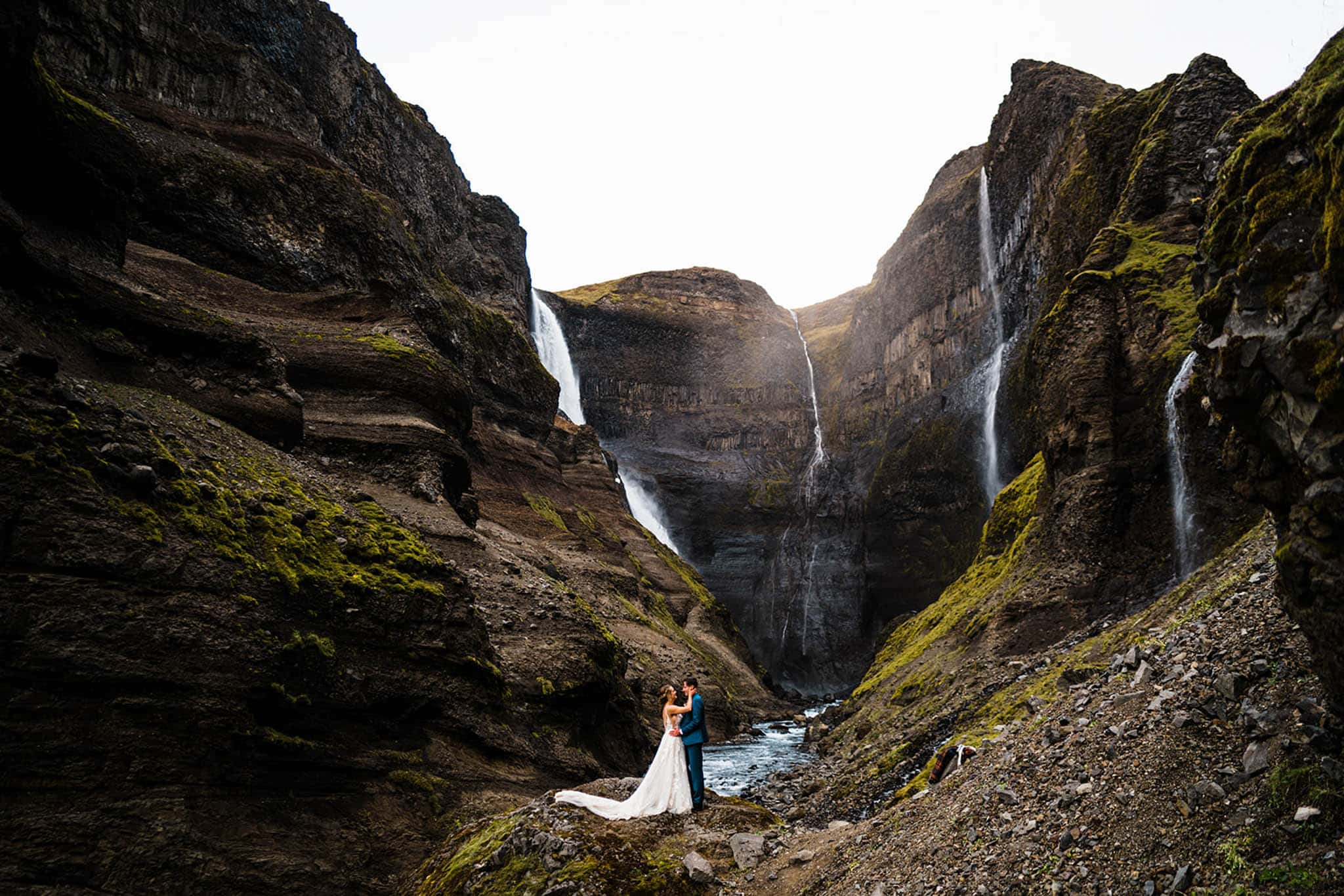 What is the best month to elope in Iceland?
Our favorite times to elope in Iceland are during either June or October.
Eloping in Iceland in June:
If you plan your Iceland elopement in June, you get to witness the Arctic phenomenon of the "Midnight Sun." Instead of setting at night, the sun dips down to kiss the ocean, rides the horizon line for a bit, and then starts its climb back up into the sky. It's a pretty wild site to witness, and honestly one of the most incredible things we've been lucky enough to experience.
Bonus for eloping in Iceland in June – you don't just get Golden Hour, you get Golden Hours and Hours! The Midnight Sun casts the most beautiful light for photos all night long, lasting 5+ hours. This means you can get gorgeous Golden Hour elopement photos in multiple locations! And since your exploring during the middle of the night, you'll likely have the place to yourselves without any crowds on the trails, even during peak season.
Eloping in Iceland in October:
Our other favorite time to go to Iceland is in October, when you get to experience an entirely different kind of Arctic phenomenon – the ethereal Northern Lights. The first time we saw the northern lights in Iceland, it was like a chorus of fairies dancing in the sky 🧚 It's really unlike anything else we've ever experienced! October hits that sweet spot where you still get plenty of daylight for your elopement adventures, making it the perfect time to elope here if you want a chance at witnessing the Northern Lights.
Bonus for eloping in Iceland in October: Say goodbye to crowds and hello to cheaper prices! Not nearly as many people travel to Iceland in October, so the trails and roads feel empty and all the cool Airbnbs and hotels drop their prices to "off-season" rates. It's a bit colder in October and your chances of experiencing a classic Iceland storm are certainly higher. But we personally love seeing the countryside lit up with fall colors and we've had plenty of gorgeous days in October. Plus, there's something romantic about cozying up in a warm restaurant by the sea and watching the waves crash during a good storm.
Pro Tip: On a stormy day, grab a seat in ultra-cozy Pakkus and enjoy the best bowl of Langoustine Bisque in Iceland!
what to do and Where to elope in iceland
We could either make this list very short and tell you there are no bad spots in Iceland (truth) or verrrrry long and list every stop along the Ring Road. Iceland is just so iconic. It's the kind of place where every mundane roadside pullout will make your jaw drop. There are black sand beaches, mountains erupting from the sea, lush green valleys interrupted by powerful waterfalls, cute sheep dotting the countryside, Viking turf huts, bright blue glacial lagoons, thermal pools to soak your bones in after a long day exploring one of the most varied landscapes you'll ever experience…the list goes on and on and on.
So instead, we're going to focus on some of the most iconic locations you can experience here and some of our favorite Iceland elopement spots for photos.
Here's our list of 9 jaw-dropping places to elope in Iceland:
Eloping in an Icelandic Glass House
One of the best parts of eloping in Iceland is all the cool places you can stay all over the island. The Scandinavian design vibes are everywhere and we are obsessed! One of the most unique places you can stay in Iceland is the Glass Cottages, where you can lay in bed and stare up at the Northern Lights. We had so much fun shooting here. When you stay somewhere this beautiful, it's a location within itself and a great spot to do some photos before heading out on more adventures.
Check out an Iceland elopement where we started the day at a Glass Cottage.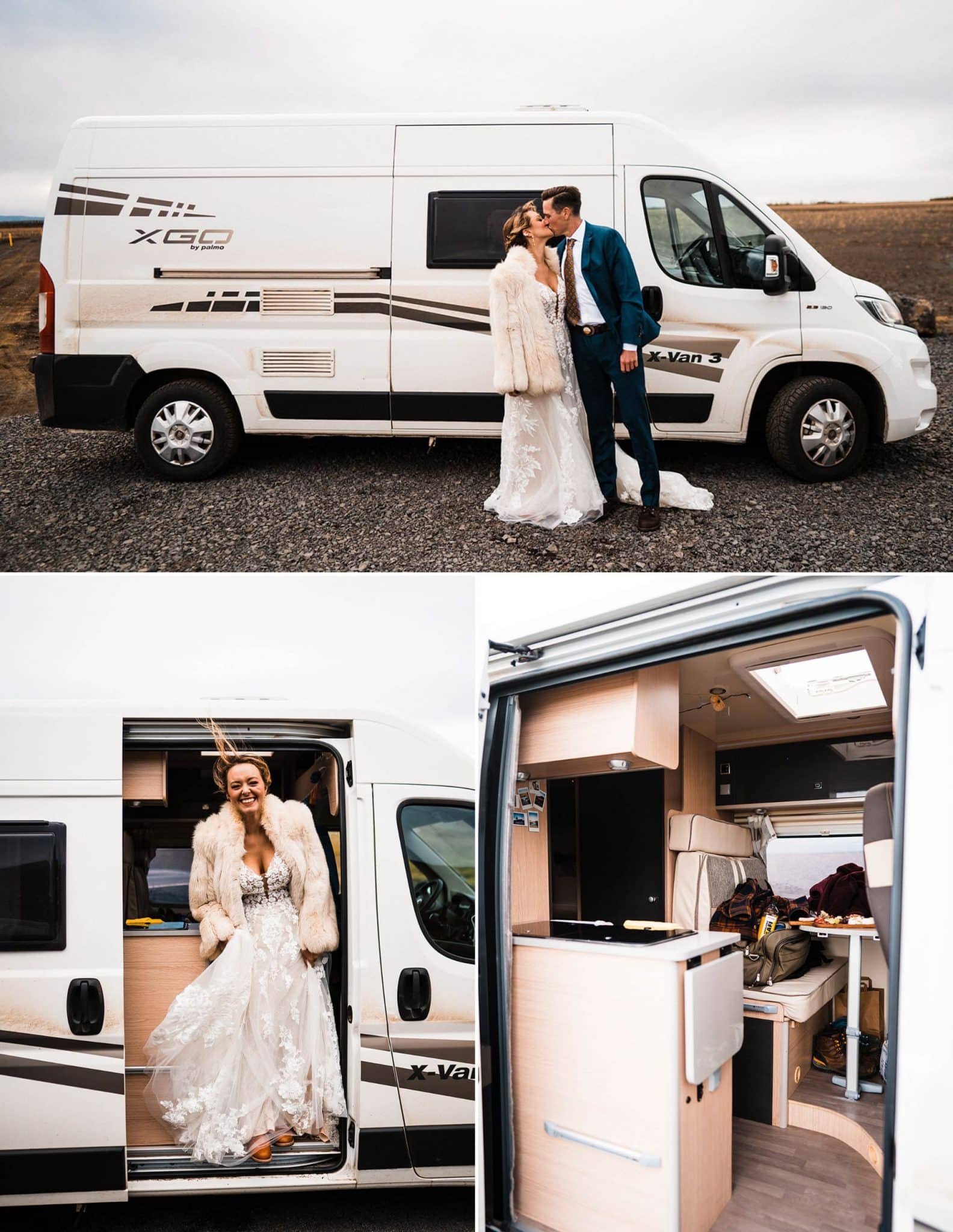 Driving the ring road in a van
One of the best ways to experience all that Iceland has to offer is renting a camper van and driving the Ring Road. The Ring Road circumvents the entire island and is packed with a lifetime's worth of epic stops. Honestly, "car hiking" in Iceland is one of our favorite things to do. The roadside views are insane everywhere! And there are so many cool little random pullouts to hop out and explore. This is why eloping in Iceland is great even if the weather is gnarly. You never have to hike far for an epic photo op, and then you can hop right back into the warm car and continue on the journey.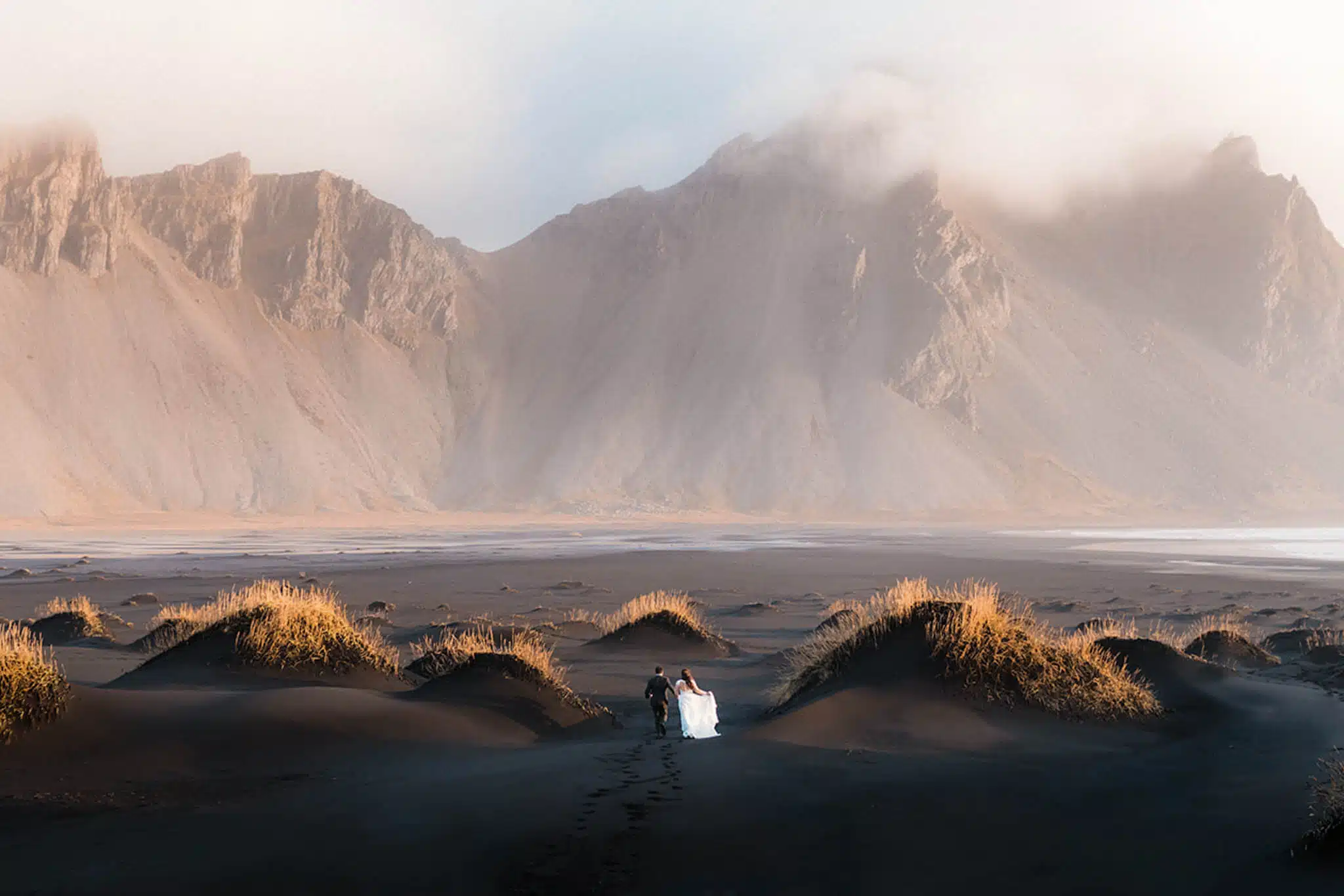 Iceland's iconic black sand beaches
Ah, the Icelandic black sand beaches. You've probably seen them in countless photos. A white wedding dress contrasted against the black sand makes for a pretty striking shot! These beautiful beaches can be found all over Iceland, but there are a few particularly iconic beaches you'll want to check out. The Reynisfjara beach in Vik is probably the most famous, with its basalt rock columns adding an extra element of eye candy to the landscape. But our personal favorite is probably the beach at Vestrahorn (pictured above), with its rugged mountains providing an epic backdrop to the grassy tufts on black sand dunes.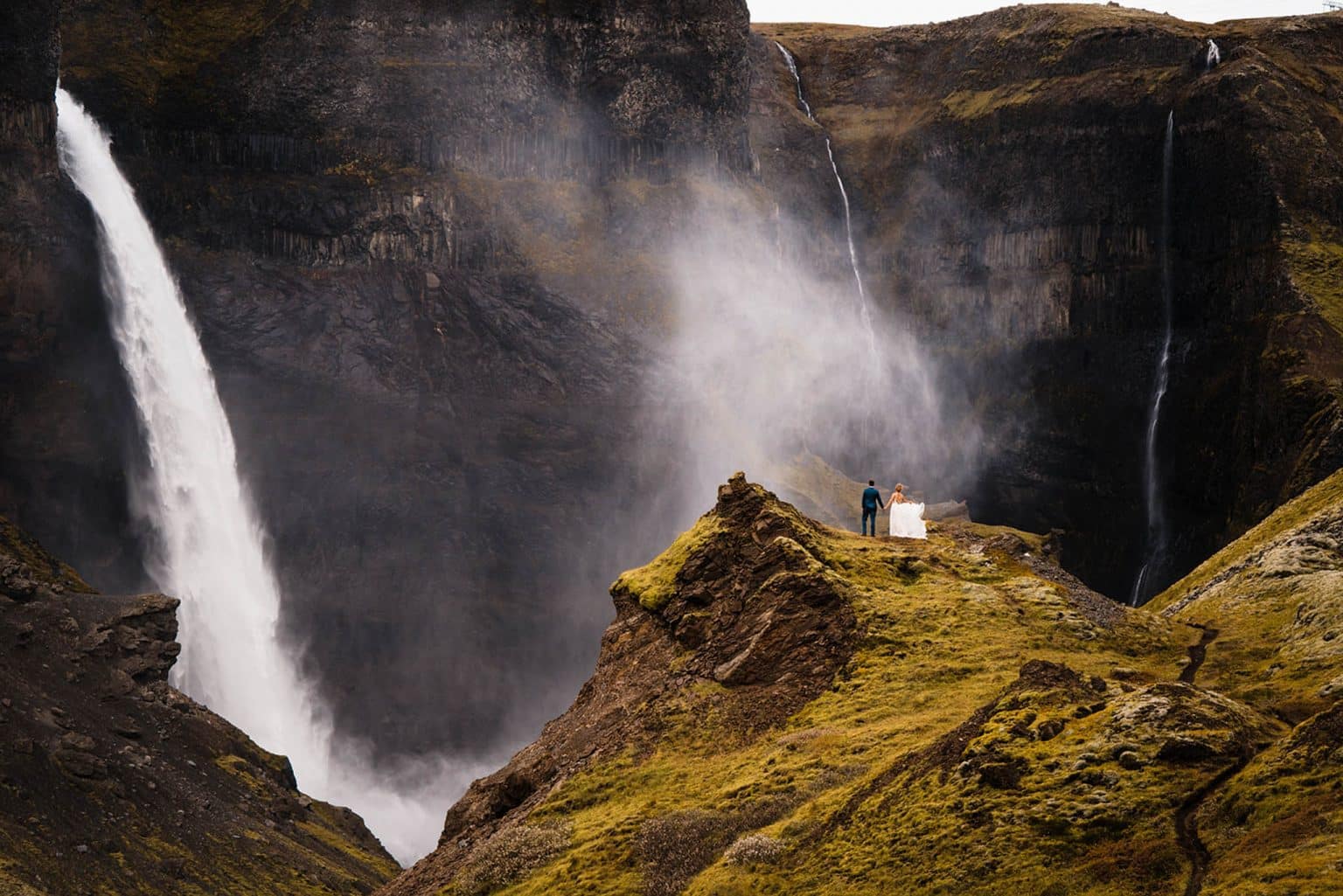 waterfalls, waterfalls, and more waterfalls
Water is a serious force of nature on Iceland. For real, it seemingly comes from nowhere. We were exploring a random area one day and saw water just shooting out the side of a cliff. Like, where is it even coming from? The glaciers most likely. And those glaciers feed some MASSIVE waterfalls. One of our favorites is Háifoss (pictured here), which is one of the tallest waterfalls in Iceland. We hiked down to the base with these two and they had their ceremony there. All the moss and mist from the falls was so lush and vibrant. It's easily one of our favorite spots in the country and an incredible stop on any elopement. 
Your iceland elopement photographer is the most important decision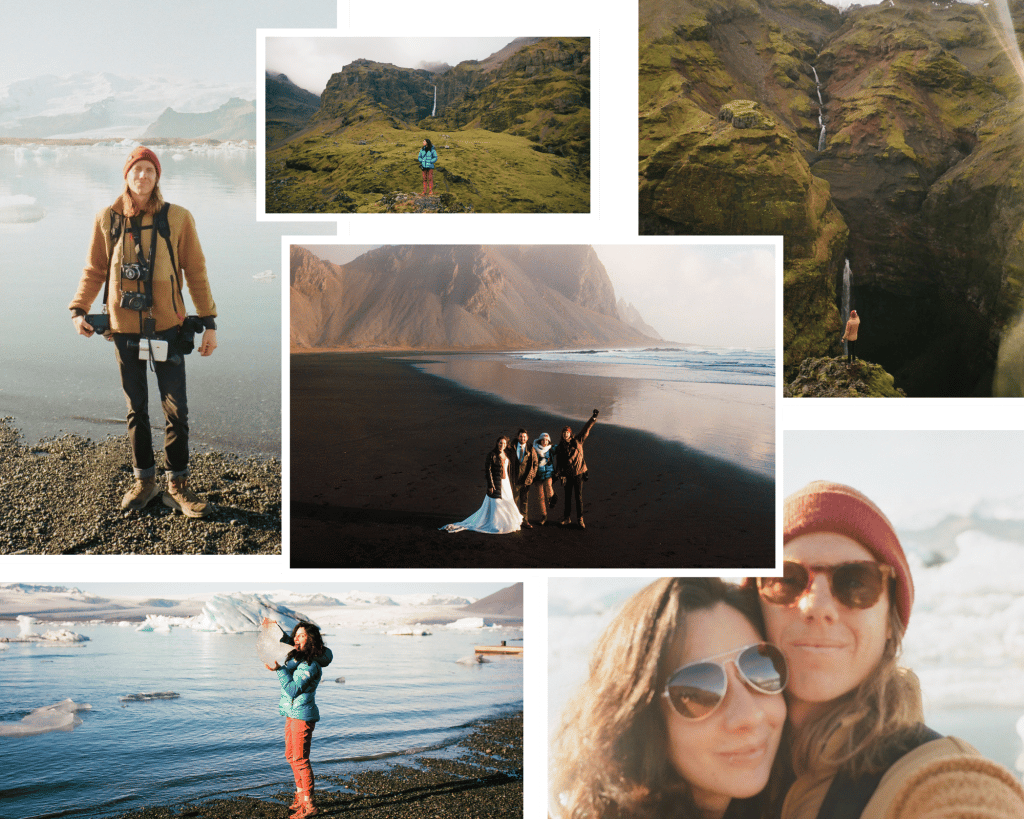 We've planned and photographed 300+ elopements all over the world and return to photograph Iceland elopements every year – we are Iceland elopement photography and planning experts.
You're likely traveling from halfway across the world to elope in Iceland. Working with a photographer you can trust to do justice in capturing you in this wildly beautiful landscape is so important! We know all the nooks and crannies of this entire area, so you'll be able to lean on us for our expertise to plan the best possible day.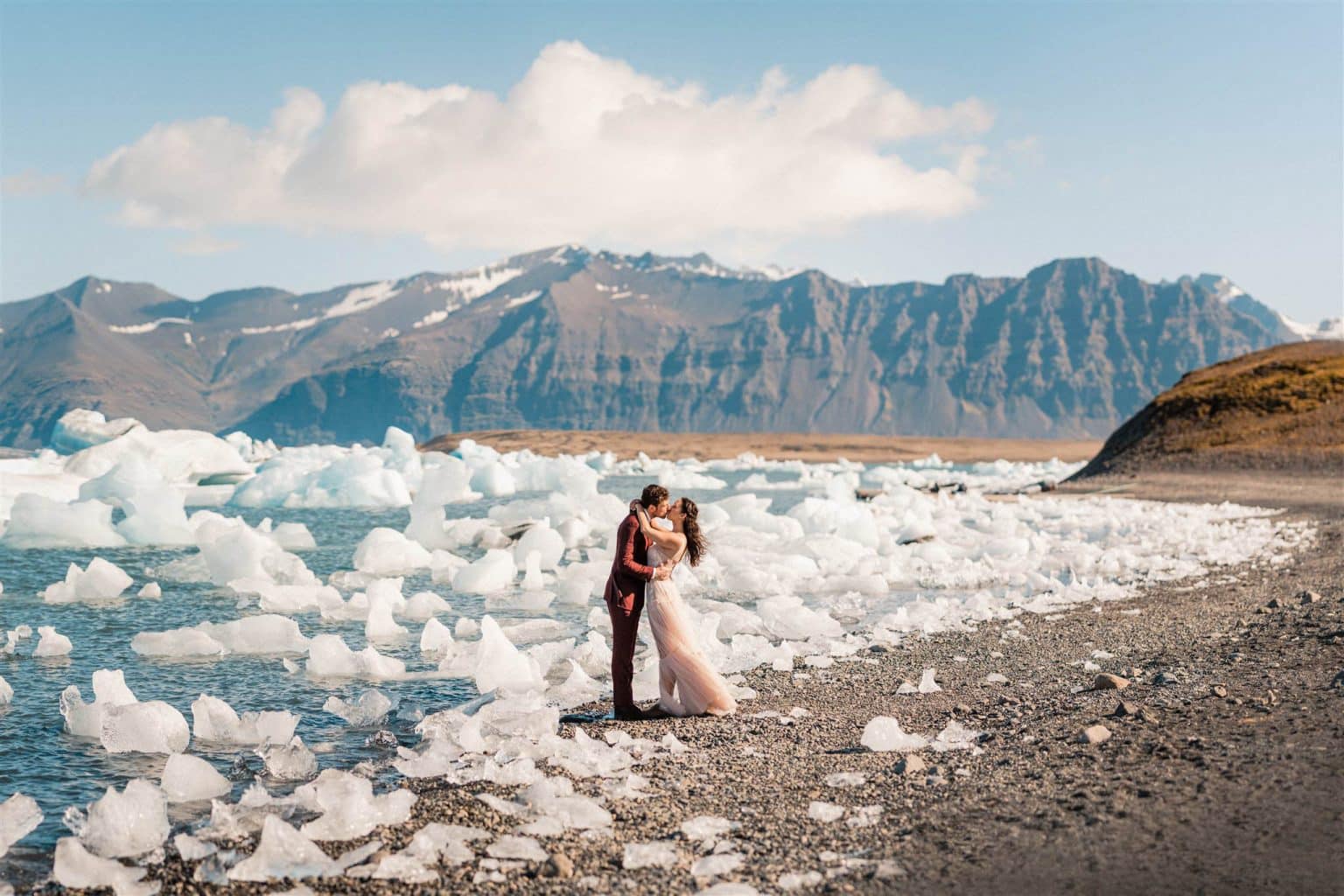 Glaciers and Glacial Lagoons
Jökulsárlón Glacier Lagoon is one of the most famous spots in Iceland. Tourists flock here to watch icebergs calve into the pristine blue waters and wash up on shore as oversized iced cubes. But Jökulsárlón is just one of the lagoons where you can see floating ice bergs. There are tons of glacial lagoons that are less explored and just as impressive. We love stopping at these areas because the crowds are smaller and the experience feels more wild and remote. But if you're just cruising the Ring Road, Jökulsárlón really is a must see. It's right off the highway and a quick pit stop. Plus, you can wander across the highway to Diamond Beach and see all the crystal clear ice blocks washed up on a black sand beach. It makes for a pretty remarkable sight!
Volcanoes and Geothermal Moonscapes
Iceland is the land of Fire and Ice. So it makes sense to follow up the Glacial Lagoons with Iceland's many volcanic moonscapes. There are active volcanoes all over Iceland, and the landscape surrounding them is pretty surreal. The vegetation is usually wiped out from past eruptions, leaving behind minimalistic moonscapes. Wander long enough and you'll probably stumble across a natural hot spring where you can soak your bones. There are geothermal pools all over because of all the volcanic activity here. We drove up into the highlands with these two and were treated to a mini snow storm in an otherworldly landscape. Nobody was out here and we felt like we had been transported to another planet. 
The Highlands compose the central region of Iceland. While the ring road is nice and paved, following the coast around the whole island, you'll have to adventure onto some more rugged roads to reach this area. 4×4 vehicles are required and you can only get here during the summer, so if you want to experience Iceland's Highlands on your elopement, you'll want to visit in June. By October, snow has started to fall up here and some roads might be closed for the season. This region is gorgeous and features some of the most active geothermal areas. You'll find some pristine hot springs, colorful mountainsides, and plenty of sulfur smells up here, as well as some of the country's most adventurous treks. 
Viking Ruins and Turf Huts
No trip to Iceland would be complete without a stop to see some old Viking ruins. The Vikings sailed here from Norway over 1,000 years ago, and you can still find remnants of their glory days. Many of these sites have been restored and are in amazing condition while still looking authentic. We love the cute little "turf huts" that are so unique to Iceland. Stopping at one of these spots during an elopement is always so fun and makes for some great photos. Bonus points if you wear a fur shawl Viking style 😉 Plus, these are great areas to look for Icelandic fairies (yes, they're real). 
Iceland elopement packages FAQ's
How much does it cost to elope in Iceland?
Between photography, vendors, travel costs, an officiant, permits and licensing fees, you can expect to spend $8,000 – $15,000 on your Iceland elopement.
Can foreigners get married in Iceland?
Yes, Americans and foreigners can legally get married in Iceland. However, it's important to note that there is an in-depth legal process to get married in Iceland. We have a local officiant that we recommend to help you with the entire process.
What is the best month to elope in Iceland?
The best month to elope in Iceland for the midnight sun and nice weather is June. October is the best month to elope in Iceland for northern lights, less crowds, and fall colors.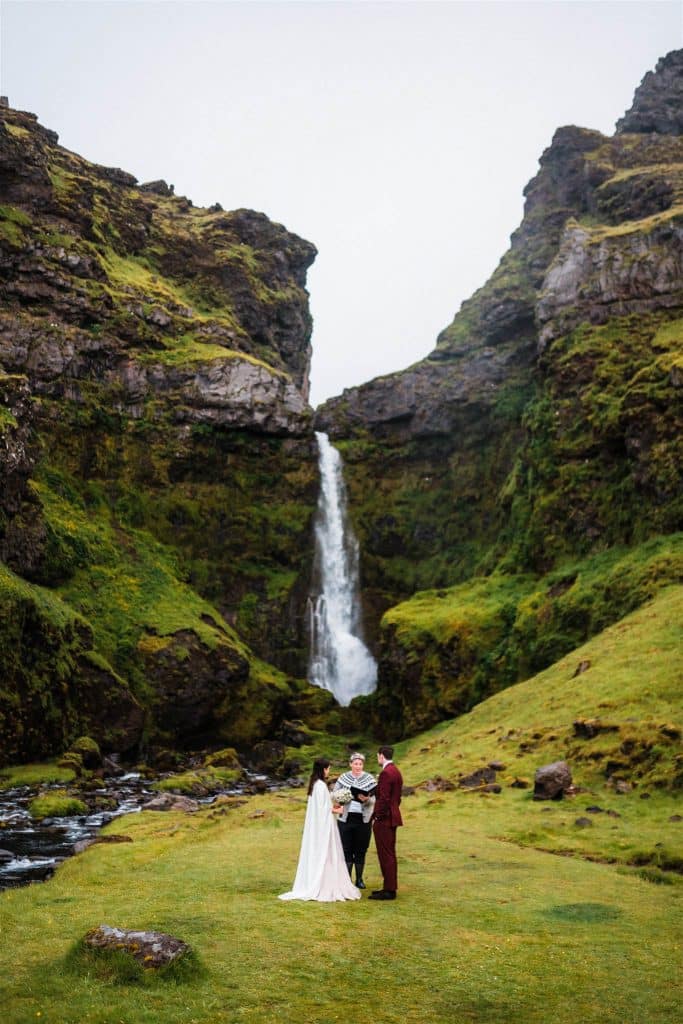 See more Iceland elopements
Here are inside peaks at some of the days we've created and photographed with our couples for their Iceland elopements. This is a great way to get a feel for our Iceland elopement photography, where to elope in Inceland, and what full day adventure elopements look like!
Want us to photograph your Iceland elopement?
Hope you found our tips on eloping in Iceland helpful! As you can see, we LOVE talking about elopements and the wild, unearthly landscapes Iceland has to offer. If you're considering eloping in Iceland, don't hesitate to reach out for a free planing call with us!
-Brandon, Gabi, Hannah, and Zoe