Why eloping in Oregon is so incredible
jump to our most asked questions about eloping in oregon:
You're looking for the best advice to plan your Oregon elopement and we happen to be experts on the matter…
We're a team of dog loving, peak bagging, photography award winning adventure junkies – working together to help plan and document incredible Oregon elopements.
Together we've photographed 300+ elopements, most of which are in Oregon and the Pacific Northwest! This is our quick tips, best advice, and list of the absolute best places to elope in Oregon.
Here's everything you need to know about an Oregon elopement
Keep these pro tips in mind when planning our the best place to elope for your wedding day:
1. How do you elope in Oregon?
You need an officiant to marry you and 2 witnesses to sign your marriage license. You must apply for your marriage license at least 3 days before your elopement because some counties require a 3 day waiting period after the license is issued. The application is $60. You can apply in person or online.
For more details, visit the Clackamus County Marriage License website.
All national parks require a Special Use Permit for wedding ceremonies to get married within park boundaries. Different state parks have limitations on number of guests and where you can have your ceremony, so make sure to chat with your photographer (we help with all this stuff!) to get the Special Use Permit details for your Oregon elopement.
2. When is the best time to elope in Oregon?
Late spring and early fall, aka April, May, June, September, and October, are our favorite times for eloping in Oregon. You can get those classic moody PNW days with fog rolling over the ocean shores in the early morning and dew drops on all the moss covered trees in the old growth forests. But you can get incredibly summery days too with bright blue skies and wildly vibrant sunsets over the Pacific Ocean. But what's best about these months is you avoid the crazy summer crowds and prices. Mosts airbnbs double or triple their prices starting July 1st for tourist season, and are often booked a year in advanced, so eloping out there during the shoulder seasons gives you access to some of the best places to stay without the crazy prices!
3. How much does it cost to elope in Oregon?
It's important to consider how much it costs for an Oregon elopement and what your budget is. Because there are many elopement specific vendors in Oregon, Special Use fees are relatively low, and it's an easy place to travel to, Oregon is one of the more affordable options for an elopement. The total cost of your elopement depends on how lavish you want to go with lodging and styling for your day-of, but here's a quick breakdown of what to expect.
Photographer $5,000-$10,000 | Hair & Makeup $600-$1,000 | Flowers $400-$800 | Officiant & License $600-$1,200 | Special Use Permit $0-$60 | Lodging $400-$1,200 | Flights & Car Rental $500-$800 
The 5 best places for a beautiful oregon elopement
The best thing about eloping in Oregon state is that Oregon literally has it all, from rugged coastlines and old growth forests to vast mountain ranges with glaciated peaks, and lots of geothermal activity with amazing natural hot springs to soak in. If you wanted a little bit of everything for an all day epic Oregon elopement, you could even get a mix of all of the above! If you're making a vacation out of your Oregon elopement, either Portland or Bend are great hubs for travelers. There are many fun towns to visit, world class cuisine, and obviously countless epic hikes throughout Oregon. We have been living and traveling on the road for the last four years and let's just say that there's a reason why we picked the Pacific Northwest to be our home base – it's incredible here and one of the best places to elope.
The Northern Oregon coast is known for its rugged beaches, big haystack rocks, and laid back vibe. In Pacific City you can drive your car right on to the beach, pop open your trunk, and enjoy a beer while watching the surfers catch waves in front of the giant Cape Kiwanda. The temperature is a lot cooler than a tropical beach, but you can still bask in the sun on a warm summer day. The incredibly scenic Highway 101 hugs the coastline, offering up stunning vista after stunning vista and access to lots of hiking. After a day spent wandering up and down the dramatic coastline, you can end with a warm bonfire right on the beach.
Driving time from Portland: 1.5 – 2.5 hours (or more if you go farther south)
Best place to look for lodging: This depends on which area you want to elope in, but some towns to keep in mind are Astoria, Cannon Beach, Manzanita, Pacific City, and Lincoln City. They all have plenty of lodging options, restaurants, coffee shops, and grocery stores. Airbnbs tend to book up fast during the peak summer months, so make sure to reserve a place ASAP!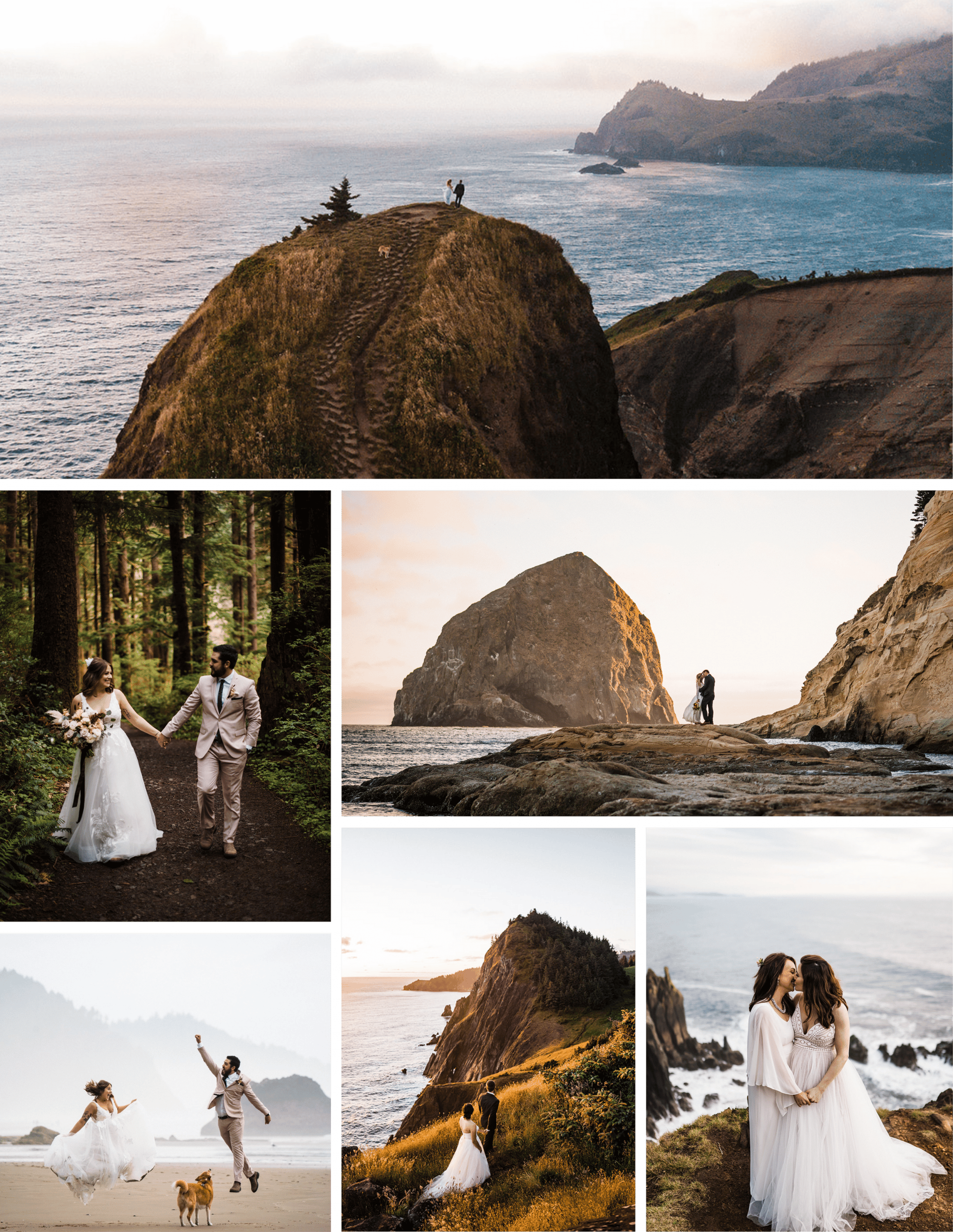 The Southern Oregon coast is similar to the north with giant sea stacks, wild coast lines, and tiny beach towns, but since it' so close to California, it's easy to loop in a visit to the Redwoods along with your Oregon Coast elopement. 
Driving time from Portland: 6-7 hours
Best place to look for lodging: Brookings, Oregon has a bunch of airbnb/vrbo options and hotels.
Check out pics from one of our Southern Oregon Coast Elopements
Mt. Hood is one of Oregon's most beloved mountain peaks. It's the massive snowcapped dome you can see from almost anywhere in Portland. It's a breathtaking mountain with plenty of scenic hikes all over and for any difficulty. The Columbia River borders Mt. Hood National Forest and is another place loved for its scenic beauty and recreational activities. The Columbia River Gorge, or "the Gorge" as locals say, has sweeping cliff views of the river and is also known for some of the most famous waterfalls in Oregon.
Driving time from Portland: 1-2 hours
Best place to look for lodging: There are a lot of cute lodges all along the the Columbia River Gorge and Mt. Hood. Your best bet is checking Airbnb.
Check out pics form one of our Columbia River Gorge Elopements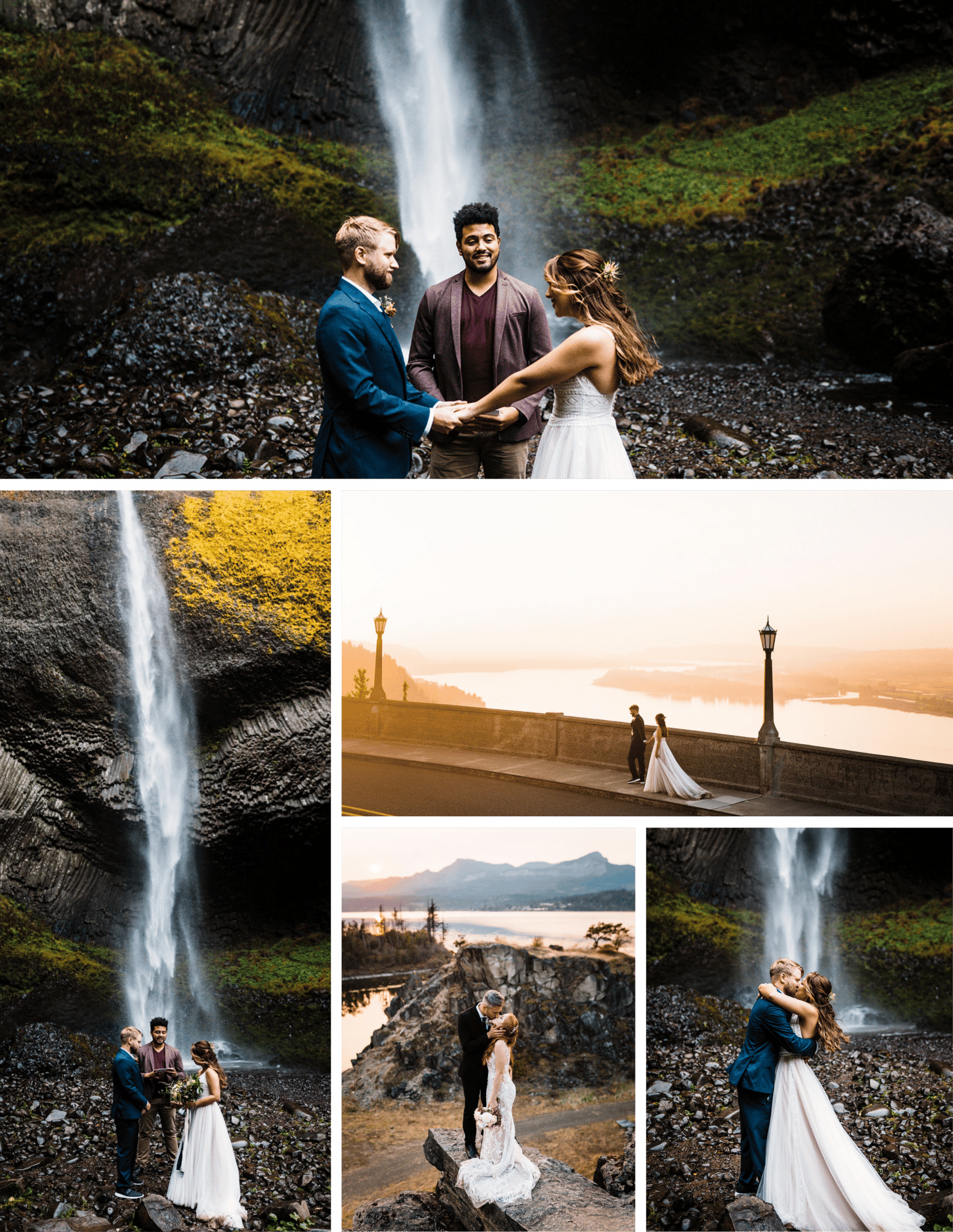 Bend, OR is a fun little mountain town on the eastern side of the mountains known for its outdoorsy residents and craft breweries – over 20 of them and counting! Willamette National Forest is just to the west of Bend and provides classic PNW snowcapped mountains and forests. Smith Rock State Park, Oregon's little version of Zion National Park, is just to the north of Bend and is known for its red desert cliffs and rock climbing. With snowcapped mountains, epic waterfalls, and red desert cliffs, it's a one stop destination for all kinds of adventure.
Driving time from Portland: 3.5 hours
Best place to look for lodging: Bend, OR on Airbnb! Bend is a lively town filled with great restaurants, shops, and breweries. Being so close to Portland also makes it pretty busy on the weekends, so make sure to book your reservations as soon as you can.
Check our Bend Elopement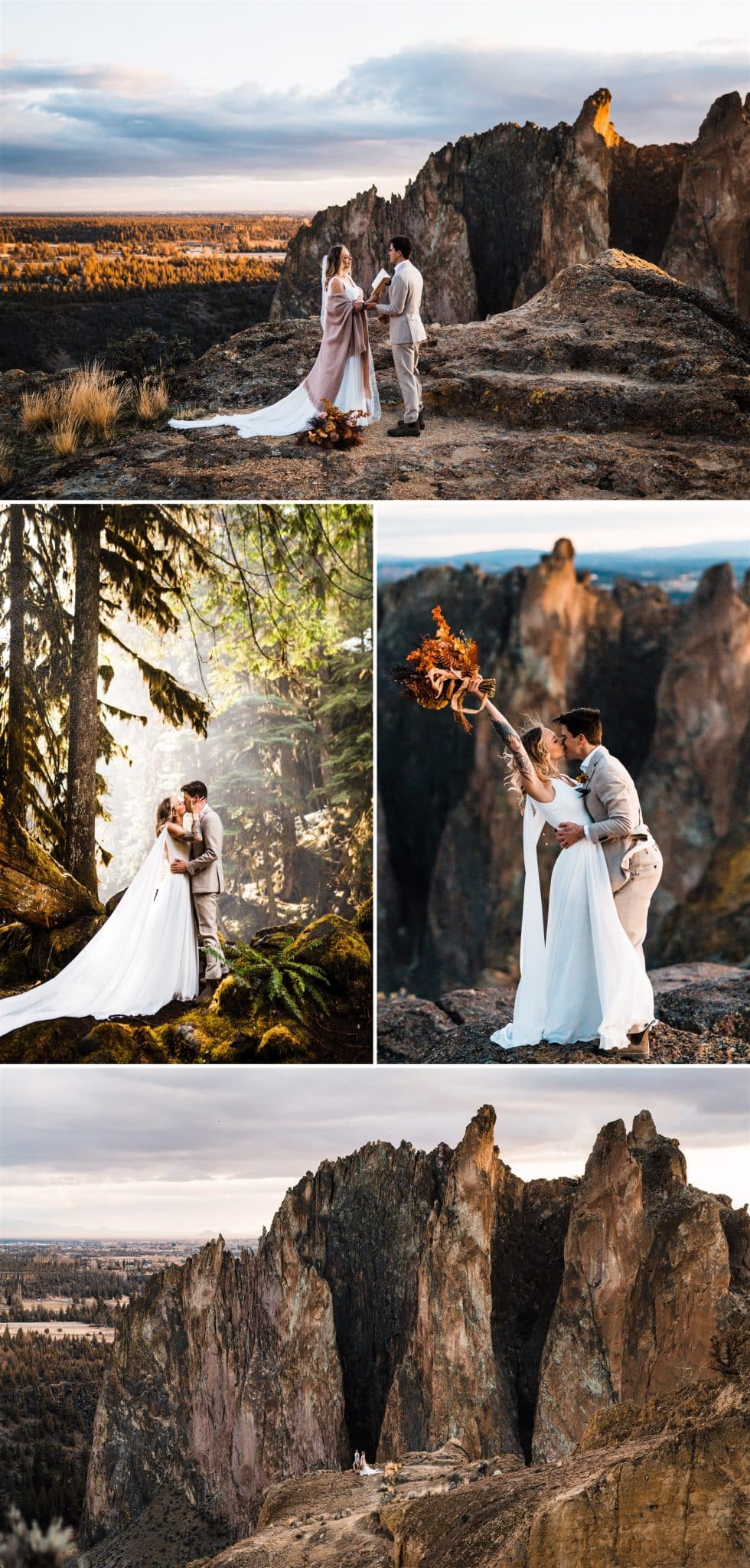 If there's one thing that Oregon has every other state beat on, it's waterfalls. According to Wikipedia, there are over 238 waterfalls sprinkled all over Oregon! Some are close to Portland, making it an easy getaway for those wanting to stay in the city, and some are farther out for those looking for a more remote experience. Some are almost roadside for many tourists to enjoy, and some require a bit of a hike to reach, giving you more privacy. But almost all of the waterfalls are surrounded by Oregon's magical forests with big old trees, bright green ferns, and lots of hanging moss. If you want a waterfall elopement, Oregon is the perfect place, hands down!
Driving time from Portland: There are waterfalls sprinkled all over the Oregon. You can find epic waterfalls as close as 45 minutes from Portland.
Best place to look for lodging: Lodging completely depends on which waterfall you want to elope at! You can find waterfalls near every major city or cute little mountain town.
Check out pics: Oregon Waterfall Elopement Scouting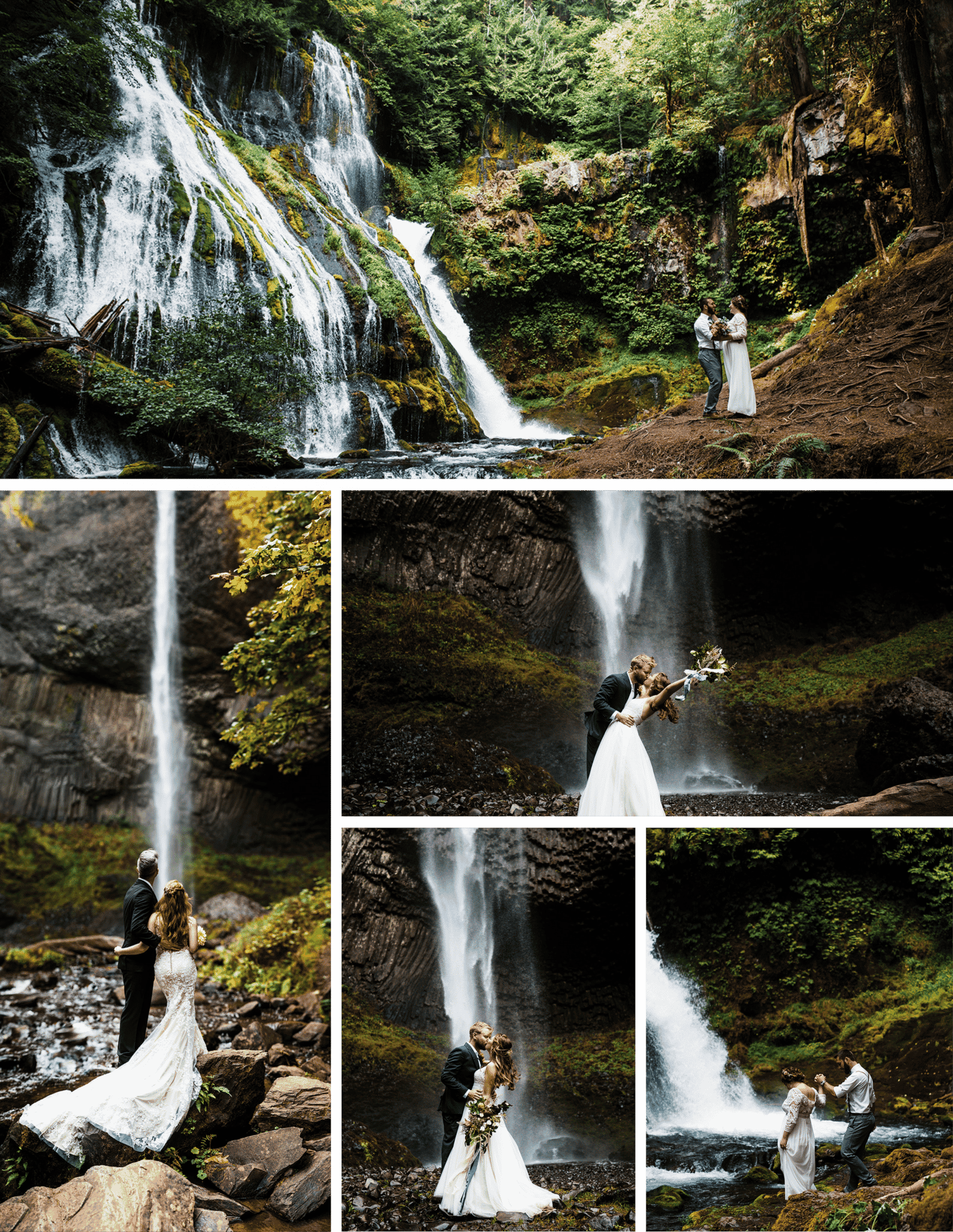 There you have it, the best places for eloping in Oregon!
We're Gabi and Brandon (aka the Foxes) and Hannah and Zoe. Together we make the Foxpack – a team of adventure elopement photographers. Together we've shot over 300 elopements (and counting) and are experts on planning and documenting epic days for our couples. We can help guide you through the nitty gritty details of your dream adventure elopement!