We spent a week in Yosemite in April and fell in love with the special vibe of Yosemite valley in the spring. The waterfalls were raging and the number of tourists roaming around Yosemite was a far cry from the packed summer months. Visiting Yosemite in April is a great time of year to explore the national park, but it does have a few cons along with all the pros. Nevertheless, we will certainly be coming back to Yosemite in April for future visits in years to come.
↓ Keep reading to for the full story + pics ↓
Yosemite in April: The Good
Less Crowds
Visiting Yosemite in April is a great idea for a bunch of reasons. But the biggest and most noticeable advantage to exploring Yosemite in April was the lack of crowds. Don't get us wrong, there are definitely still a lot of tourists that come to Yosemite during the spring time, but it's practically a ghost town compared to peak summer months. While driving around the Yosemite Valley loop can take several hours in July and August, the lap only took us a mere 20 minutes in April. Not having to worry about getting stuck in crawling traffic as you explore all the stunning viewpoints around the valley is a huge advantage. And when you do stop to go for a hike and explore by foot, it isn't hard to escape other people altogether and find your own private peace and tranquility in Yosemite.
Easier Camping
You'll still want to plan ahead if you want to guarantee a campsite in Yosemite in April, but if you're up for a little spontaneity and don't mind switching spots every night or two, you can probably book a site upon arrival. Weekends are still tough, but we noticed lots of open sites during the week. We managed to book spots with our 27 ft trailer in North Pines and Upper Pines last minute. Moving sites a couple times was totally worth it to stay in the Valley. We still recommend making reservations far in advance though if you're planning a trip to Yosemite in April. Reservations open up 5 months ahead on the 15th of the month at 7am PST, so set your alarm now! Pro Tip: Upper Pines has better cell service than North Pines (not sure how Lower Pines is). Learn all about Yosemite campground reservations here
Or stay at the Autocamp Yosemite Glampground
Autocamp Yosemite is a luxury glamping experience at the entrance of Yosemite National Park. You can stay in one of their brand new Airstreams, their tiny-home cabins, or a luxury tent. The entire property is absolutely beautiful, providing one of the best lodging experiences in all of Yosemite.
Check out our Autocamp Yosemite Review
Epic Waterfalls
Possibly the best part of seeing Yosemite in April is the epic show the waterfalls will be putting on. Unless California suffers an unseasonably dry winter, Yosemite Falls and Bridalveil Falls will be gushing. We arrived in mid-April, right after a huge storm, and the waterfalls seemed to be putting on an especially spectacular display. If you visit in the late summer or fall, these waterfalls aren't nearly as impressive and sometimes dry up altogether. But in April, you can hear the water crashing from anywhere in the Valley.
Related: Oregon has some pretty epic waterfalls too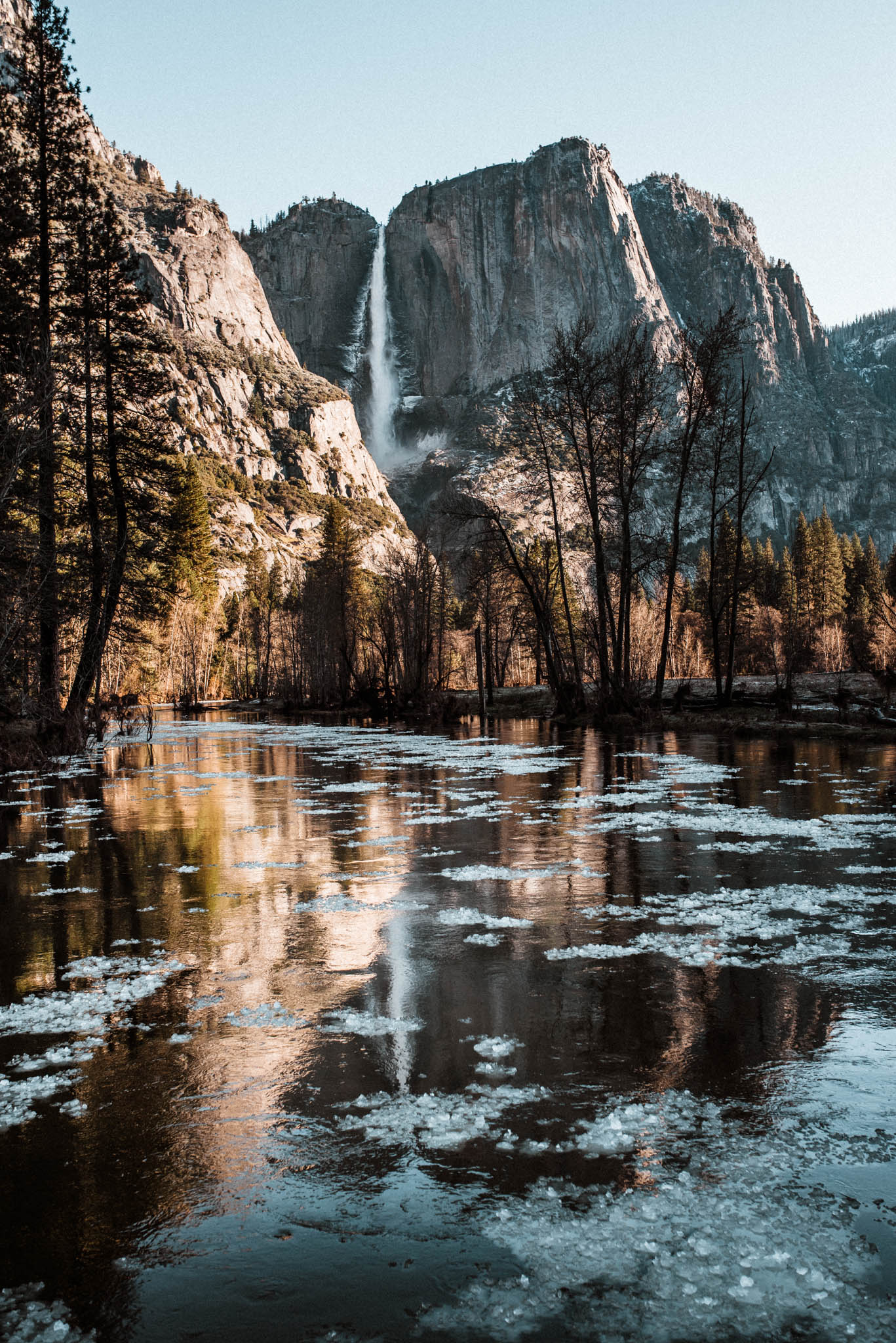 Yosemite in April: The not so good (but not that bad either)
It still kind of feels like Winter
For the most part, the weather in Yosemite in April is pretty great. However, it's not uncommon for a heavy rain (or even snow) storm to blow through. In the course of our 5 days in Yosemite, we experience both sunny days in the upper 70s and a small storm that brought below freezing temperatures and frozen ice around the waterfalls. Honestly, we loved experiencing Yosemite in these vastly different phases and the weather never stopped us from exploring the park. And while the views of Yosemite will always be gorgeous no matter what, the photographer perfectionists inside us couldn't help commenting on how the views would be just a little bit better if the trees had their leaves back.
Road Closures
This is definitely the biggest downside to visiting Yosemite in April. The road to Glacier and Taft Point, two of the most remarkable views in Yosemite, is usually closed for most of April. Tioga Pass, the continuation of Highway 120 that takes you over the Sierras to the east, is also closed at this time. But if you're up for the hike, Four Mile Trail will lead you up from the valley floor to Glacier Point (it's actually 4.7 miles up to Glacier Point) and you'll probably get the view to yourself and just a few others, which will never happen during the day in summer. Glacier Point road usually opens by late April, however, so if you're visiting Yosemite later in the month, you just might get lucky. Keep in mind though that if the preceding winter saw especially heavy snowfall, expect road opening times to be pushed back up to an extra month or more. See current road conditions and past year opening/closing dates here.
Despite the road to Glacier Point being closed, you can still find awe-inspiring viewpoints all over Yosemite in April. Arguably the most famous viewpoint in all of Yosemite, Tunnel View, is still easily accessed. We took advantage of multiple sunrises and sunsets to soak in this incredible view of the valley. It seriously looks like a painting, with El Cap looming on one side, Bridalveil Falls tumbling hundreds of feet on the right, and Half Dome popping out in the distance.
Tunnel View Sunset // Yosemite in April
Tunnel View Sunrise // Yosemite in April
 Sentinel in the clouds // Yosemite in April

Yosemite in April: The Main Takeaway
We'd go back to Yosemite in April in a heartbeat. The weather is mild, the crowds are thin, and the views are epic. We're looking forward to going back in September though to explore Glacier Point Road and the Tuolumne area. If you've never been to Yosemite before and you're saving up for one big trip, you might be better of waiting until the fall so you can explore all the park has to offer. But if you're okay with sticking to valley, or just looking to climb, Yosemite in April is a fantastic time to go. In between capturing epic landscape shots, we managed to snap a few with ourselves in the frame too. So we'll close out this blog post with a few of our favorites.
See more of The Foxes Travel Photography
Epic views and butt grabs // Yosemite in April
[/caption]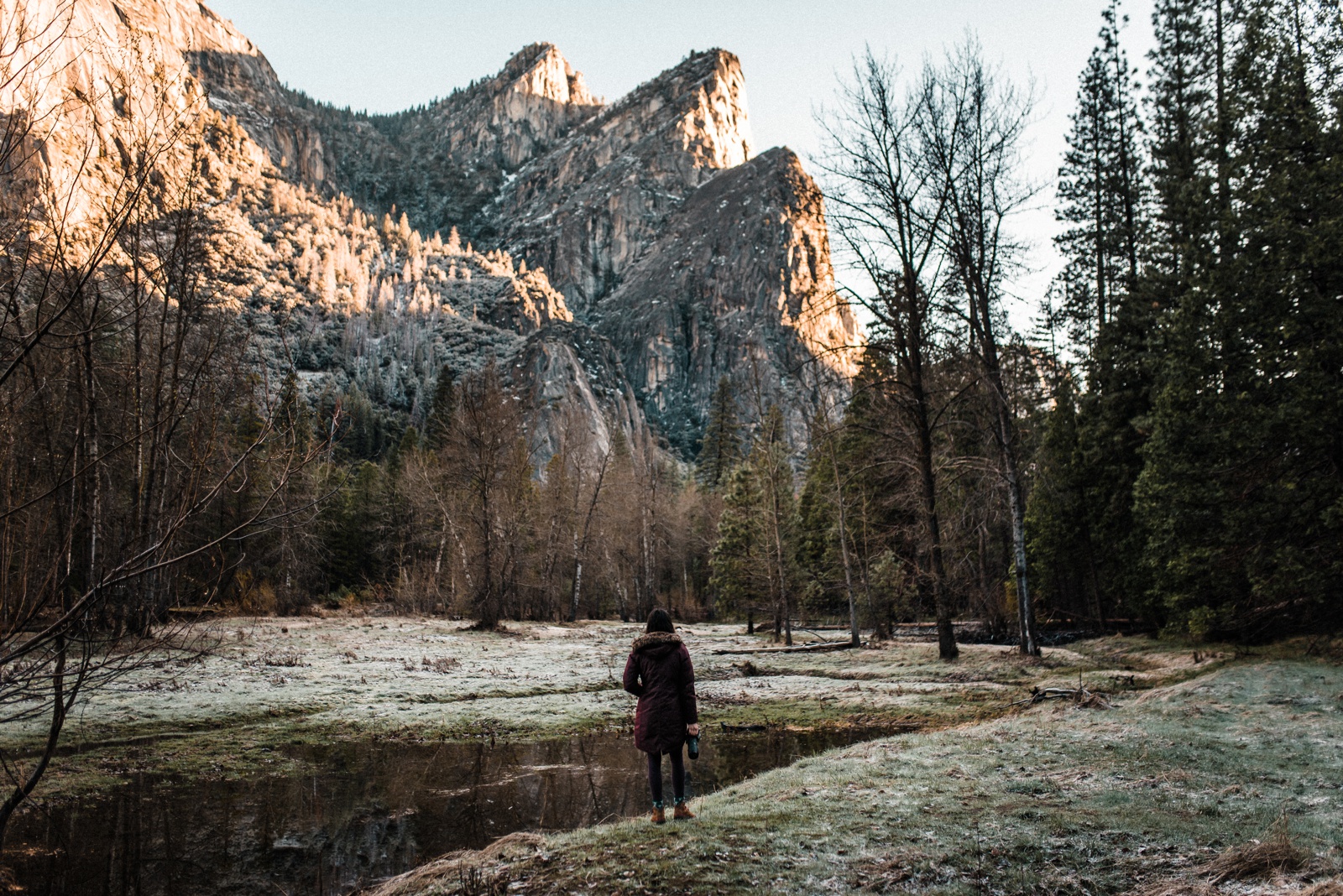 Three Brothers on a frosty morning // Yosemite in April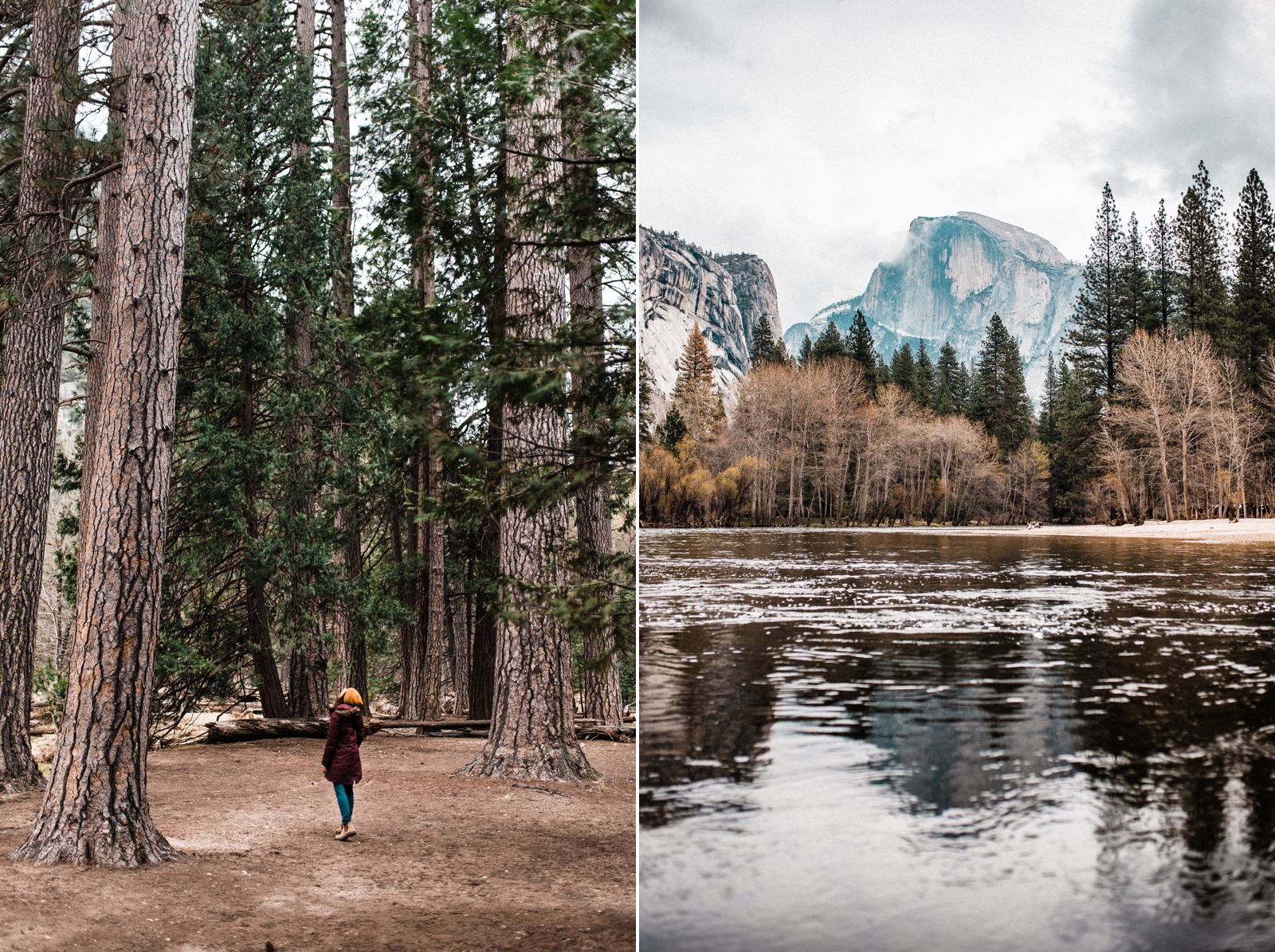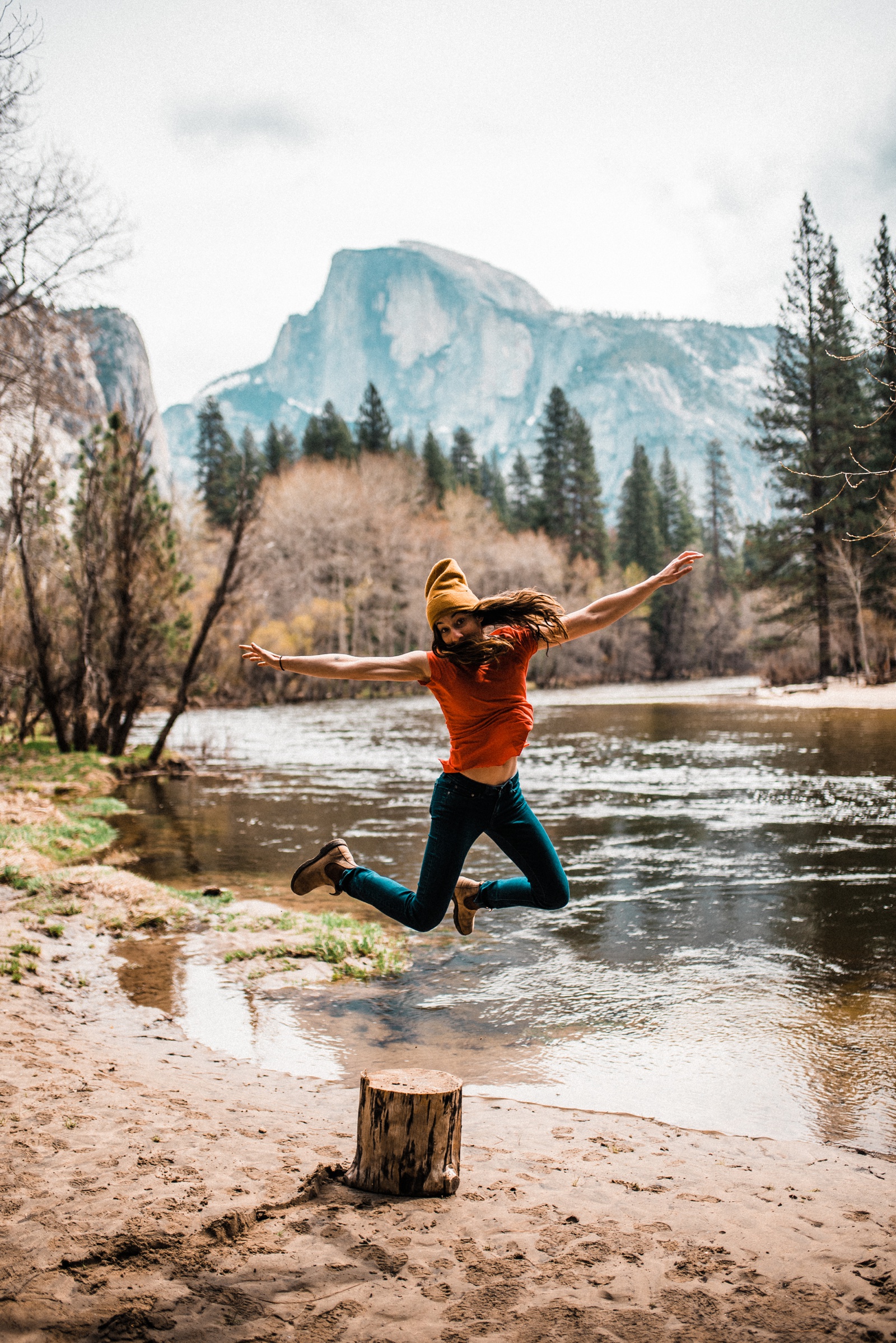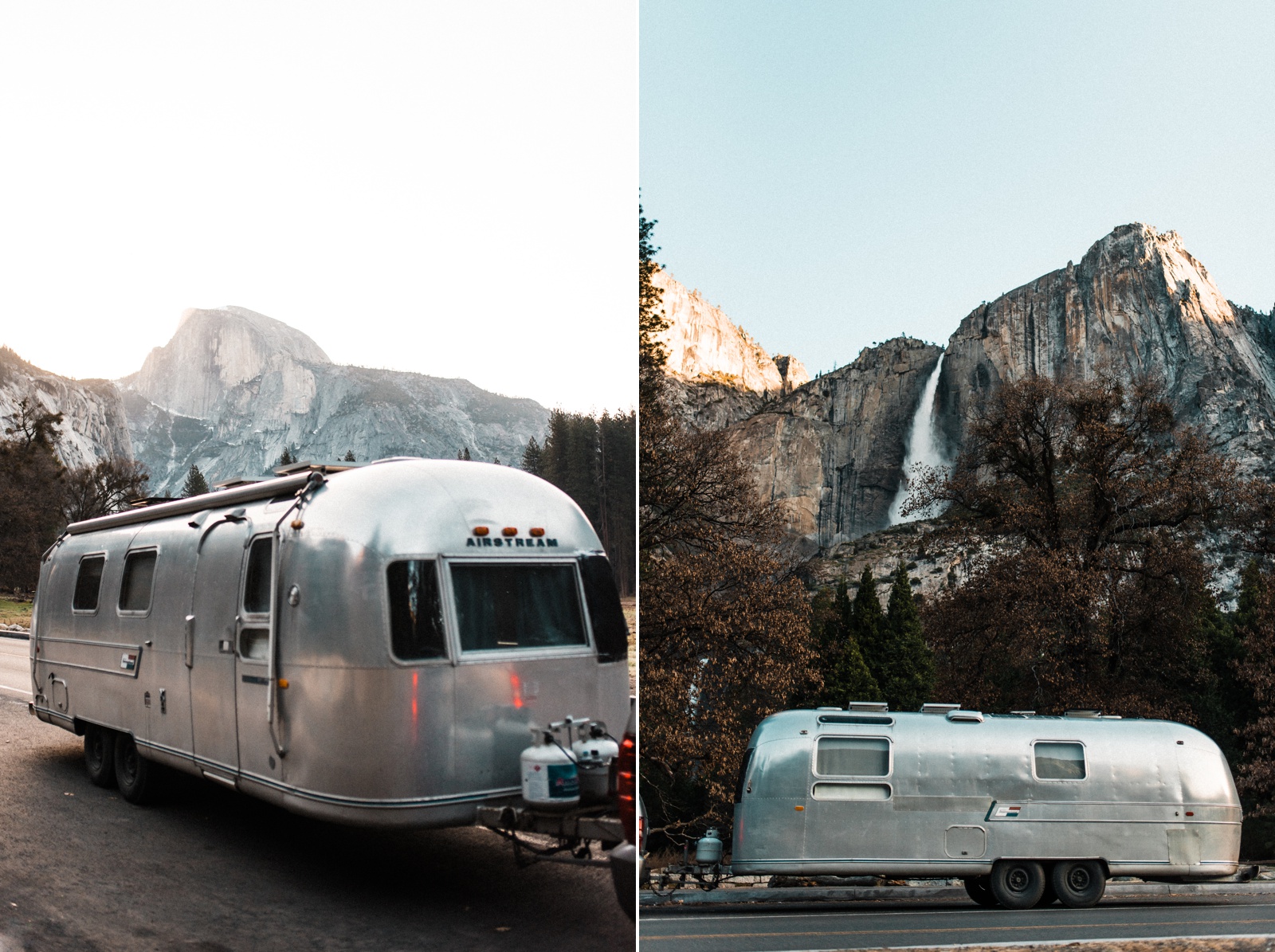 How good does that Airstream look in Yosemite?? Good. Real good.