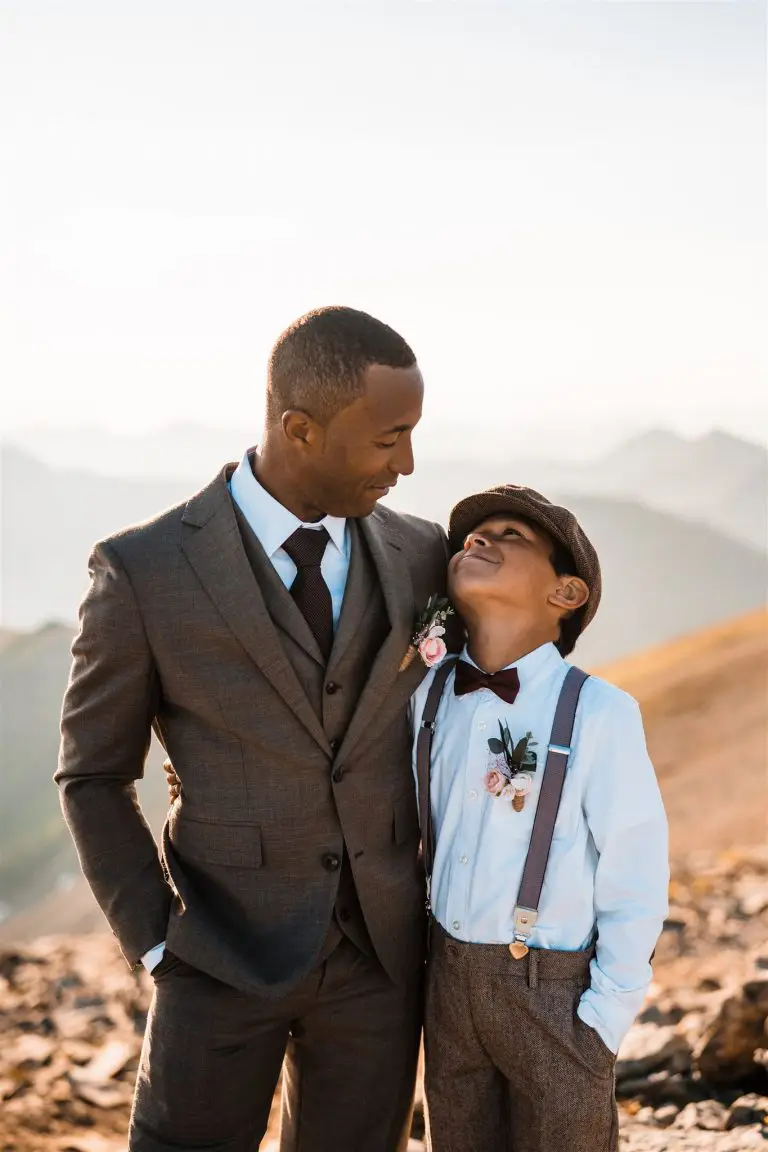 Who said brides in dresses get to have all the fun when it comes to shopping for elopement attire? Not us, that's for sure! Grooms and brides looking for elopement suits, this post is for you – we've got a ton of tips to help you choose the best suits and accessories for your adventure elopement. This is your wedding day, so you may as well go all out! From ties to boutonnieres, there are so many different options to help you transform into your snazziest, sharpest self 😉 And not only will you be looking super fly on camera, but you'll be comfy AF all day long. There's a lot to cover, so let's dive in!
Disclosure: We include some affiliate links to suits and accessories in this post. However, we weren't paid by any of these designers or retailers to share their info, it's all our genuine advise and preferences. We hope this article helps your search for the perfect elopement suit!
Best colors to compliment the landscape
Our elopement locations feature spectacular mountain views, rugged coastlines, towering waterfalls, and lush old-growth forests. Oh, and usually a pretty killer sunset, too. So how are you supposed to compete against that kind of backdrop? One word: COLOR.
We love complimentary colors that stand out against the earth tones of the environment we're shooting in. Warm colors like maroon, pink, rust, or tan really pop against blue mountains and lakes. And in the same way, cool colors like heather grey, navy, and forest green work best in locations like Sedona where there are lots of warm tones in the rocks and shrubs.
As far as patterns go, the simpler the better! We don't recommend stripes, plaid or any multicolored designs. Solid, matte colors tend to look best in photos, but a little texture in the fabric is fine as long as it's not too distracting. The same goes for shirts and vests.
One of our favorite suit makers – Indochino – has a BUNCH of great colors for landscapes.
Best elopement suits fabrics
The best thing about eloping is that it's not as formal as a traditional wedding. You and your honey will be hiking, dancing, climbing, and partying all day long in the great outdoors. So if your elopement suit gets trashed, that probably means your elopement was a success! Thus, an ultra-fancy, expensive tux is probably not necessary (you're welcome, wallets everywhere).
That being said, we tend to steer clear of shiny, scratchy suit materials that wrinkle easily. Breathability is the key! Natural fibers like wool and cotton are the most comfortable to hike around in, especially if you anticipate getting a little sweaty. Even linen can be super rad if you're getting married somewhere warm, like Hawaii! Fighting pit stains and looking good doing it – that should be our new motto, haha.
As far as patterns go, the simpler the better! We don't recommend stripes, plaid or any multicolored designs. Solid, matte colors tend to look best in photos, but a little texture in the fabric is fine as long as it's not too distracting. The same goes for shirts and vests.
Layering and dressing for the season
When it comes to choosing fabric weight, it's important to think about the climate and season of the landscape you'll be eloping in. Is it summertime on the Oregon coast? Or a snowy mountain wedding in Colorado? Obviously, you wouldn't wear the same suit in both scenarios.
For fall and winter elopements, we recommend heavier fabrics like tweed, wool, cashmere or velvet. If it's really frigid, layering a sweater under your blazer or adding a scarf can really add to that cozy, gonna-hit-the-ski-slopes-later vibe. If you're eloping in summer (especially July or August), you can opt for fabrics that are a bit more lightweight and airy.
Some grooms opt to ditch their blazers altogether and go for a simple button-up shirt with suspenders or a vest. For dress shirts, a crisp white button-up is best. It doesn't have to be super fancy, but don't pick something too sheer (unless you like that look, haha). It should be able to hold its shape without sagging at the neckline.
One thing to keep in mind, though – it's pretty crazy how quickly the temperature drops after the sun goes down! If you end up foregoing a blazer, be sure to bring an insulated jacket or blanket to help warm you up. The cold air is always a great excuse to cuddle close to your sweetie, though, so maybe it's worth it after all 😉
Hiking in the suit vs. packing the suit
How much hiking will you be doing on your wedding day? Our favorite elopement trails range from a short 1 mile walk to 7+ miles of steep, rugged terrain! If you're in the "short walk" category, you'll be totally fine spending the whole day in your suit. If you're on the opposite side of the spectrum and you'll be hauling ass up a mountain for your elopement, we recommend packing your elopement suit and starting the hike in shorts and a t-shirt. As soon as we get close to the top and are ready to start shooting, you can change into your wedding attire for the rest of the hike.
There are a lot of ways to pack the suit without too many wrinkles, from rolling it in tissue paper to clipping the garment bag to the outside of your backpack. We're happy to help you pack it when we meet up to begin the day 🙂
Tailoring, alterations, and trying it on
More than likely, you're going to have to make some adjustments to your suit to ensure that it fits perfectly. We highly recommend hiring a tailor to help! Make sure to start the conversation early so they're not scrambling to finish in time for your elopement. Depending on how much work needs to be done, tailoring costs can range from $50 for simple hemming to $300+ for multiple adjustments! That's just one of the reasons why it's important to look for an elopement suit that fits pretty well as-is when shopping.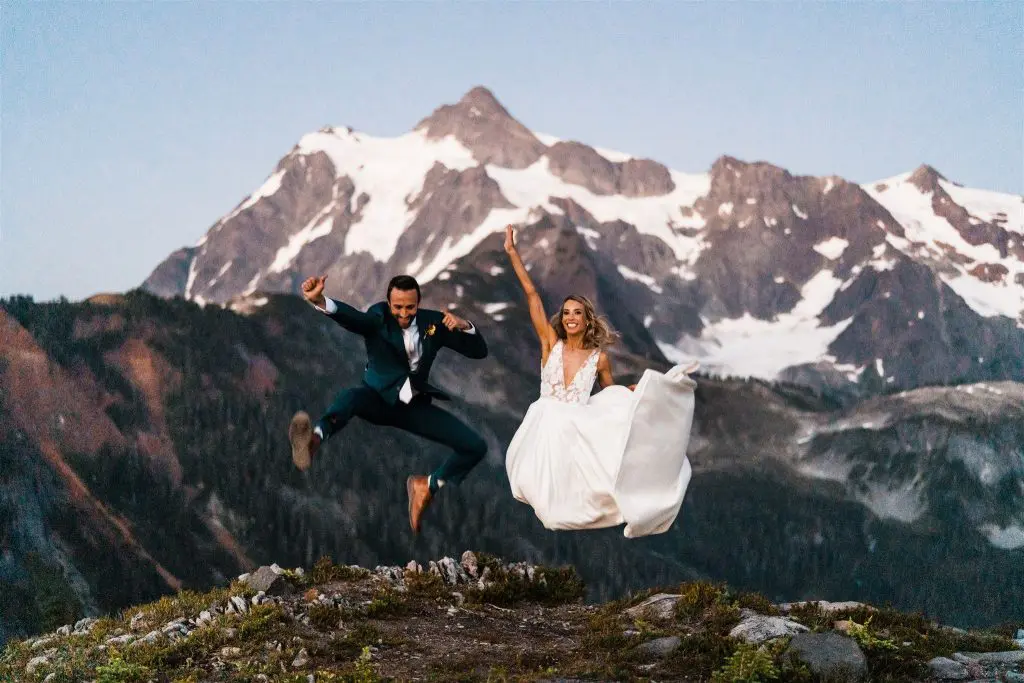 If you're hunting for elopement suits at a brick-and-mortar retailer, don't hesitate to ask a salesperson for help with fitting. You don't want anything to be too baggy or too tight. And even if the suit feels comfy, you'll want to stretch, sit, and jog around in it to make sure it holds up. Remember, you're gonna be hiking, dancing and jumping around like a crazy person in the mountains 😉 And nobody wants ripped pants on their elopement day!!
Best Elopement Suits for Women
If you're a badass bride looking for an elopement suit, we haven't forgotten about you! There are so many awesome options to choose from if wedding dresses just aren't your style. Check out Little Black Tux, Asos, and Express for suits and tuxedos. Reformation, Mango and BHLDN have some gorgeous flowy jumpsuits, too. Black or white are always classic, but don't be afraid to try a pop of color like sapphire blue, peach or maroon.
If you're in the New York area, Bindle & Keep is a fantastic brand for gender-neutral elopement suits. They're custom-designed and handmade just for you!
Skinny, wide, patterned, knitted, bowtie – there are a zillion different kinds of ties. Don't be afraid to try something fun and unique for your elopement! If your suit is a neutral color like grey or navy, a jewel-toned tie can add a nice pop of color. Or you can coordinate it with the boutonniere and bridal bouquet colors.
Both solids and patterns work great for elopements, so you can't go wrong with either 🙂 Natural prints like florals or ferns can help you channel your inner flower child (you are getting married in the great outdoors, after all). But keep in mind that smaller, simpler designs tend to photograph better than big, bold ones.
BHLDN is a great place to look for ties. Consider adding a tie clip as well – Etsy has some really cool handmade ones with custom designs and monograms. Metal always looks snazzy, while wood or leather adds a more natural feel.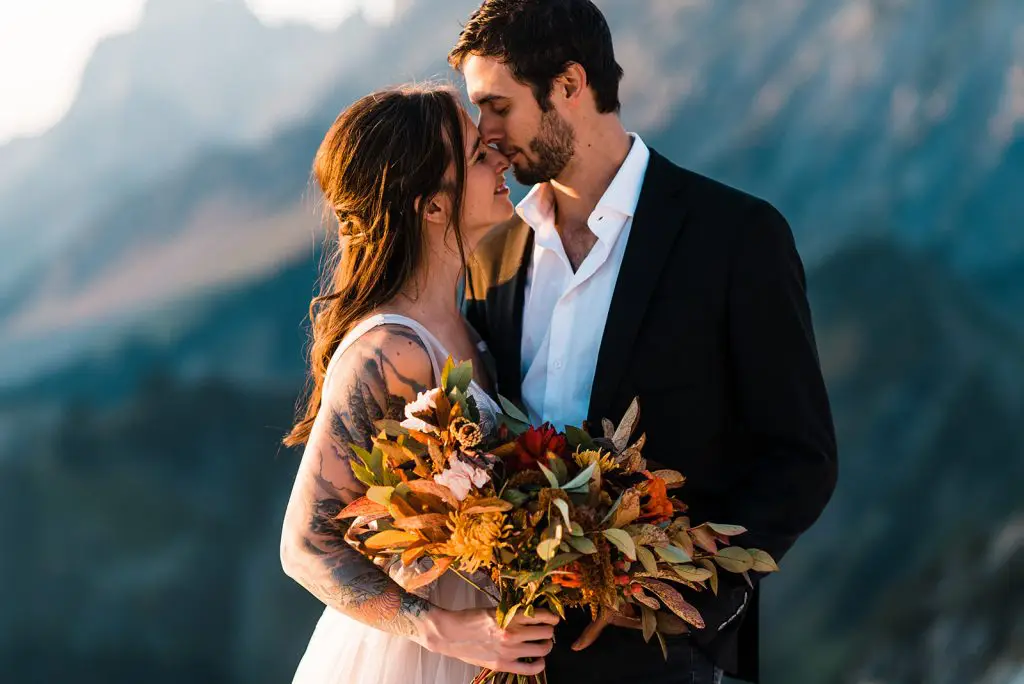 If you REALLY want to look classy (think "Bond, James Bond"), pocket squares are a must. You can match them with your tie or do something totally different. There are a dozen different ways to fold them – check out this blog for step-by-step instructions for each style! Pro tip: if your pocket square keeps slipping down, pin it with a safety pin. Works like a charm!
Suspenders are a great way to add a little somethin' somethin' to your look if you're not planning on wearing a blazer for your elopement. We love simple, skinny styles in black or brown leather. Also keep in mind that traditional suspenders (called "braces") are designed to be buttoned into the waistline on the inside of your pants. So you'll want to hire a tailor to create these buttonholes for you.
Show of hands: who actually knows where to place a boutonniere? If you don't, you're not alone! We did our research and we're here to help. Traditional boutonnieres are pinned onto the left lapel of your blazer, just above your heart 🙂 Which makes sense, since they symbolize the connection of love between the you and your partner on your wedding day.
There are so many ways to make your boutonniere unique, from feathers to autumn leaves to local wildflowers and greenery! If you're a DIY master you can always craft your own, or you can work together with a florist to design one. Using some of the same materials as the bridal bouquet can help tie your looks together.
Where to Shop + Suit Pricing
Ready to start hunting for the perfect elopement suit? There are so many different retailers, it can be hard to know where to start. But don't worry, we've got you covered with our faves! A nice elopement suit (blazer + trousers) can cost anywhere from $100 to $3000+, depending on your budget. And you'll probably have some additional tailoring costs as well.
Cheaper elopement suits generally mean cheaper materials, so be careful with anything under about $200. Your suit might get a little (ok, a lot) dusty during your hike, but it's unlikely that it will get totally trashed. Investing in a high quality suit means you can continue to wear it for years to come!
Our personal fav for elopement suits? Indochino – custom made suits at an affordable price. So many of our grooms have loved working with them!