yosemite elopement Packages
unforgettable yosemite elopement packages with the foxes
Reasons to choose a yosemite elopement package
The beauty and adventure of Yosemite is undeniable, making it a perfect compliment to the adventure and beauty you two share between each other! Below are just some of our favorite views to incorporate into our Yosemite elopement packages for the ultimate adventure elopement.
peer out to views like no other
vast meadows beneath towering granite walls
stand on the edge of the world
Mini Moon for after your Yosemite Elopement
The best part choosing a Yosemite elopement package is you get to spend your mini moon exploring all the incredible parts of one of our country's most beautiful National Parks. There's SO MUCH fun stuff to do – and we'll help you pick the best ones for your mini moon adventures!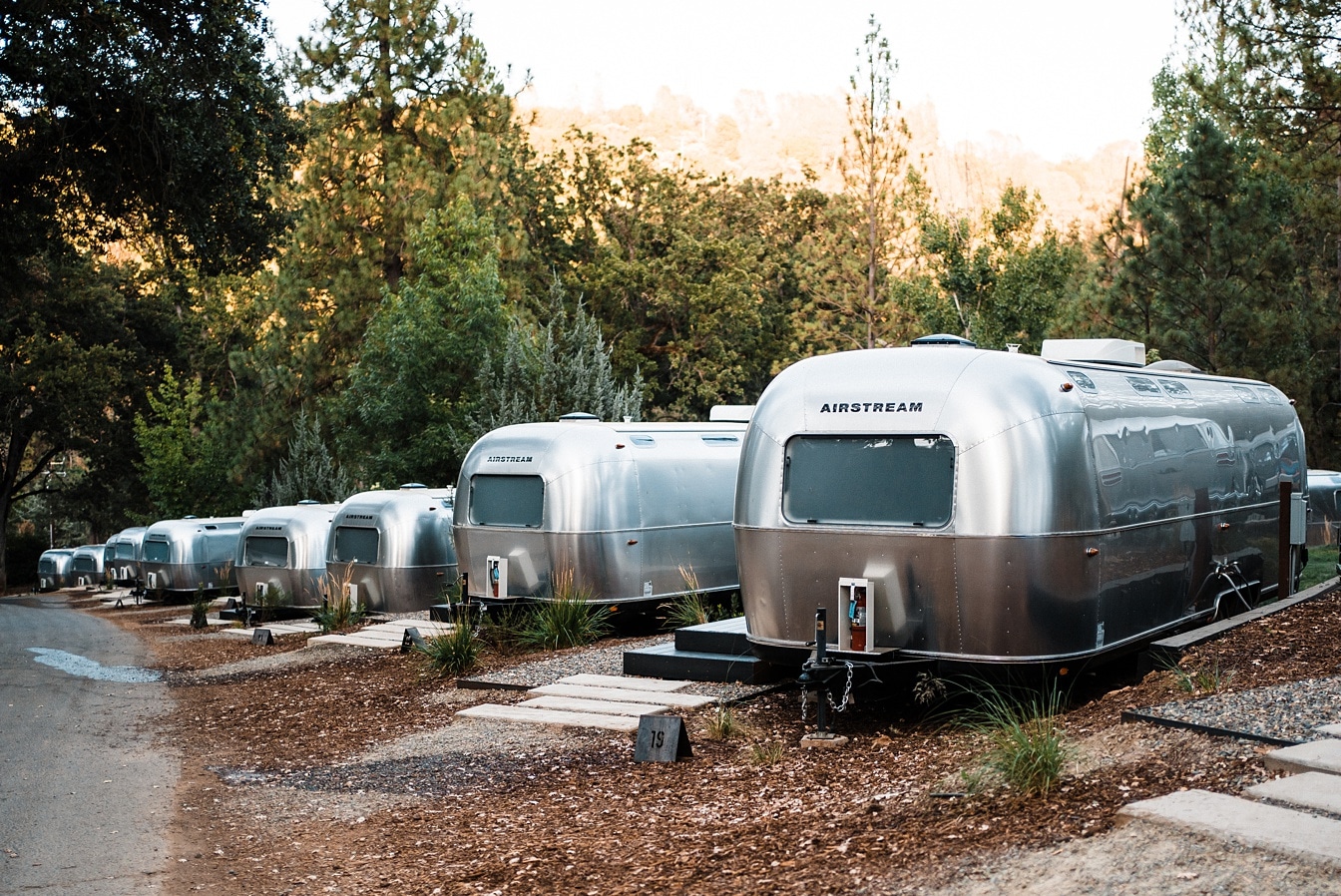 fun lodging for yosemite elopement packages
If you are looking for a fun place to stay that's unique, cozy, and incredibly Instagram-friendly, then this is the perfect place! Autocamp Yosemite has the perfect mix of campground vibes with the added bonus of some luxury modern amenities. 
late spring is best for yosemite waterfalls
We spent a week in Yosemite in April, the waterfalls were raging and the number of tourists roaming around Yosemite was a far cry from the packed summer months. Visiting Yosemite in April is a great time of year to explore the national park!
watch the climbers on el cap during your elopement
Watch the climbers on El Cap at El Cap Meadow. Bonus – watch at night and you can see headlamps from the climbers on the wall! And don't forget to start raising the stoke levels before your trip by watching some of the best Yosemite climbing films like Valley Uprising, the Dawn Wall, and Free Solo.
logistics your yosemite elopement package
Yosemite National Park is giant, there are a lot of logistics to navigate, but we've photographed countless Yosemite elopement adventures, so we know how to help and include even more planning guidance in with our Yosemite elopement packages!
How to get to Yosemite
The closest airport to Yosemite National Park is Fresno (just over 2 hours to Yosemite Valley) or Sacramento (a little over 3 hours to Yosemite Valley). There are a few places to find lodging in the park itself, Yosemite autocamp is about an hour and a half away in Mariposa, Yosemite West has some great Airbnb's but keep in mind that cell reception out there is pretty limited!
How much a Yosemite elopement costs
On average our couples typically spend $6,000 – $10,000 on their Yosemite elopement packages, which includes us, lodging, other vendors, permit costs, and travel. 
Photographer: $3,000 – $10,000
Vendors (like hair & makeup and flowers): $500 – $1,500
Lodging: $500 – $1,500
Permit and license: $215
Getting permits to elope in Yosemite
Yosemite National Park requires a Special Use Permit for any wedding ceremony no matter the size of your party. Since Yosemite is a very popular place to get married, we recommend applying for your permit ASAP. The application fee is $150. If your party is fewer than 11 people, you are not limited to the following locations with exception of open meadows and riparian environments. Click here for more info on permits.
Marriage licenses are about $65 and usually obtained at county clerk offices. You both have to be there in person with a valid photo ID. In California, there is no waiting period for the marriage license, so you could literally pick it up in the morning and get married that afternoon. A lot of our couples pick of their marriage license in the city they're flying into or staying near.
Best Time for a Yosemite elopement
Our favorite times to be in Yosemite are May and October for a few different reasons. In May, the temperatures are starting to rise so it's nice and warm, and the waterfalls are still raging from spring's snow melt. October is when the crowds start to die down, the fall colors come out, and the weather is usually that perfect 70 degrees range.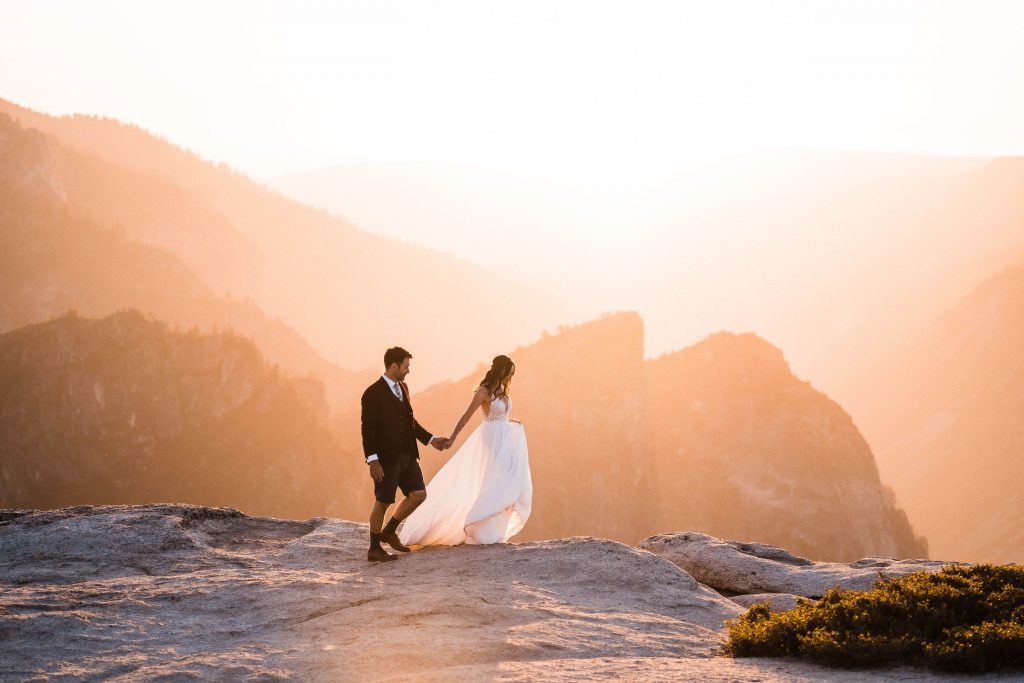 Pro tip for your Yosemite elopement package:
June – September is usually very hot with thousands of tourists visiting regularly, so we generally avoid these months.
Real Elopements from Yosemite
There's a lot that goes into our approach to photographing elopements, but the #1 one thing to creating the work we do is making it fun for our couples. We're not out here on a cover-shoot nor are we out here to just document you doing your own thing – the four of us are running through the mountains together. We're posing together. We're creating images together. We're popping bubbly together. We're laughing together. And we're all having a freaking blast out there, together! Check out some of our Yosemite elopements up on the blog 👇
Meet Your Yosemite Elopement Photographer Team
We're Gabi and Brandon (aka the Foxes) and Hannah and Zoe. Toegether we make the Foxpack – a team of adventure elopement photographers. Together we've shot nearly 200 elopements and are experts on creating and documenting epic days for our couples. We can help guide you through the nitty gritty details of your dream adventure elopement!
We're super passionate about this place and love sharing our experience with couples. Chat with us for more details on your Yosemite elopement
When we'll be there in 2021: February, May, and October