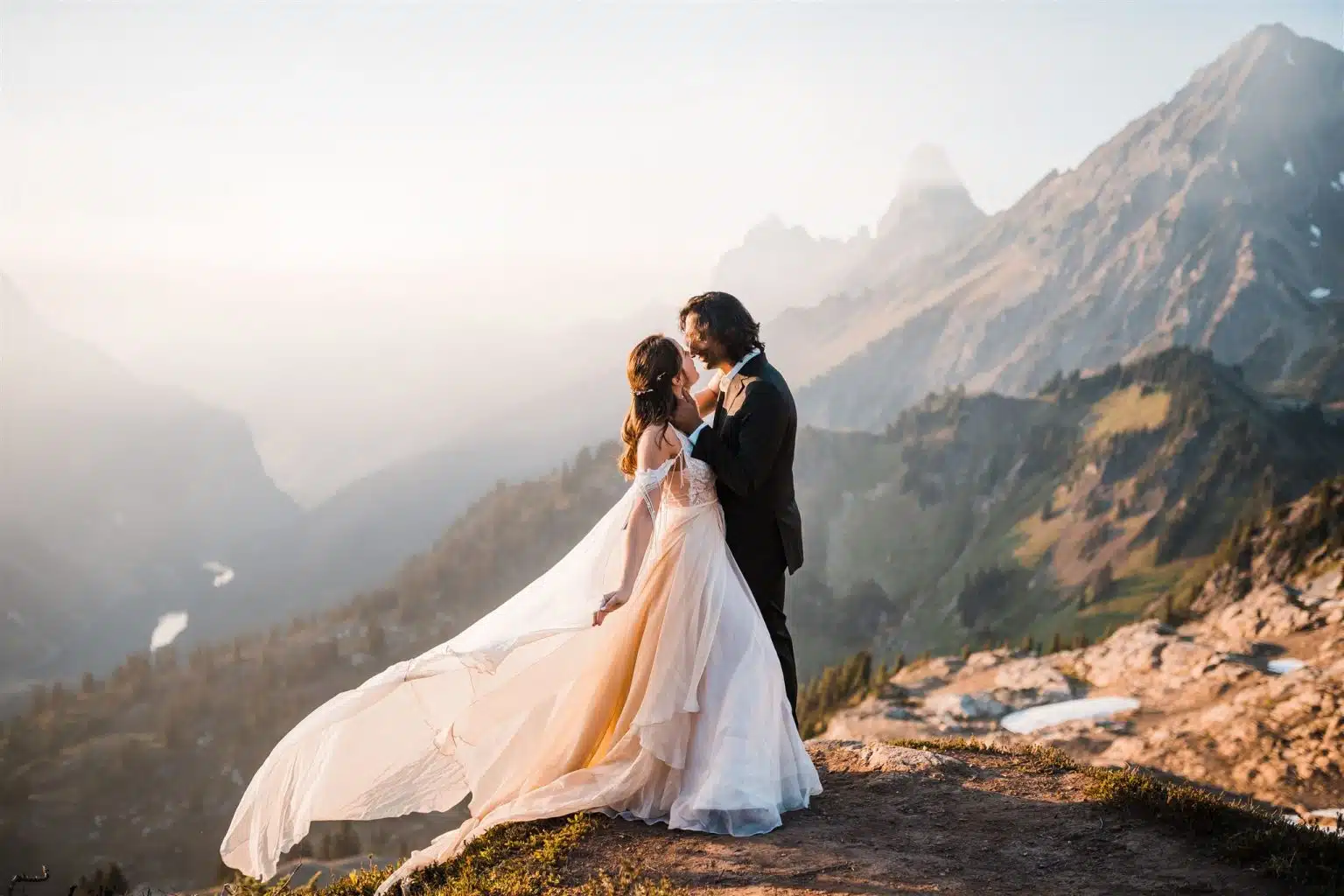 the most stunning elopement dresses and how to pick one
Your guide to finding the best elopement dresses  –
You want to look incredible on your elopement day, so you need to find the most perfect elopement dress to wear. You also want to pop against your epic backdrop in the hundreds or thousands of photos that'll be taken by your photographer in the landscape you probably traveled hundreds or thousands of miles to elope in. And most importantly, you want to feel comfortable enough to pack, hike, and adventure the whole day in whatever dress you end up wearing. 
It's hard enough deciding on a wedding dress. Throw in all these other factors and sifting through the all the possible elopement dresses gets about 100x harder. Stress no more, we got you! This guide will help you make the best decisions on style, fabric, fit, and more while on the hunt for your dream elopement dress.
Shopping for elopement dresses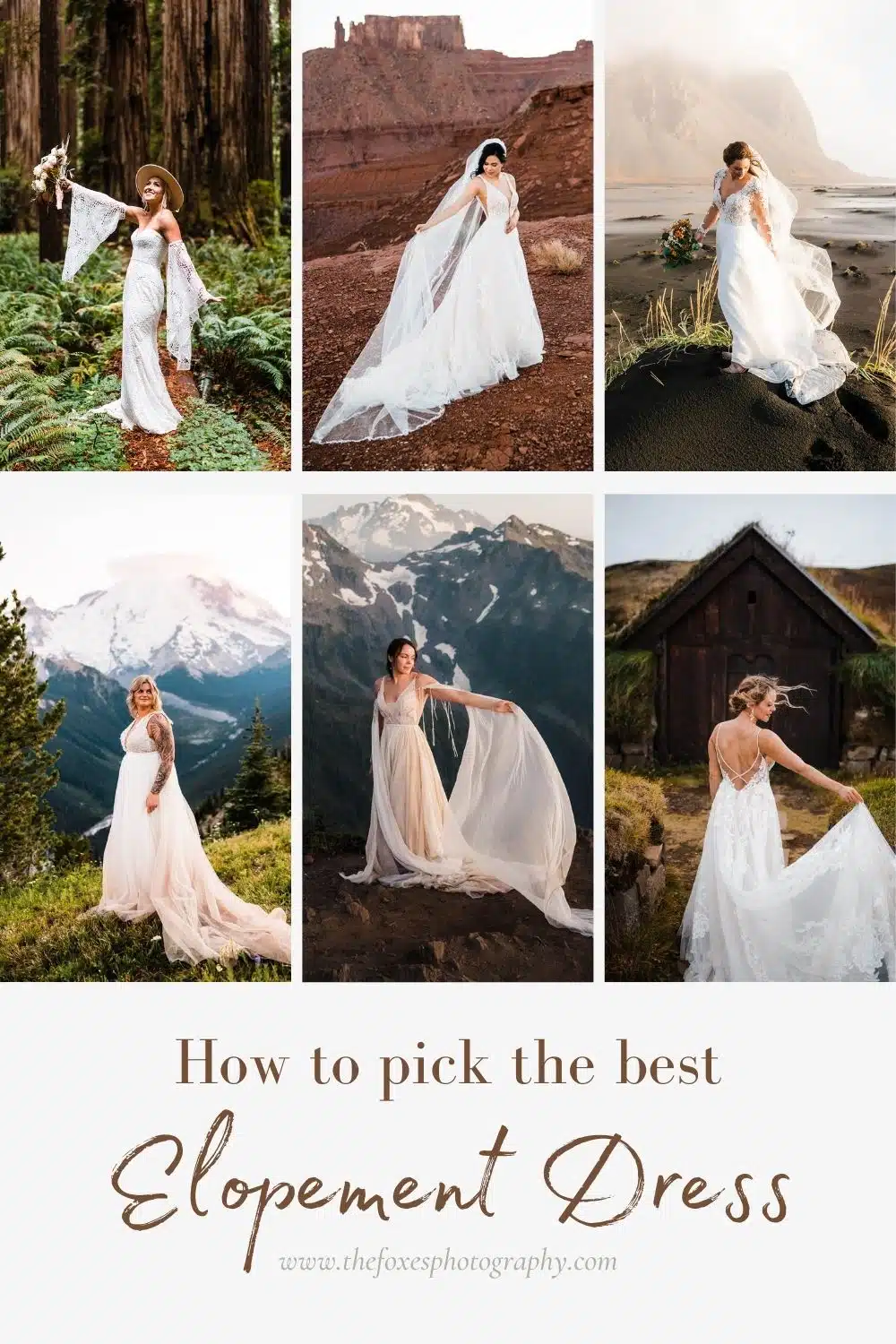 The best styles of elopement dresses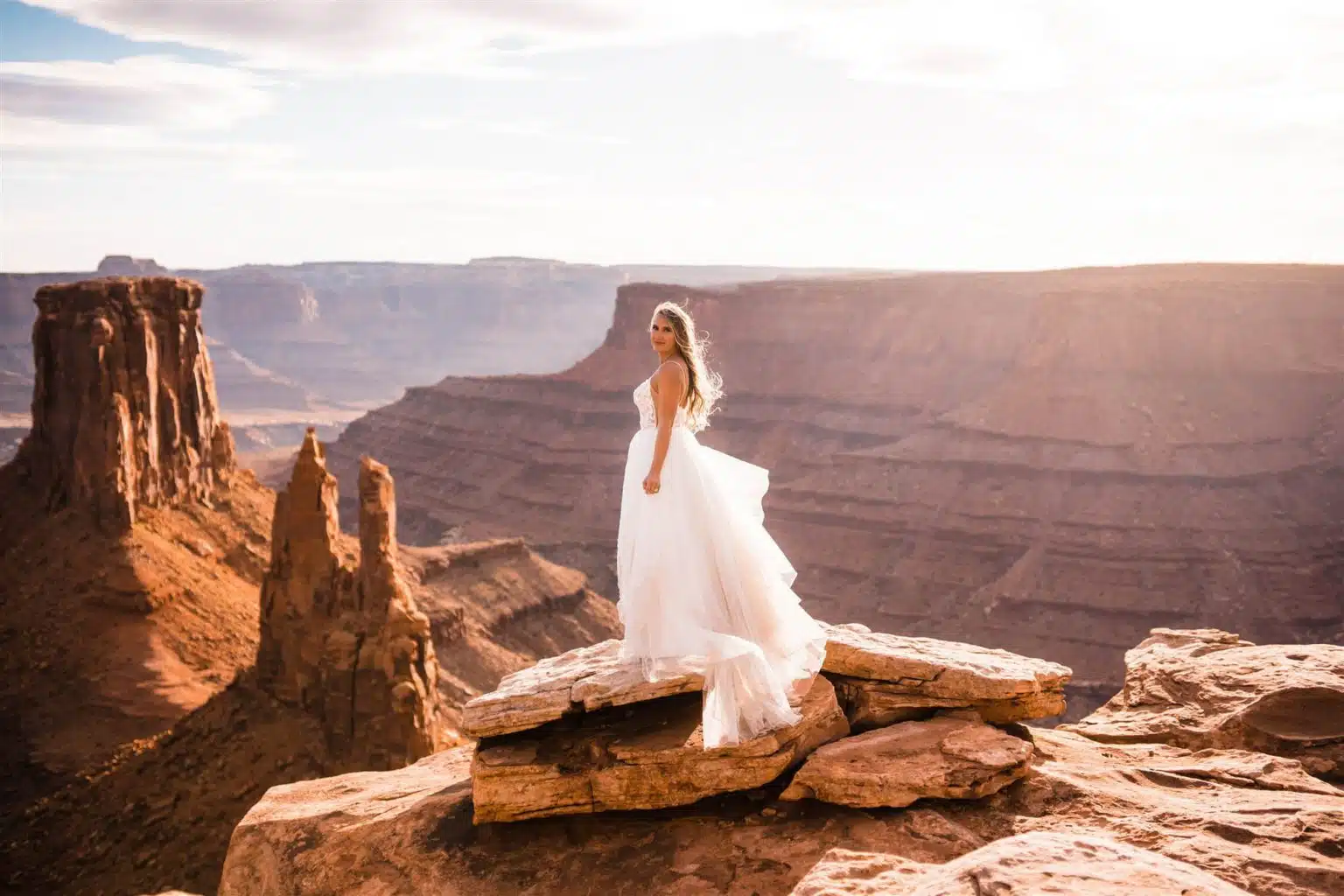 Don't let the name "ball gown" fool you, these big beautiful dresses look incredible in the great outdoors! Their striking nature makes every bride pop against a busy backdrop of trees, mountains, cliffs, or water. Because the fabric is so loose, it's actually easier to move around in than dresses with little fabric (like trumpet dresses). The one small issue is ball gowns tend to accumulate dirt and twigs as you hike around – but our brides wear their natural dirt ómbre dresses like a badge of honor!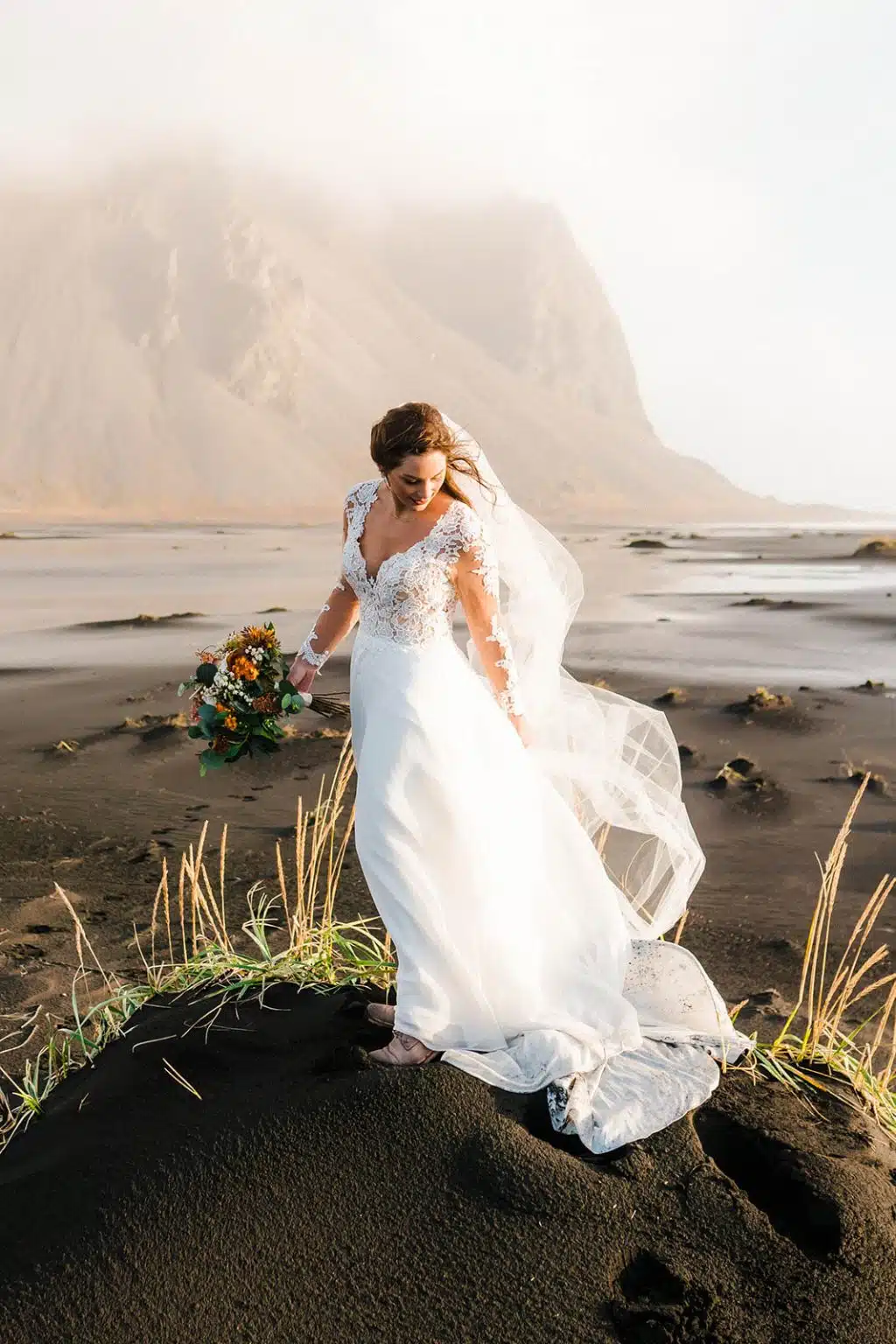 An A-line dress is classic and flattering on every body type. This silhouette hugs your waist and then flows back out to accentuate your natural waistline. Often these flowing dresses catch a breeze and create some of the most beautiful natural movement in photos. These flowy dresses make it easy to grab up all your fabric, throw it over your arm, and hike around in!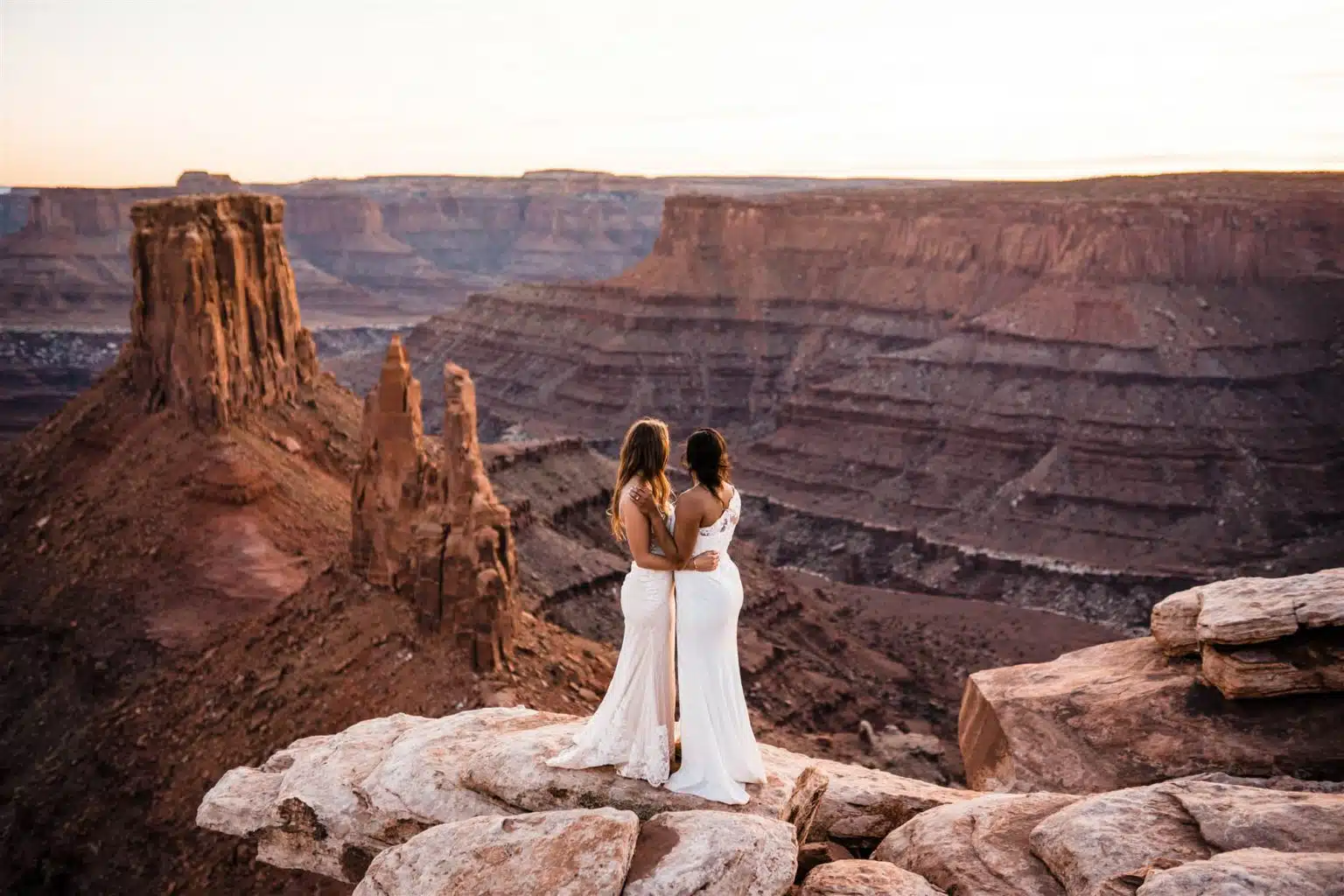 3. mermaid elopement dresses
The mermaid dress is one of the most form fitting dress shapes, perfect for women who want to accentuate all their curves. One thing to keep in mind is that because these dresses come in tight around the legs, they can be harder to move around in. Our advice – go for a mermaid dress with stretchy fabric and that flares out a lot just after your bum. That will make it a lot easier for you to hike, run, and jump around in!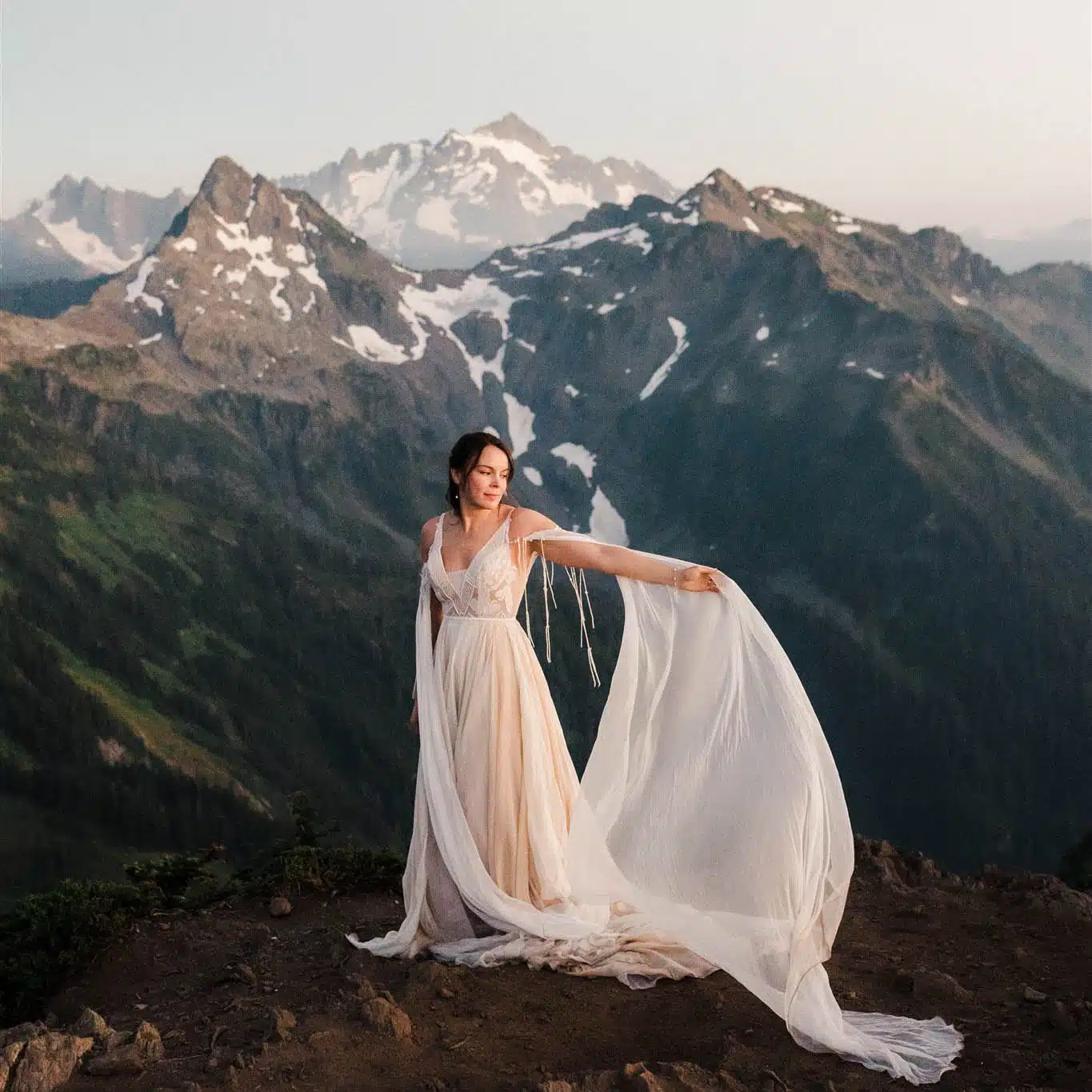 4. boho elopement dresses
If you're getting married in the great outdoors with Mother Nature as a witness, it's only natural to release your inner boho goddess! There are a lot of different styles of mountain elopement dresses out there, but one think to thing about during your search is fabric. Find a dress with fabric that has movement to it! It will look amazing in photos, be easier to move around in, and it will reflect all the movement in nature; wind, water, sky, the sun, the moon, and earth itself.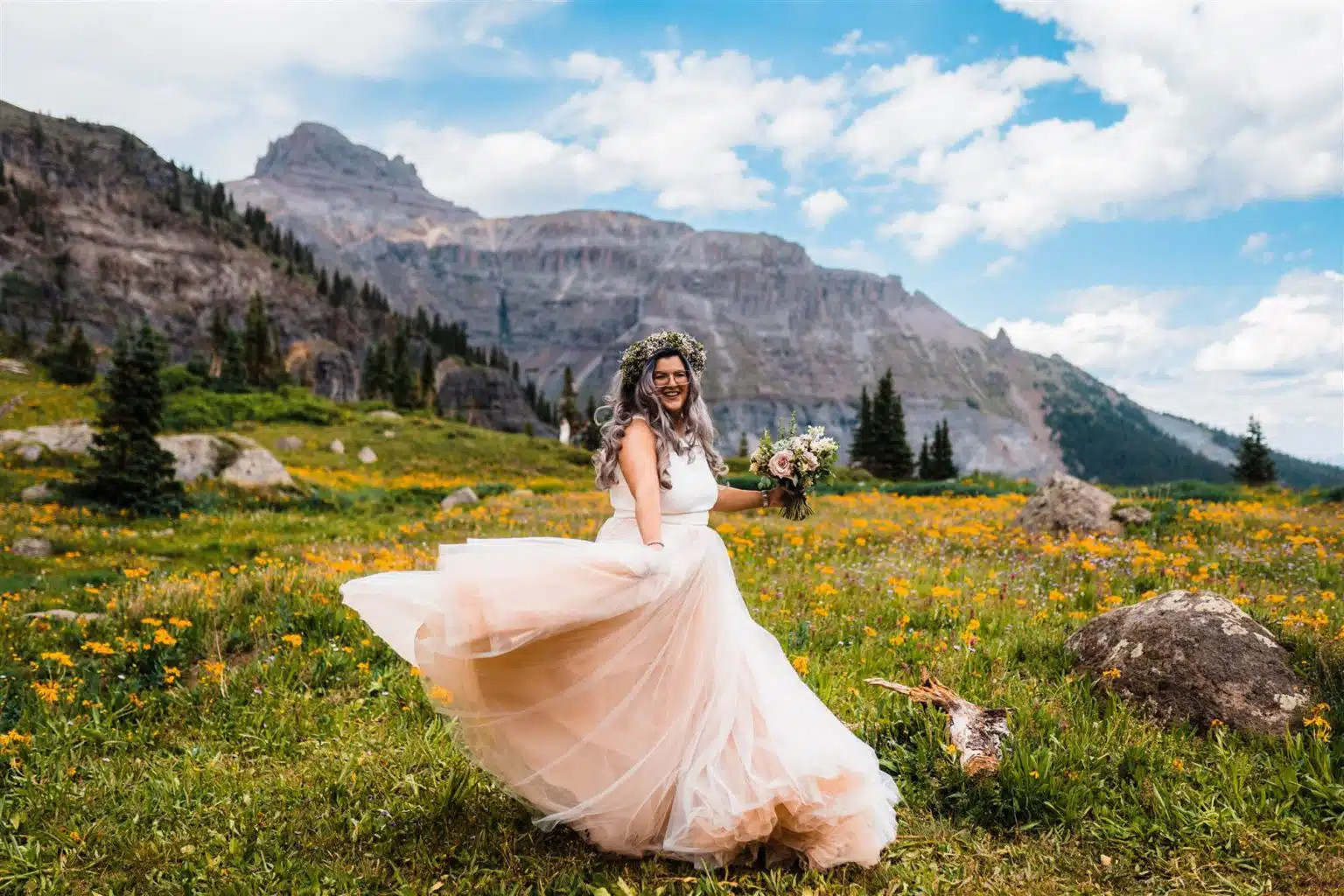 5. two piece elopement dresses
The two piece is so fun! You can dress it down with a simple white tank and a flowy skirt, dress it up with a lacy bodice and a princess skirt, or find some combination of the two that meets in the middle. Either way we recommend a skirt that has a lot of movement in the fabric of the skirt. And the best part of it all is the versatility of the two piece elopement outfit and option of reusing your separates again in the future!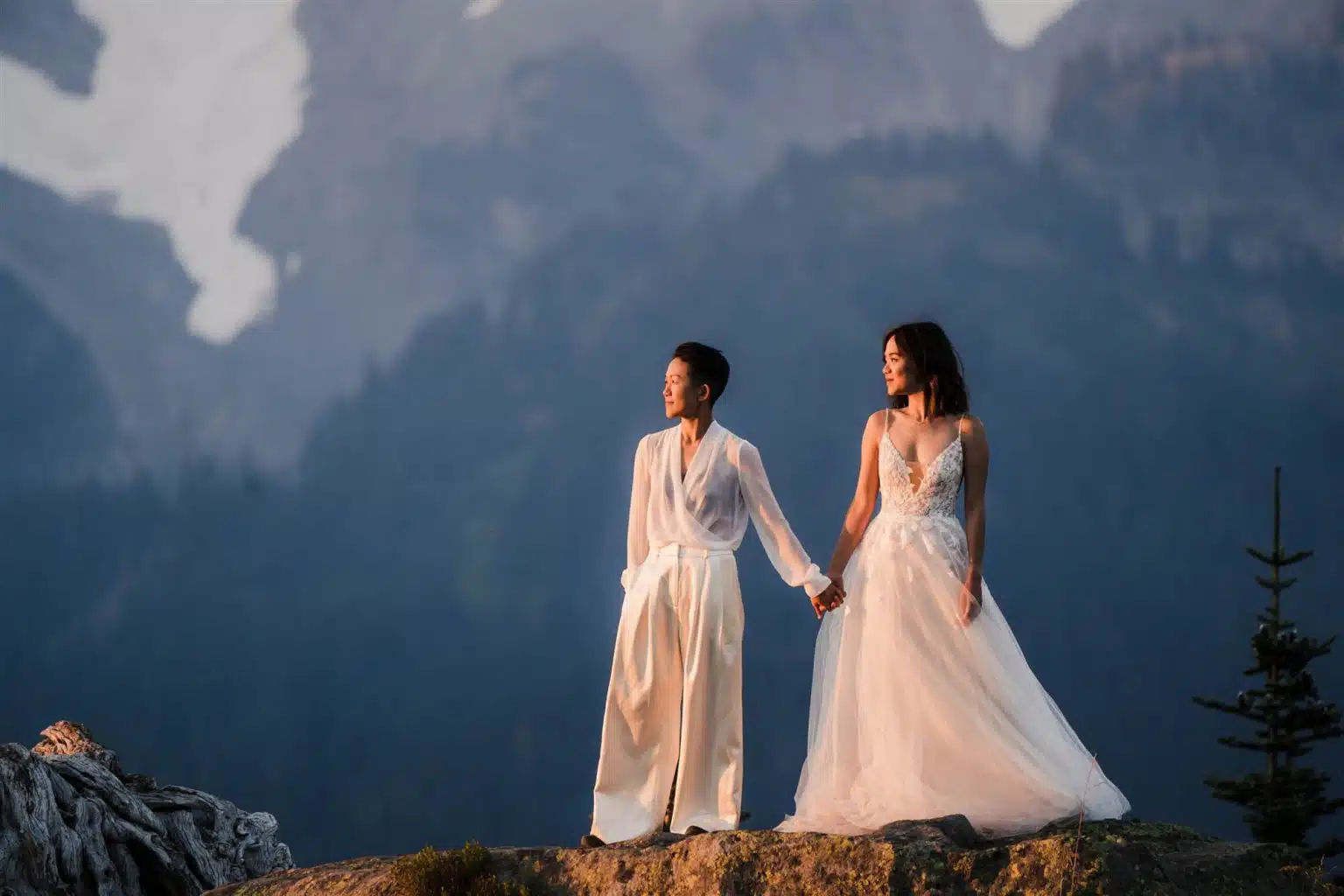 Dress doesn't feel right, but you still want an incredible outfit that you feel amazing in? A jumpsuit or custom fitted suit is the way to go! Suits are great and you can introduce your own style through accessories like jewelry, ties, and boutonnieres. Our advice is to avoid stiff fabrics and find something with slight stretch so you still can move around in your outfit comfortably. 
Where to shop for your elopement dress
Well, if you're reading this article then you've already started on this step, nice 😉 The best way to do online dress research is by looking at pictures and imagining yourself in the dresses. Search your elopement location on Pinterest to get a feel for what different dresses look like in that landscape. Follow our elopement wedding dress board in Pinterest and check out the #elopement hashtags on instagram. And then find local bridal shops that you can try dresses on!
cheap elopement dresses
Here are our favorite places and tips to find a dress in this budget.
BHLDN's under $500 and sale section
Used dresses from online shops like Nearly Newlywed's used designer dresses
Retailers like Lulus and Reformation
Buy a simple wedding dress and vamp up your look with fun accessories!
mid range online retailers
The most common price range for wedding dresses and some of our favorite designers:
favorite designers
If you're a fashionista looking for a true artist who has dedicated years to perfecting the craft of dress making, and you have the budget for it, you can find some pretty remarkable high-end gowns.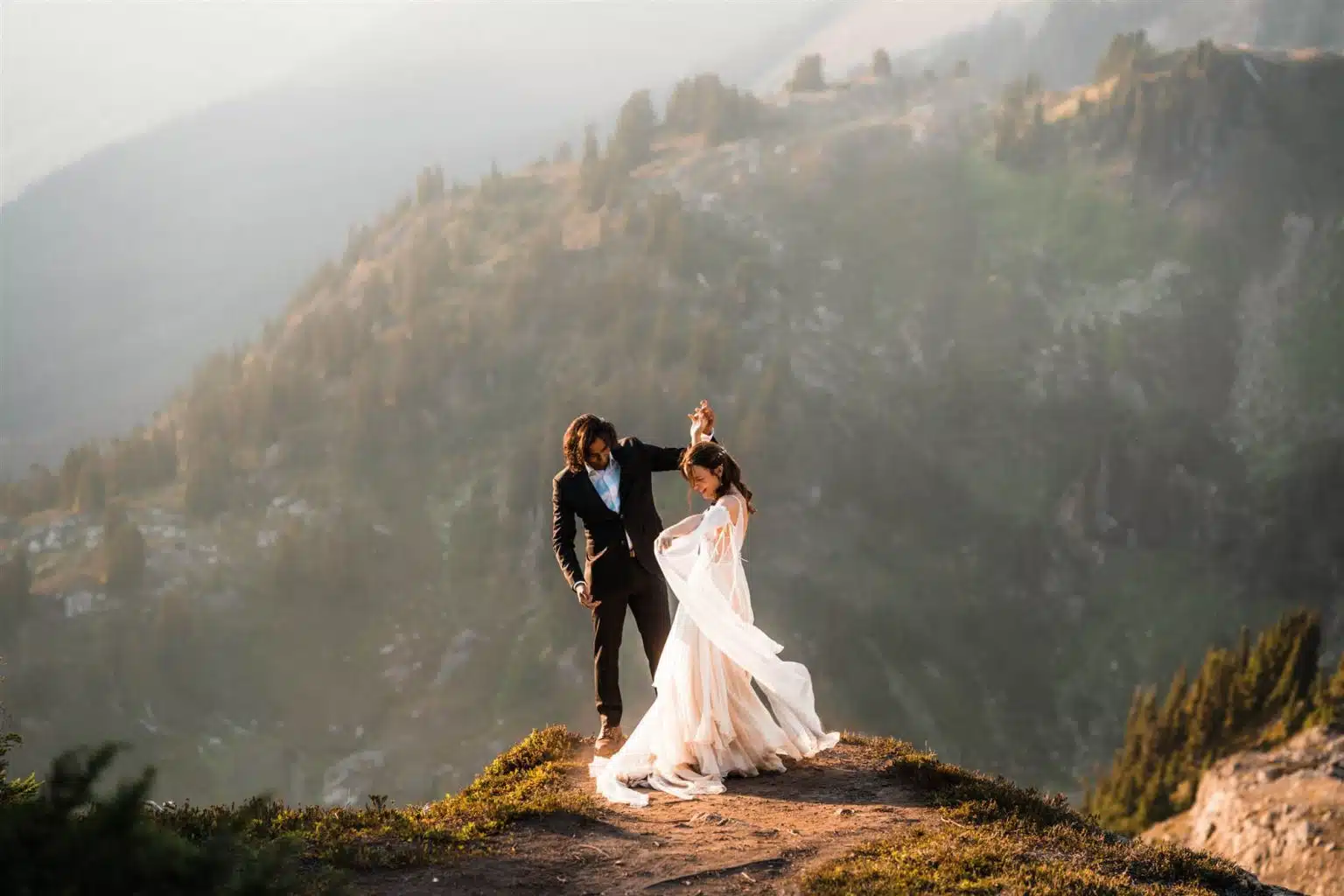 From a practical standpoint, something light and airy is best for hiking. From a photographic standpoint, anything with lots of fabric allows for lots of creativity. You can throw it in the air, let the wind whip it dramatically, drape the train off a cliffside – beautiful movement in a dress makes for such eye-catching photos. The good thing is that light and airy doesn't necessarily mean a dress where the hem ends at your ankles. The fabric of your dress plays a huge part in all of the above, so learning a bit about the different fabric options out there is a good place to start.
lightweight fabrics
Chiffon, organza, georgette, and tulle are all lightweight fabrics that have lots of natural movement. The texture is sheer so it's typically layered, which allows light to filter through your elopement dress and really pop against the landscape. When you're out in nature, these dresses will move with the wind and catch the sunlight in the most beautiful way. 
heavier fabrics
Satin, silk, and polyester are heavier fabrics in comparison. They won't have as much natural movement due to their weight, but that doesn't mean they're not good for elopement dresses. Where these dresses really shine is their elegance and supple texture. Their lustrous quality glows in the sunlight and long trains are particularly dramatic.
lace and embroidery
Lace and embroidery dresses are quite a bit different from other fabrics. We've worked with a handful of brides who have worn these types of dresses to elopements. From our experience, they seem very easy to hike and get around in.
Hiking in your elopement dress
How you hike with your dress will depend on the style and material. The easiest elopement dresses to hike in have plenty of fabric below the waist. A mermaid dress that hugs your thighs is going to be much harder to hike in than your typical dress, for instance.
Bunch up as much fabric as you can to one side and carry it so that you aren't stepping on it or dragging it as you hike. Dresses with long trains can actually be easier to hike with because you have enough fabric to easily drape it over your forearm instead of clutching it in your hand. If you get tired of holding your dress, have your partner take a turn. It's a great photo op!
Pro tip: When trying on elopement dresses, practice bunching it up and walk around the store to get a feel for what hiking in it will be like.
How to pack your elopement dress
Everyone wants to know – do brides hike in their elopement dress or change out there? The answer is both! For short hikes (1-4 miles round trip) that have beautiful views along the trail, we always suggest hiking in the dress. You'll likely stop for photos along the way and it'll just be easier to already be in your dress.
For elopements with longer hikes (5+ miles) where the views come at the end of the trail, we recommend packing your dress and changing once you're out there. Where do you change? Find a big rock or tree to duck behind and have your partner keep a lookout! There are portable changing stations you can buy, but unless you're hiking to a busy and barren place, we find them to be more of a hassle to pack out than they're worth.
Finding a dress that compliments the landscape
Part of what makes photos so stunning is just seeing couples wearing these beautiful elopement dresses and suits in these rugged landscapes. The contrast is striking. It's not something you encounter every day out on the trail. No matter what you wear, it's going to look pretty great in your elopement destination landscape. Still, there are a few things to consider that can make your photos look even better and keep you comfortable throughout your whole elopement adventure.  
popping against the backdrop
If you are feeling that non-traditional vibe, a great way to really stand out against the landscape is choosing a dress with a pop of color to it. This can be particularly effective in more monochromatic landscapes like deserts, but we honestly love color everywhere. 
We recommend something that's white with an ombré dip die or hint of color to it, as opposed to a dress that's all one solid color. Another more subdued option is going for an off-white or very light color. White-ish dresses that have a hint of grey, pink, or cream are a great way to introduce a lil sumthin' sumthin' extra.
Okay, we're definitely biased towards dresses with trains. Short train, long train, extremely long train…we love them all! There are elopement dresses without trains that are beautiful too, but trains are so nice for so many reasons. 
For starters, it really makes a dress look like a wedding dress. Trains give dresses that extra formality that says "special occasion."  And they look oh so good in epic landscapes. You can drape it over a cliff, let it blow dramatically in the wind, or collect dirt for that natural ombré look 😉 Plus, trains will make your dress easier to bunch up and carry while hiking. No matter what kind of dress you end up going with, we highly recommend going with at least a subtle train.
Feeling confident in your elopement dress
This might seem obvious but it's SO important. Don't choose a dress that you like, choose a dress that you absolutely LOVE! You might be thinking "well, duh" but it's true! If you feel like a rockstar, you're going to enjoy your day even more than you could've imagined. And as a bonus – your confidence will absolutely show through your photos.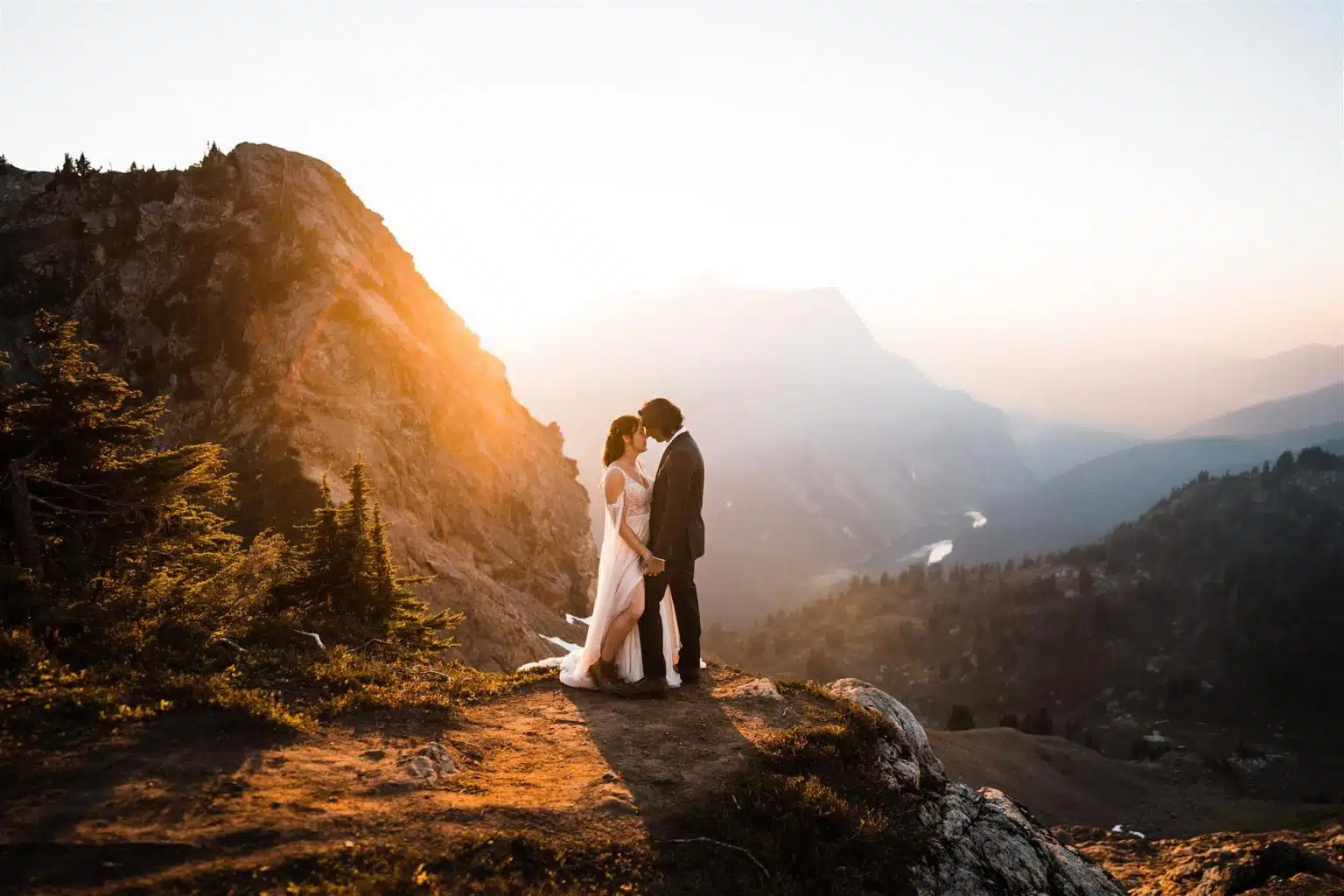 Elopement dress accessories
Hip sunglasses, a flower belt, a cool hairpiece, a back necklace, a fur shawl, even a cape! We're all about the little details that allow you to bring your unique style into your look. You don't need to wear them in every photo. But accessories are so fun to play with throughout the shoot.
For example, lots of brides go back and forth between veil or no veil. We say why not both? Bring it along for a portion of your day and we can pack it in the backpack when you're done with it. Plus, accessorizing is a fun way to buy little things for your outfit that you can wear again after the big day.
accessories for weather
Whether you're eloping on the beach midsummer or on a snowshoe hike midwinter, there's always a chance things could get chilly. Weather changes fast in these places and it's often unpredictable. You'll probably be out at sunrise or sunset too, when the temps are coldest or dropping fast. The best thing you can do is be prepared for all of the above with the proper gear. 
Shawls, cover ups, or a cozy blanket are great ideas for warmer locations. Up in the mountains or during chillier shoulder seasons, layers are a must. We suggest finding layers and jackets that are functional but also hip (like leather jackets or colorful puffies) just in case you end up wearing it in a lot of your photos. Little pops of color will look great, but stay away from loud patterns – those are distracting. And of course, having rain jackets and collapsible umbrellas
 is always smart. 
Budget for elopement dresses
Everyone has a different budget and priorities for what's most important for their elopement. But one thing that's universal is wanting to feel incredible in what you wear on your wedding day. Our advice is to determine a realistic budget for your outfit, but don't compromise the way you feel in it. If you are putting time, energy, and money into having the elopement of your dreams. You owe it to yourself to wear the dress of your dreams! Your confidence will shine through and the photos will look unbelievable. Below are some tips and resources for finding your dream dress in every budget range.
Elopement Dress Stats:
On average, brides spend about $1,500 on their wedding dress (source)
If you're having alterations done, expect to spend an additional $200 – $700
If you are planning a reception at a later date, dry clean your dress the day after your elopement (don't wait!) to reuse it for your party. You'd be surprised the magic a good dry cleaner can work.
Brides spend about $250 on outfit accessories like shoes, veils, hair pieces, belts, etc.
What do brides wear when they elope?
Brides wear flowing dresses when they elope because having extra fabric to play with looks beautiful and it's easier to move around in.
How much should you spend on an elopement dress?
Brides spend $600 – $1,500 on elopement dresses, however custom designed dresses can cost upwards of $5,000.
How do you pick an elopement dress?
It's best to think about things like mobility, packability, weight, and fabric texture when you pick an elopement dress. Consider how it will look and interact with the landscape you're eloping in and the type of activities your day will entail.
What is an elopement dress?
Different than a wedding dress, an elopement dress is a gown you're planning to hike in, climb on rocks, romp in, spin around, and twirl all over a mountainside. 
Still need help with shopping for your elopement dress?
Hope you found our tips helpful! As you can see, we LOVE talking about elopement dresses with all of our couples. Our couples send us photos and inspo on their journeys. If you'd like to work with our team for your elopement, get in touch now!