best time to elope in yosemite
Our favorite times for a Yosemite elopement are May, early June, and October for a few different reasons. In late spring, the temperatures are starting to rise so it's nice and warm, and the waterfalls are still raging from spring's snow melt. October is when the crowds start to die down, the fall colors come out, and the weather is usually that perfect 70 degrees range.
Pro Tip // Mid June through the end of September is usually very hot with risk of wildfires, and incredibly busy with thousands of tourists visiting regularly, so we generally avoid these months.
cost of yosemite elopement packages
On average our couples typically spend $6,000 – $10,000 on their entire Yosemite elopement package, which includes the photographer (us!), lodging, other vendors, permit costs, and travel. 
Photographer: $3,000 – $10,000
Vendors (hair & makeup and flowers): $500 – $1,500
Lodging: $500 – $1,500
Permit and license: $215
wedding permit for yosemite
Yosemite National Park requires a Special Use Permit for any wedding ceremony no matter the size of your party. Since Yosemite is a very popular place to get married, we recommend applying for your permit ASAP. The application fee is $150. If your party is fewer than 11 people, you are not limited to the following locations with exception of open meadows and riparian environments. Click here for more info on permits.
Best locations in Yosemite for your elopement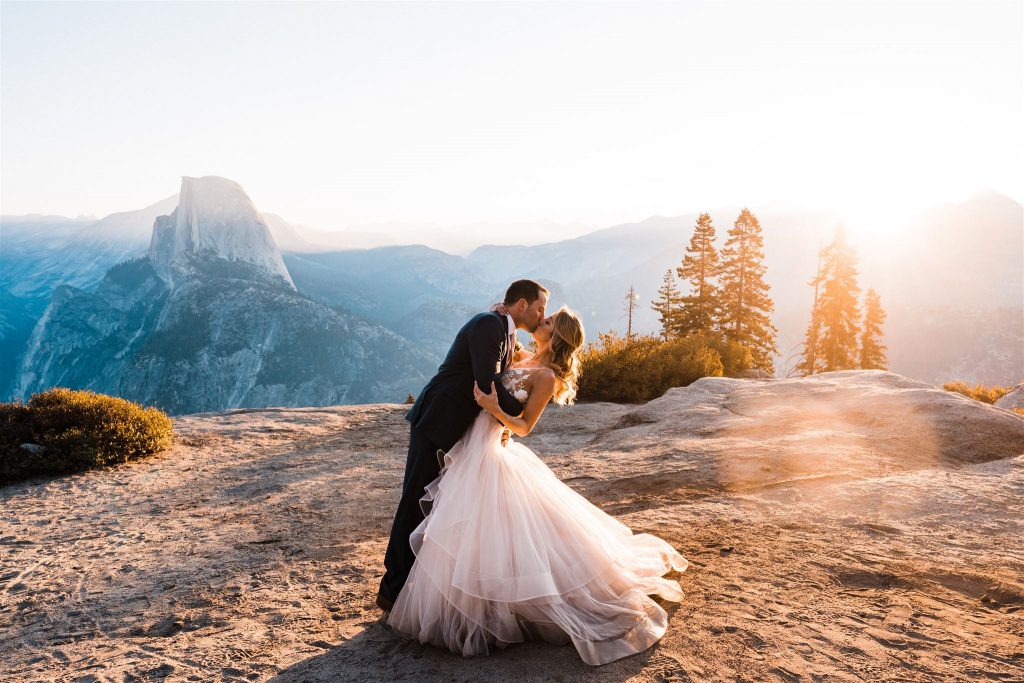 Half Dome is 8,839 feet of sheer granite rock and is just so captivatingly beautiful, you'll have a heard time believing it's not just a painting. Glacier Point offers one of the best views of Half Dome in all of Yosemite National Park! The trail itself is short, paved, and flat, so it's a perfect place to visit if you'd like an easy approach to mind blowing views.
*The road to Glacier Point is closed mid November – early May due to snow. It will be closed all year long in 2022 due to constriction*
Taft Point is easily THE most popular trail in Yosemite National Park for epic sunset photos, however, it's for good reason. The sun sets directly behind Taft Point and perfectly illuminates El Capitan, the giant granite rock face sitting at 7,569 ft tall. While this area can be quite busy with other weddings and photoshoots during sunset, it's a very large area with plenty of room to spread out and find some privacy.
*The road to Taft Point is closed mid November – early May due to snow. It will be closed all year long in 2022 due to constriction*
Yosemite is filled with beautiful forest trails and wondering through them is a must do. The towering trees have vibrant moss blanketing their branches and it truly feels like an enchanted forest strait out of Lord of the Rings!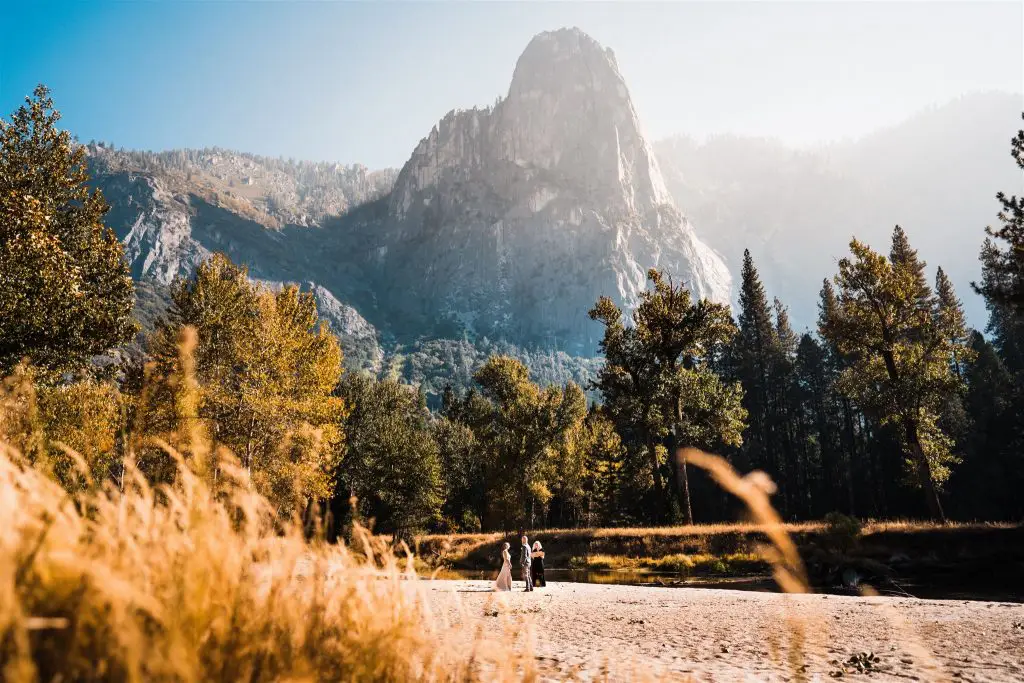 Yosemite Valley is a must do for your elopement. The valley is filled with beautiful beaches that line the Merced River, fields of tall grass that stretch on forever, and tall trees that bud up against the base of massive granite cliffs. As you wander through any part of the valley, you're constantly looking up at these granite giants in awe. 
Honeymoon after your Yosemite Elopement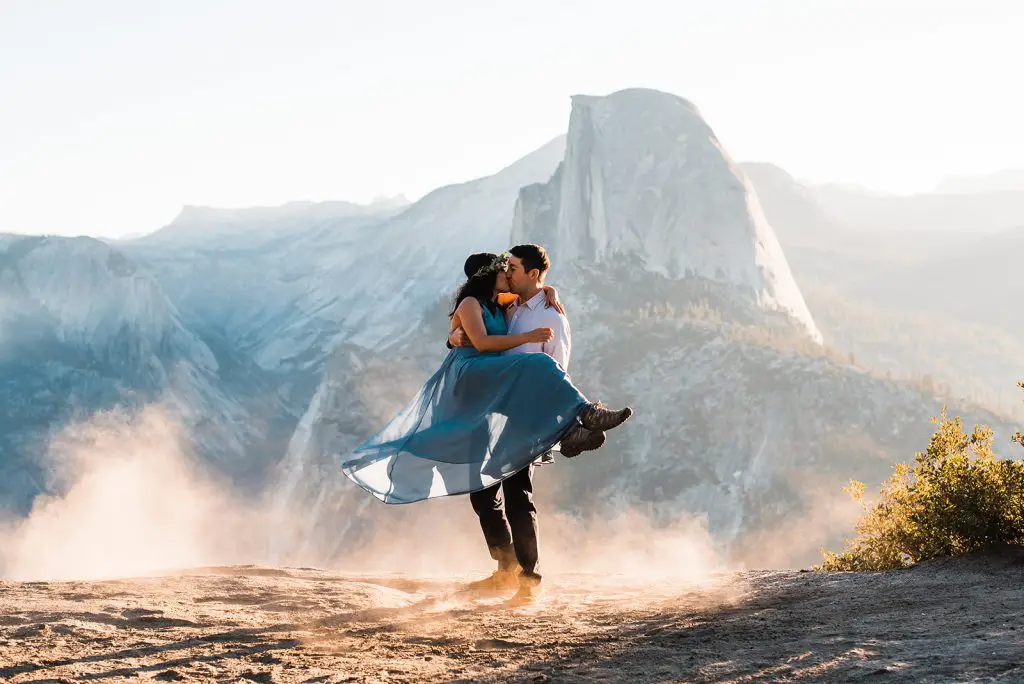 The best part choosing a Yosemite elopement package is you get to spend your mini moon exploring all the incredible parts of one of our country's most beautiful National Parks. There's SO MUCH fun stuff to do – and we'll help you pick the best ones for your mini moon adventures!
Lodging: If you are looking for a fun place to stay that's unique, cozy, and incredibly Instagram-friendly, then this is the perfect place! Autocamp Yosemite has the perfect mix of campground vibes with the added bonus of some luxury modern amenities. 
Spring Waterfalls: We spent a week in Yosemite in April, the waterfalls were raging and the number of tourists roaming around Yosemite was a far cry from the packed summer months. Visiting Yosemite in April or May is a great time of year to explore the national park!
Rock Climbing: Watch the climbers on El Cap at El Cap Meadow. Bonus – watch at night and you can see headlamps from the climbers on the wall! And don't forget to start raising the stoke levels before your trip by watching some of the best Yosemite climbing films like Valley Uprising, the Dawn Wall, and Free Solo.
We're Gabi and Brandon (aka the Foxes) and Hannah and Zoe. Toegether we make the Foxpack – a team of adventure elopement photographers. Together we've shot nearly 200 elopements and are experts on creating and documenting epic days for our couples. We can help guide you through the nitty gritty details of your dream Yosemite elopement!
Don't just take our word for it, see what our yosemite elopement couples are saying about their day
My husband and I couldn't say enough good things about The Foxes Photography!! We got to work with Hannah for our Yosemite elopement and we absolutely loved spending the day with her. She is professional, easy to get along with, super friendly and so laid back. As we ended the day, my husband and I looked at each other and both agreed that we couldn't have had a more perfect wedding. Hannah took us to a few different locations that she had planned out in advance and we were happy to be able to follow her lead and let her tell us where the best places were to get the most amazing shots. She made us feel so comfortable when getting our pictures taken and was fantastic at given us directions of how to pose (again, very thankful for this as we're camera shy!!). We were blown away at the quality of the shots. They were STUNNING!!!! I loved how she was able to capture Conor and I's personalities and our love for each other while also documenting the fact that we had these breathtaking views behind us in every shot. If you're even remotely thinking about a destination/adventure elopement, you seriously need to consider booking with The Foxes. They were worth every penny. We will cherish our photos for the rest of our lives and will recommend The Foxes and Hannah to all of our friends!!!
Two years ago, my husband and I booked the Foxes for an adventure session and our wedding session in Yosemite. Over those years, we have watched them evolve their style and continuously impress us with the special moments, landscapes and excursions they capture. Needless to say, we had no doubts the day our photos sessions came, but they still managed to exceed all expectations!! We absolutely LOVE every photo they delivered and had such an amazing time with Gabi and Brandon, it's unreal! They have incredible skill and ability to capture people in landscapes. Several guests mentioned how they didn't even see them and how stealthily they captured important moments. They are a super fun duo to spend time with and it makes the world of difference when wanting to feel comfortable in front of the camera. We couldn't recommend these two more, you will not be disappointed with the 🦊 🦊!!
Our first time meeting The Foxes in person was on our wedding day, in the mountains, before the sun had even risen. When you travel across the country to a place you've never been, to get married in the middle of a national park, you're not always completely sure what to expect. It didn't take long, however, to realize that Gabi and Brandon had already exceeded our expectations. Their fun and easygoing personalities made sure that the day proceeded with perfection. When the photos arrived they did not disappoint. In fact, they were amazing. Yosemite was epic, and our photos were right on par. Each moment captured by The Foxes brought us immediately back to all of the wonderful sentiments of our day in the mountains. I could not think of anyone else I would have rather had documenting our adventure wedding. Not only are The Foxes fantastic photographers, they're the guests you didn't even know you invited to your elopement.
Real Yosemite Elopement story
This Yosemite elopement began with a sunrise first look and ceremony at Glacier Point, and followed by sunset at Taft Point.  The soft light as the sun peeked over Half Dome was the perfect beginning to this intimate Yosemite elopement. The light only got better as the whole valley glowed orange for sunset.
Sunrise Yosemite elopement with Pancakes at Glacier Point
Yosemite Valley is home to one of the most astounding views on Earth. Obviously that makes it a perfect location to begin a marriage. Shannon and Matt began their Yosemite elopement with giddy excitement at Glacier Point. Matt stood alone, taking in the valley as Shannon walked up to tap him on the shoulder. His first look of his bride was sweet and intimate – viewed only by us and the granite walls of Half Dome. He wrapped her up in his arms and the two stood together looking out upon the sunrise of their first day of marriage. 
After their first look, Shannon and Matt met up with friends and family. Their intimate elopement ceremony was punctuated by laughter and sweet moments as they shared their vows. This Yosemite elopement combined the best parts of a more traditional wedding with the epic location and intimacy of an elopement. Champagne was popped and cake was shared, and never once did the sun stop shining.
Want to see another Yosemite elopement? Check out this adventure in Yosemite Valley!
It's rare to get time alone in Yosemite because it is one of the most popular national parks in the United States. However, we have learned something helpful from our time in the parks – people still don't like getting up before the sun, even on vacation. Shannon and Matt celebrated the peace and beauty of their sunrise first look by making pancakes with a view at Glacier Point. The nearly nine thousand feet of granite that make up Half Dome was the perfect backdrop.
You'll notice they aren't alone in one of the images below. That is because we are more than just photographers – we are your friends and breakfast dates, we help stir the pancake batter as well as make every effort to keep your day feeling effortless and fun while getting the epic shots. After officially tying the knot at Glacier Point, we met back up with Shannon and Matt later in the day for sunset photos at Taft Point – a location even higher above the valley.
Yosemite Elopement Sunset at Taft Point
Taft Point is our favorite place to go for sunset photos in Yosemite. The short hike up to the viewpoint goes through a gorgeous green forested part of the park and is a beautiful addition to the blues and pinks of the Yosemite Valley images. At the overlook, the granite walls of the valley are made more dramatic by the light of the setting sun. It's hard to capture the sheer height of these cliffs in a picture, but the contrast created by the shadows of late evening are definitely dramatic. 
Want to see another epic Yosemite elopement? Check out this dramatic Yosemite sunset elopement.
Shannon and Matt could not stop smiling as they were bathed in the brightest orange glow of sunset. Shannon donned a veil, which flowed in the wind. The light was changing quickly, but each moment was different in a stunning way. Shannon and Matt danced together as the last lights of their elopement day set behind the cliffs. This Yosemite elopement made the most of two popular Yosemite Valley overlooks, but I can't help but feel like each time at these locations is somehow completely new and just for us.