Here's why having a Washington Elopement is so special.
The best thing about eloping in Washington is that Washington State literally has it all, from rugged coastlines and old growth forests to vast mountain ranges with glaciated peaks and turquoise alpine lakes to dramatic waterfalls and active volcanoes 👀 If you wanted a little bit of everything for an all day epic wedding, you could even get a mix of all of the above for a Washington elopement! We have been living and traveling on the road for the last four years and let's just say that there's a reason why we picked Washington state to be our home base – it's incredible here and one of the best places to elope.
↓ Keep reading for the full Washington Elopement Planning Guide + pics ↓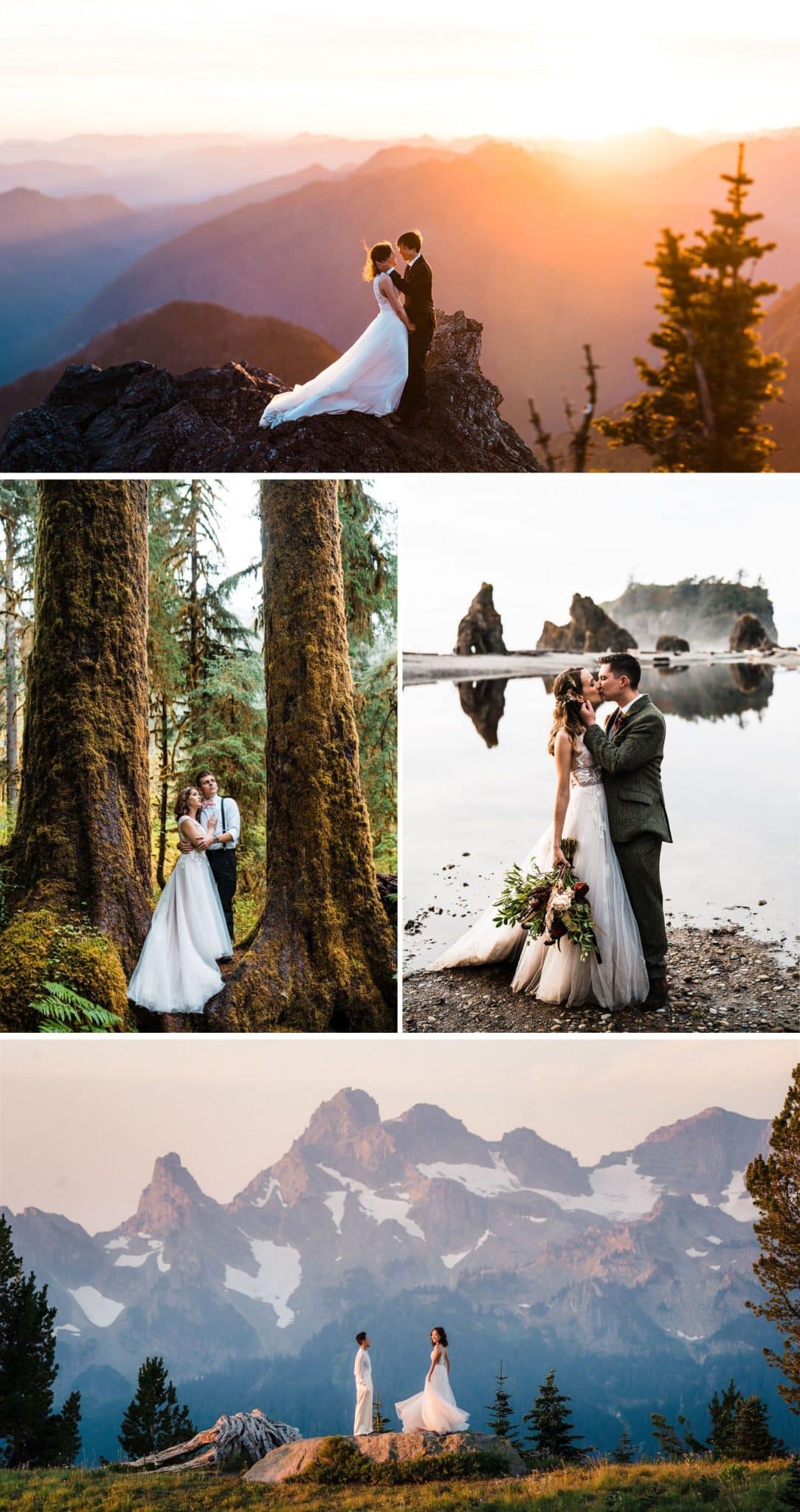 Washington Elopement Adventure Guide
Best places to elope in Washington State
What makes having a Washington Elopement so unique is Washington is home to three incredible national parks – so if you elope in one, you have two more parks to explore during your honeymoon. And the parks don't even scratch the surface of this beautiful state, between the state parks and forest land, there's endless exploring of rugged coastlines, old growth forests, vast mountain ranges with glaciated peaks, and plethoras of turquoise alpine lakes. If you're having guests join for your big day, Seattle is a great hub for travelers. There are many fun towns to visit, world class cuisine, loads of craft beer breweries, and obviously countless epic hikes throughout Washington state. We have been living and traveling on the road for the last four years and let's just say that there's a reason why we picked Washington state to be our new home base – it's incredible here and one of the best places to elope.
Here's our list of 9 jaw-dropping places for a Washington Elopement: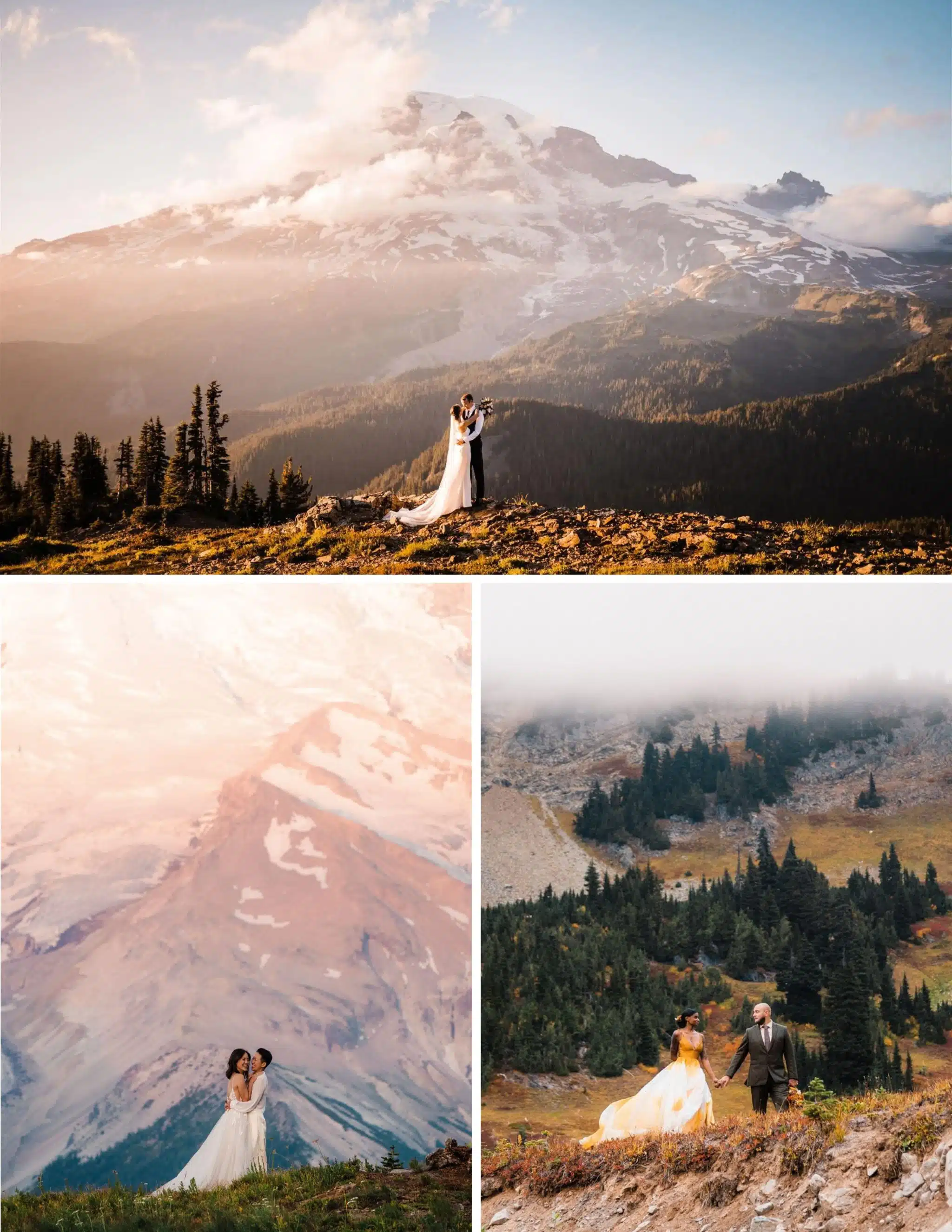 Mount Rainier National Park
Mt. Rainier is the single most breath taking mountain we've ever seen. It is incredibly massive and is easily seen from most cities in the area, including Seattle (but the view from Tacoma takes the cake). There are beautiful forests, lakes, and all kinds of trails surrounding the mountain, making it a perfect place for a variety of scenery for a Washington elopement. Roads in the national park give you access to all sides of the mountain, and each area offers a different view and experience. On the west side, the road to Longmire and Paradise take you right up to the snowy base of the behemoth mountain, and this road actually remains open most of the winter. On the other hand, much of the east side of the park is inaccessible in the winter. But in the summer, the east side is home to some of our favorite spots in the entire park.
Best place to stay for your Mt Rainier elopement: There are tons of cute cabins and lodging options on Airbnb and VRBO all around the park. Packwood, Enumclaw, and Ashford are the best spots to look for cabins that provide great access to the park. There is also lots of great camping in the area.
Check out pictures from some of our Mt. Rainier National Park elopements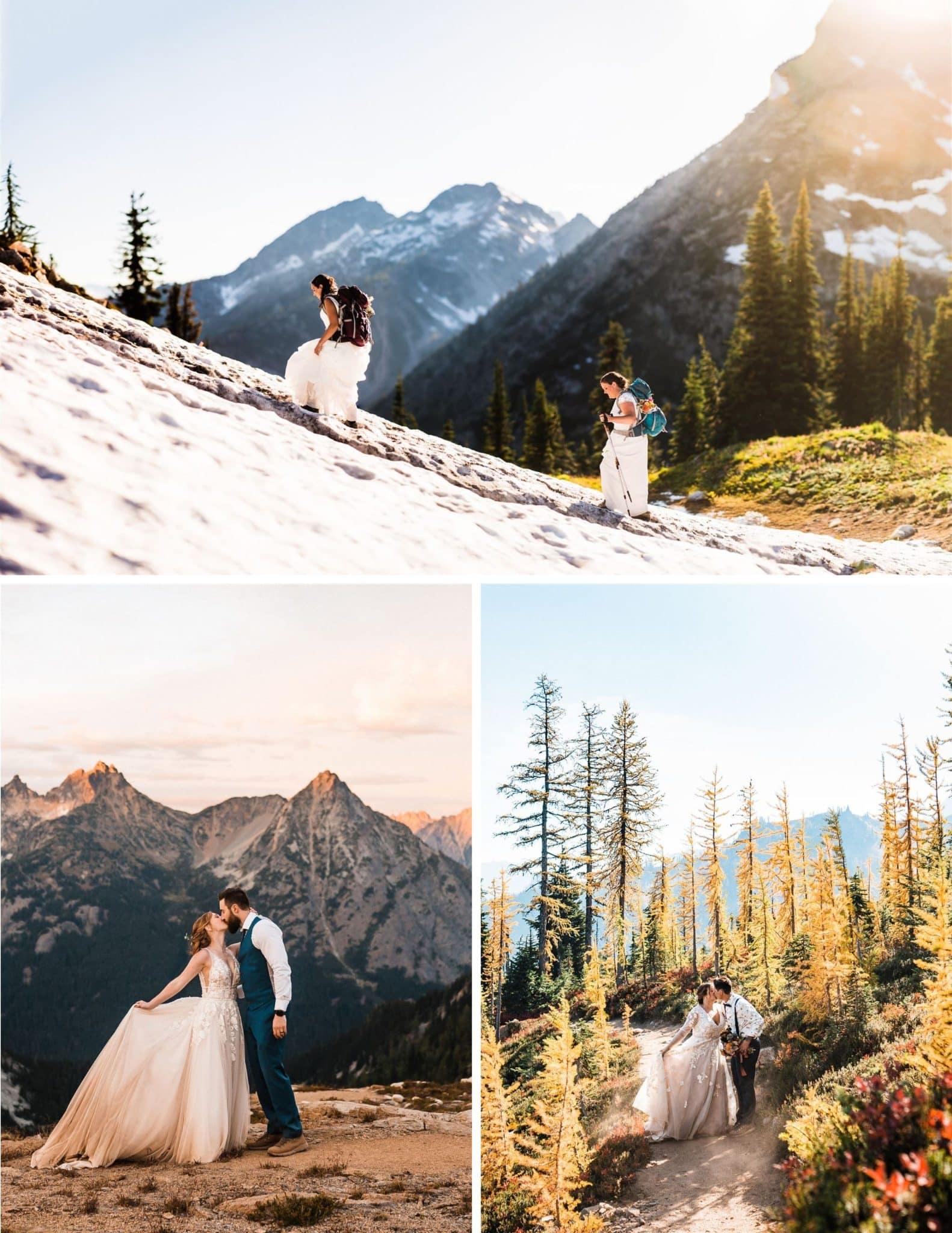 North Cascades National Park
Drive north on I-5 from Seattle towards Bellingham and you'll be on your way to the North Cascades, home to some of the most epic mountain views Washington State (or this country for that matter) has to offer. The North Cascades are known for their steep, jagged peaks, rugged mountain ranges, and the famous volcanic monolith, Mt. Baker. Artist Point is one of the most famous spots in the region, offering absolutely jaw-dropping views of Mt. Baker, and even better views of the Alps-like Mt. Shuksan. Diablo Lake is a rival contender for most popular spot in the North Cascades, offering easy access to a gorgeous alpine lake experience. And if you're up for a hike, the opportunities for epic views for your Washington elopement are endless.
Best place to stay for your North Cascades Elopement: Bellingham, WA is a cool college town with lots of great options for lodging, good eats, and tasty craft brews (check out this list of all the best Bham breweries). There are also lots of great cabins and rentals on Airbnb within the mountains of the North Cascades in Glacier, Maple Falls, Concrete, Mazama, Winthrop, Leavenworth, and more.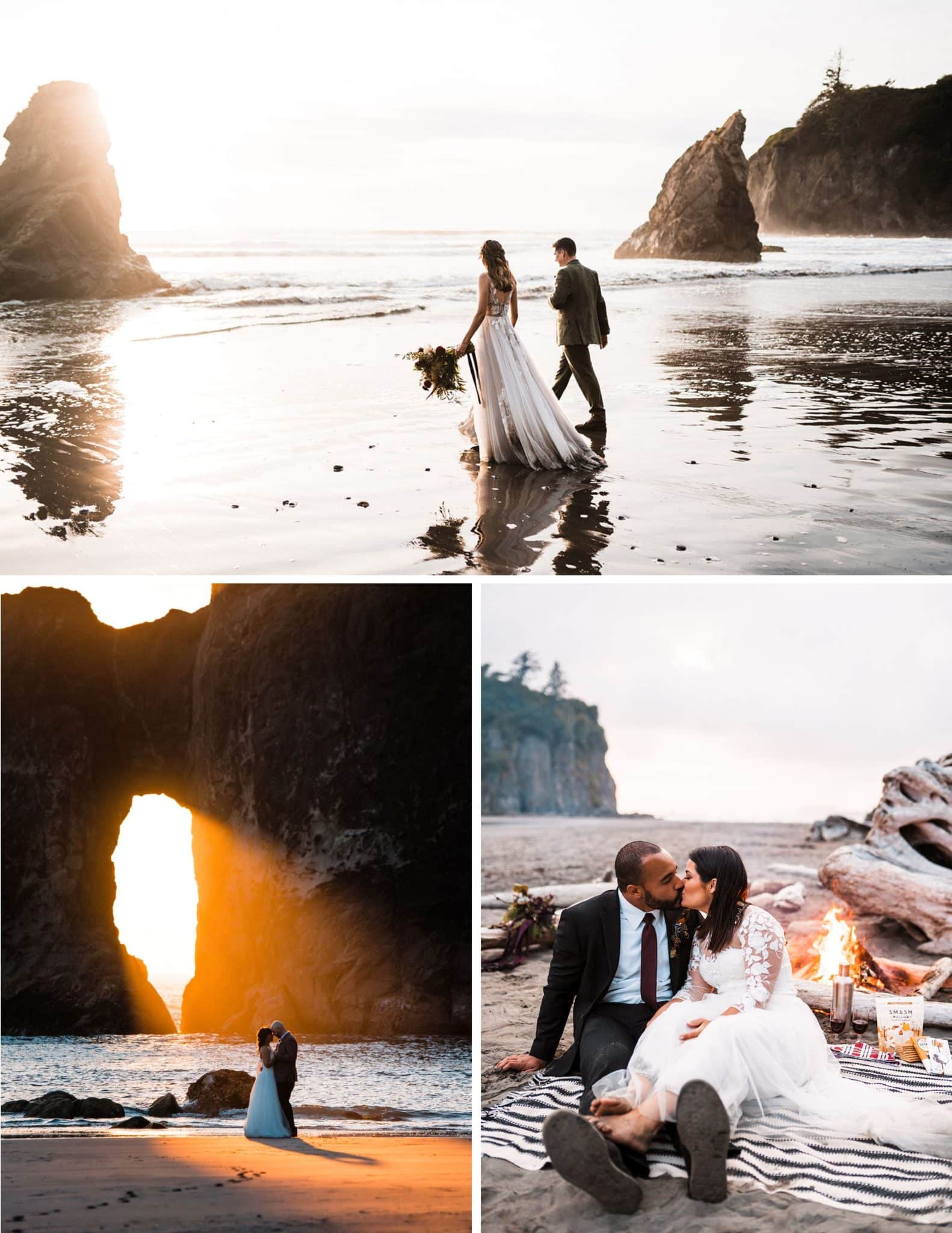 Most of the Washington coast is found on the Olympic Peninsula, but the coast really deserves its own description. The Washington Coast is a dramatic, rugged, and moody landscape. It's overcast a lot of the time but in the summer you get plenty of blue sky days with some of the best sunsets we've ever seen! Old growth forests creep right up to the beaches, which seem to stretch on forever, occasionally broken up by rocky outcroppings jutting up from the sand and waves. The Washington coast has a much more remote feeling than the Oregon coast, with few towns and amenities west of Port Angeles on 101. It can feel like going back in time, which is pretty special. The whole Washington coast is a magical place that we deeply love.
Best place to stay for your Washington Coast Elopement: Port Angeles, WA is the closest city with lots of lodging options. Forks is home to the vampires of Twilight and has a few lodging and camping options. But our favorite way to explore the coast is camping right on the ocean. Kalaloch beach and campground is an awesome spot that is right by Ruby Beach and offers stunning oceanfront camping.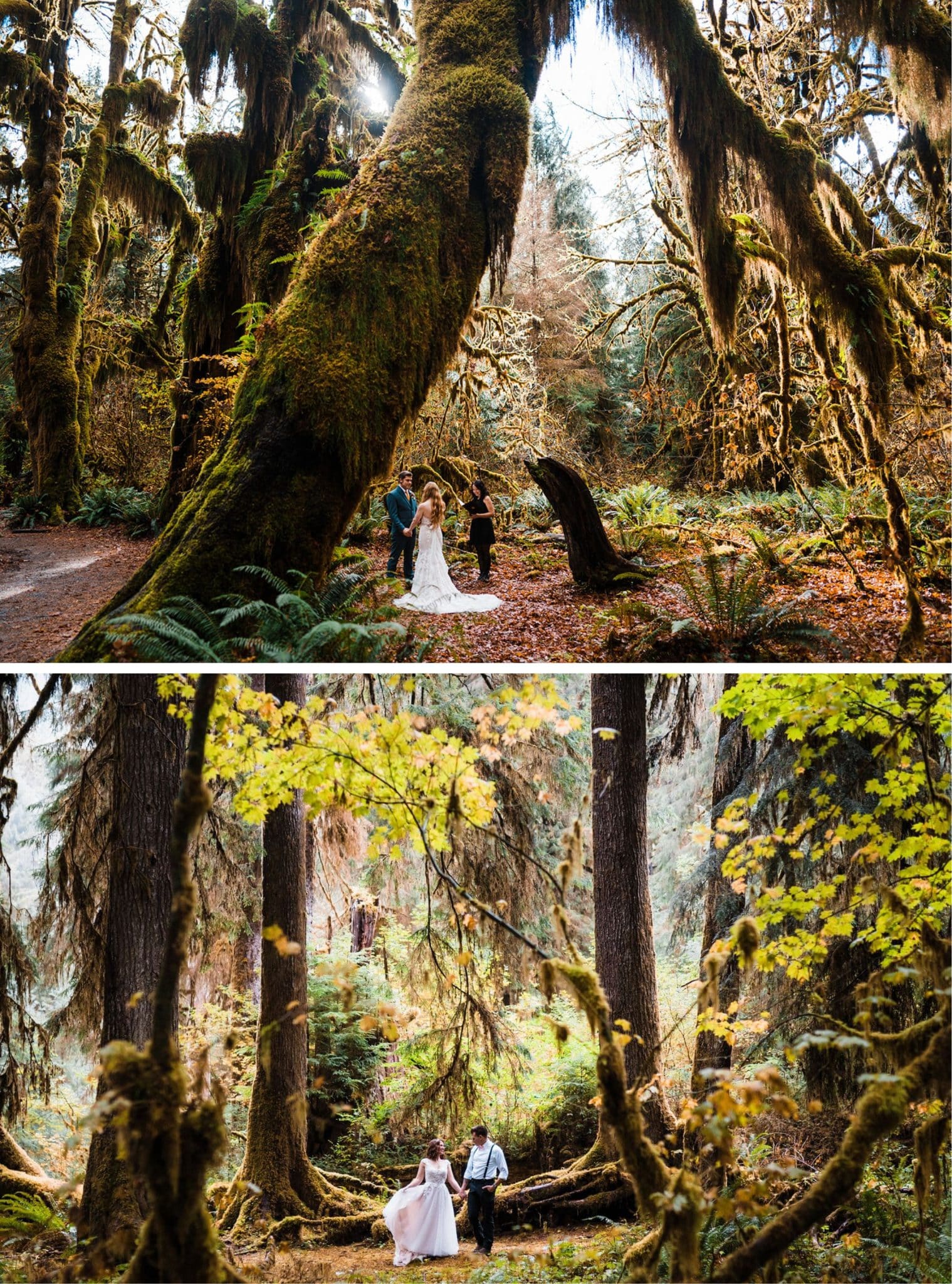 Being such a wet climate much of the year, trees love it here in Washington. And they get BIG. Cedars, Firs, and Hemlocks tower hundreds of feet overhead a lush, fern-covered forest floor. Walking through one of Washington's many old-growth forests is a mystical, ethereal experience (at least we think so). The Hoh Rainforest is a very popular spot due to it technically being an actual rainforest and within the Olympic National Park, but honestly, every old growth forest in Washington isn't that much different. Expect bright green moss hanging from giant trees with trunks that are wider than a car, light filtering through a canopy that towers high overhead, and trails that cut through thick growths of a wide variety of ferns.
Best place to look for lodging: If visiting Hoh Rainforest, you'll probably want to stay in Port Angeles or a campground in the national park.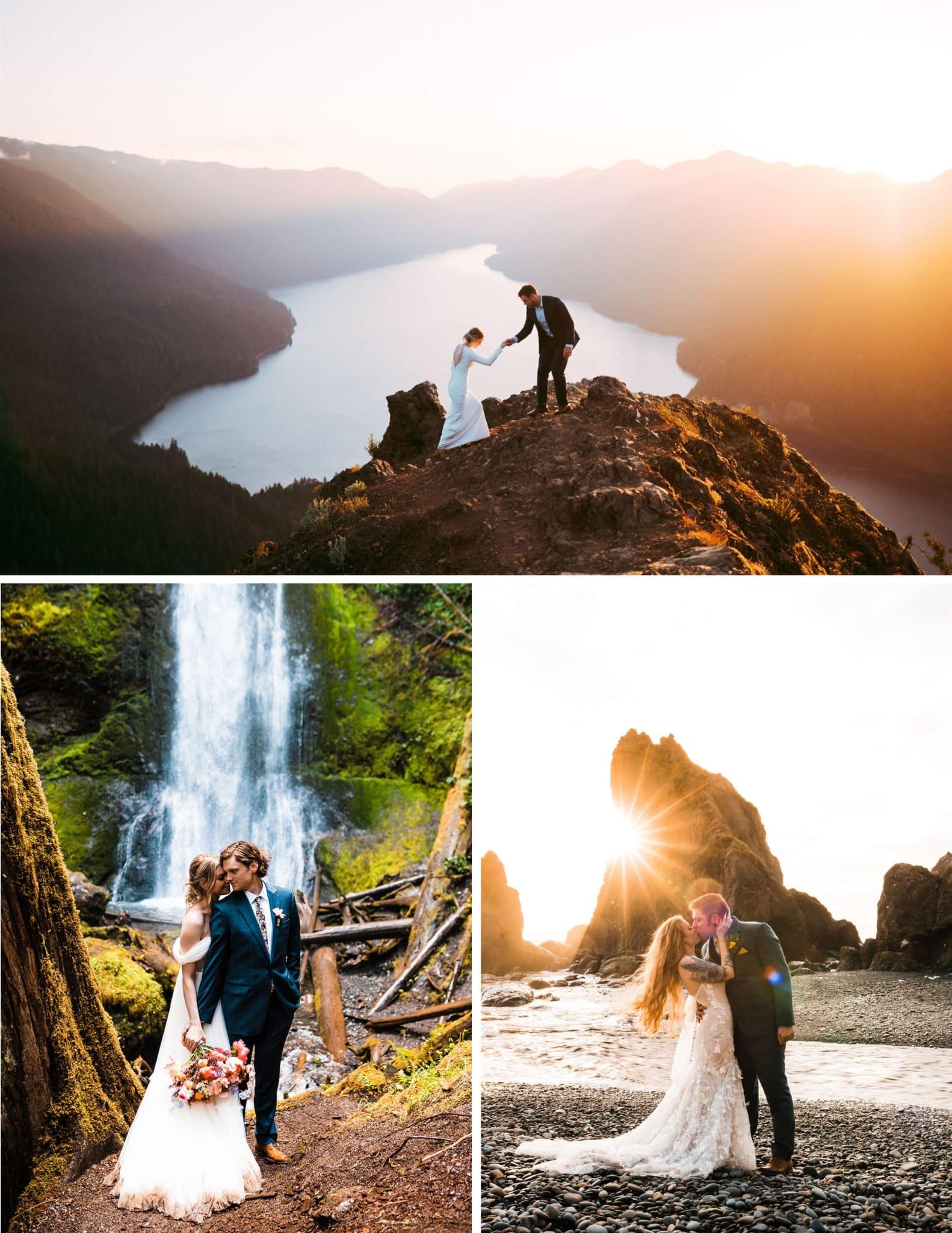 The Olympic Peninsula is arguably one of, if not the, most stunning and varied wilderness landscapes in America. Bordered by the Pacific Ocean to the west, the Straight of Juan de Fuca to the north, and the Puget Sound to the east, the Olympic Peninsula is a rugged wilderness complete with glaciated mountains, rainforests, and miles of coastline. You can even hit all three in a day if you really want. Olympic National Park doesn't make up the entire peninsula, but it is a huge chunk of it. Being a National Park, dogs aren't allowed on the hikes (sad), but there are also plenty of dog-friendly hiking areas too. If you're looking for adventure, you'll find multiple lifetimes' worth of it here, and you just might even catch a Bigfoot sighting 😉
Best place to stay for your Olympic National Park Elopement: Port Angeles, WA is the biggest city on the peninsula and is a great central location to explore all the Olympic Peninsula and Olympic National Park has to offer. Plus, it's a port city with ferries to Vancouver Island, BC for extra adventure!
Check out or guide for planning an elopement in Olympic National Park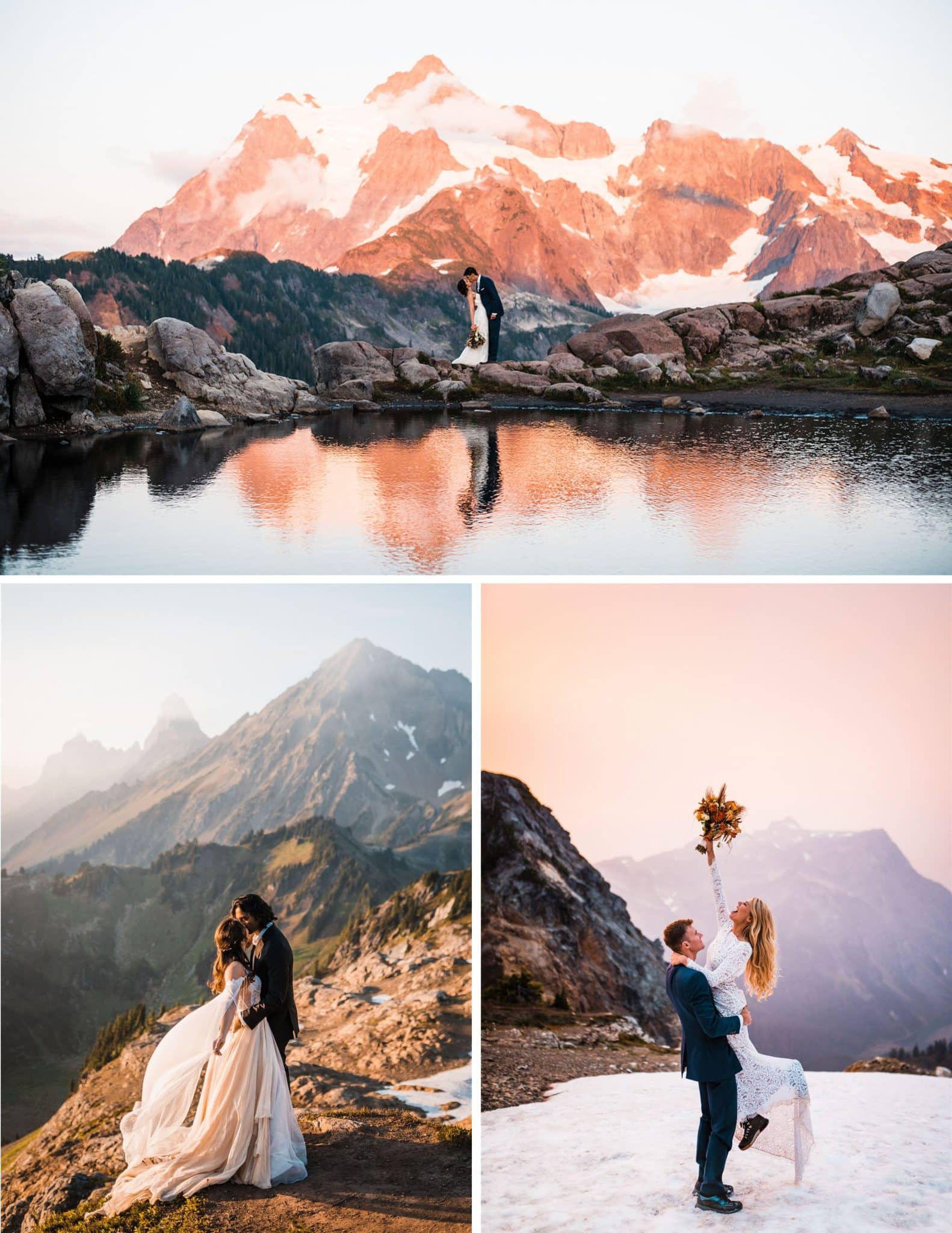 Mount Baker National Forest
Mt. Baker-Snoqualmie National Forest spans across much of the public land closest to Seattle that offers everything you'd want in a rugged mountain Washington elopement. Hop on I-90 east from Seattle you'll be at Snoqualmie pass within 45 minutes (if you don't hit traffic). Snoqualmie is a popular ski area, and is equally beautiful in the summer. You can also drive into the mountains a little farther north on Highway 2, which takes you through Stevens Pass, another popular ski area. Stevens (now on the Epic pass for all your skiers!) is steeper and a bit more rugged than Snoqualmie, and spits you out in Leavenworth, which is a popular mountain town known for being a Bavarian theme town, with access to some of the best alpine lakes hikes in the state. Or take a cruise through the North Cascades Highway for access to the heart of the North Cascades mountains.
Best place to look for lodging: The Seattle area is a great spot to be for these locations, but there are also lots of cabins and vacation rentals within the mountains. Leavenworth is a fun town to stay in as well if you don't mind the touristy vibes of little Bavaria.
Check out pics from Snoqualmie Mt. Baker National Forest elopements
Mount St. Helens is one of the most unique, ethereal mountains in the US. It once was a lush mountain filled with lots of trees, meadows, and alpine lakes, but all of that was decimated in the 1980 eruption of Mount St. Helens. The eruption removed 1,300 from the peak leaving a giant crater and a desolate place below it. The mountain now feels other worldly with ash and rock everywhere. Now, 30+ years later we are just starting to see regrowth of the land. In June there are fields of blooming wildflowers as you walk through the barren landscape. It's an incredible mountain and feels like something other worldly.
Best place to look for lodging: Vancouver, Washington and Portland, OR are the closest cities to Mount St. Helens and are great places to look for an urban experience. If you're looking for a cabin experience, check out airbnbs and vrbos near Silver Lake, Longview, or Yale.
Check out pics from Mount St. Helens: Mount St. Helens Elopement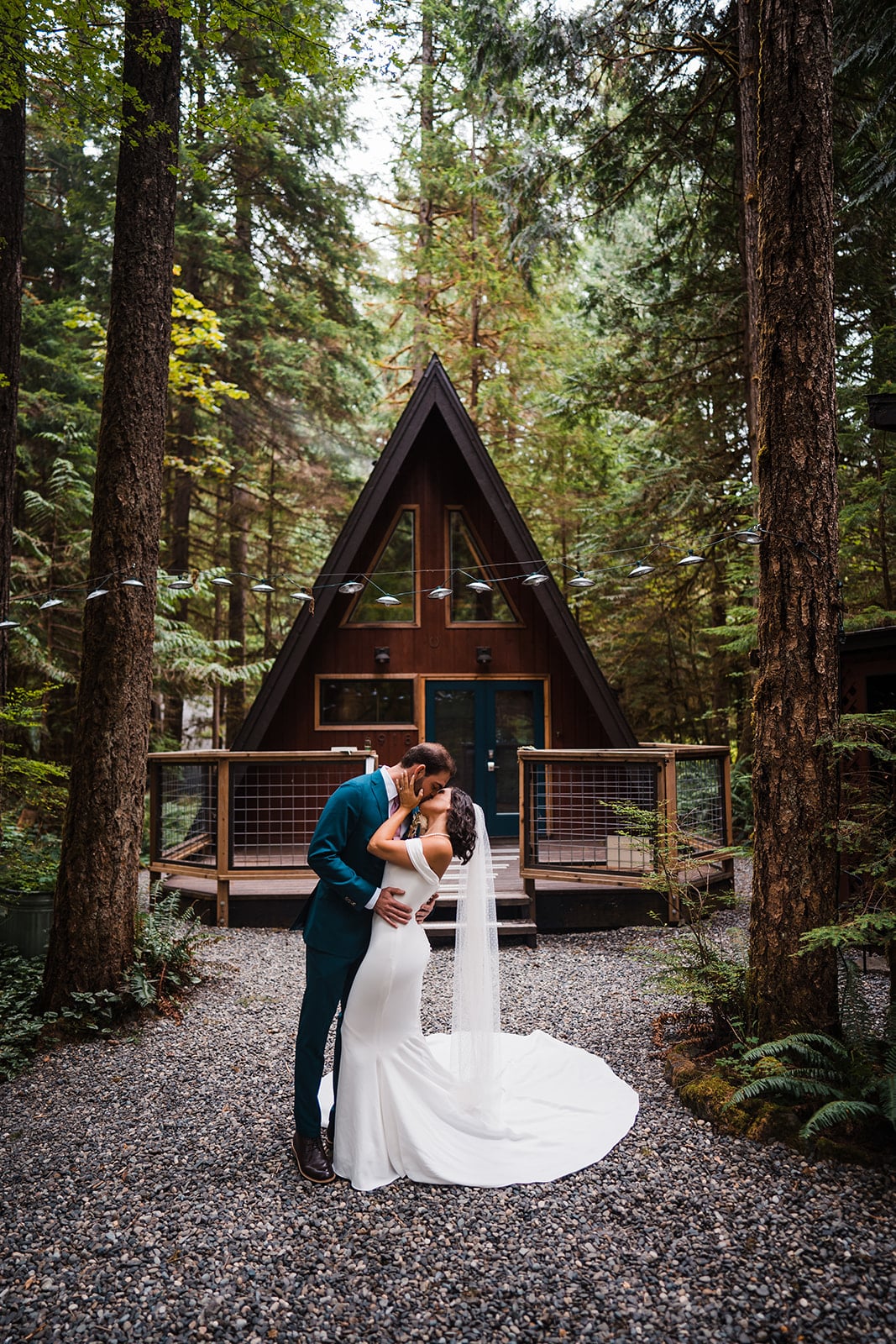 Nestled among the towering trees just outside nearly every epic Washington elopement destination, you'll find adorable cabins you can stay in for your lodging. These cozy and rustic cabins provide a tranquil retreat and offer a charming escape into nature. They're make perfect destinations for your getting-ready suite in the morning, and then after a full day of adventuring you can return home to relax in front of a warm fire or enjoying a soaking in a hot tub under the stars. 
Pro-tip: These cute cabins make an excellent backup option for your elopement should there be too harsh of weather to be outside all day.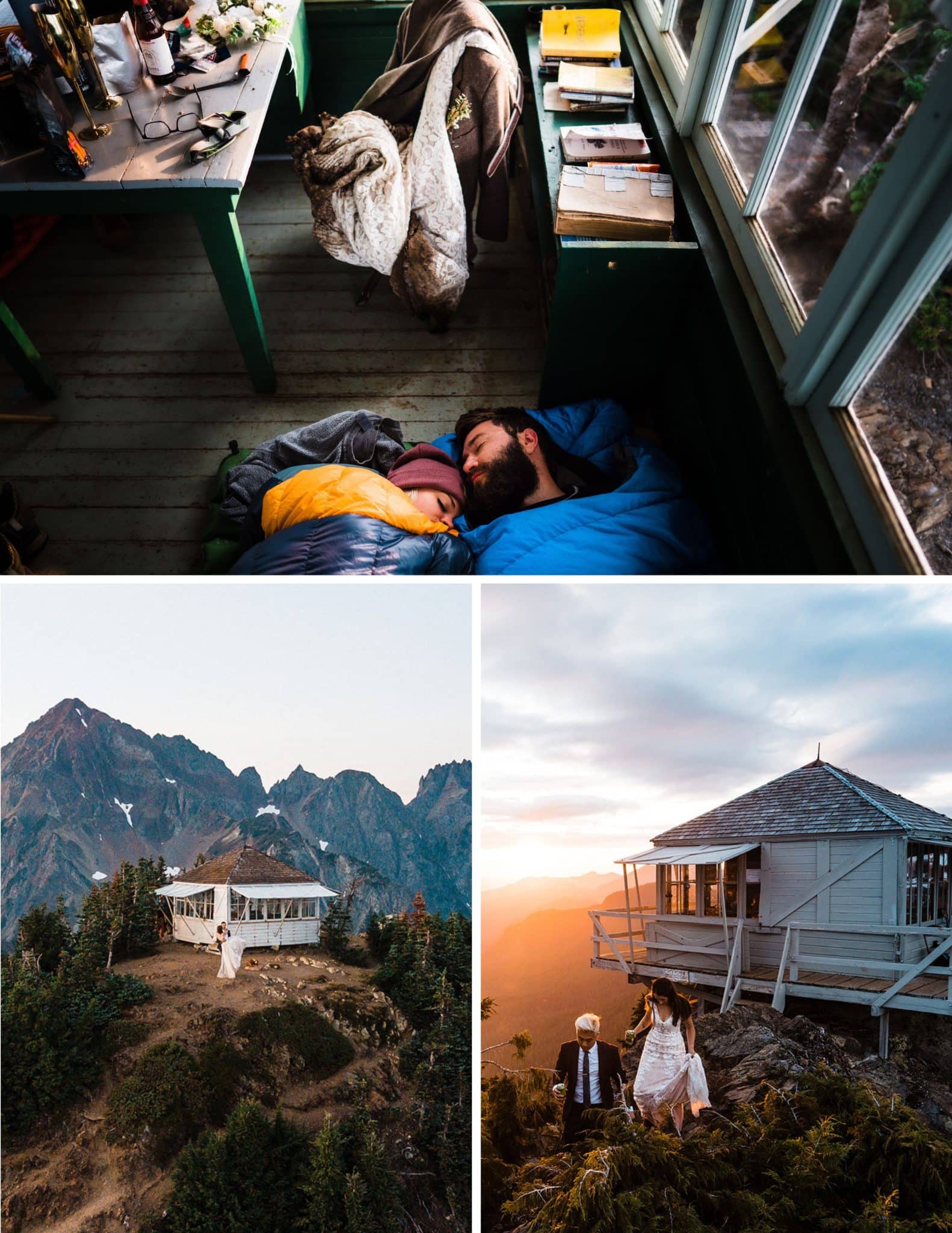 Washington State is home to a number of historic fire lookout towers that offer breathtaking views of the surrounding landscapes. These towers were once used as early warning systems for forest fires, but today many of them have been restored and are available for visitors to stay in overnight. There are a handful of lookouts you can reach within a short hike, making them a perfect for a day's adventure. However, if you want to experience an overnight in one of these iconic lookouts, there are a handful that require a longer hike to reach. Imagine waking up to panoramic views of the Cascade Mountains or the Olympic Peninsula for sunrise!
Check out pics from a Fire Lookout backpacking elopement: Fire Lookout Elopement
Your Washington elopement photographer is the most important decision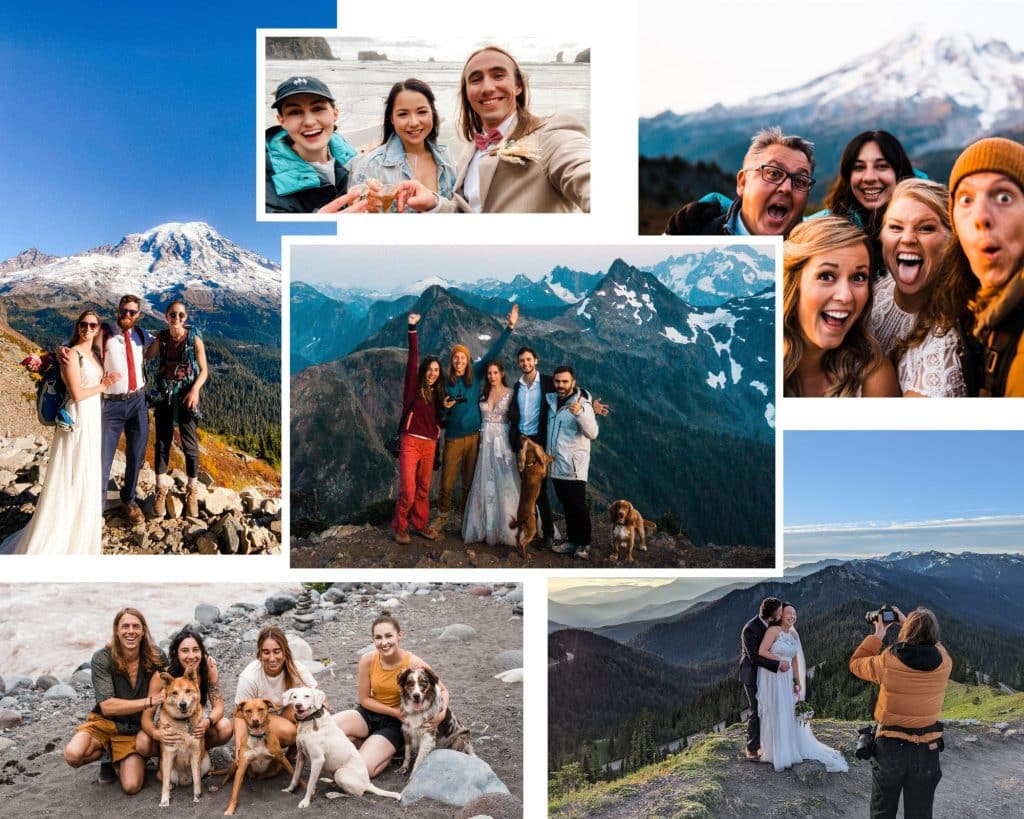 We've planned and photographed 200+ elopements in Washington State and over 350+ all over the world. We are Washington elopement photographer and planning experts.
You're likely traveling from halfway across the country to elope in Washington. Working with a photographer you can trust to do justice in capturing you in this wildly beautiful landscape is so important! We know all the nooks and crannies of this entire area, so you'll be able to lean on us for our expertise to plan the best possible day.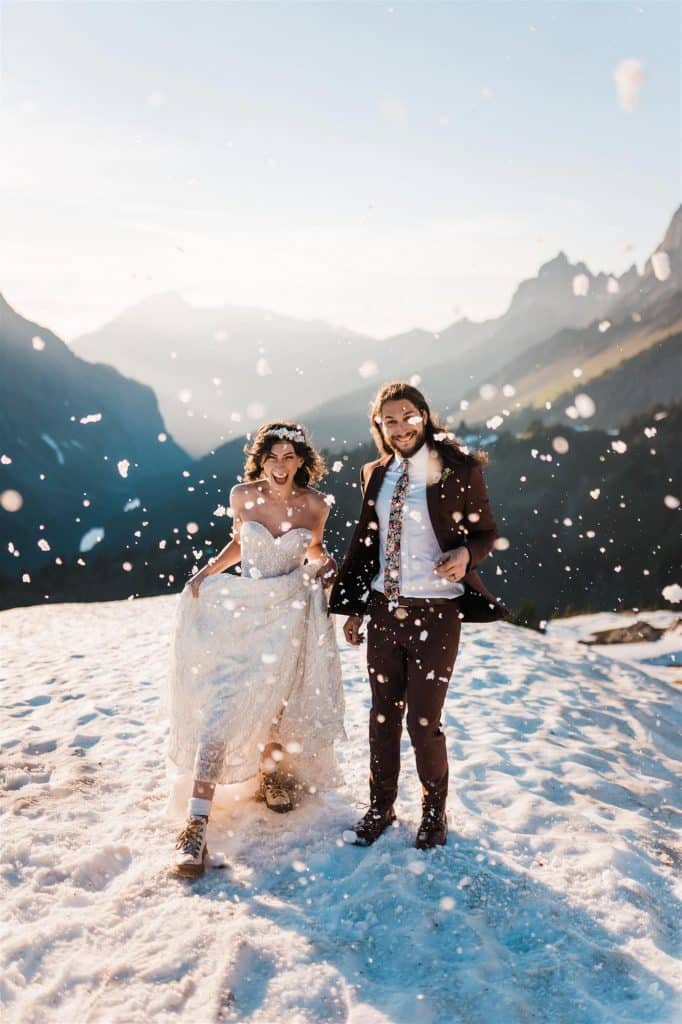 Everything you need to know for planning to elope in Washington State
Get ready to make all your friends who had a traditional wedding envious because planning an elopement in Washington State is not only easy, it's actually fun. From stunning mountains to picture-perfect national parks to endless shorelines, picking out your "venue" is the hardest part of planning. Our team has planned and photographed hundreds of elopements in Washington, we we'll be here to help you put together the best possible day in the most jaw dropping locations during the more beautiful time of year.
What is the best month to elope in Washington?
Our favorite time to elope in Washington is May through October.
There's nothing quite like a summer visit to the scenic mountains of Washington. The air is crisp and cool, the wildflowers are in full bloom, and the natural beauty of the landscape is breathtaking. The endless miles of hiking trails offer stunning views of majestic peaks, tranquil lakes, and cascading waterfalls. Spring and fall are favorites too with pops of vibrant color all around you.
Bonus for eloping in Olympic National Park in May – May is considered shoulder season here in Washington, so you can get some moody weather in the Olympics. But because of the nature of dense mossy forest of old growth trees and the rugged coastlines, the moody weather makes for incredible photos. Not to mention how quiet it is out there, it often feels like the only other person you're sharing the park with is Sasquatch 😉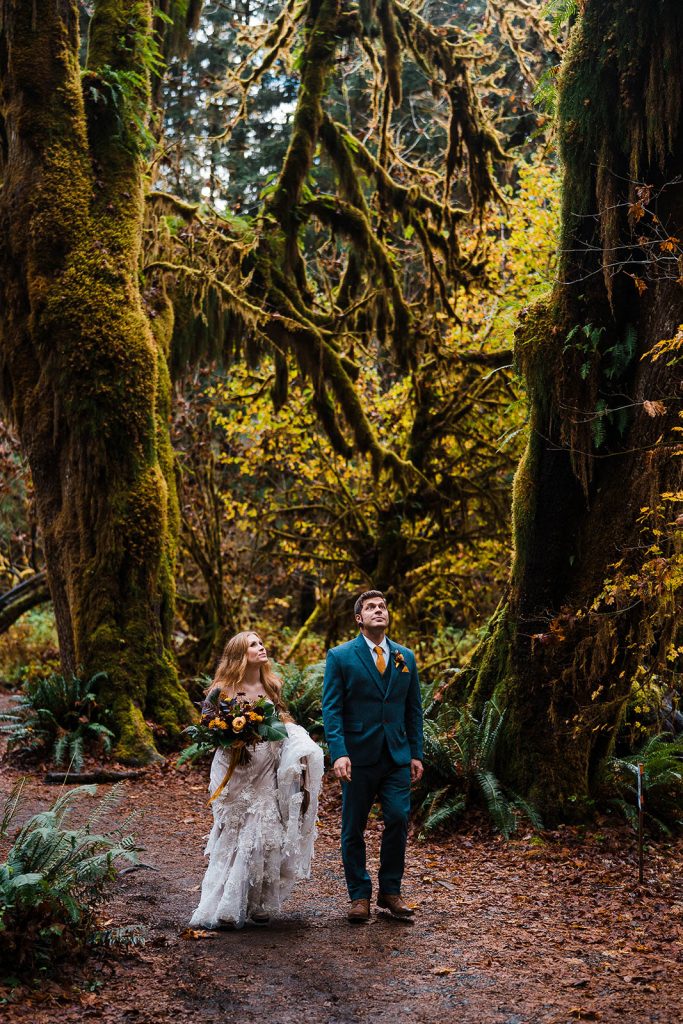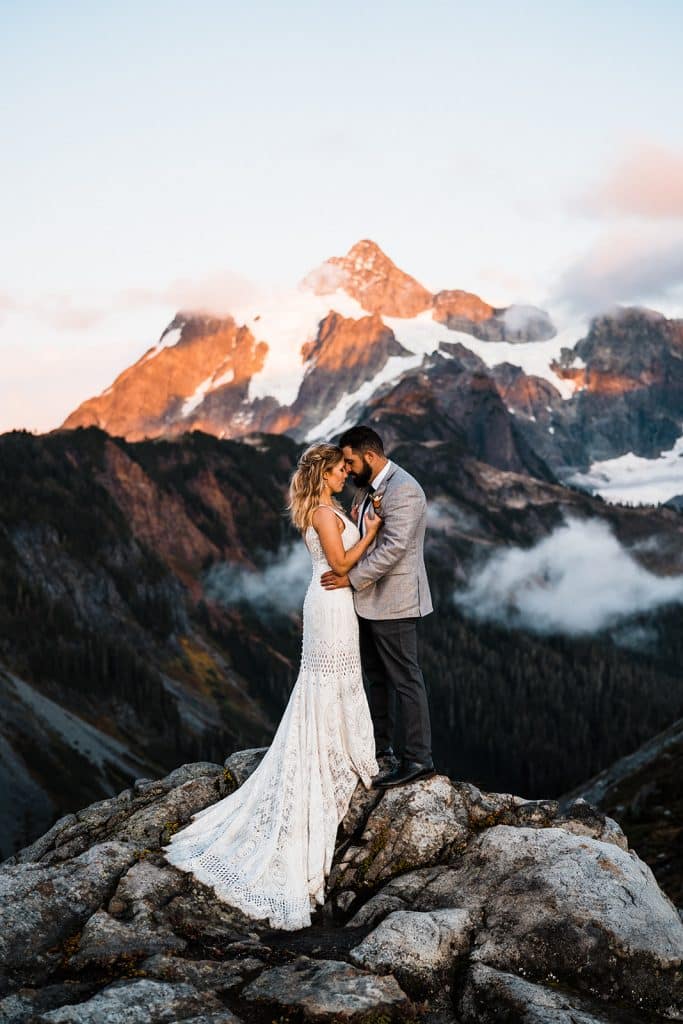 How much does it cost to elope in Washington State?
All in, the average couple spends $8,000 – $16,000 in their Washington elopement.
It's important to consider how much it costs to elope in Washington and what your budget is. Because there are many elopement specific vendors in Washington, Special Use fees are relatively low, and it's an easy place to travel to, Washington state is one of the more affordable options for an elopement. The total cost of your elopement depends on how lavish you want to go with lodging and styling for your day-of, but here's a quick breakdown of what to expect.
Photographer $5,000-$10,000 | Hair & Makeup $600-$1,000 | Flowers $400-$800 | Officiant & License $600-$1,200 | Special Use Permit $60-$100 | Lodging $400-$1,200 | Flights & Car Rental $500-$800 
How do you elope legally in Washington State?
To legally marry in Washington State, you need a marriage license, an officiant, and two witnesses. Depending on where you get married, you may be required to obtain Special Use Permits.
Washington State Marriage License:
You need an officiant to marry you and 2 witnesses to sign your marriage license. You must apply for your marriage license at least 3 days before your elopement because there is a 3 day waiting period after the license is issued. The application is $60. You can apply in person or online.
Special Use Permits:
All national parks require a Special Use Permit (SUP) to get married within park boundaries. National Parks also have limitations on number of guests and where you can have your ceremony.. State parks and national forest land have different requirements as well so make sure to check with the land managers of the exact trail you intend to get married on. And if you need any help or guidance on this, our team stays up-to-date on all the Washington requirements to help our couples obtain all the necessary permits.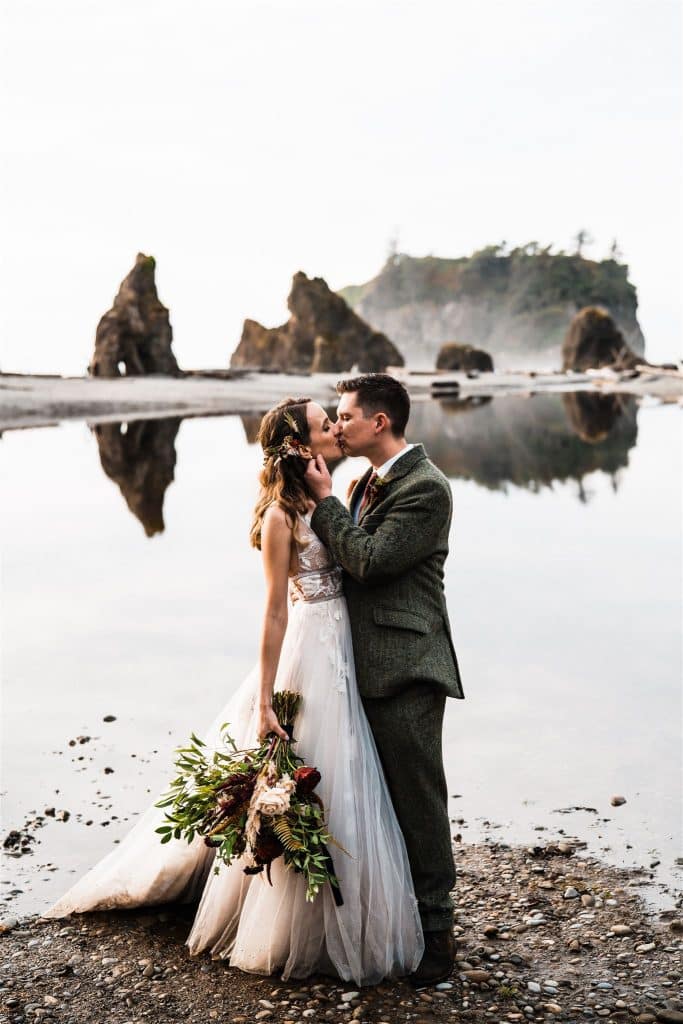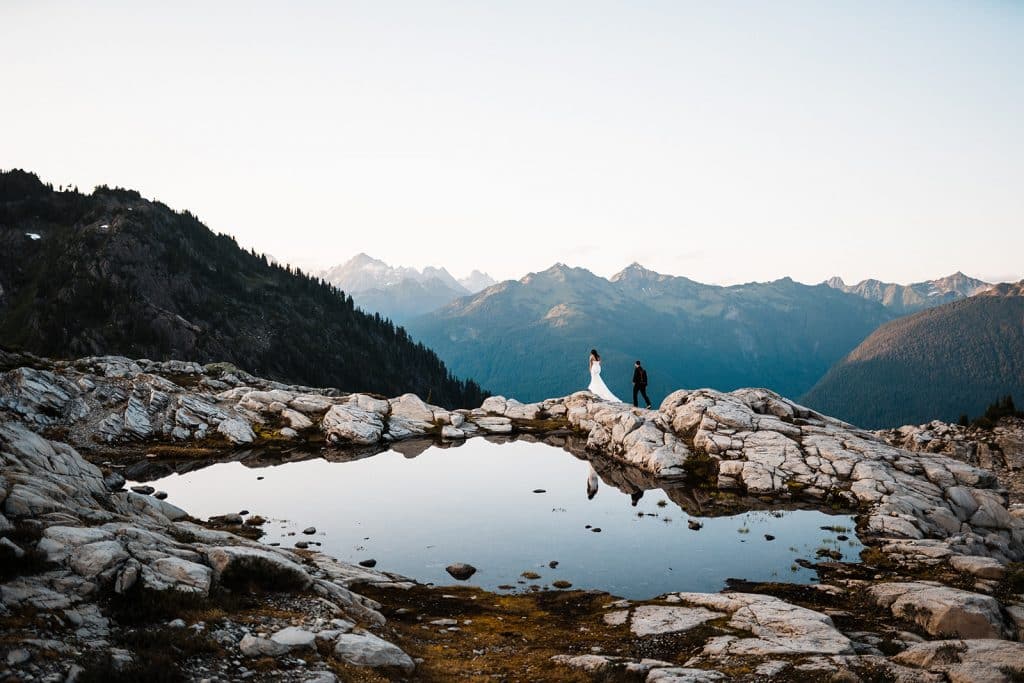 Washington elopement packages and FAQ's
Can you elope in Washington?
You can elope in Washington with two witnesses and one officiant. It is easy and free to become ordained in Washington state, so you can have a friend officiate your ceremony.
Where can I elope in Washington State?
The best places to elope in Washington State are Mount Rainier National Park, North Cascades National Park, and Olympic National Park. You can also elope in state parks and national forest land.
How much does it cost to elope in Washington?
It costs $60 to apply for a marriage license in Washington State and some national parks charge a small fee for ceremonies in the park.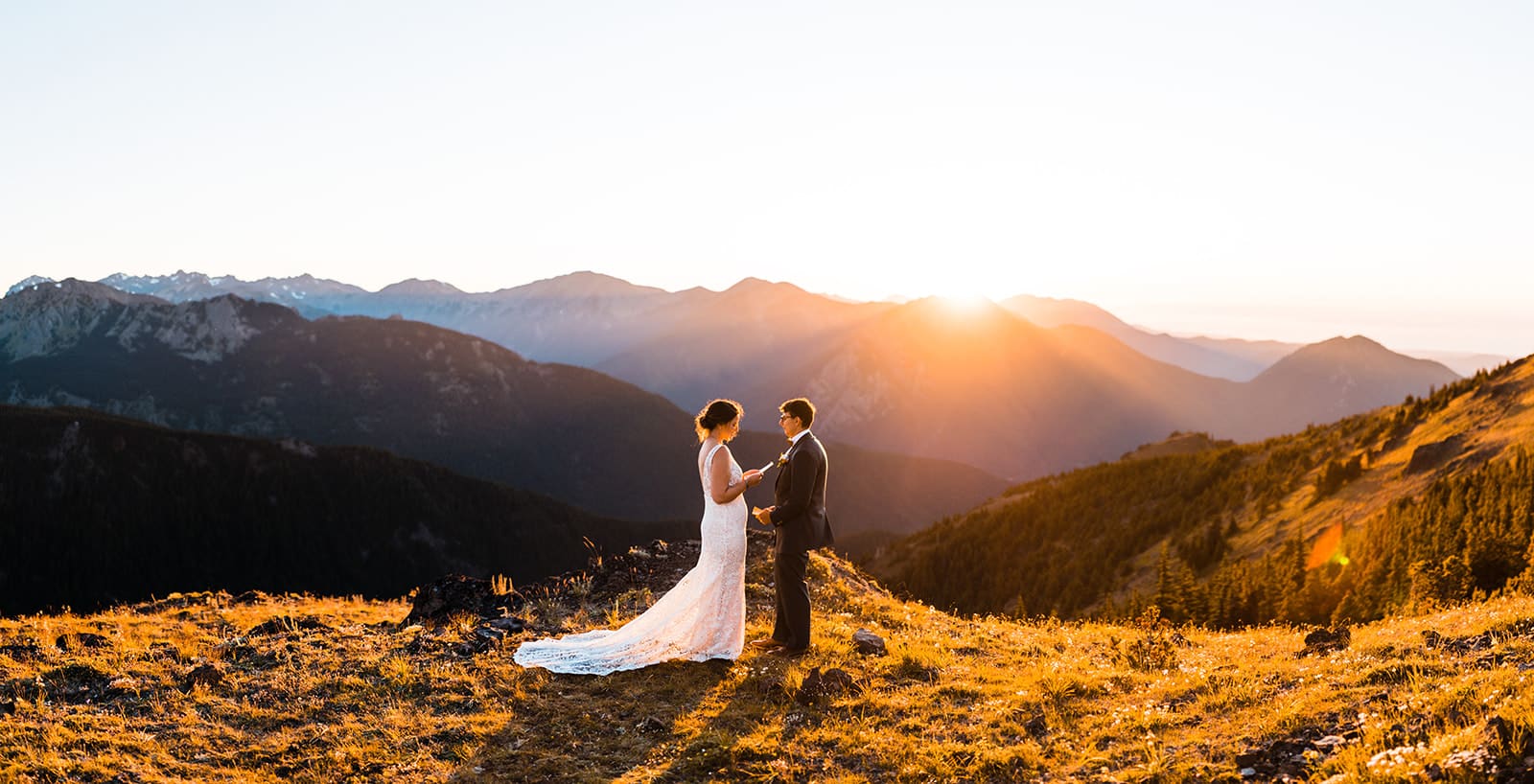 See more Washington elopements
Here are inside peaks at some of the days we've created and photographed with our couples for their Washington elopements. This is a great way to get a feel for our Iceland elopement photography, where to elope in Washington, and what full day adventure elopements look like!
Want us to photograph your Washington elopement?
Hope you found our tips on eloping in Washington helpful! As you can see, we LOVE talking about elopements and the wild, diverse landscapes Washington has to offer. If you're considering eloping in Washington, don't hesitate to reach out for a free planing call with us!
-Brandon, Gabi, Hannah, and Zoe