the hardest part about planning your wedding day could be the daunting task of how to announce your elopement to your family.
We understand that a traditional ceremony isn't necessarily for you, but your family may have expectations of how your wedding day should look. 
Luckily we're here to help ya! We reached out to our past couples and asked them how they announced their elopement to family and we got some great responses. We've summed up a list of the top five tips from the pros (AKA former couples who have "been there, done that") to help you through the process of announcing your elopement to your fam. 
Because you deserve a day that's all about you and your partner and nobody else!
6 Tips on how to announce your elopement from couples who have been in your shoes
Hint at your elopement before you announce it
There's no agenda that tells you how to announce to your family that you're eloping, but dropping subtle hints may make the revelation less intense. Hinting at it beforehand allows them to prepare themselves for when you actually do announce you've chosen to elope. Perhaps it's dropping the occasional line that you never envisioned a traditional wedding, or that you think you'd rather plan financially for the future than spend it all on one day. 
Brides have noted that when they've dropped a couple hints here and there, their relatives were more mentally prepared, and it was less of a huge shock when they actually got engaged. 
Common reasons why people elope
(to help your family understand)
Wanting an intimate and special day.
Family dynamics (Nobody's family is perfect!) 
Wanting a location that's meaningful to you.
And the big one – Money!!!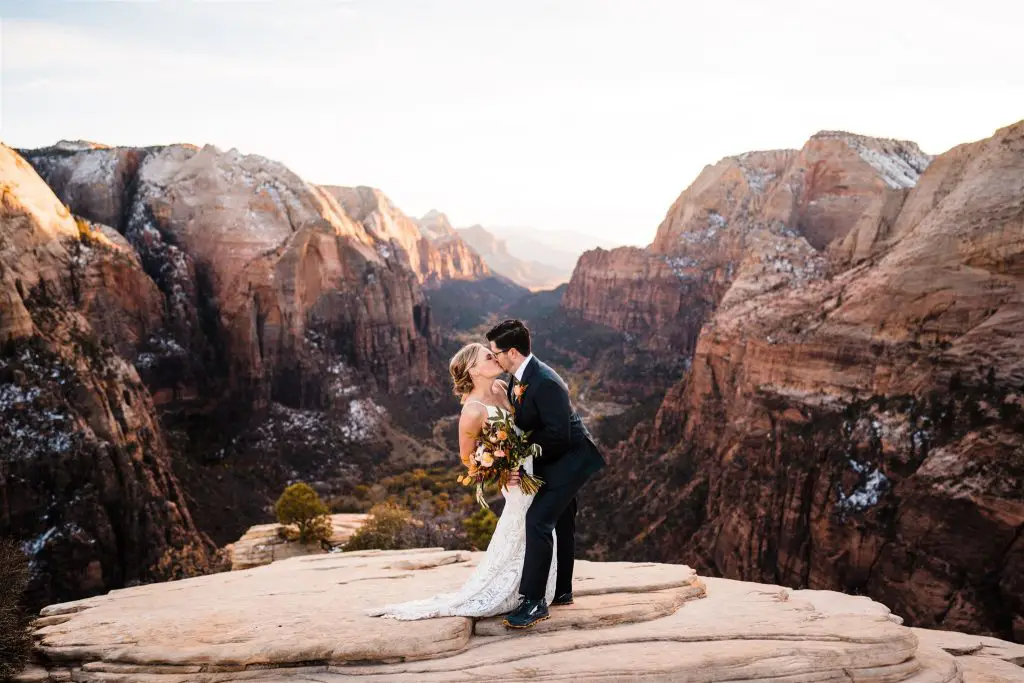 Be Gentle, but firm When you announce your elopement
When the time comes and you've decided to announce to your family that you're eloping, then let them know how important it is that you embark on this adventure together. Be clear with your reasoning, and remind them that this is how you envision your wedding day. It might be tough, but luckily it's totally okay to lean on your partner for this one; it can help take the pressure off of telling your family, and in the end you both made this decision together.  
Whatever the reasons you have for eloping, stand strong behind them. You shouldn't have to feel like you need to explain to your folks why you want to elope, but it definitely could help them come to terms with it. Perhaps you might even show them what your elopement could actually look like to bust any elopement myths they have (think Vegas chapel with fake Elvis serenading you)!  
There is no need to apologize for wanting to elope either, because as one bride remarked, "It's a day to celebrate our love and not to throw a big party for everyone else."
In the end, however you choose to do it, in person and together is always better. You may get varying reactions, but usually it's only because they care about you. 
Make a powerpoint or record a video to explain your elopement plans
Using a PowerPoint can be a good visual for family members to help them understand what your elopement day will be like. Like a video, it's still a very personal way to announce your elopement, as it shows that you took the time to create something special for them. 
Often times people hear the word "elopement" and thing the classic running-away-to-Vegas-wedding. With a PowerPoint, you and your partner are able to include photos, videos and other examples to give your family a better perspective of how intimate and beautiful your day is going to be! 
You can also try pre-recording a video of you and your fiancé talking about your elopement plans.  It's still a super personal way to talk to your family about your elopement, and they will have time to gather their thoughts before you can talk to them more deeply about your plans to elope. Sharing our Instagram in a video or powerpoint can also be a very powerful tool because it makes it easier to draw photos from all sorts of elopement settings that you envision for your day. You can also share highlight reels of behind the scenes from elopements and show them stories to give them a more organic feel of how much fun you are going to have on your elopement adventure! 
Involve them in the process
There are so many ways you can include your family in your elopement! Involving them could mean including them in your elopement planning process (pssst! Check out these unique ideas for eloping!) or having them help you make props for your big day. You can choose to have them as much or as little involved as you like because in the end it is your day. 
Ways to involve your family in your elopement
Take them dress shopping!
Dress shopping can be one of the most meaningful and sentimental parts of your wedding, and it's likely not as fun to do on your own. It's like a sneak preview to your wedding day that you get to share exclusively and intimately with your close friends and family. The selection of a gown for your wedding day is imperative, especially if you're going to be trekking through the backcountry or exploring mountain terrains. Your family will feel super involved in the process and get to melt over your gorgeous elopement photos featuring the dress they got to help you pick out!
Speaking of wedding dress shopping… check out these tips for finding your dream dress during COVID-19! 
There's no rule that your elopement has to be JUST the two of you! Bringing a couple family members along will not only make them feel super special, but you will have some extra help and support throughout the day to help you get to your destination. 
On another note, if you don't want the extra stress or planning to get more than yourself and your partner to your destination, you can make it optional. One bride remarked that she invited everyone along to their mountain elopement as long as they were responsible for getting themselves there. Other times, if you still want your family there but they're not able to make it, it may be more acceptable to Zoom or FaceTime them into the ceremony. 
Ask for help making props
Your family and friends will be more than happy to help you make props for your wedding, and you get to drum up some free help in the meantime 😉. It can be anything from crafting a "just married" sign to display at your elopement ceremony, or picking flowers for your bouquet. There's also the crafting or selection of boutonnieres, vow books and ring boxes (oh my!). Your family will feel super happy to be involved in your elopement day, even if they won't be there for the actual exchanging of vows. 
Share your love and appreciation to your family in a letter! You can either choose to write heartfelt letters for them to read on your wedding day, or vice versa. Either way, your family will be excited to know that you were thinking of them throughout your elopement planning process, and it's something they can cherish for years to come.
Share your elopement day with them
Share, share, share those juicy deets! There's a reason you chose to elope, and chances are you are doing it in a beautiful and magical place for romantic and intimate reasons. It's totally cool to keep it a secret until after it's done, but your family will love to hear about your magical day when you feel ready to share. 
Hopefully you will have an awesome photographer there that will capture your moments timelessly and epically (is that a word?). Sharing these photos with your family will get them super stoked on your adventure and help them understand why you decided to elope. "It can be a huge eye opener," one bride said, "to how beautiful and intimate [your elopement] is going to be." 
Those gorgeous photos will also come in super handy if you choose to send out elopement announcement cards to your family and friends (more on this below!). 
Throw a post-elopement party!
Everybody loves a reason to celebrate! And one of the best parts of a traditional wedding is the party. Throwing a "reception" back home after your elopement is a good way to involve your family and friends without having them actually attend the elopement. It also takes a TON of the stress out of planning a party and focuses your time on your partner rather than pleasing guests. 
The good thing about post-elopement ceremonies is they can be as big or small as you feel comfortable with. Some brides recounted celebrating their union with a big party or a backyard taco fiesta, and others had more intimate gatherings with only a few family members. 
"The weekend before we left," said one bride, "we visited our families to let them know we would be leaving soon and shared special gifts with them."
There are a bunch of different ways to celebrate your union with family and friends. Obviously a big party with food and music is always fun, but here are a few other ideas of ways to celebrate your elopement that will last for years to come: 
Unique Ways to celebrate your elopement with family and friends
Hello plant moms and dads! Plant a tree and watch your love grow! Super cheesy, but a good pun is hard to resist. The tree, usually a sapling of some sort, symbolizes your unity and love together. Over time it grows, spreads roots and maybe even blossoms and bears fruit. Whatever the tree symbolizes to you, it's a union of your love and devotion that is everlasting and grows deeper and greater with time! 
Olive tree – Represents peace, prosperity and health
Birch Tree – Represents new beginnings and growth
White Jasmine Tree – Symbolizes love and sensuality
Oak Tree – Symbolizes strength and stability
Apple Tree – Beauty and love
Alder Tree – Endurance, strength and passion
Another fun way to celebrate your elopement for years to come is to create a time capsule! You can jot down your favorite memories or add small trinkets to a wooden, plastic or metal box and bury it in the backyard. It's a good way to put in all those little details of your wedding that are still fresh in your mind. When you do open it, all those sweet memories will come rushing back as if you've just said your vows. You can choose whenever you uncover the box. It could be your first anniversary… or your 10th! 
When I was a kid I got an arts and crafts kit that included different colored sands that you pour into clear bottles to make a layered effect. Twenty years later, I was shocked to see one of my cousins do this at their wedding ceremony, and instantly fell in love with it! The sand represents unity, and usually each person participating will have a different color to pour in. As the sand layers, one color on top of the other, it's a metaphor for the blending of two groups coming together as one. This is a great activity to do to include kids and parents as anyone can participate and it looks great displayed on the mantle. 
Another fun project to do with kids (and if you're feeling artsy) is creating stepping stones with handprints or trinkets from your elopement day. 
Prepare for reactions when you announce your elopement
I think it's fair to say that not everyone will be stoked when you announce your elopement – and that's okay! Of course you want everyone to be as thrilled as you are about your elopement, but it's not always so. Some will be happy for you, and others may take some time to come around to the idea. Mentally prepare yourself a bit and think of who might be more sensitive to the idea. It's important to keep in mind that most of the time, your family and friends will only be upset because they love you and want to be involved in your big day.
in the end, most of them will come around to support you and share your excitement.
When you share your details and reasoning, it'll be hard to argue against them. It's your decision and your special day, and while you can empathize with them, it's not going to make you change your mind. 
Creative ways to announce your elopement
Now that you've told your family and got the scary part out of the way, lets talk about fun ways to announce your elopement! This is where all those super cool photos you took to document your elopement will come in handy for your elopement announcement. Sites like Etsy, Shutterfly and Minted all have customizable wedding card templates where you can pick your own colors, text and images.
Utilize some props to announce your elopement!
Whip out those "Just Married" signs or pop dat champagne for a playful photo to announce your elopement! It's always a good idea to have some playful energy on your wedding day, and not to mention having a photographer that will capture that for you. Your friends and family will love to see how much fun you had on your romantic elopement day and maybe even help you make the props for it!  
For other good prop ideas, you could also try utilizing a chalk board or letter board to announce your elopement in photos!
It's crazy to think how intimate a handwritten letter can be. In a world of fast-paced digital media (which has it's perks! – More on that below) it emphasizes taking the time to slow down and truly write your thoughts down. By writing something personal instead of a mass-message, it lets them know that you were thinking of them throughout your special day and they can feel like they were there with you too. 
You can share special, intimate details with some, or keep it short and simple with others. Your friends and family will see that you took the time to write a handwritten message and instantly feel special. 
Announce your elopement all in one card!
The fun part about eloping is there are seemingly no rules to what you can do. You can even try something crazy like – putting your elopement announcement, save the date and reception invite all in one card! So crazy right?! Well I'm about to say something crazier… for this one you could even utilize email!
Sites like Greenvelope and Smile Box let you create your own eCards to fit whatever details you're wanting to include. MailChimp is an email marketing service that would also be a good option if you're looking for more customizable templates.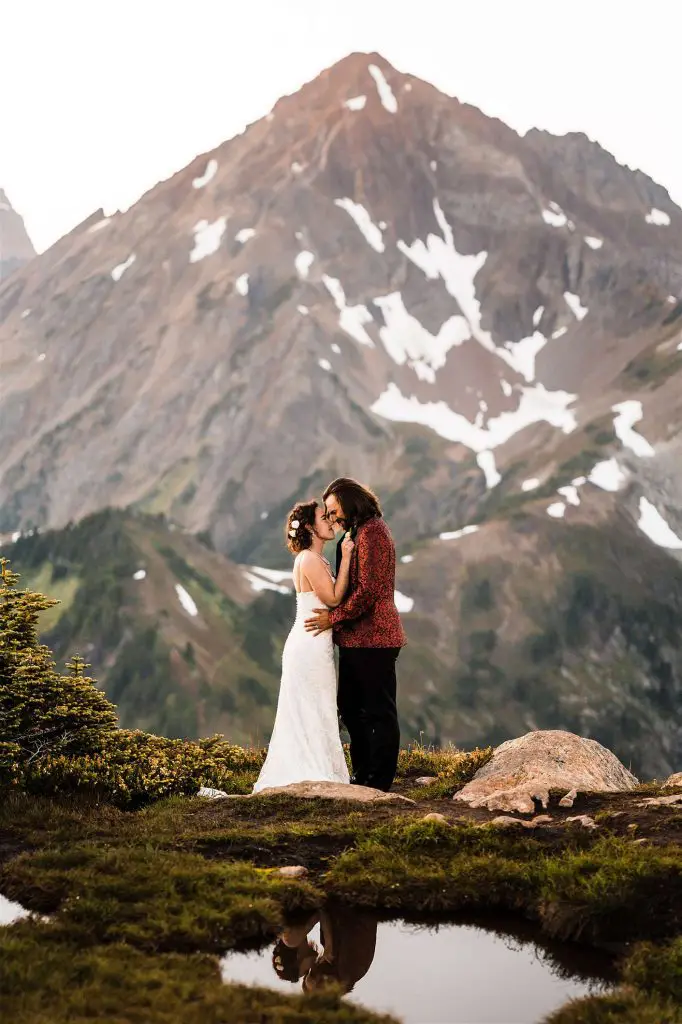 hit the social medias to announce your elopement
Once again, those photos are coming in handy! Social media is probably not the best way to announce your elopement to your parents (and other close family members!), but a good way to let everyone else in your social circle know that you tied the knot. 
Pop some champagne, strike a romantic pose or dance off into the sunset. However you celebrate, your friends and family will love to see you exuding happiness on your special day.