This Yosemite elopement was a complete dream! These two beautiful brides flew out all the way from NYC to elope in Yosemite's magnificent landscape. From the valley to the clifftops, we packed a full value adventure into one perfect Yosemite elopement and ended the day with one of the craziest sunsets we've ever seen.
Yosemite Elopement Ceremony in the Shadow of Half Dome
When we first chatted with Hannah and Tracy about their Yosemite elopement vision, they knew they wanted to have at least part of their day in the valley. When you first come to Yosemite, your first view of Yosemite Valley is unlike anything else. You'll always remember it. The sheer scale of the place is something you just can't communicate accurately through pictures or videos. John Muir did a pretty good job with words, but still, nothing beats the first-hand experience. El Capitan is over 3,000 vertical feet of pure granite. That's insane. That's something that doesn't exist many places in the world, and El Cap is just one of the massive cliffs in Yosemite National Park. 
 Want more Yosemite elopements? Check out this Dramatic sunset elopement in Yosemite
The other famous feature you've probably seen and heard of is Half Dome, which is where we decided to have the elopement ceremony. Well, not on Half Dome (that requires climbing the face or facing a grueling hike up the back side), but in Half Dome meadow where we could comfortably admire the half-sphere monolith.
After a first look in a forest of Ponderosa and Redwoods, we gathered in the shadow of Half Dome in Yosemite Valley and Hannah and Tracy made it official. Their friend flew out from NYC with them to officiate and celebrate and generally adventure around with them and she performed the most beautiful elopement ceremony.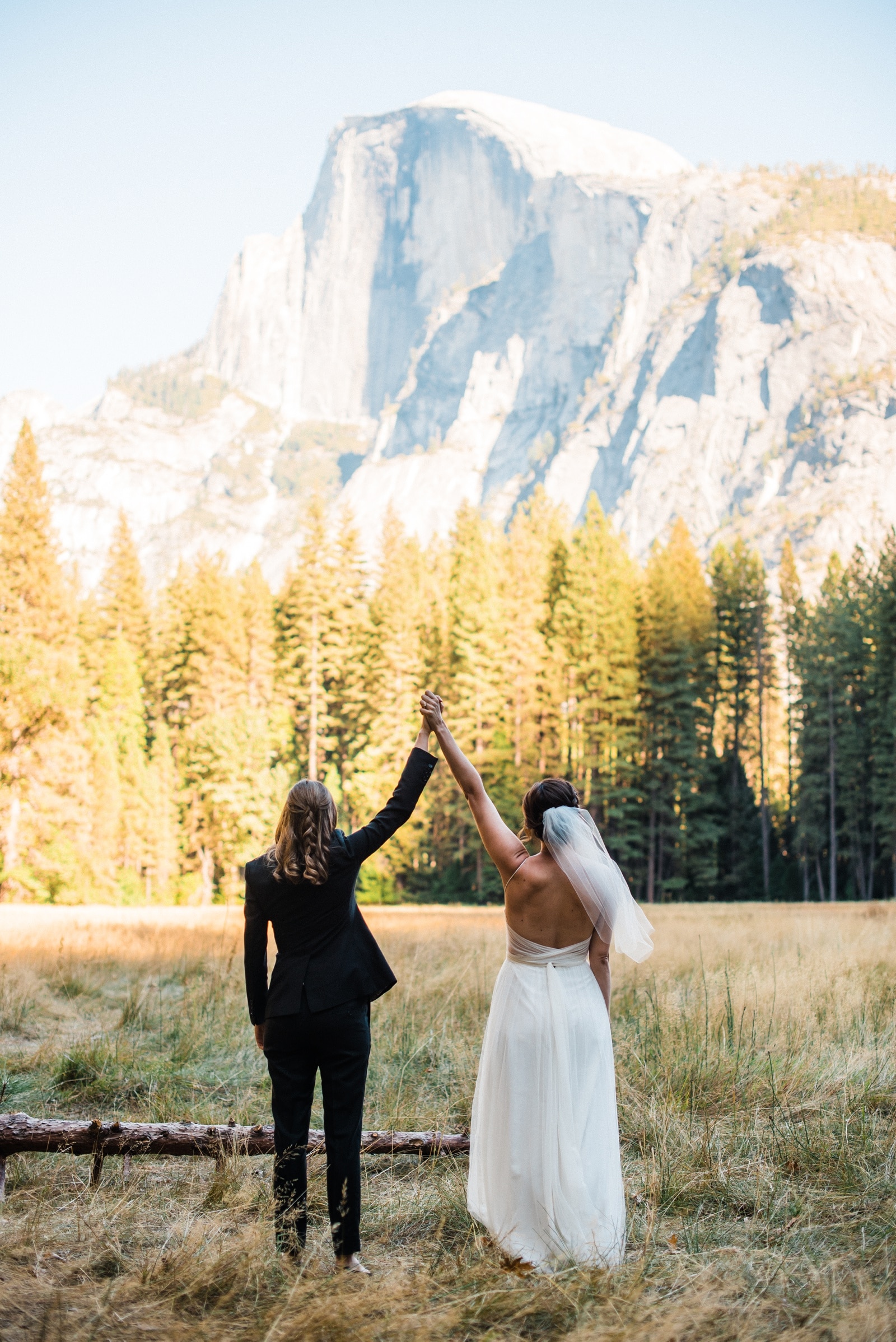 The Elopement Adventure Really Begins: To The Yosemite Clifftops!
After the elopement ceremony in Yosemite Valley, we piled into our cars and began the 45-minute drive up to the clifftops for a change of perspective. When you come to Yosemite, you really need to experience both standing below these humongous granite walls and on top of them. It's a completely different feeling looking down into the Valley. The view up here really captures the scale of it all. 
Keep in mind, the road that takes you up here is closed half the year due to snow and doesn't open until mid-May usually. So if you come in the winter or early spring, you'll be confined to the valley. Unless of course you care to climb a cliff. There's also Four Mile Trail, which will take you up to Glacier Point for a killer view of Half Dome. If you do this, you'll get to experience the view with far less people around than when the road is open. You might even have it to yourself.
Related: A Yosemite elopement at Glacier and Taft
Fortunately, these two eloped in September so the hardest part of getting up to Glacier Point was dealing with the traffic on the Valley loop. 45 minutes later, we parked on the side of the road and ran out for a peek at Half Dome from a much higher vantage point than the ceremony. We knew the light would be harsh, which isn't great for photos, but we had to make the pit stop just to soak in the view. Hannah and Tracy only had time for a very short trip to Yosemite and this view is an absolute must-see. After snapping a few photos of these two badass ladies and gawking at Half Dome, we hopped back in the car to cruise to our final destination for what promised to be an epic sunset.
A Perfect Elopement Sunset Overlooking Yosemite's El Capitan
We saved the most epic Yosemite view for sunset. This is a view you've probably seen on Instagram and online a million times, and that's because it's a million dollar view. Looking across the valley at El Capitan as the final rays of sun kiss the behemoth's west face is one of the most stunning scenes in the world. While the rest of the valley is plunged into shadow much earlier in the day, the light up here shines all the way until the sun dips below the not-so-distant Pacific Ocean. 
Want to see another epic elopement location? Look at this elopement in the North Cascades right now
Of course, with such a beautiful and easy to access place comes a lot of traffic. You can always expect other hikers out here, and we even saw other wedding parties out with their photographers every night. But if you're okay with sharing the space, it's worth it. Most of the photographers and couples we encountered out here were very respectful of each other, being careful to share the space and not hog any one area too long. 
During the busiest part of sunset, we decided to find some privacy and hiked over to a little area away from the main attraction and popped some champagne on a cliffside with a stunning view of its own. Nobody was around. It felt like we were out there enjoying this incredible view and sunset all to ourselves.
The Most Epic End To A Dream Yosemite Elopement
We were in Yosemite for two weeks and witnessed a total of 8 sunsets up here, and pretty much every time I swear the air turned purple. I don't know what it is, something about how the sunlight refracts through the horizon or what. But it's just incredible. Just before sunset the light is warm and glows with an intense orange hue, which slowly fades to purple during the final moments. After the sun is gone, blue hour is upon us and the colors cool down but the sky lights up. Photographing during sunsets like this gets us photographers all kinds of excited. Couple that with the insanely epic scenery of Yosemite and we practically have an aneurism. 

Want to see more purply sunset photos? Check out this Mt Rainier Engagement Photo Shoot
After the toast, Tracy changed out of her stylish Bindle & Keep suit and hopped into an equally stylish dress she had brought along as well. By this time, the sunset was well into golden hour and rapidly approaching dusk. Just as the sun was at its lowest point before disappearing below the horizon, these two beautiful brides walked out on the most iconic cliff in America to enjoy the day's finale.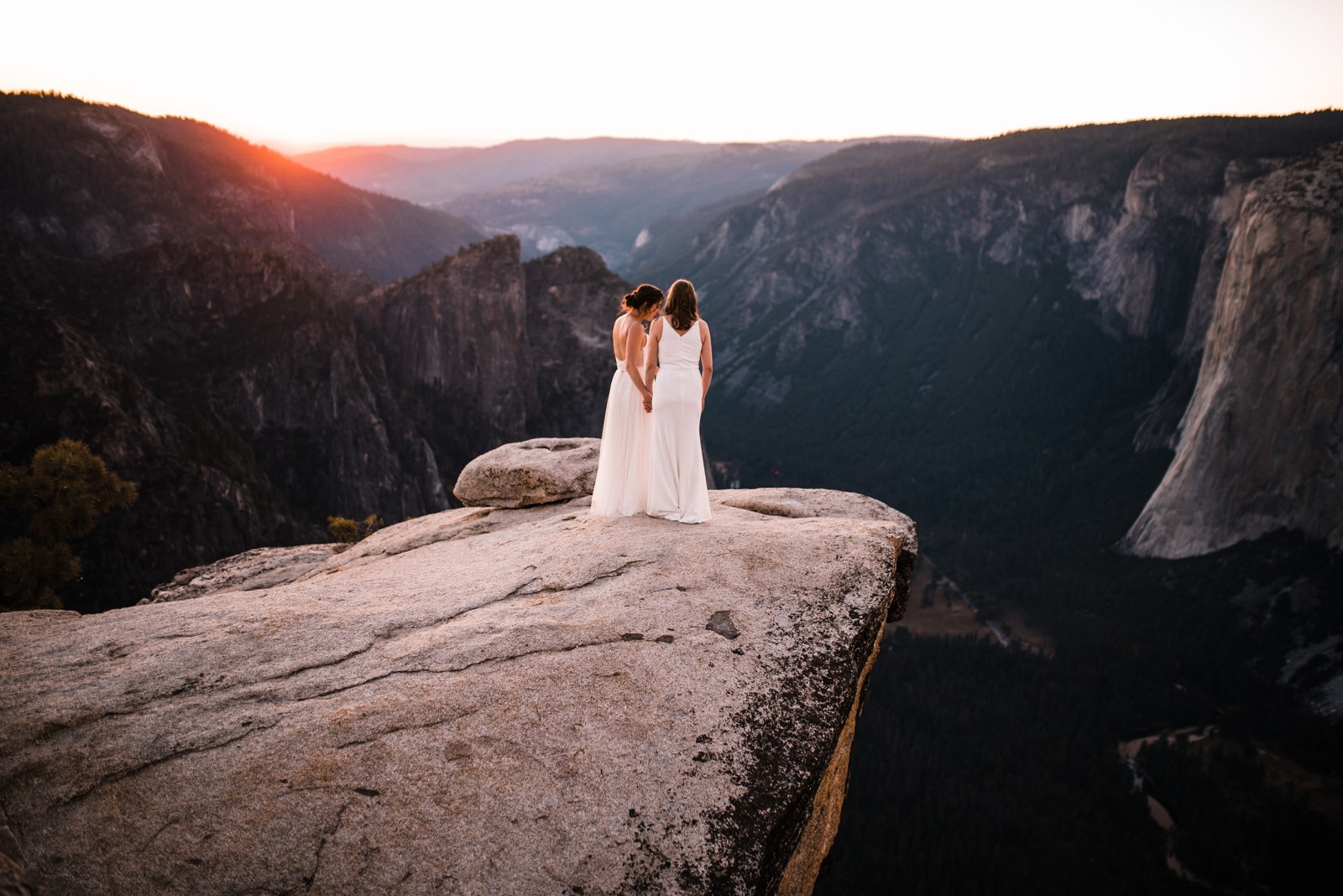 After sunset we hung around on the clifftop to sip some more champagne and watch the stars come out. All of a sudden we saw this eruption of light in the distant sky! An eerie ring of blue light grew bigger and bigger and we seriously thought for a minute, "Well, this is it. The aliens have finally come." 
Turns out it was Space X launching a rocket, which is still pretty cool. It was quite the end to an unforgettable day! Pretty glad it wasn't aliens tbh. 
Learn more about our Yosemite Elopement Photography