This coastal redwoods elopement had all the elements of a perfect day! The sun was shining, everyone was smiling, and the dogs were adorable! Ace and Derek got married on a west coast beach, after road tripping north from California, and incorporated so many sentimental details into their beautiful day,
↓ Keep reading for the full story + pics ↓
Accessible Elopement in a Redwood Forest
Ace wants you to know a rare degenerative disease was not going to stop them from having an adventure elopement, and we admire that kind of spirit! After road tripping from the Bay Area in an RV, Ace and Derek went on a trek through a redwood grove. The trees towering over them were lit by incredible sunbeams. The light, broken by branches, created fantastic shapes in the forest. Ace brought along their wheelchair with the intention of showing that even people with disabilities can have an elopement experience in a beautiful destination. These two were intentional at every step while planning this elopement. Each detail was perfectly crafted to spur memories and give meaning to the whole experience. From Ace's hair piece, to the raw wood ring box, to the bow ties on their dogs, this elopement was filled with Ace and Derek's bright personalities.
Want to see another coastal elopement? Check out this Washington coast adventure!
As we wandered around this pristine grove of redwoods, Ace and Derek were awed by the light show around them. Fallen trees made perfect perches, and long green fronds filtered the sunlight into a magical glow. In front of the roots of a fallen giant, Derek surprised Ace with a gift, and their smile lit up the forest. There's something almost religious about standing before trees taller than most buildings, and it doesn't take colored glass or raised ceilings to display this kind of beauty. After exploring the woods, we all headed down to the coast for Ace and Derek to exchange their vows.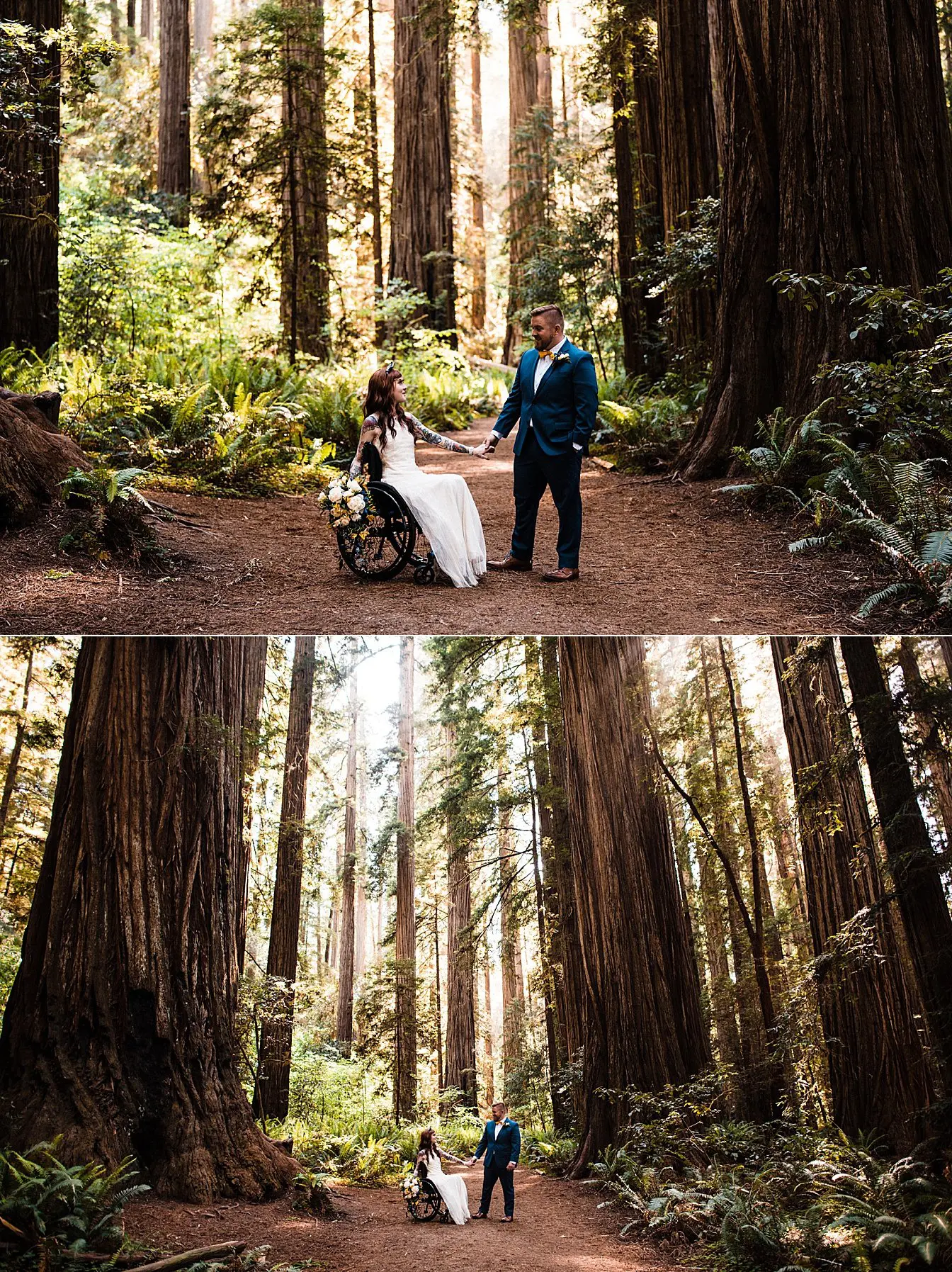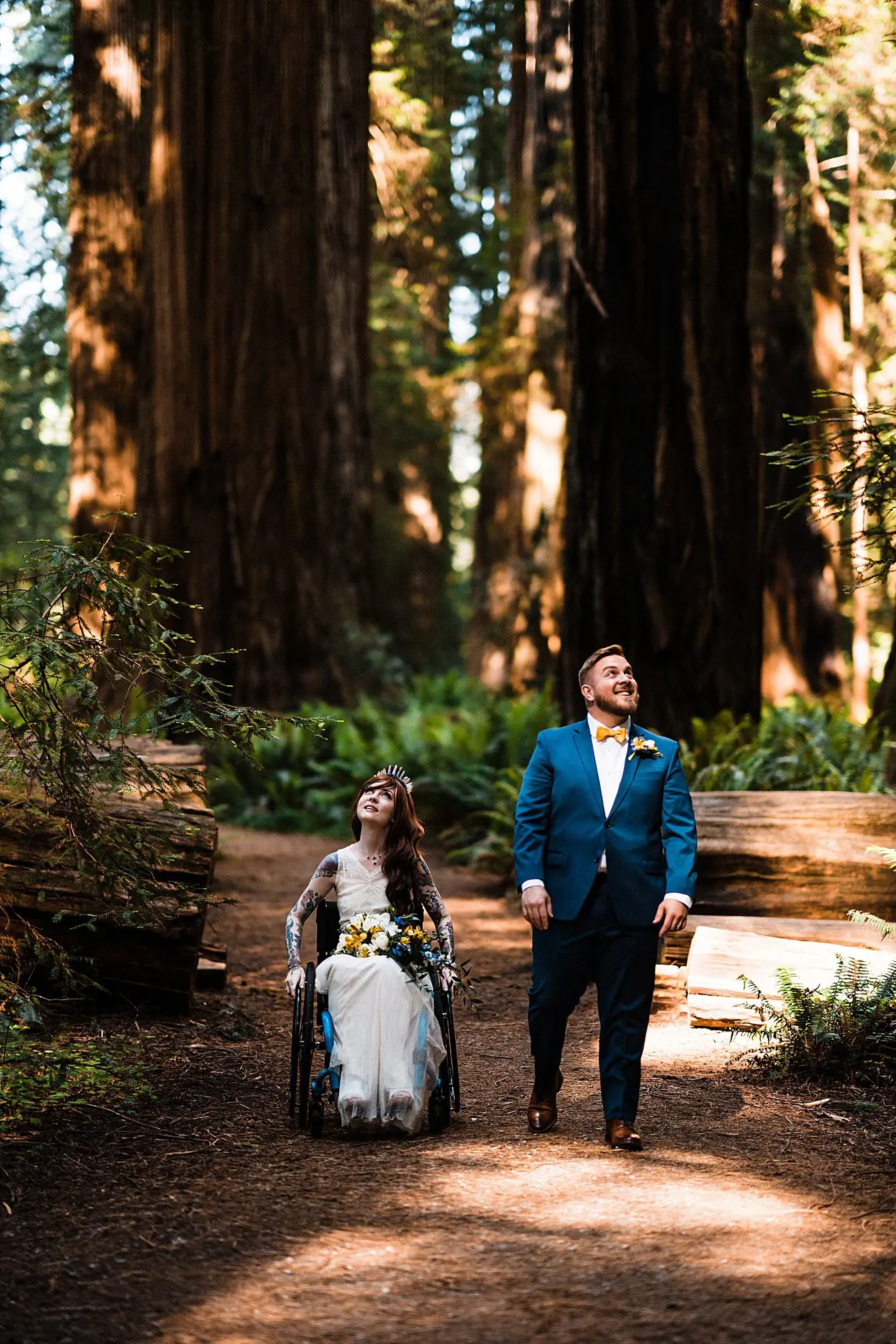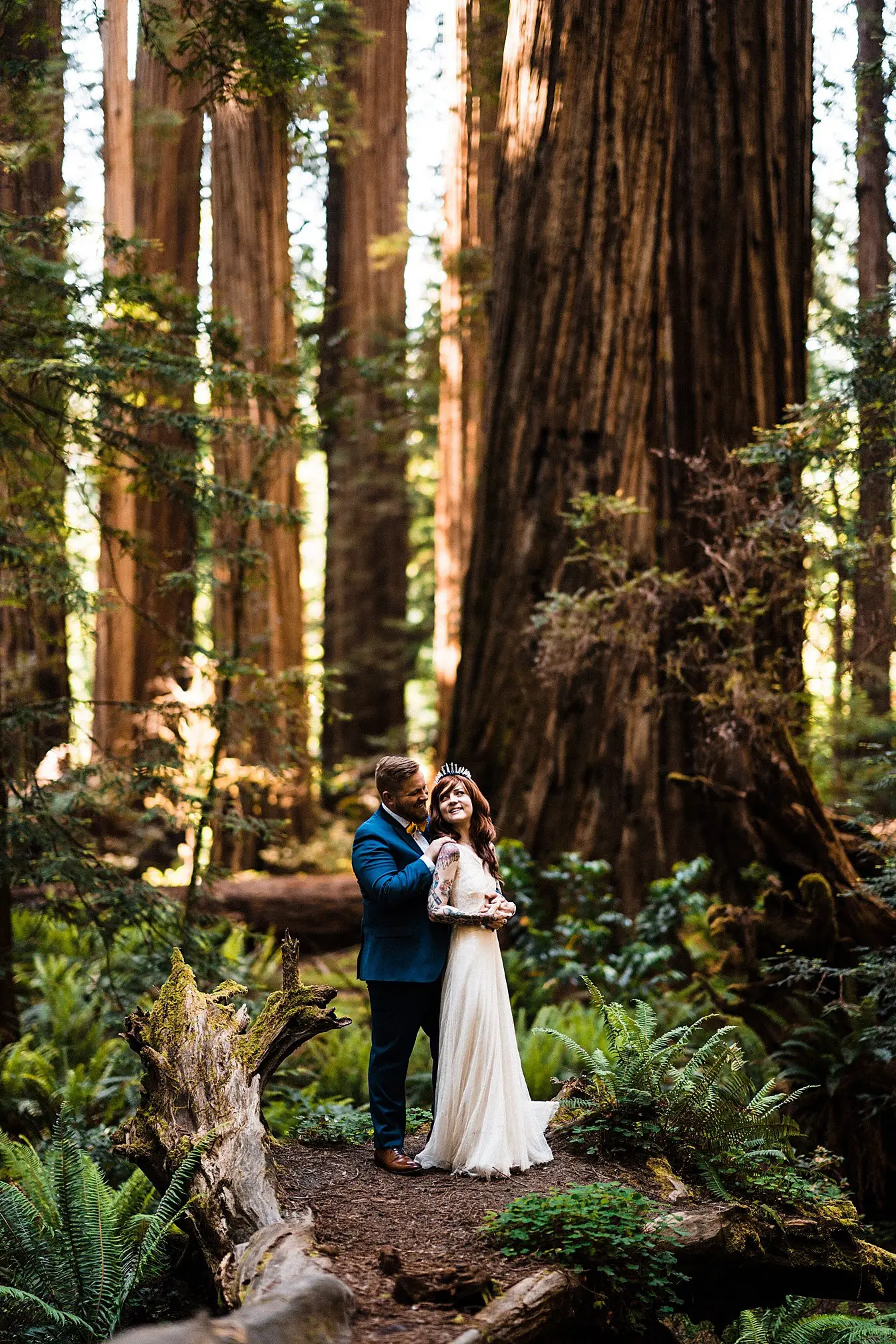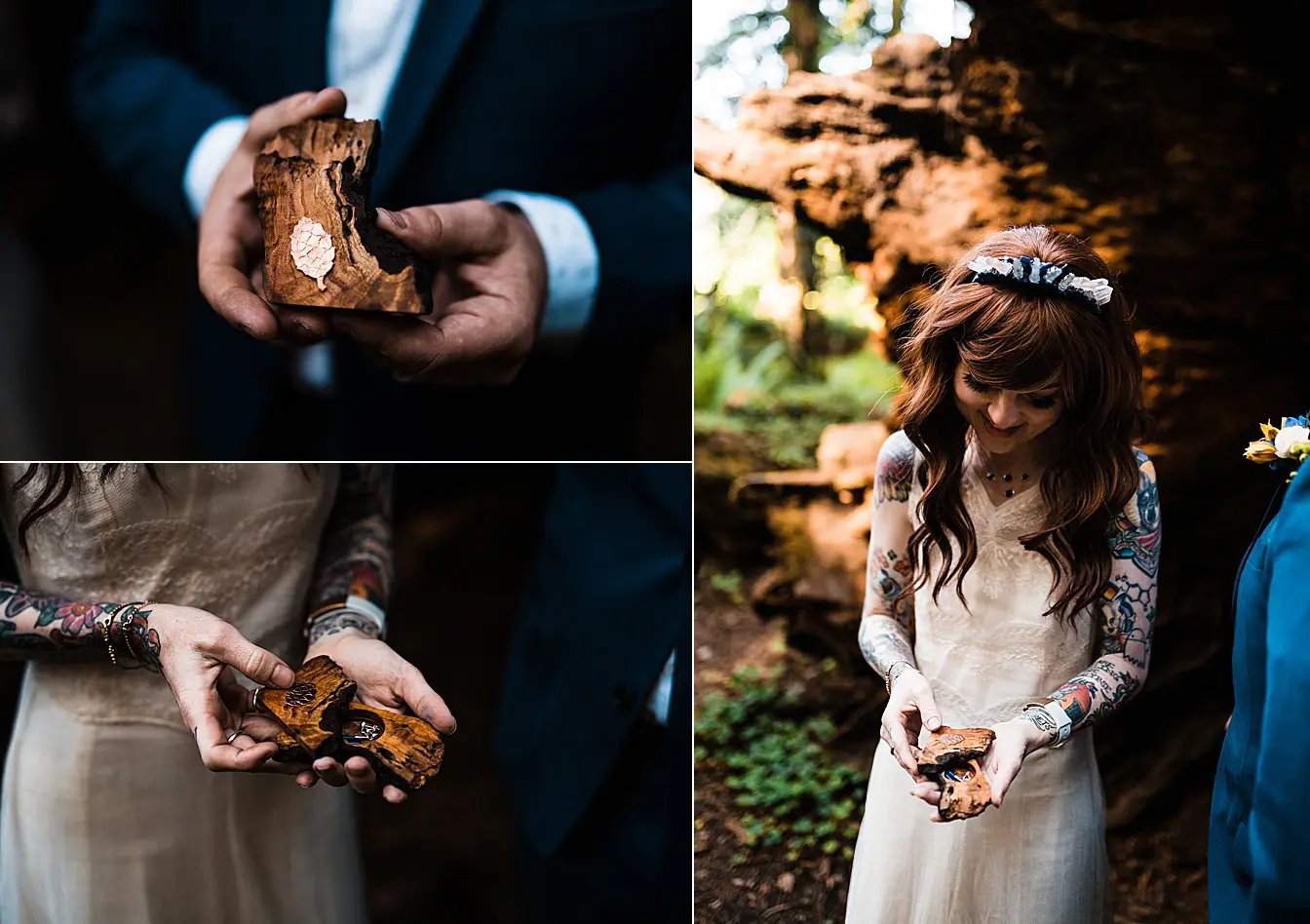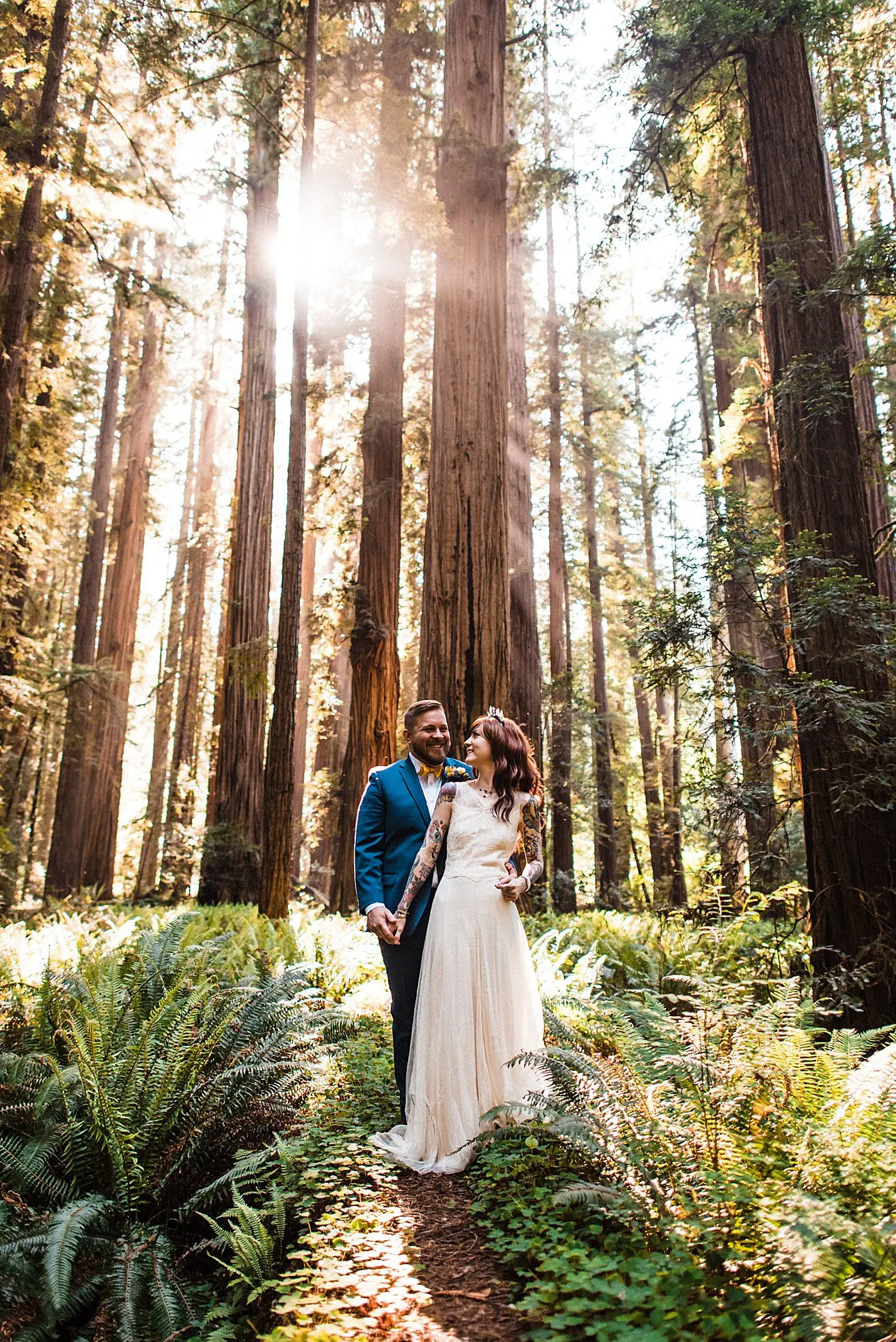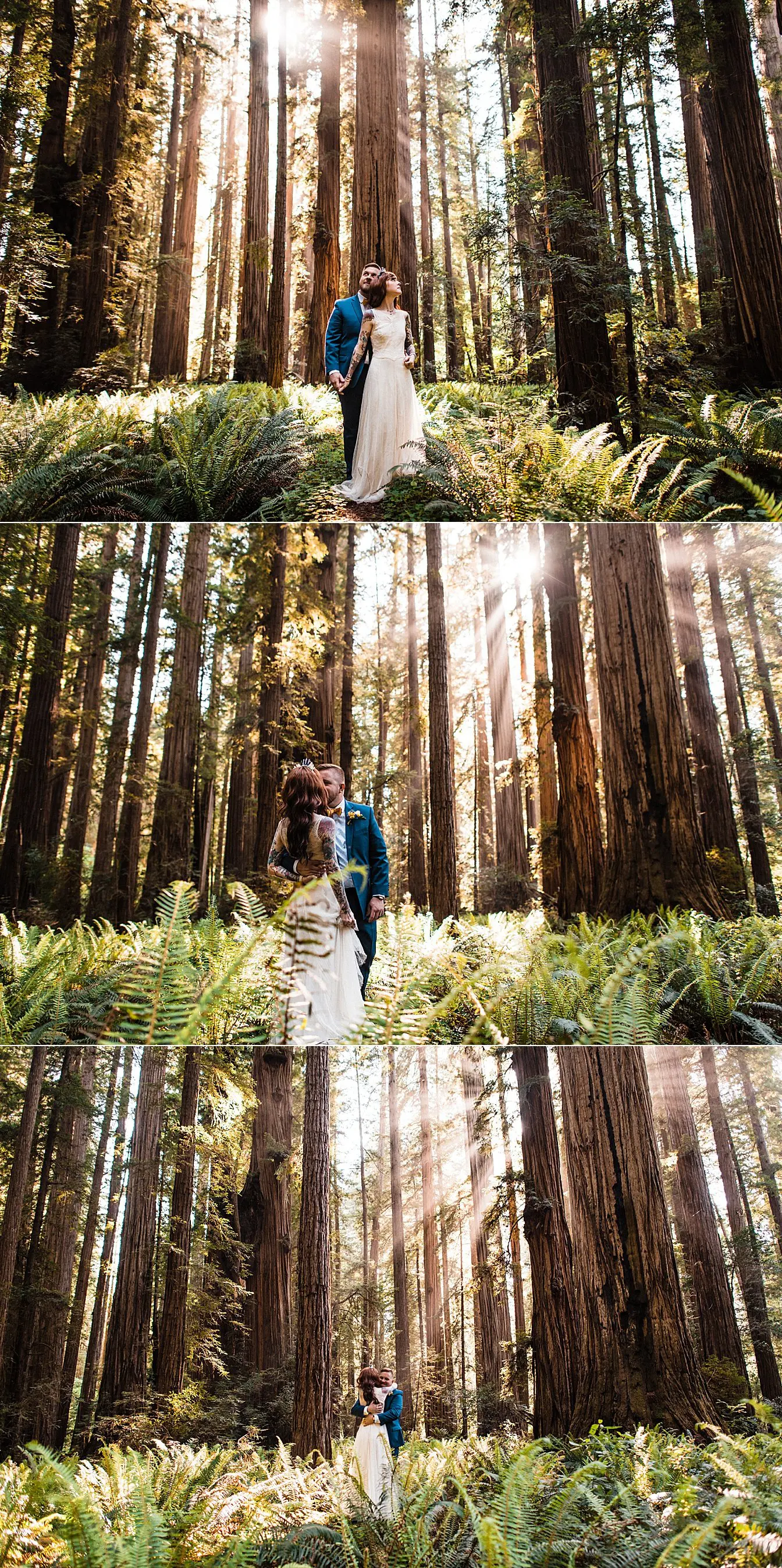 Sunny West Coast Elopement Ceremony
Ace and Derek, along with their beloved dogs, wanted to elope on a secluded beach.  Mother nature honored them with the perfect day! We met up with their officiant, Jimmy, who gifted Ace and Derek custom bandanas for their dogs from Paws&Pines. As the sun began to set behind the rocky coastline, Ace and Derek said their vows. Between tears and laughter, they dedicated their lives to each other.
Want to see another beach elopement with a cute dog? Check out this Oregon adventure!
After popping the champagne, Ace and Derek cut into a cake designed by their friend to look like the topography of the Bay Area. To top off their dream elopement, a bottle of Scotch was opened and we ran around the beach to watch the last of the sunset. A pod of orcas even surfaced while Ace and Derek were standing at the perfect overlook to watch them swim. Cuddled together in a quilt, these two ended their elopement day overlooking the water.