This Bend, Oregon elopement is straight out of a fairytale. From lush forest waterfalls to dramatic cliffs against a high desert backdrop, this one had so much variety. We're obsessed with this location and if you keep on reading, you'll see why. This day was unreal and a perfect example of what a full value adventure elopement can be like.
↓ Keep reading for the full story + pics ↓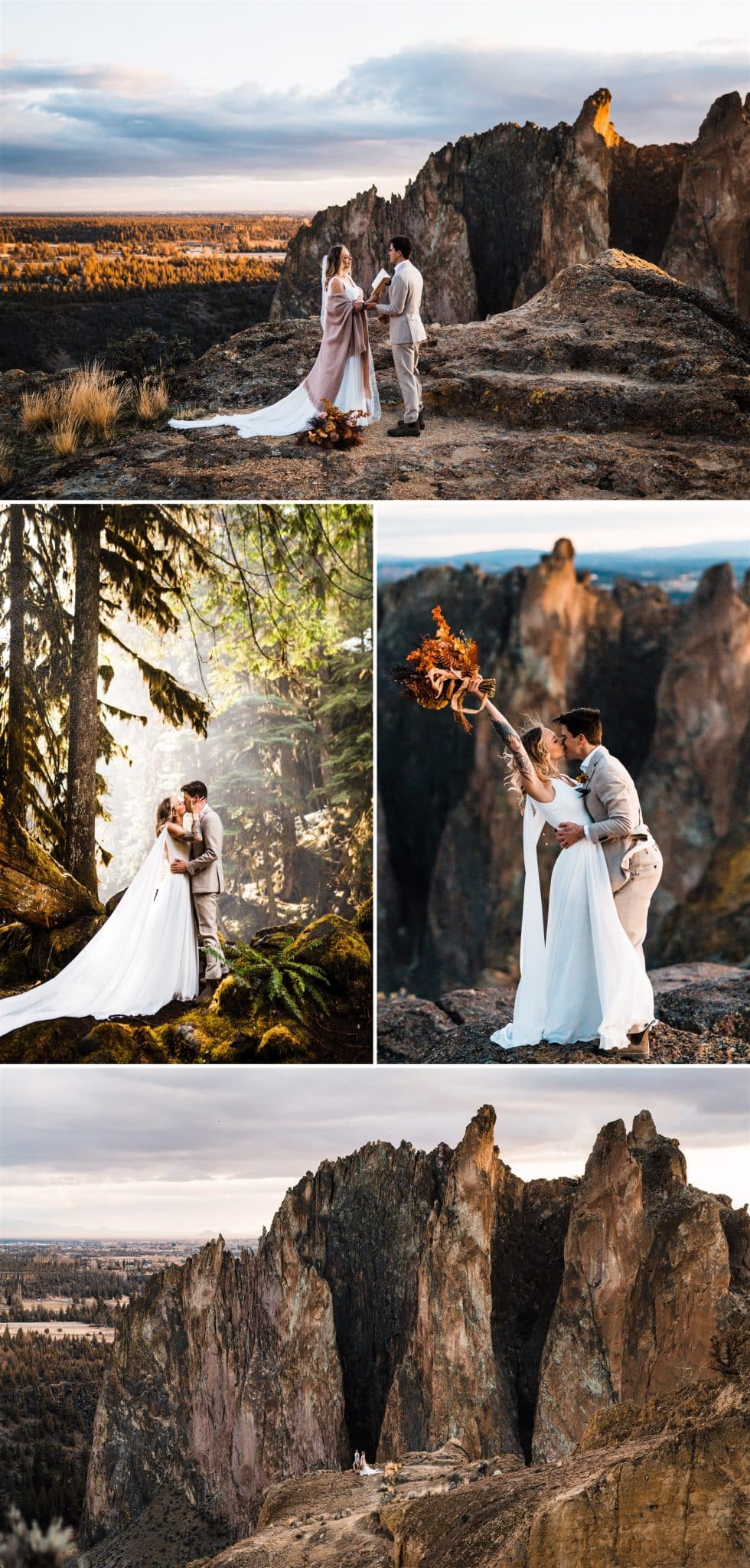 Eloping in bend, oregon: A little bit of everything
Bend is a magical place. Nestled between rugged mountains and high desert, it's uniquely situated with access to a wide variety of jaw-dropping landscapes. Contrary to what you might think, it's not all sagebrush and pine trees in Bend. Within a short drive you can find yourself beneath stunning waterfalls, wandering atop painted hills, and shadowed by towering rock pinnacles and formations with beautiful orange/red tones.
This elopement adventure started in a lush PNW forest on a mystical trail that leads to an ethereal misty waterfall. When the sun peeked out and caught the spray of the waterfall and dew drops on the ferns, it was a magical forest scene right out of Lord of the Rings. Sydney's dress definitely added to the LOTR vibes, she looked stunning!
Love this Bend, Oregon Elopement? Check out more Oregon Adventure Elopements!
After exploring the waterfall trail and getting our fill of fairy photos, we traded the lush forest for rocky desert vibes and went out for a sunset hike amongst the cliffs near Bend. It was beautiful, slightly chilly and no one was around, such a perfect way to cap off the elopement. That's the beauty of eloping a little earlier in the season – spring is waaaaay less popular and you can get these special places all to yourselves that would normally be crowded later in the year. These two exchanged their vows overlooking the river with just their two pups as witnesses (our favorite elopement guests). It was freakin' adorable. These are the elopement moments we love so much.
If you're looking for an adventure elopement location that is quiet and not touristy, eloping in Bend in the springtime is truly amazing. While it's still cold and rainy in the western Cascades, Bend starts to warm up and gets more sun, opening up more trails earlier in the season. And of course, this day wouldn't have been the same without with vendors like Tracy from Woodland Florals and HMU Cassidy Elise Artistry. Be sure to check out their work!
Planning an Elopement of your own? Check out these elopement planning resources: