We all know the basic necessities when it comes to packing for your elopement – there's the dress, suit, rings, flowers, and celebratory snacks and cocktails. But there might just be a few things you haven't thought of yet. We've helped a ton of couples plan their adventure elopements, and have found that there are 3 things every elopement needs. With SO many choices out there for each of these, we've pulled together some of our go-to favorites to accompany you on your big day!
Elopement Essential #1: Shoes
You've done your research, made Pinterest Boards, and maybe even pulled the trigger on your adventure elopement dress for the big day. That's the only outfit decision you'll have to make, right? Not quite! Time to make sure your feet are ready for your big adventure.
The key here is getting the right boot for the kind of hike you're planning. It's super important for both men and women that your shoes have really good traction on the bottom because you absolutely WILL be stepping up on rocks, logs, and maybe even ice, and that traction will save you. We've gone on a lot of different types of elopement hikes and talked to the brides about their shoe preferences in order to pull together our (and our brides') favorite footwear for your adventure elopement.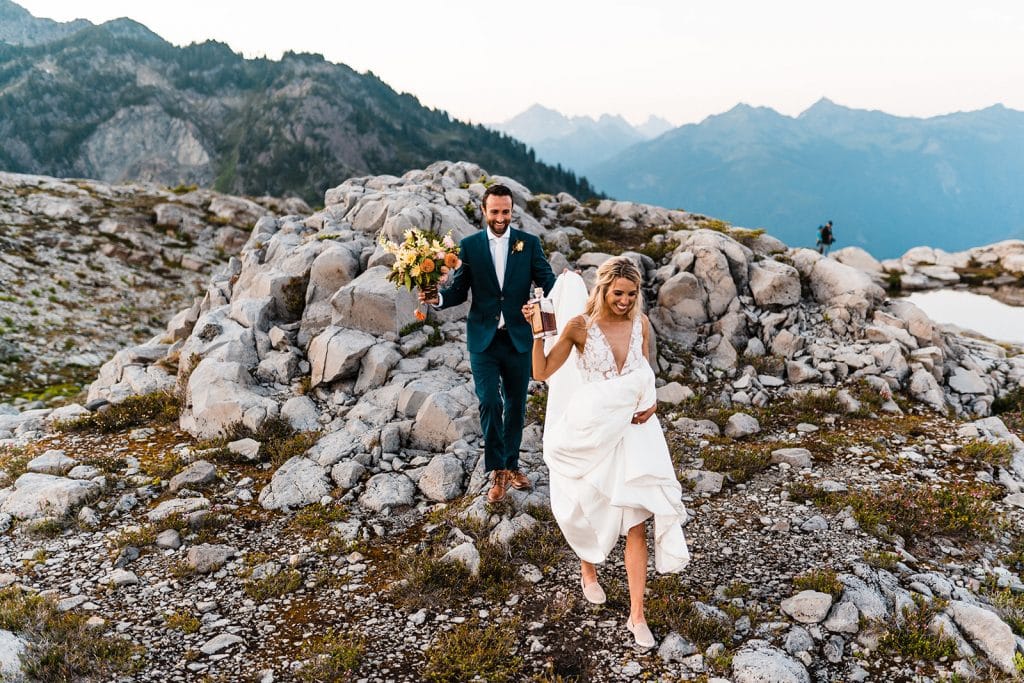 Who this is for: This is the casual 1-mile, relatively flat trail. These super casual flats are cute and comfy but still have traction on the bottom which is an absolute must in case you need to navigate some rocky terrain to get those epic shots!
Adventure scale: 1-4
Things to consider: Find flats with traction
Who this is for: Brides that still want a little bit of height and feel comfortable walking with a little heel. We don't typically recommend heels on hikes, but if you're used to wearing them, your elopement hike is relatively easy, and you just can't picture yourself in flats, these will do!
Adventure scale: 1-3
Things to consider: Go for a shorter, thicker heel and, as always, TRACTION.
Who this is for: If you're in for not too hard of a hike, (think 3+ miles) find boots that are functional for hiking, but cute enough that you can wear them again later in a more casual scenario.
Adventure scale: 2-6
Things to consider: We love booties that look cute AND give your ankle support for uneven terrain on hikes.
Who this is for: Anything longer than 5 miles or more than 500 feet of elevation gain is legit, and you'll need boots with both style and some serious support. 
Adventure scale: 6+
Things to consider: Break them in before your elopement!
Elopement Essential #2: Vow Books
Your snazzy new boots got you safely and painlessly through your hike to your breathtaking ceremony spot. It's nearly time to say "I do," but before you do, you and your partner will make your vows to love each other for a lifetime and beyond. So shouldn't your vow books last just as long? These books will serve as a constant reminder of how remarkable your relationship is, and should be just as special and unique as the words they contain.
Elopement Essential #3: Picnic Blanket
You and your partner have vowed to love each other for the rest of your lives, now it's time to chill out and celebrate with some treats. One of our favorite parts of an adventure elopement is the post-ceremony picnic. Not only is it the perfect way to relax after the adrenaline of the hike and the ceremony, but it also makes for some gorgeous laid-back pics that also showcase your personal style. In general, you want to stay away from super busy patterns because it can be distracting in photos. Instead, stick to earthy colors that will pop against your landscape. You also need to consider the blanket's size and weight to think about how you're going to pack it on your hike.
If the phrase "Get Cozy, Give Back" is right up your alley, for every one of these beautifully designed, artisan-crafted wool blankets purchased, they donate one to a local charity!
Super cool, 100% Native-designed blankets, which are a unique alternative to Pendleton blankets. You might even be able to find one made by an artist native to the land where you're tying the knot!
If weight is a concern and your pack is seriously packed, or you're looking for something you really don't mind getting dirty while on your adventure, these blankets are lightweight and come in beautiful organic colors perfect for any backdrop.
Waterproof Picnic Blanket
And if you're anticipating waterworks beyond tears of joy, this patterned beauty is great for the beach and lakeside since it's waterproof on one side. Plus it comes with a super convenient carrying case!
Every elopement is completely unique and every couple has a different style, but hopefully these recommendations can guide you in finding your perfect essentials so you can get hitched without a hitch!