This Oregon beach elopement was such a special and ethereal day! Karen and Melissa shared their vows surrounded by family in front of a massive sea stack as waves lapped the sandy shore. Then the three of us ventured off to an epic viewpoint overlooking the Pacific Ocean for sunset. We totally lucked out with beautiful weather for this memorable winter elopement!
↓ Keep reading for the full story + pics of this Oregon beach elopement ↓
Ceremony and reception on the Beach
When Karen and Melissa reached out to us for a coastal elopement in February, we warned them to expect rain and chilly temps! This is the PNW, after all 😉 We packed our umbrellas, rain coats and gloves, fully prepared for whatever Mother Nature might throw at us. But she had mercy on us that day! Puffy clouds floated back and forth in the sky, giving us glimpses of the winter sun throughout the day. Karen and Melissa romped on the beach, popped champagne, and cuddled cliffside at one of the most insane viewpoints in Oregon. It was an honor to capture their elopement and celebrate their love story!
Related: Check out this stunning elopement on the Washington coast
What better way to start the day than a ceremony on the sand? As Jimmie led Karen and Melissa in their vows with humor and passion, waves crashed behind us onto the beach. Tears were shed and we all cheered as they exchanged rings and made it all official. After the ceremony, we clinked glasses of champagne and chocolate milk (Jimmie's elopement tradition), and Karen and Melissa waved to their digital guests watching via iPhone. We hung out and snagged some family photos before venturing off for solo portraits on the beach.
↓ Keep scrolling to read about the rest of the day ↓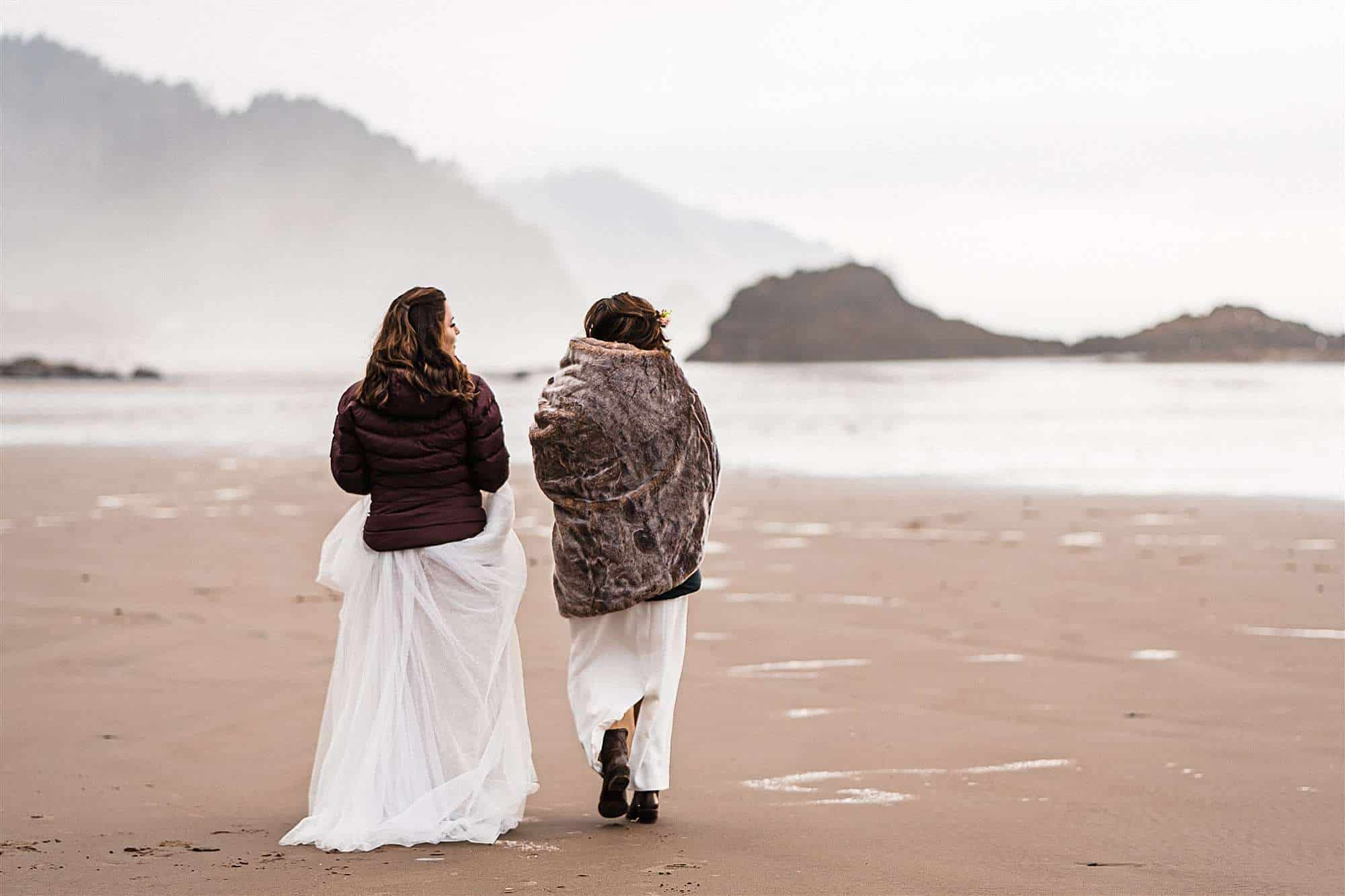 Sea Cliff sunset adventure
As the sun began to dip lower and lower, we hopped in the car to head out for a quick sunset hike to the nearby sea cliffs. Even though they're Oregon natives, Karen and Melissa had never visited this location and I couldn't wait to show it to them! I hung back to grab some wide shots as they descended through the brush and caught a glimpse of the rugged coastline for the first time. Their incredulous "Wow"s were barely audible over the sound of the thundering waves.
We snapped some more pics as their dresses drifted in the wind (check out our elopement dresses blog for our style recs!) and Karen and Melissa laughed and twirled. The soft clouds, golden light and endless ocean views felt almost like a summer evening, but the breeze reminded us that winter wasn't quite over yet. The happy couple ended the day with a curated playlist and blanket snuggles as they watched the sun dip below the horizon. Overall, a super epic day on the Oregon coast!!