The Redwoods really are their own kind of magic and truly make for the forest wedding of your dreams. This enchanting forest is home to some pretty epic ancient trees that have seen many a sight in their days as silent giants. These towering trees are estimated to be over 3,000 years old, which makes it safe to say that they have definitely stood the test of time. They make a beautiful backdrop for an elopement ceremony, and their branches are known for filtering the cascading afternoon light in such a gorgeous way. This whole elopement was sun kissed by golden light rays, cascading down through the forest branches until the sun sank into the sea at sunset.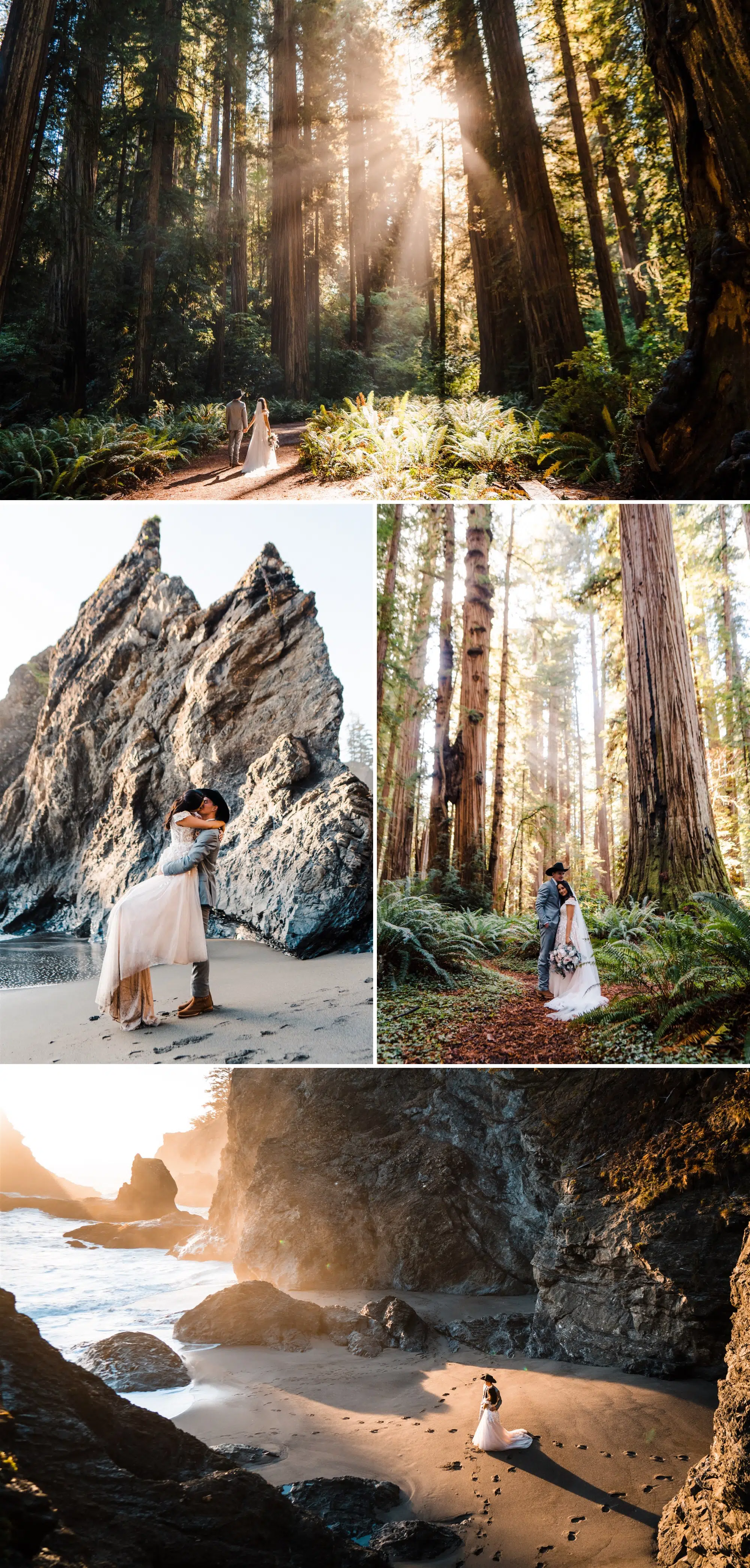 choosing a dreamy forest wedding
Dorian + Tyler's love story started in high school, and as high school sweethearts, they wanted to make their day special by getting married on their fourth anniversary. Since they were both originally from California, it made sense that they chose somewhere that reminded them of their early days of falling in love. They travelled from Nevada, so they also wanted somewhere near the ocean as it was definitely something they were missing.
We started out the day at their AirBnB where the couple could get ready. The one and only Anne Timss did Dorian's hair and makeup, while Tyler got ready in the other room. Tyler's mom made this amazing pin with a photo of Tyler's father, who had passed away, as a reminder that he was present during their day, and placed it right over his heart.
As residents of Nevada and a little country at heart, they both donned their cowboy boots (which was SO cute), Tyler donned his best cowboy hat, and with the final touches, they made their way to the forest for their magical day.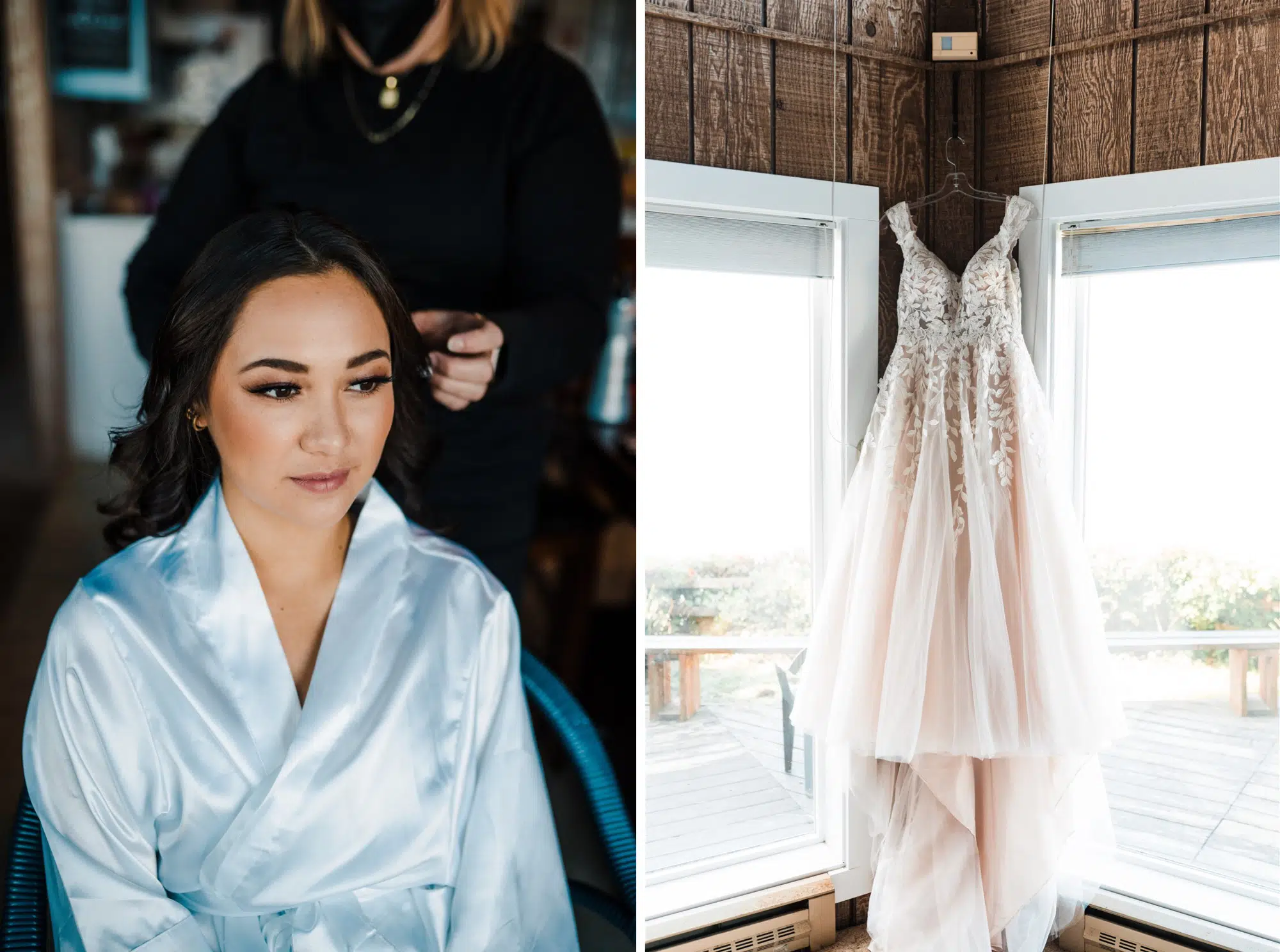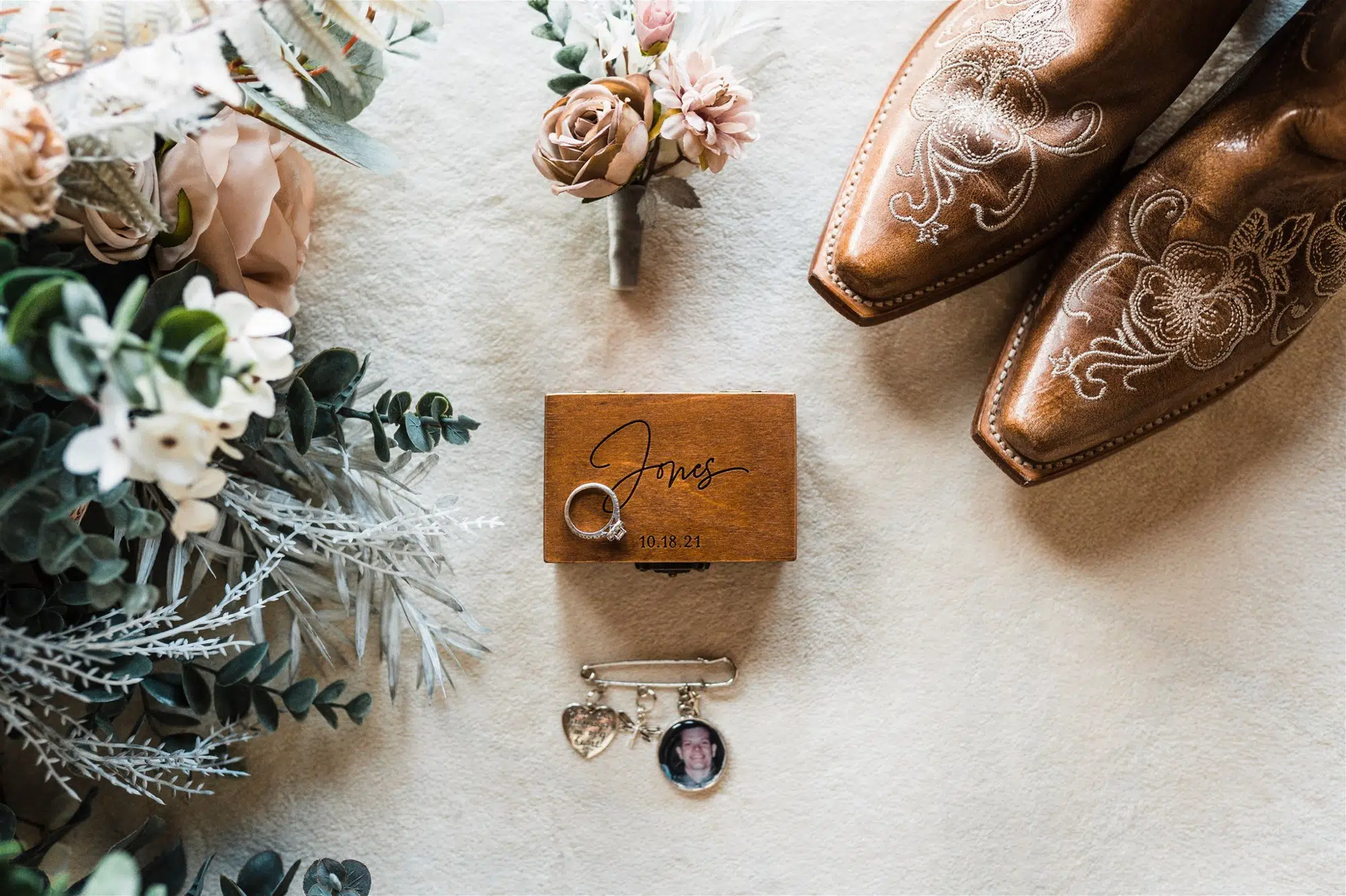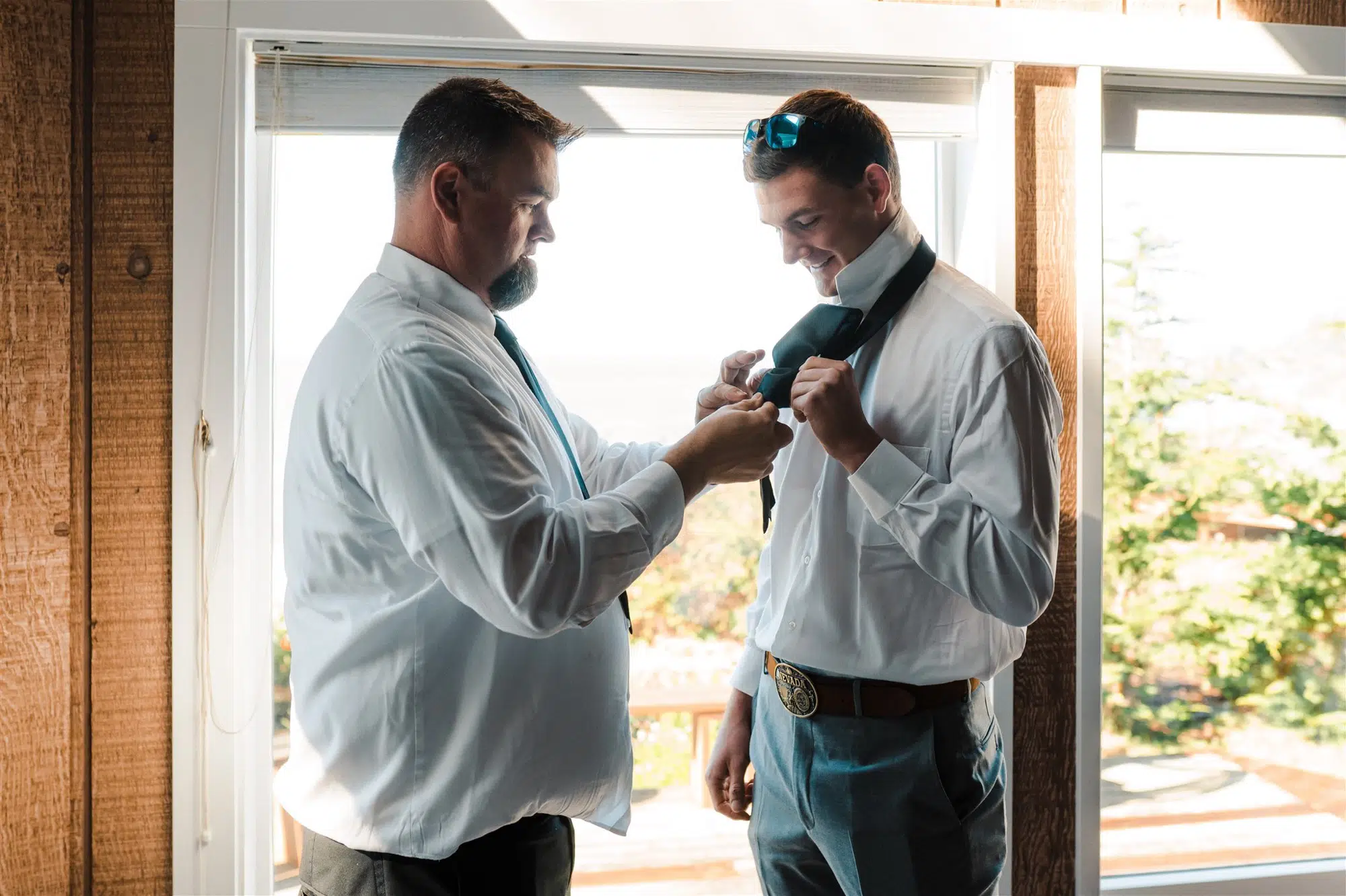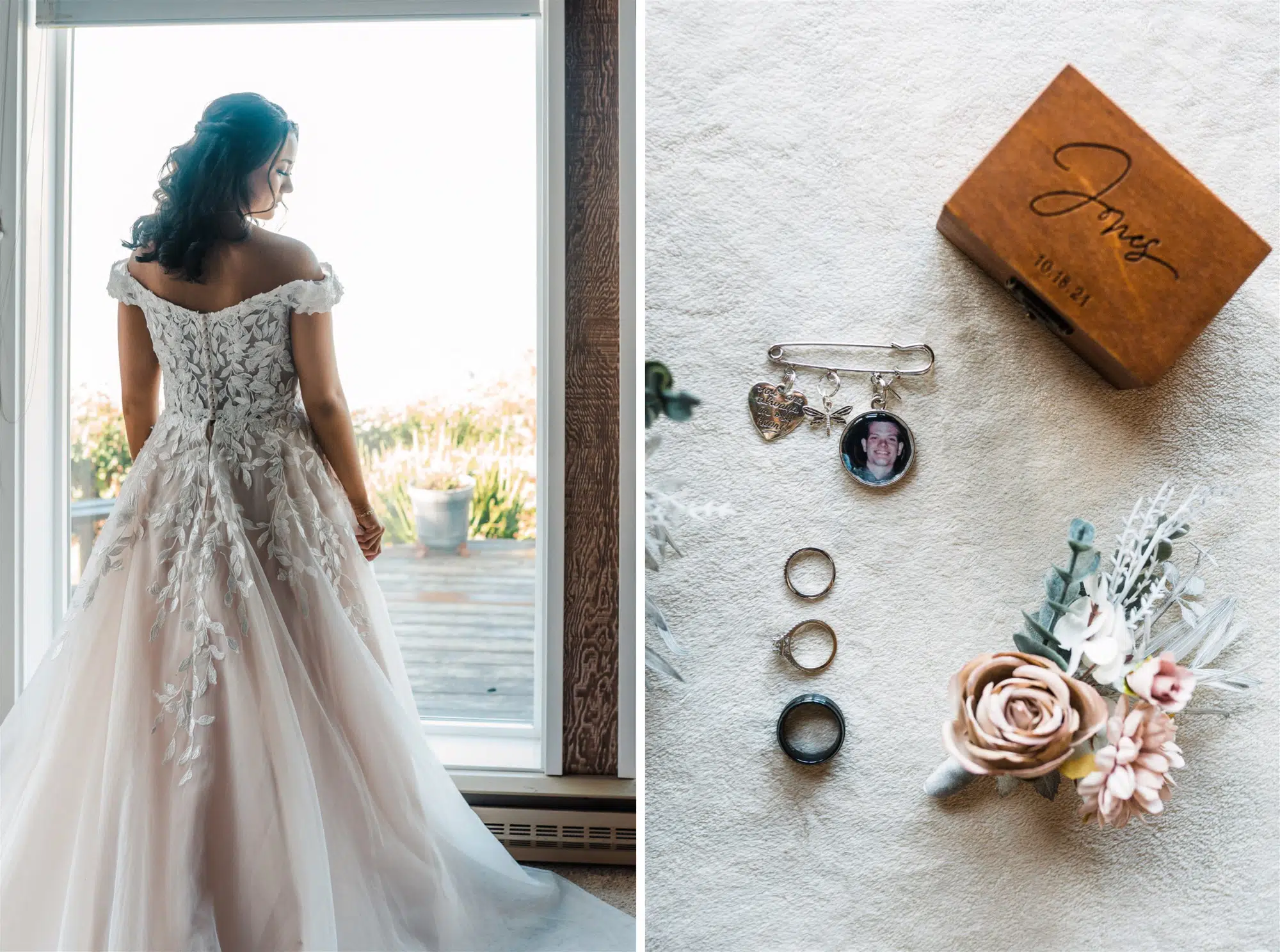 forest wedding: A LAND BEFORE TIME
When walking through the Redwoods, it's easy to feel the remoteness characteristic to being in the forest. There are few sounds, aside from the light breeze stirring the branches above you, or the sound of your feet trodding lightly through waves of ferns. Redwoods are the tallest trees on Earth, towering at 350 feet tall and their species date back to the age of the dinosaurs. With their magnificent wisdom and ancient beauty, it's easy to understand why so many people choose to elope beneath their old-growth boughs!
first up for the elopement day: first looks under the redwoods
The first look was up next for Dorian + Tyler's elopement day! We made our way to the redwoods and settled on a gorgeous spot beneath the trees that was surrounded by bright green ferns. The redwoods are awesome for intimate moments like this because there's no shortage of amazing spots you can find, and it's generally pretty easy to find a little pocket in the trees all to yourself. Tyler's mom and step dad watched on from afar as these two saw each other for the first time as soon-to-be husband and wife.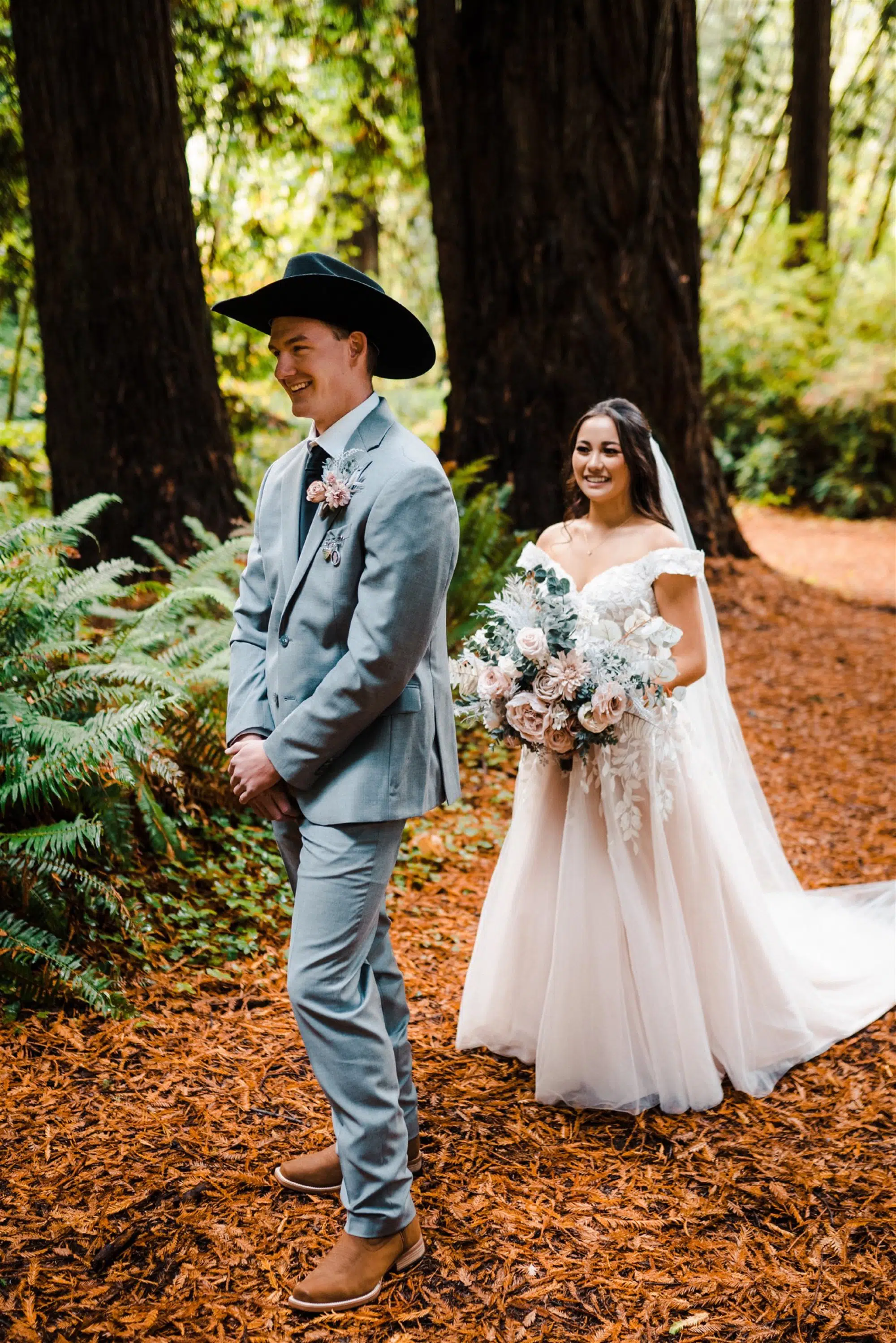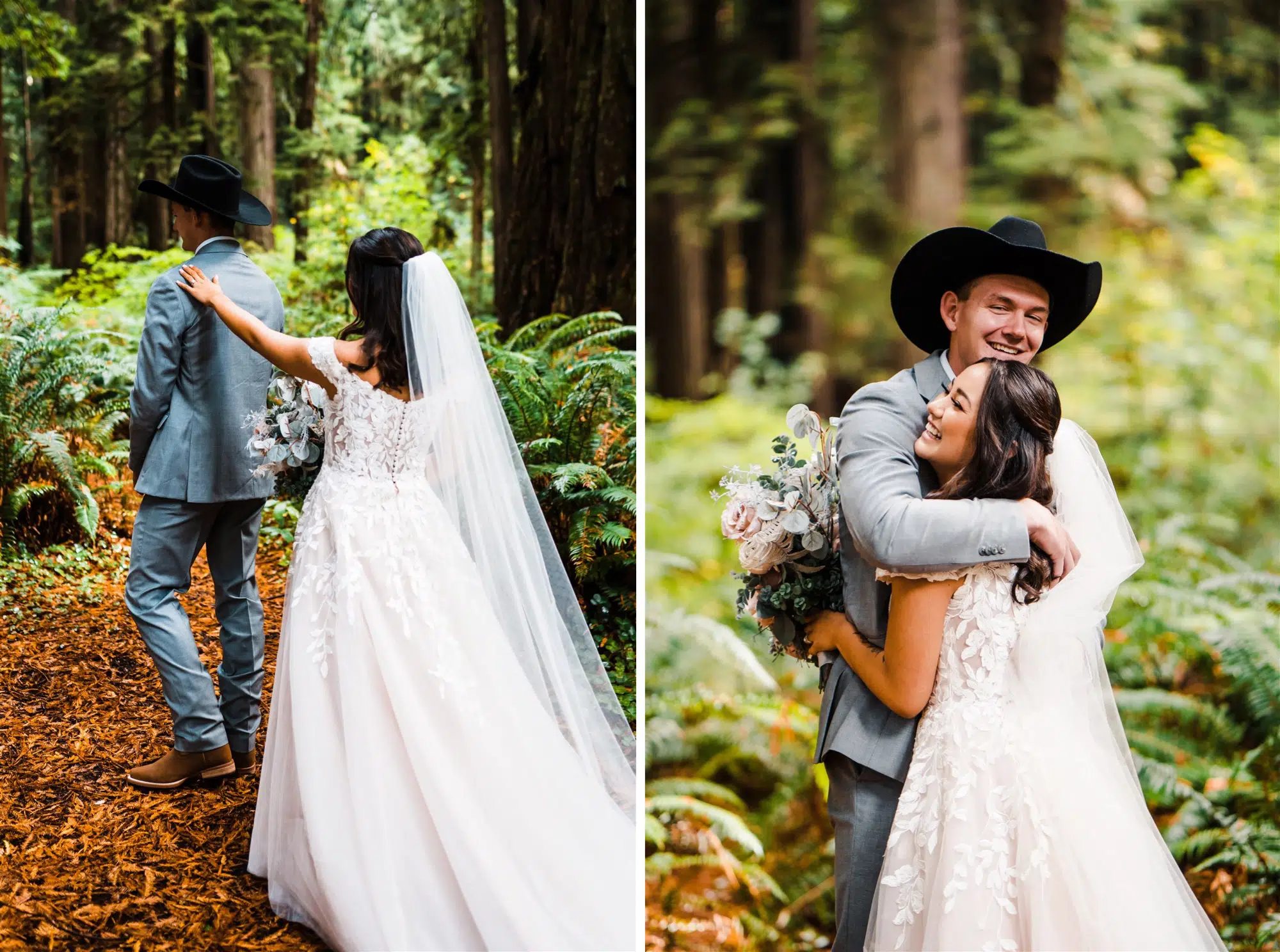 THe magical redwoods elopement
The Redwoods may evoke some sort of distant memory if you've visited them before, but even if you've never witnessed these standing giants, they still may have a touch of familiarity. The epic trees (if they could get any more epic!) were the backdrop for famous movies like Star Wars: Episode VI, Jurassic Park, and Rise of the Planet of the Apes. Although we didn't see any dinosaurs (phew! 😳) or cute little Ewoks running around, we did catch some out-of-this-world golden light beams that made us feel like we were transported back in time!
eloping beneath the redwood boughs
Tyler's mom and step dad were the only guests for the wedding, which made it so sweet and intimate. The light was doing some amazing things, illuminating the colors around these two, making the ferns and forest floor beautifully saturated and vibrant. As Tyler's step dad officiated the wedding ceremony, there were tears, plenty of laughs and oh so much love between these two. 
chasing that redwoods light
They had a small reception following the ceremony, as we made our way to some picnic benches in the a little nook behind the trees. Dorian + Tyler brought some adorable elopement-themed cookies and sandwiches so that they cherish an intimate lunch with their family. 
Next, the couple said goodbye to Tyler's mom and step dad and we went off do so some frolicking though the forest. The sun was shifting in the sky above us, and doing that amazing thing it does when when you're on the forest floor in the late afternoon. Golden beams of "cathedral light" filtered down through the branches, painting illuminating patches of light across the the trunks of trees and fields of ferns.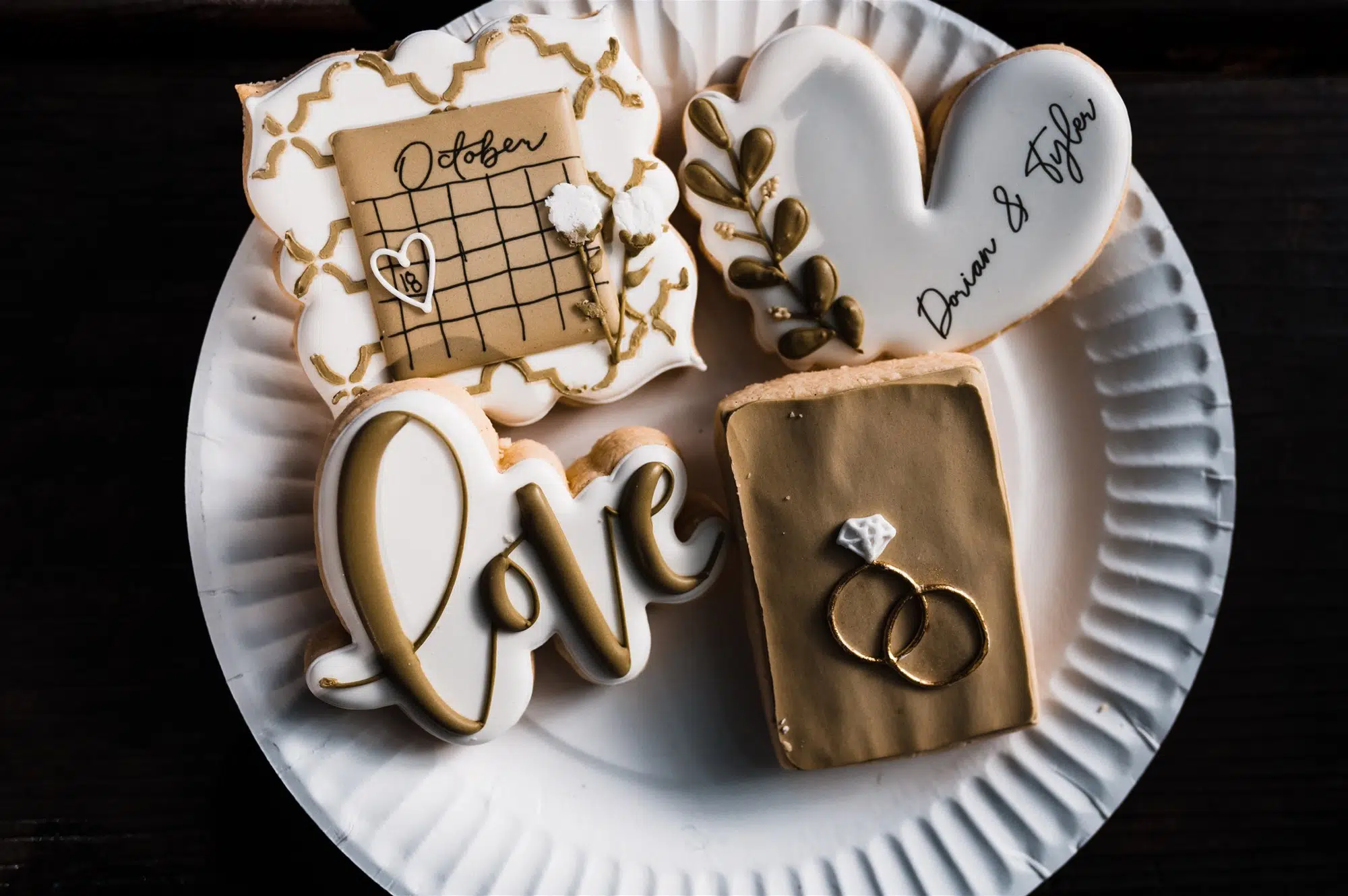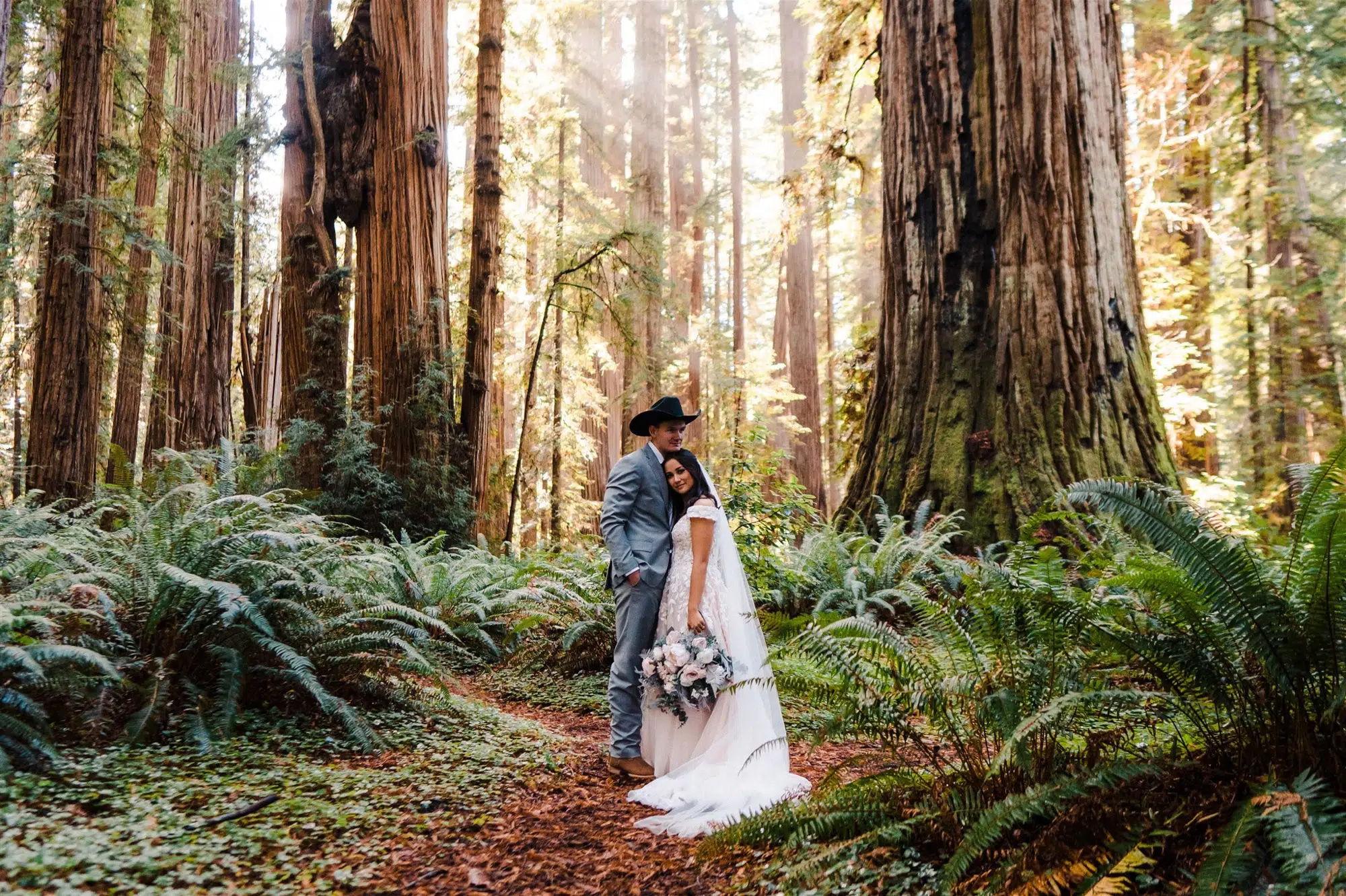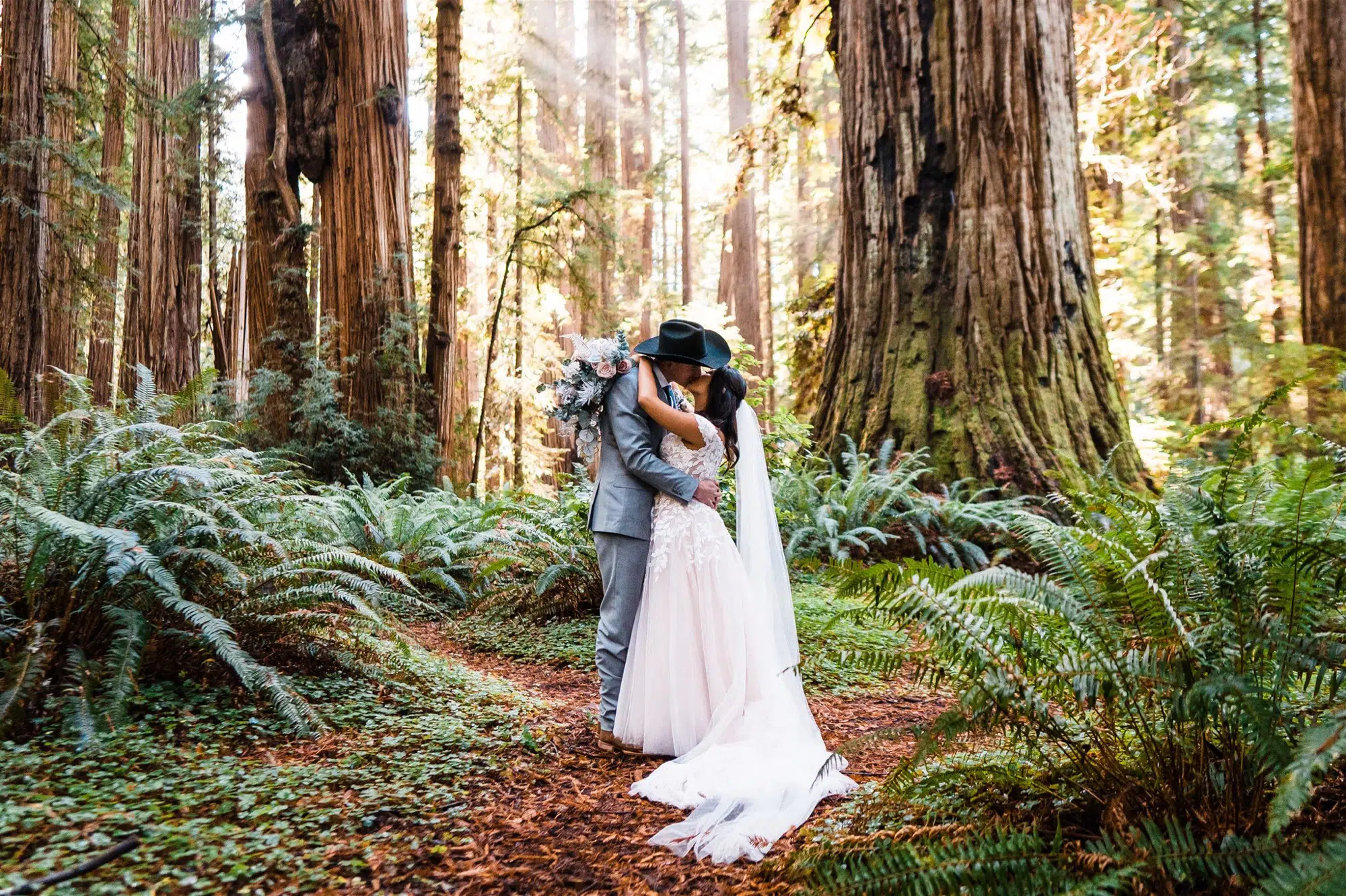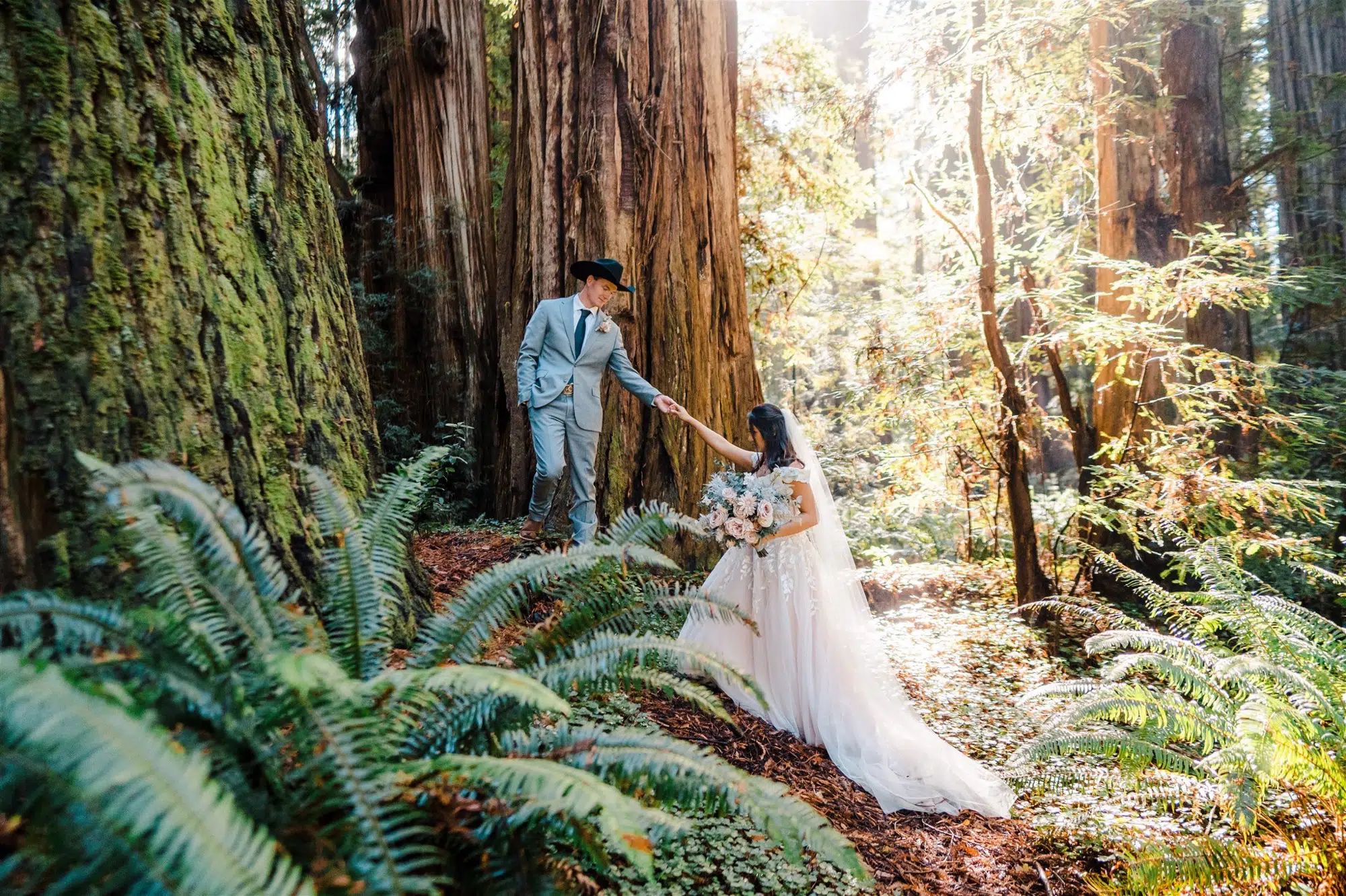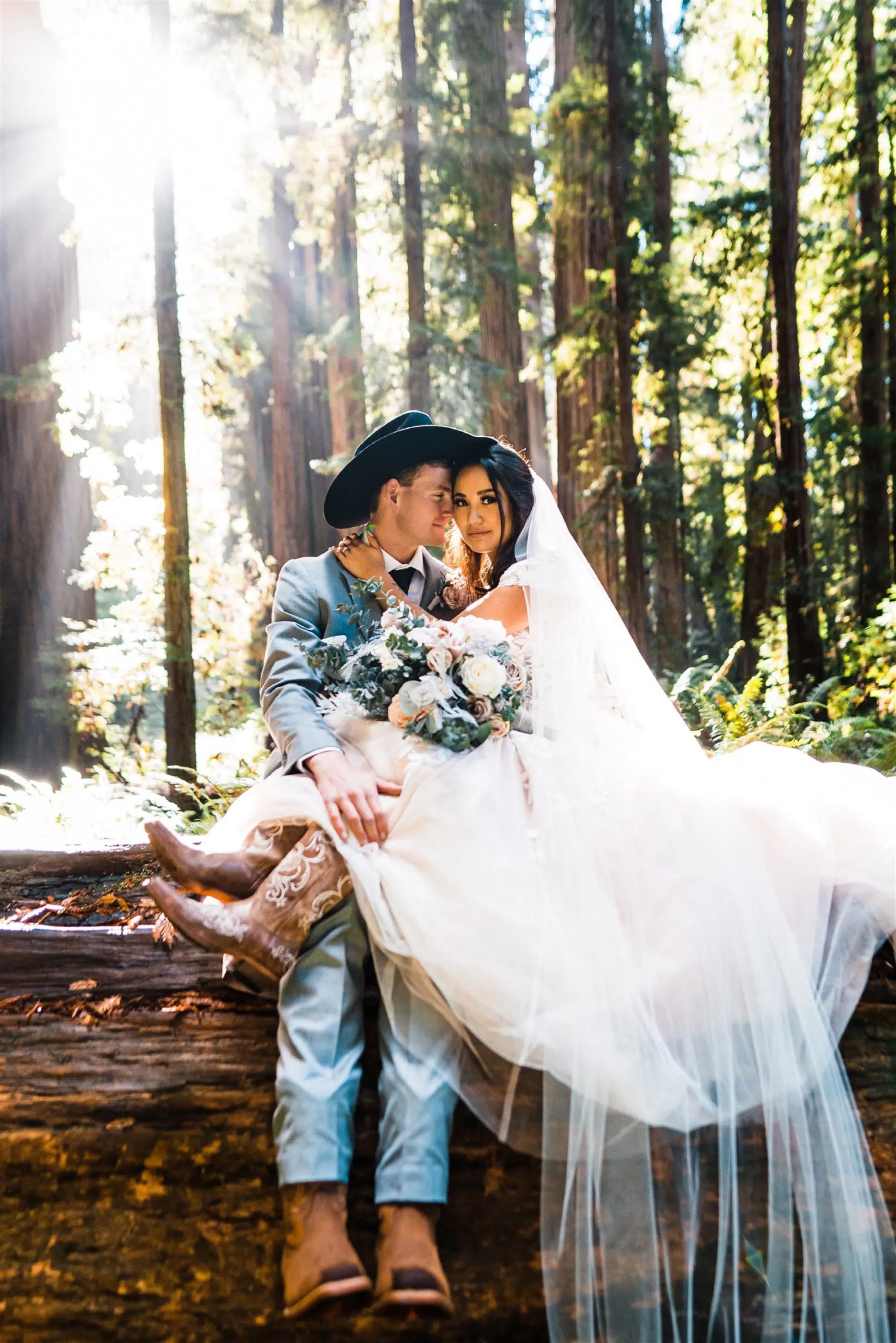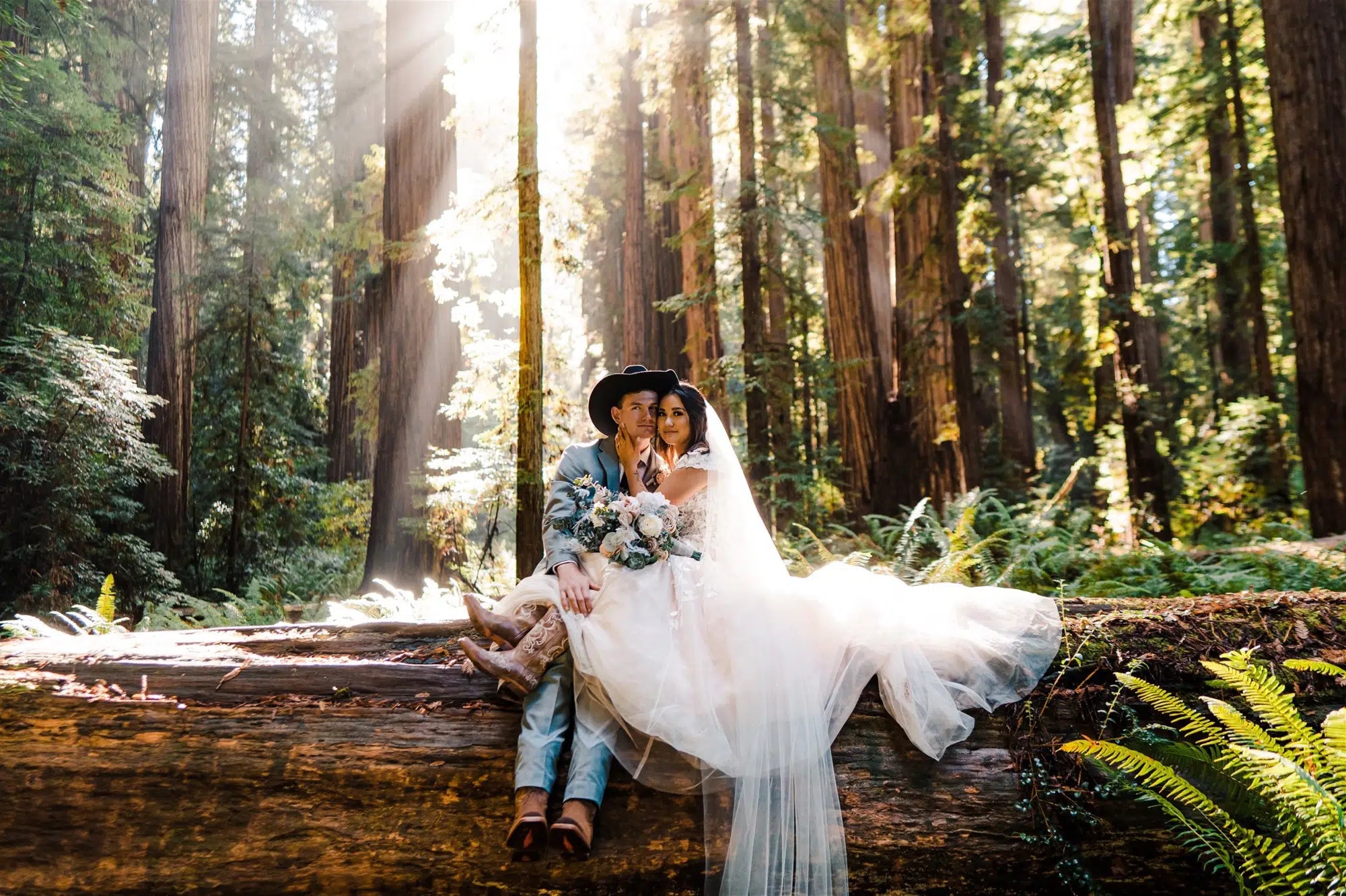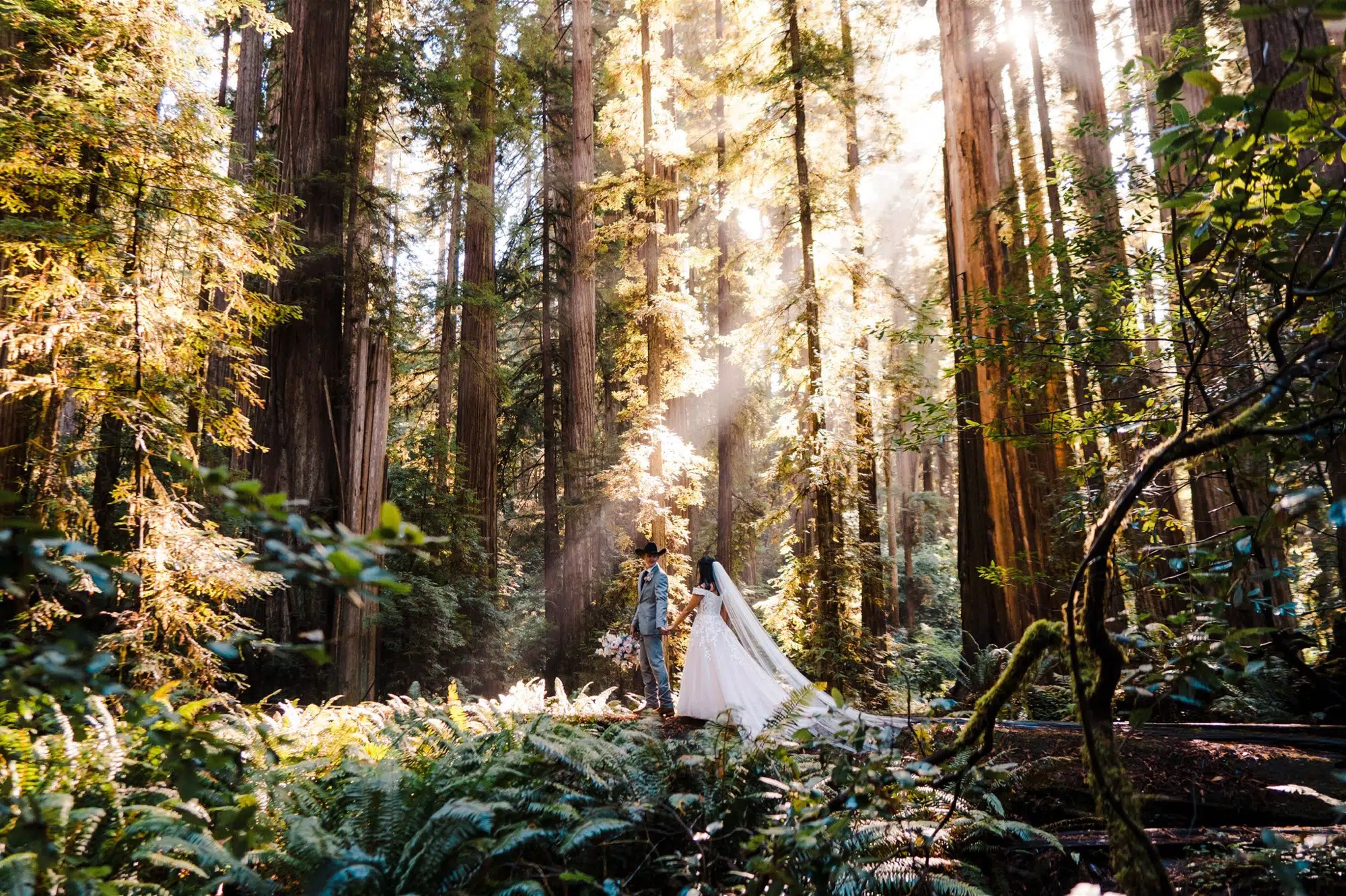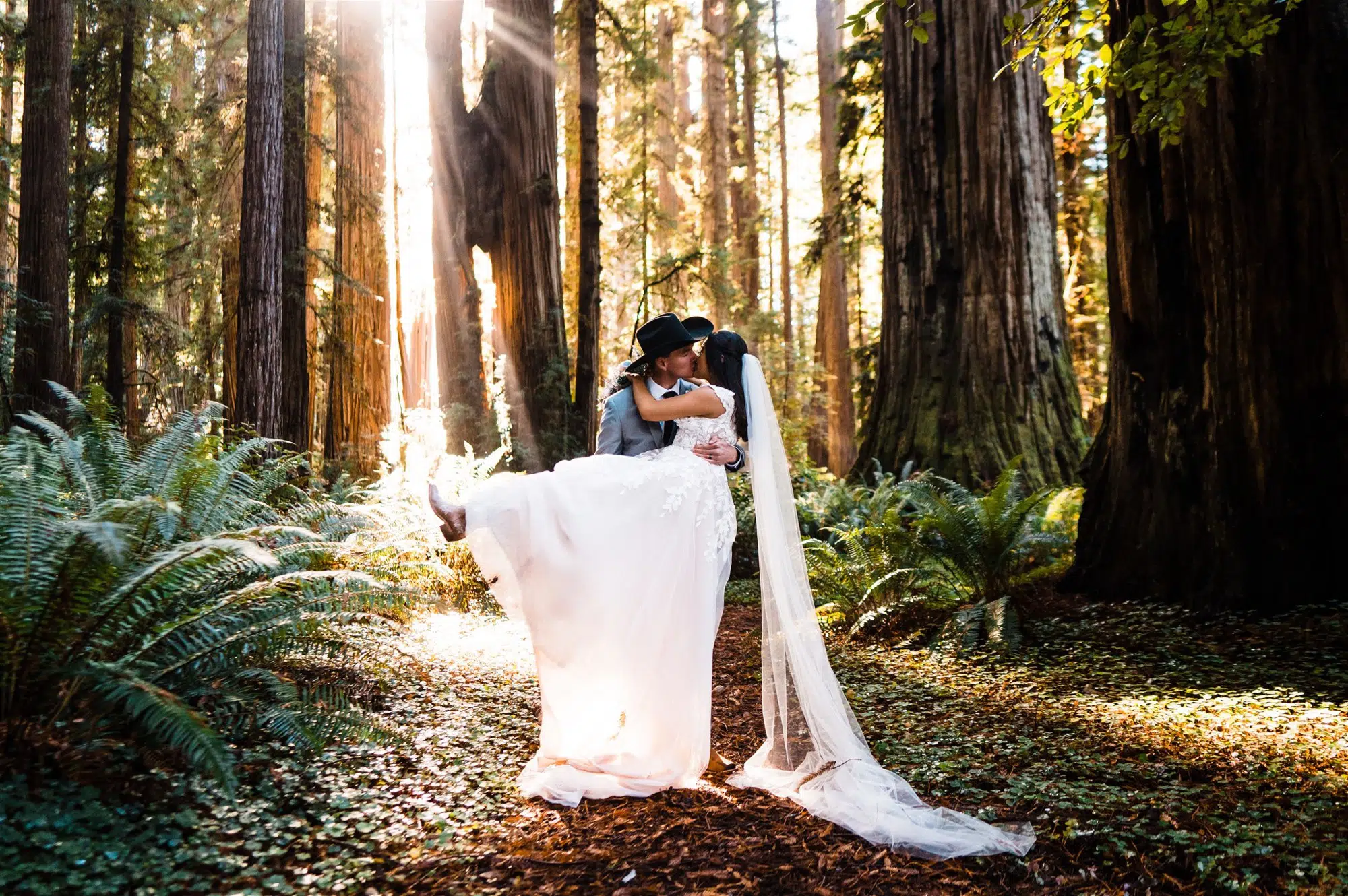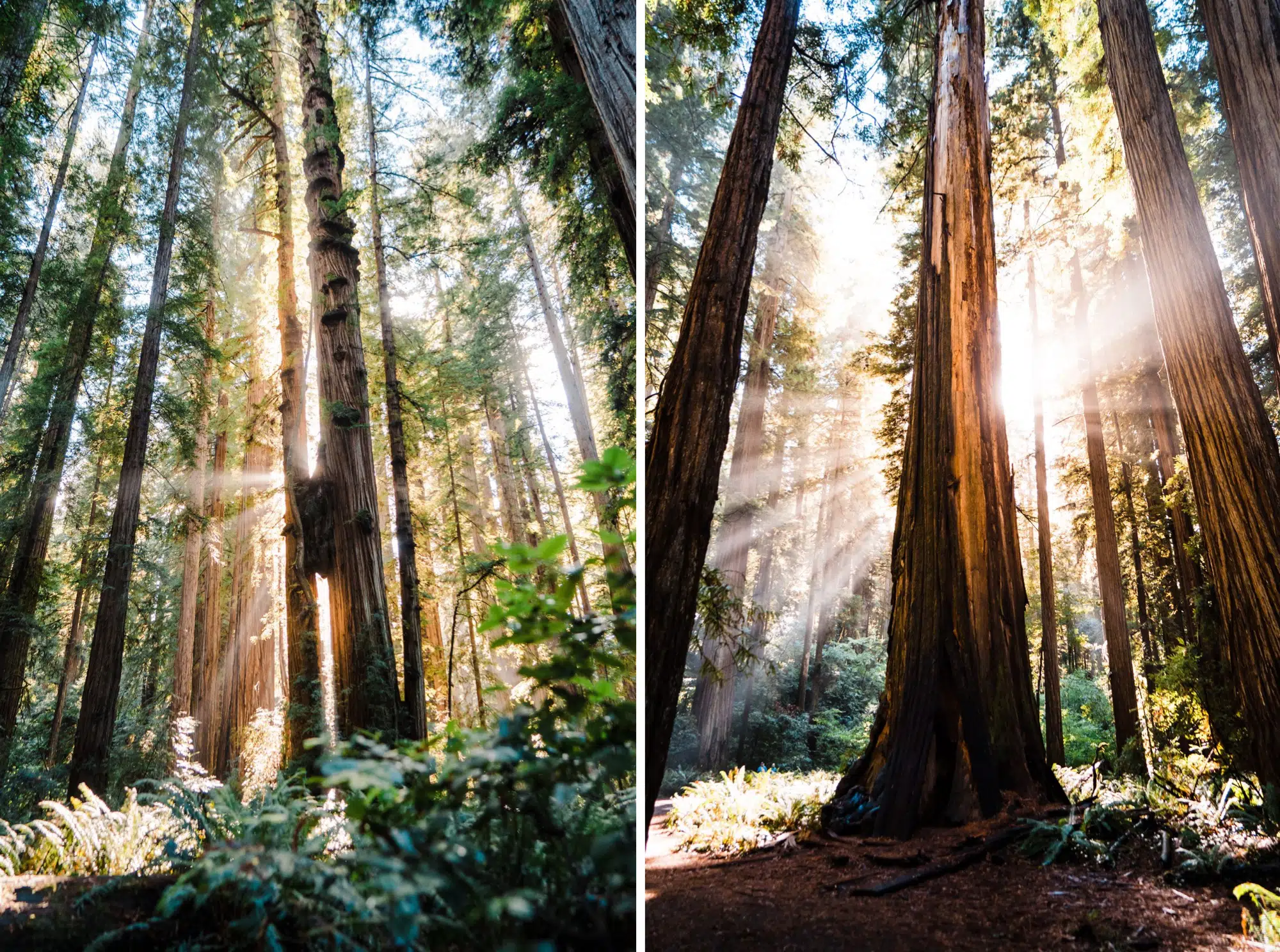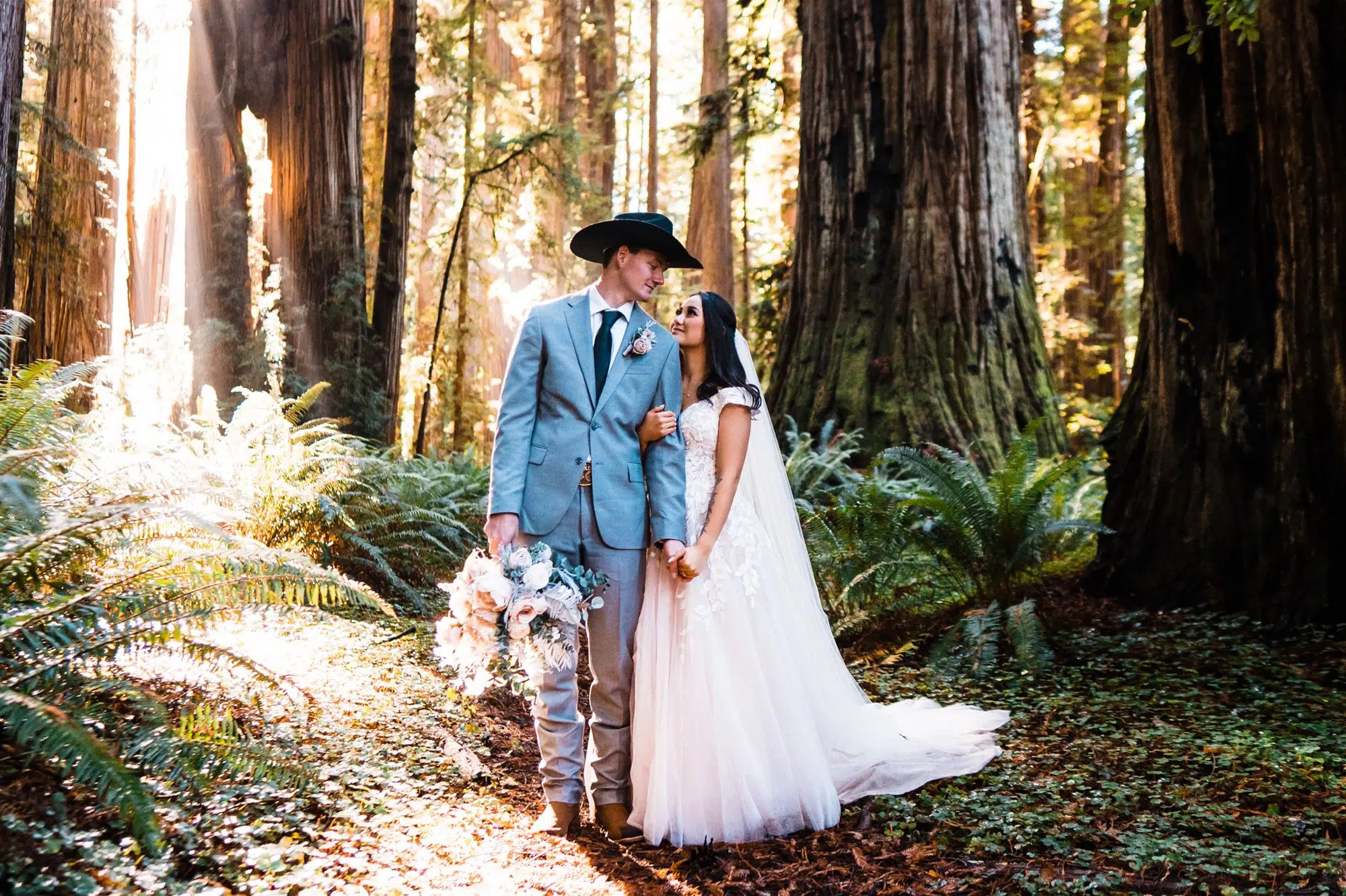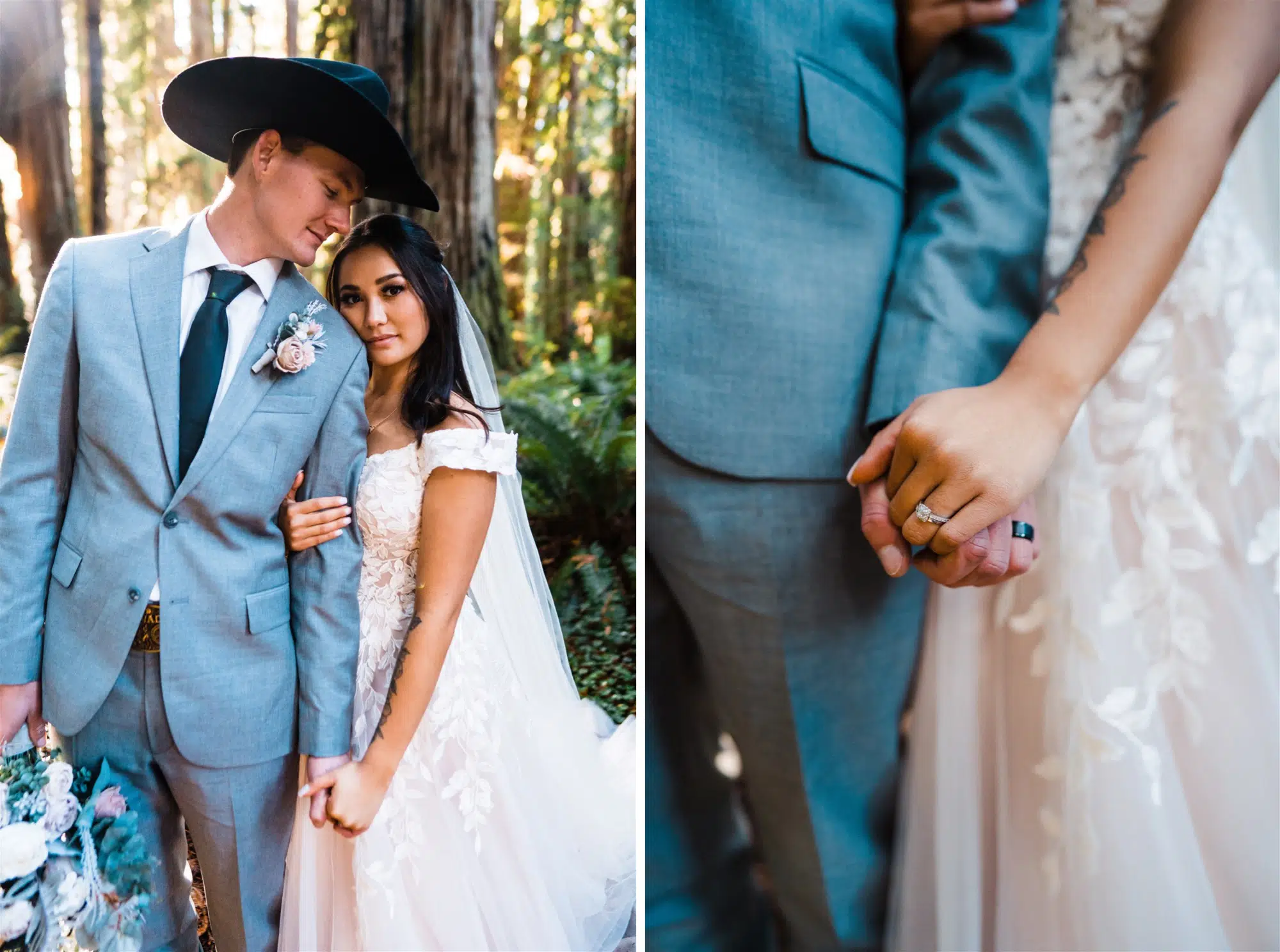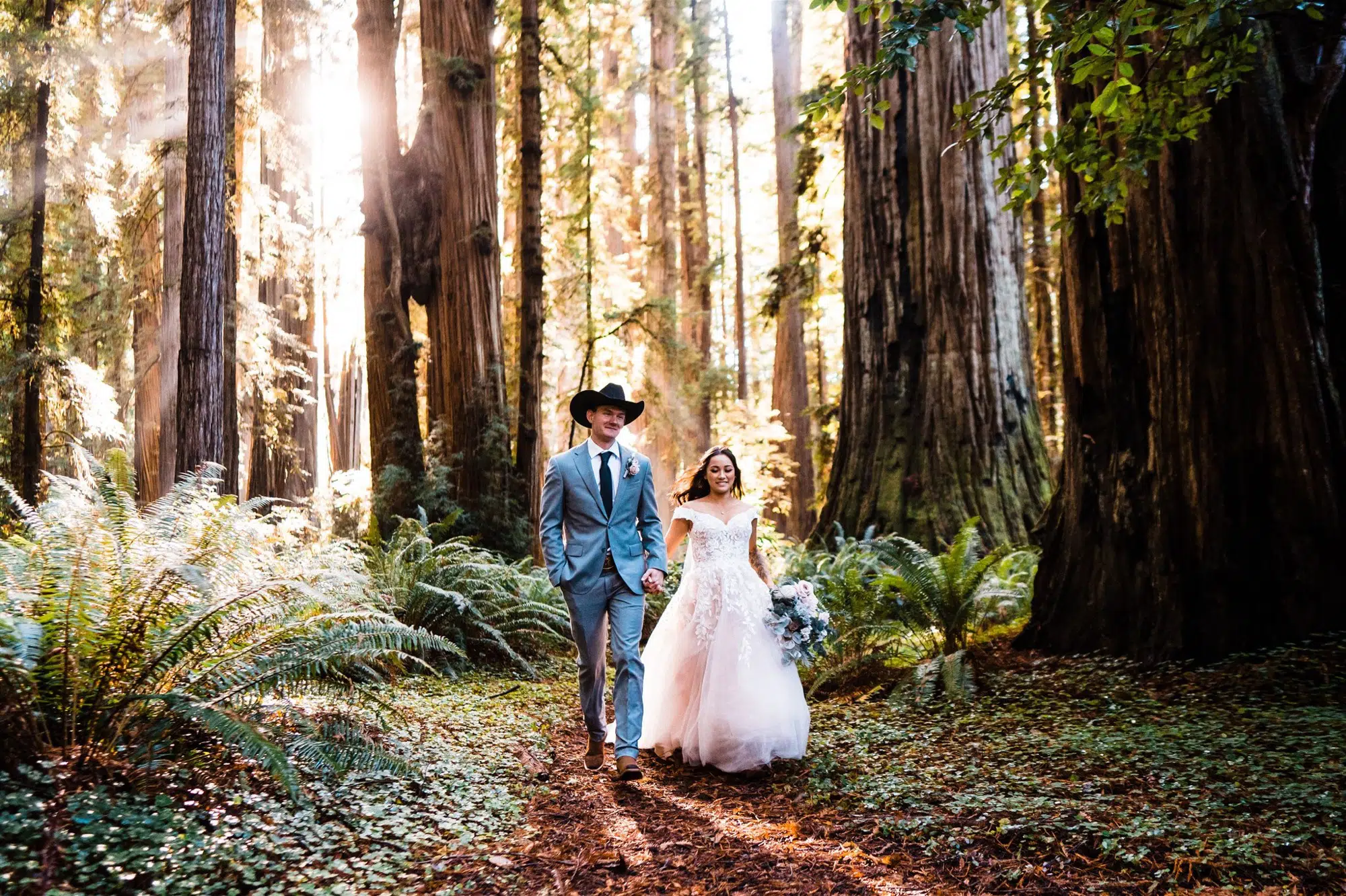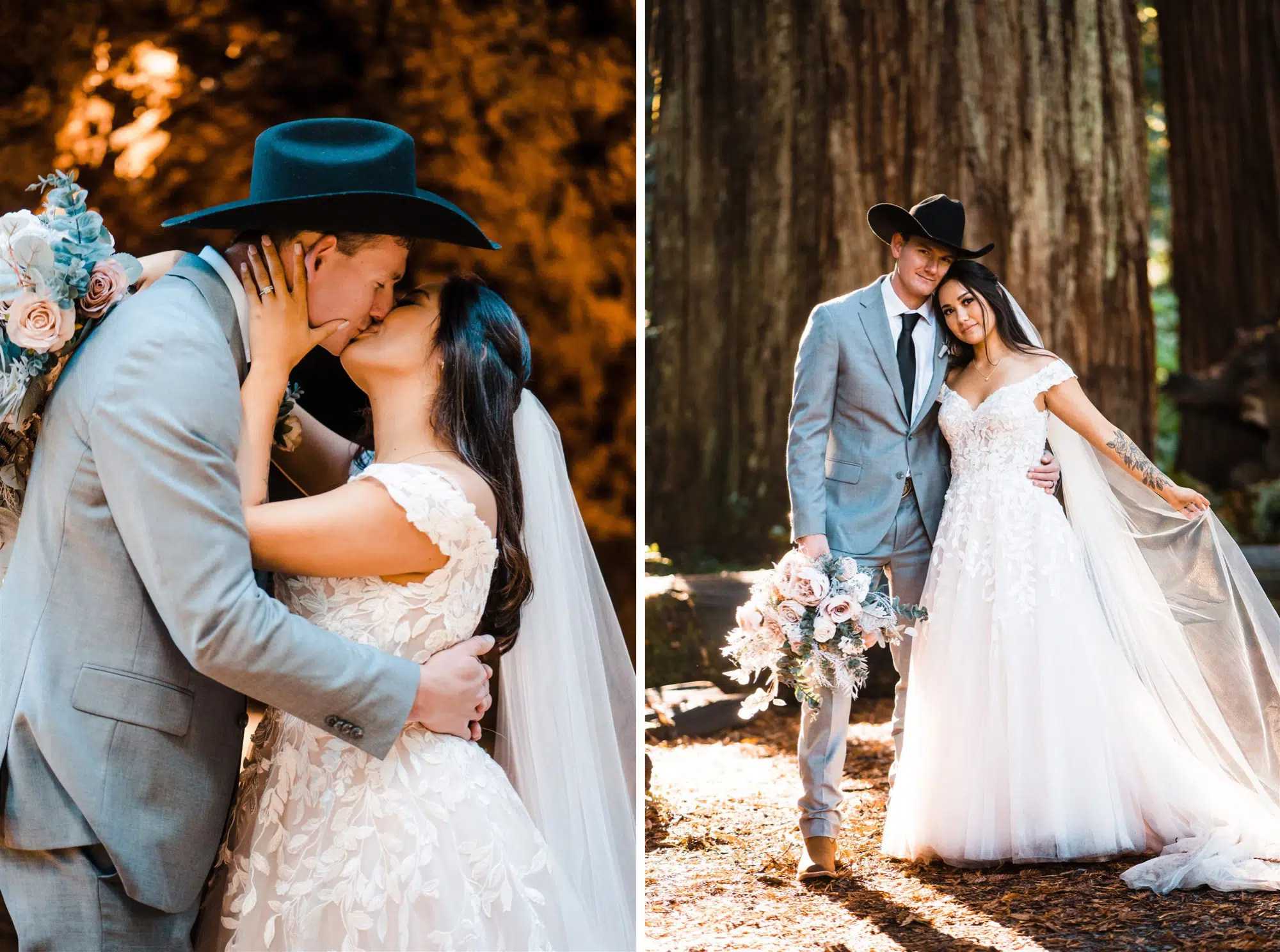 coastal forest golden hour
Last up on the location agenda, we headed to the coast to capture golden hour in all its essence. As elopement photographers and lovers of intense light, we've been known to chase a sunset or two from time to time 😉, so it's always a special treat when we are gifted such stunning light to work with. There were almost no clouds in sight as the sun sank lower in the sky, casting sparkles on the waves with each movement of the ocean. We settled on just one location to cut down on time in the car, and so we could also just really soak up the scenery and emotions of the day. Plus we knew that it was probably going to be a pretty epic sunset and we definitely did not want to miss that! 
The newlyweds stepped out onto the beach hand in hand, leaving behind cowboy boot-shaped footprints behind them. They twirled and danced in the shadow of a jagged sea stack before they took off running down the beach. The setting sun collided with the ocean spray, creating a hazy fog that perfectly caught the orange and pink hues that were bouncing off the sun.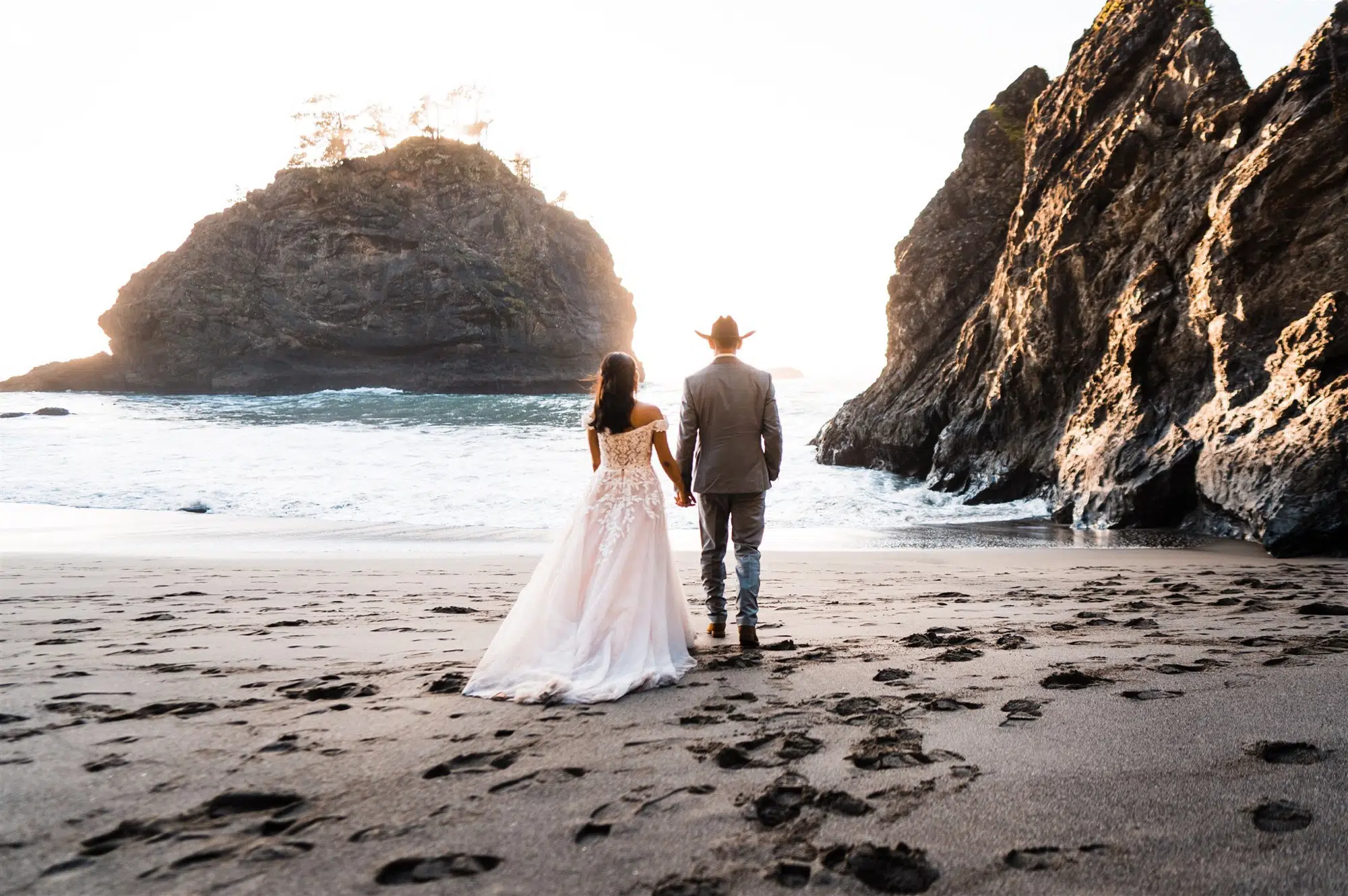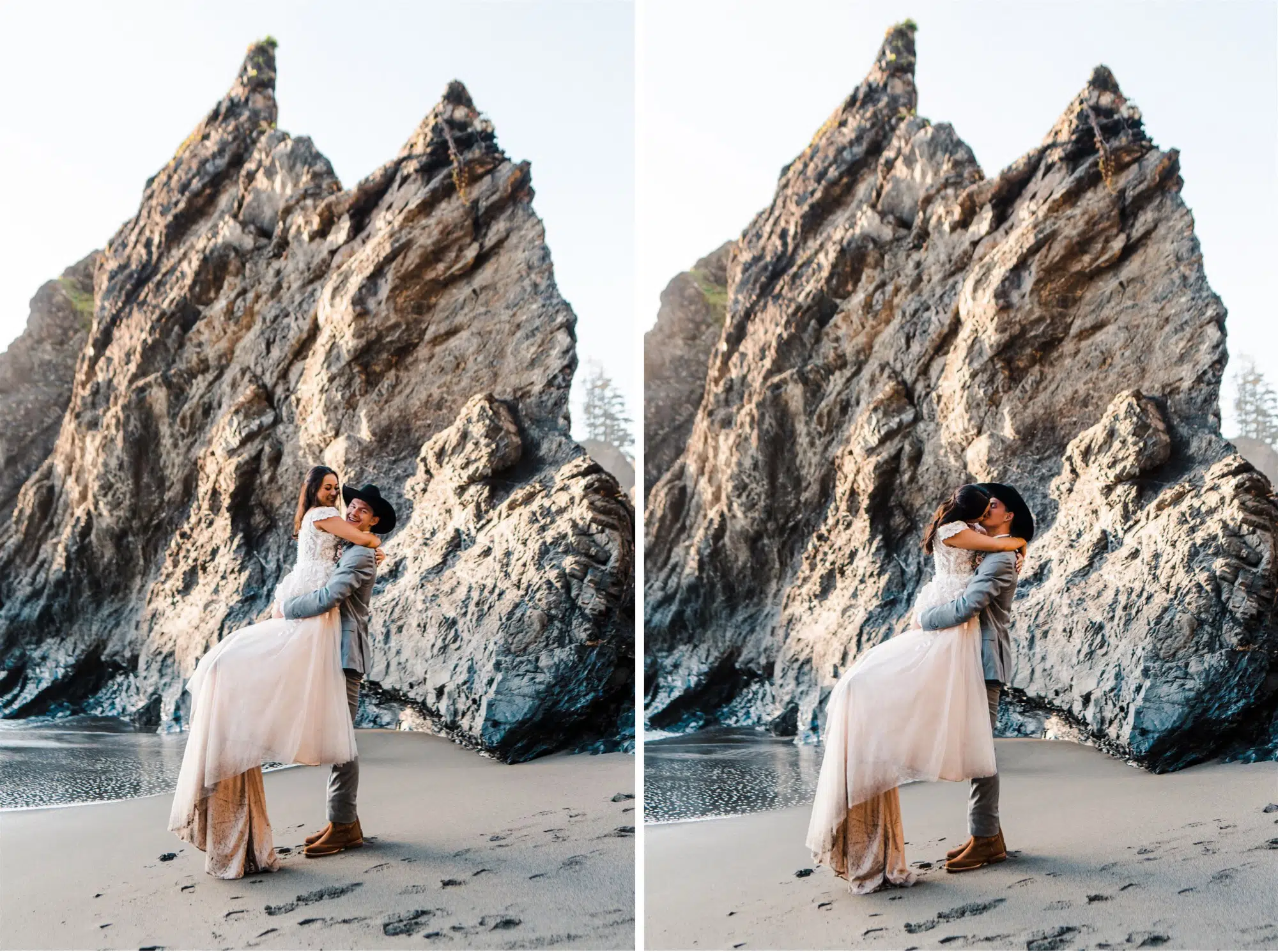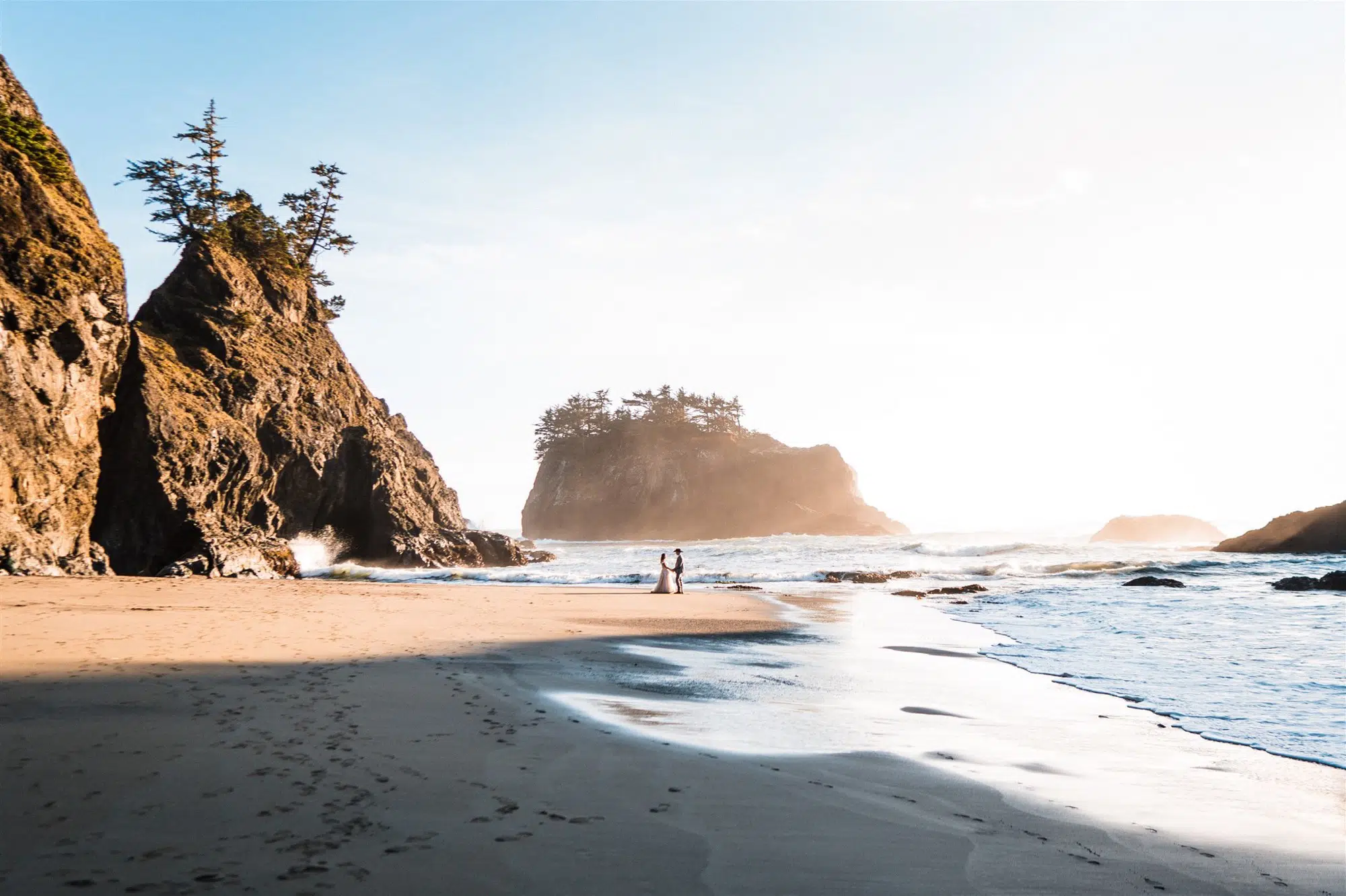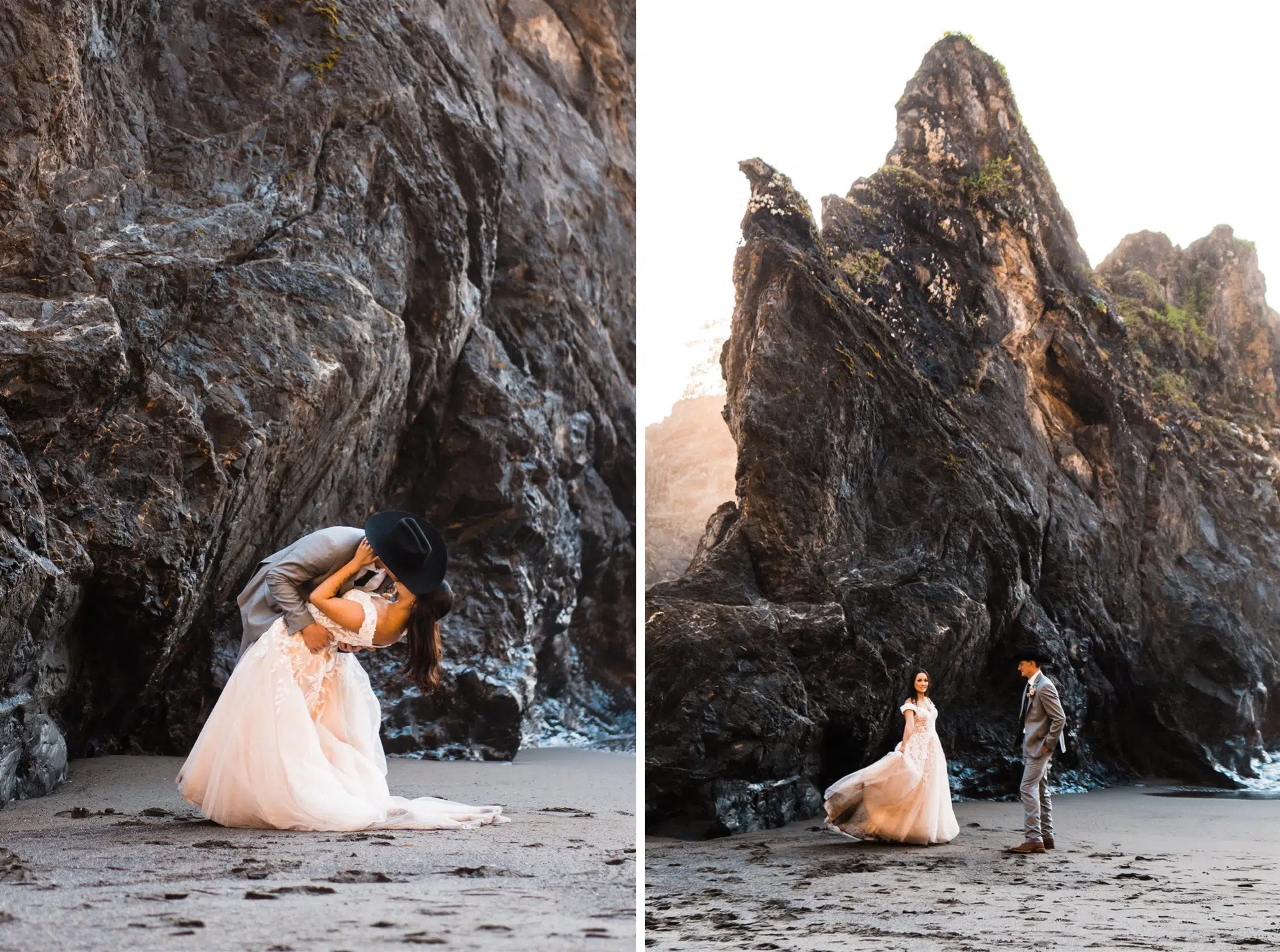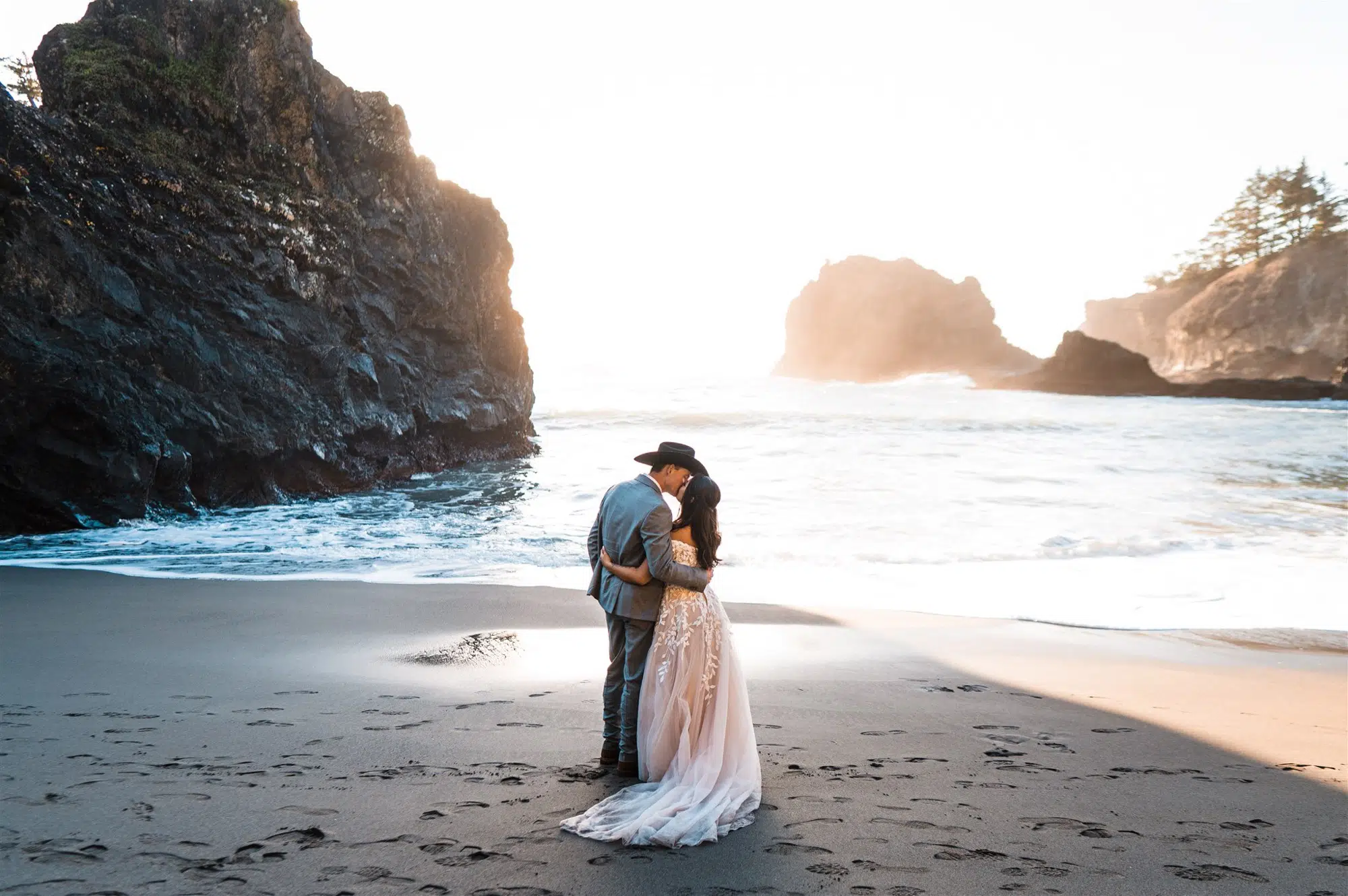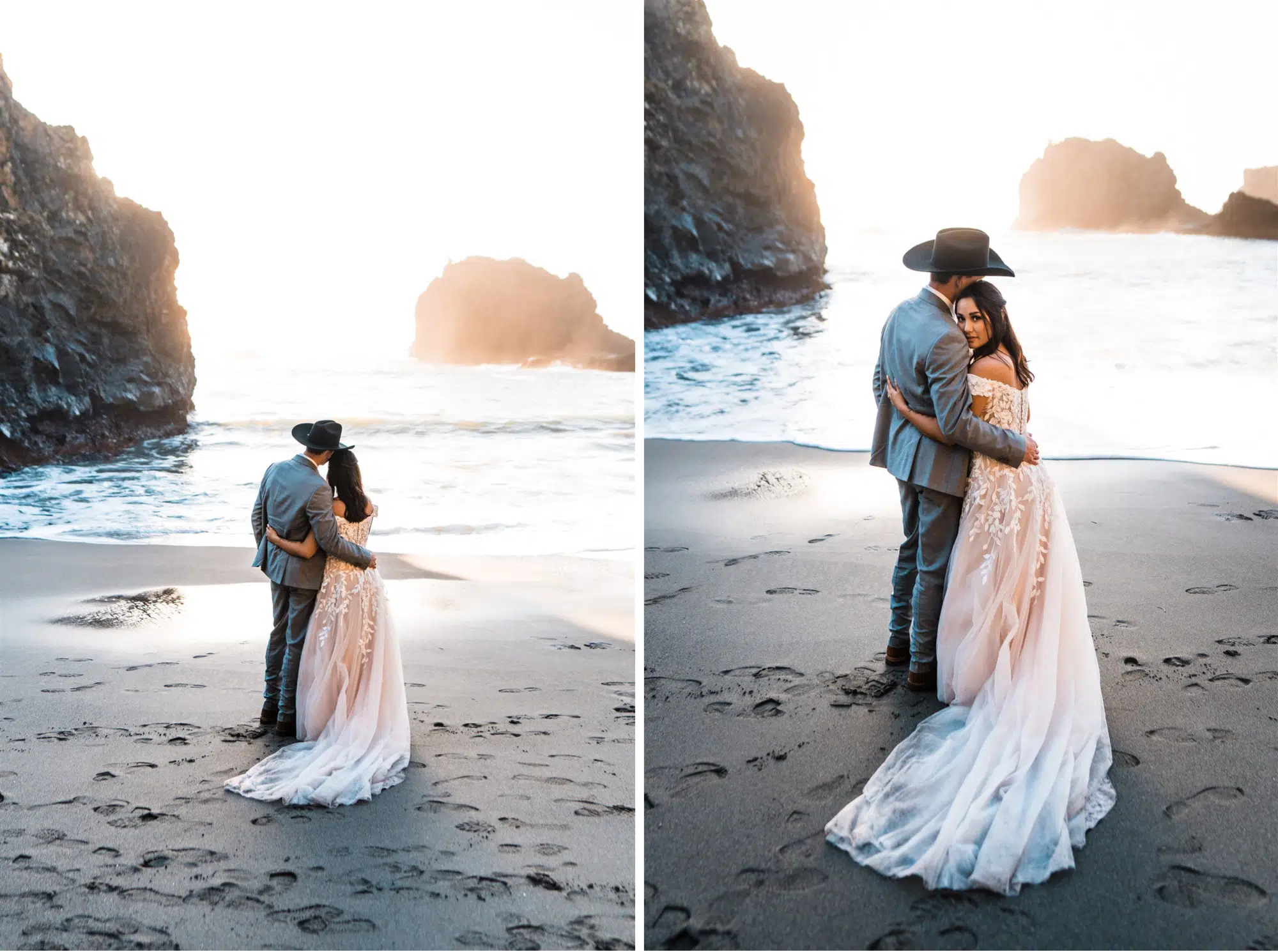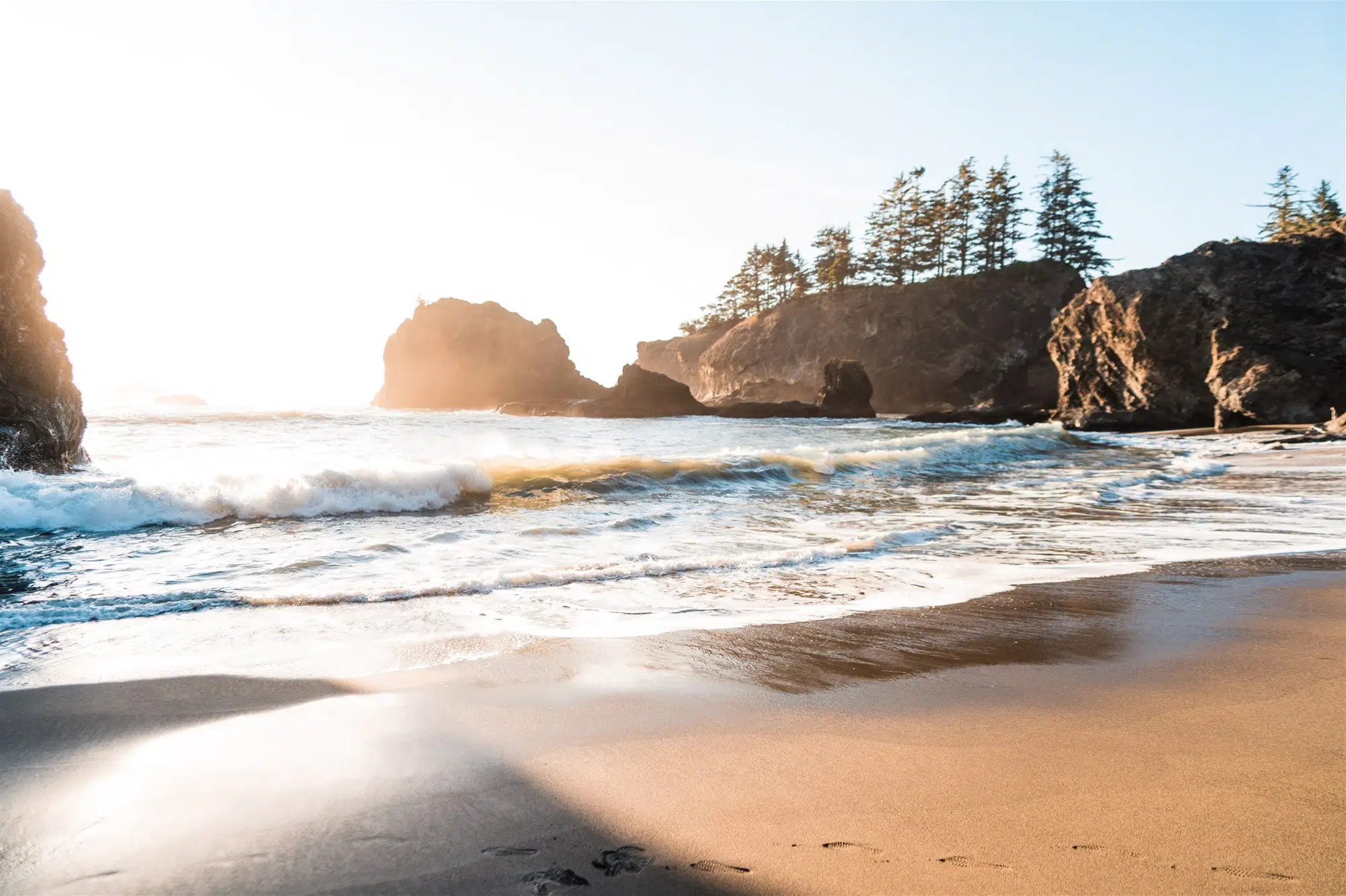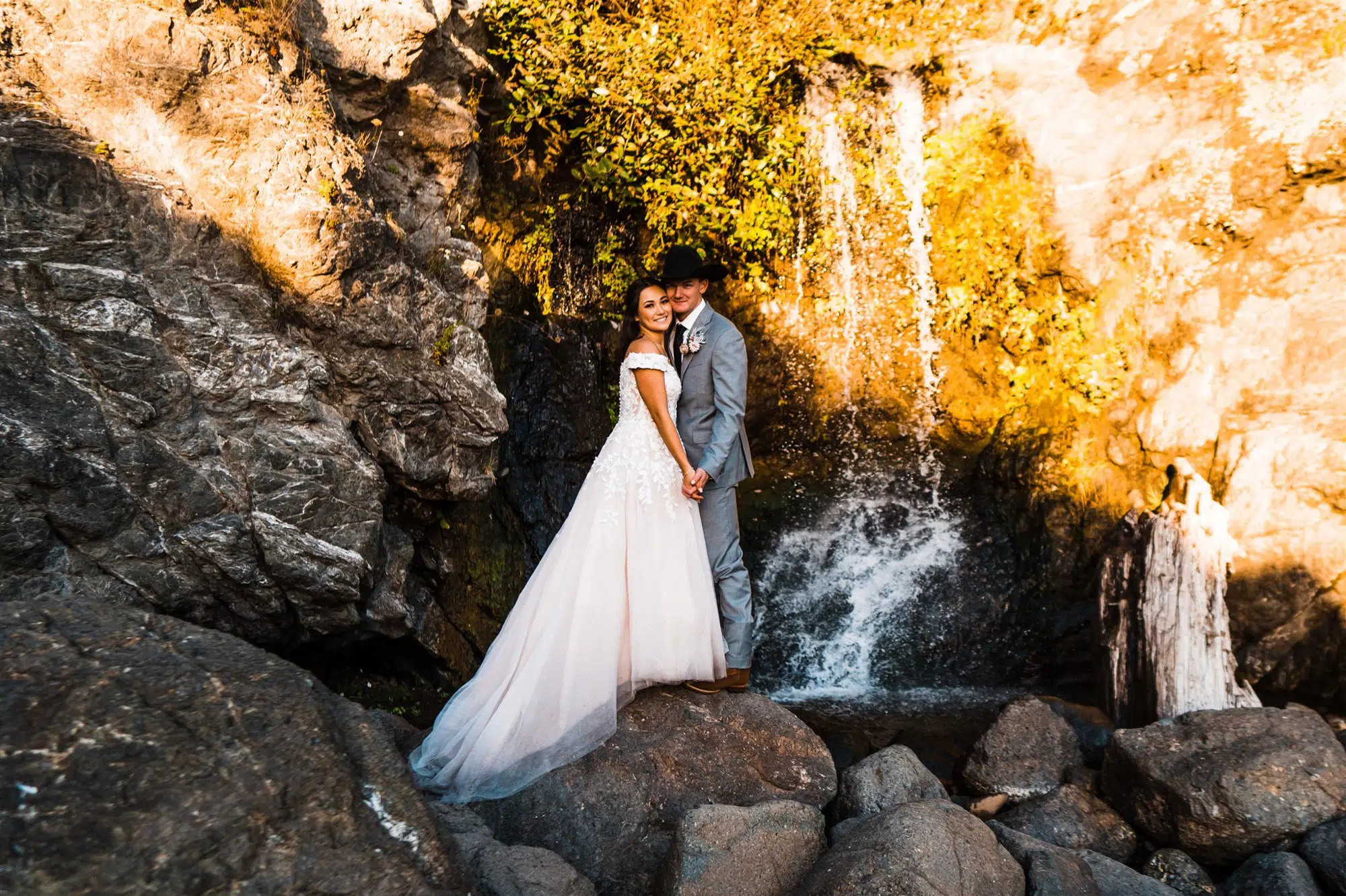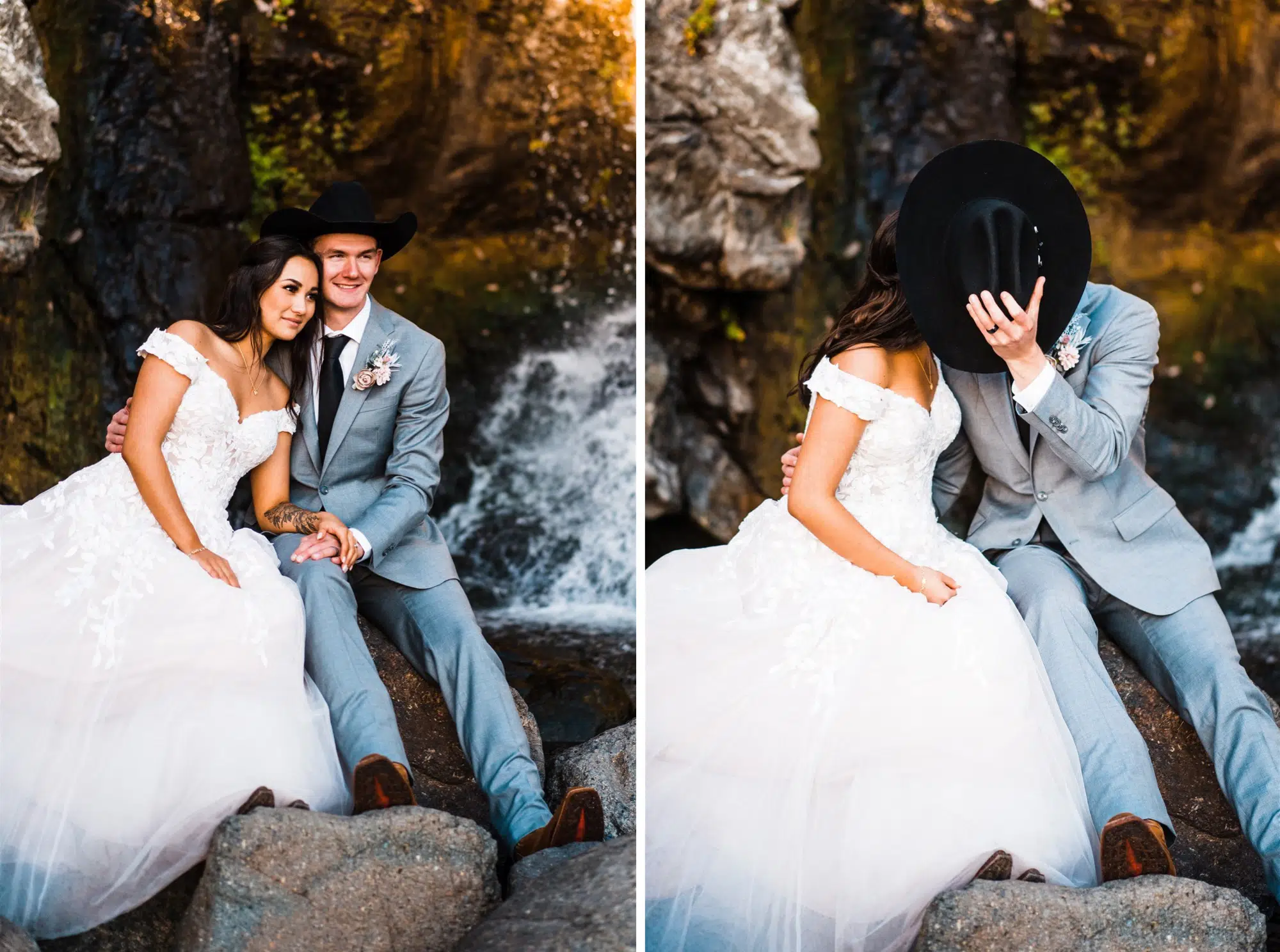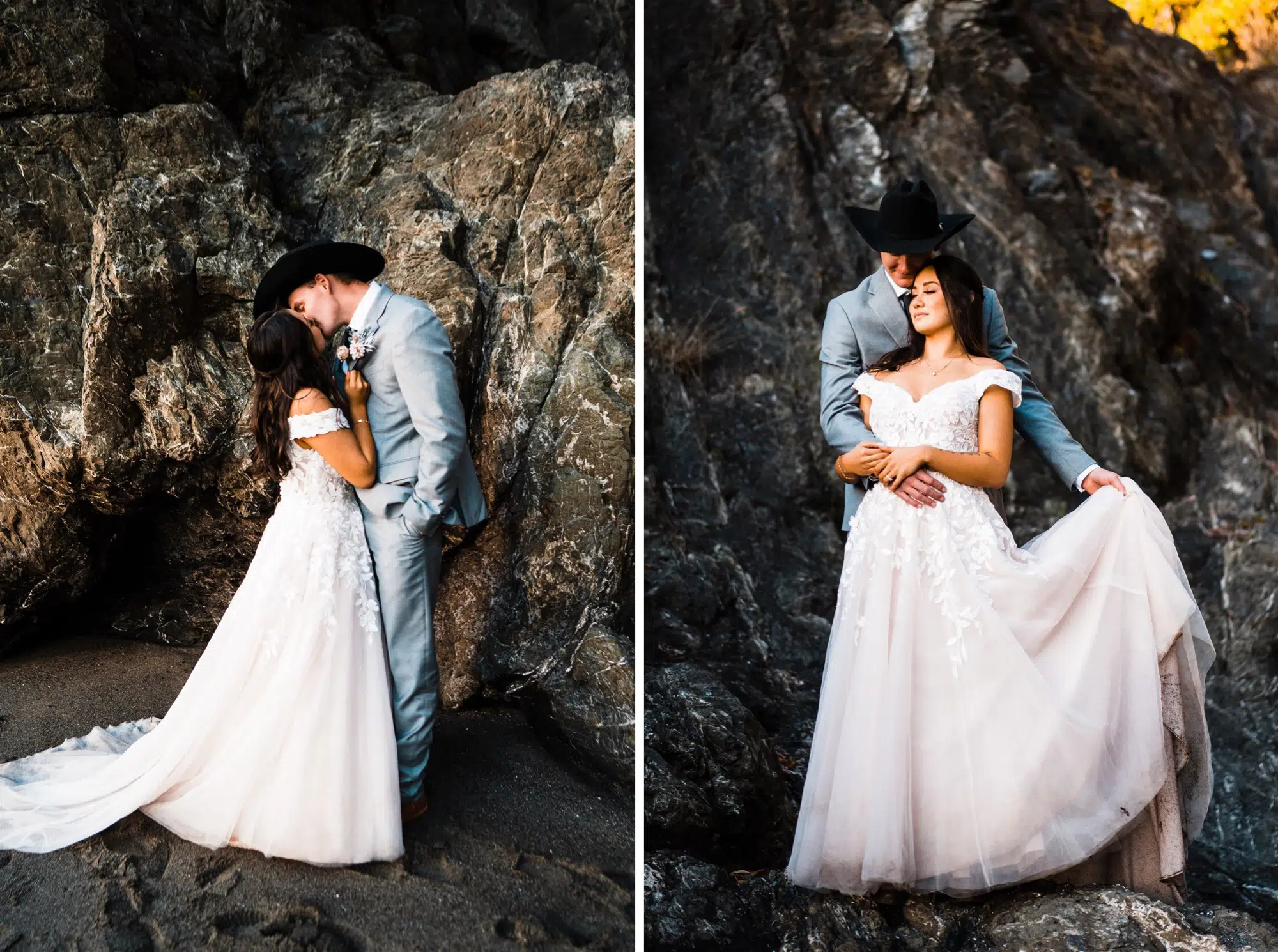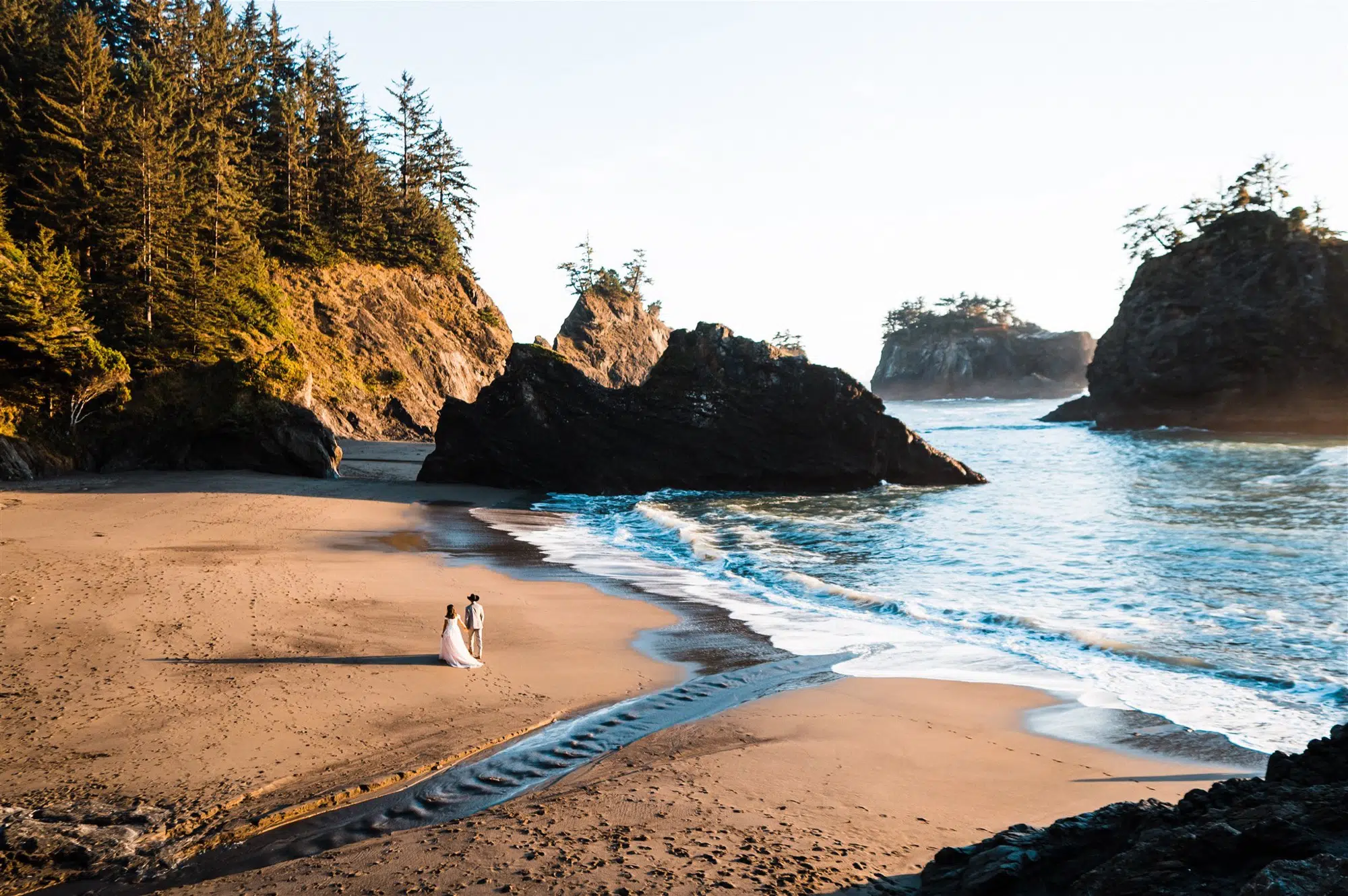 a very magical first dance in a secluded cove
When it came to finding the perfect spot for the couple's first dance, we found a little hidden cove that was tucked away from the rest of the beach. The light was still doing its thing as the sun funneled through the rocks and shined like a spotlight on the new couple during their first dance. If anyone knows how to set the mood for romance, we would have to say Mother Earth takes the cake. 
The train of Dorian's dress was now turning a dark hue in the wet sand as it took on its true elopement day colors, imprinting memories with each step. As the sun dipped into the ocean, we hiked back to the cars to call it a (✨magical✨) day.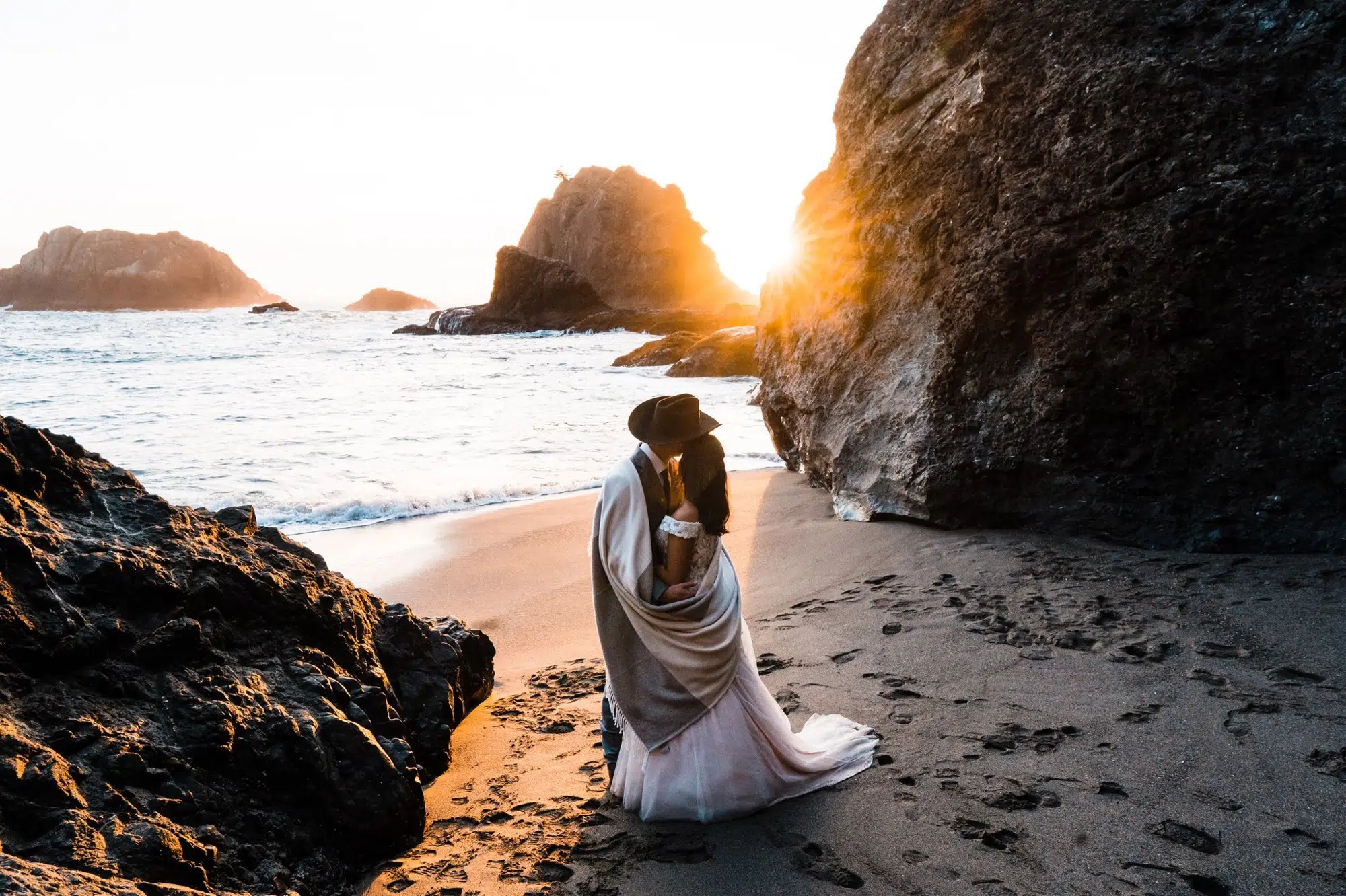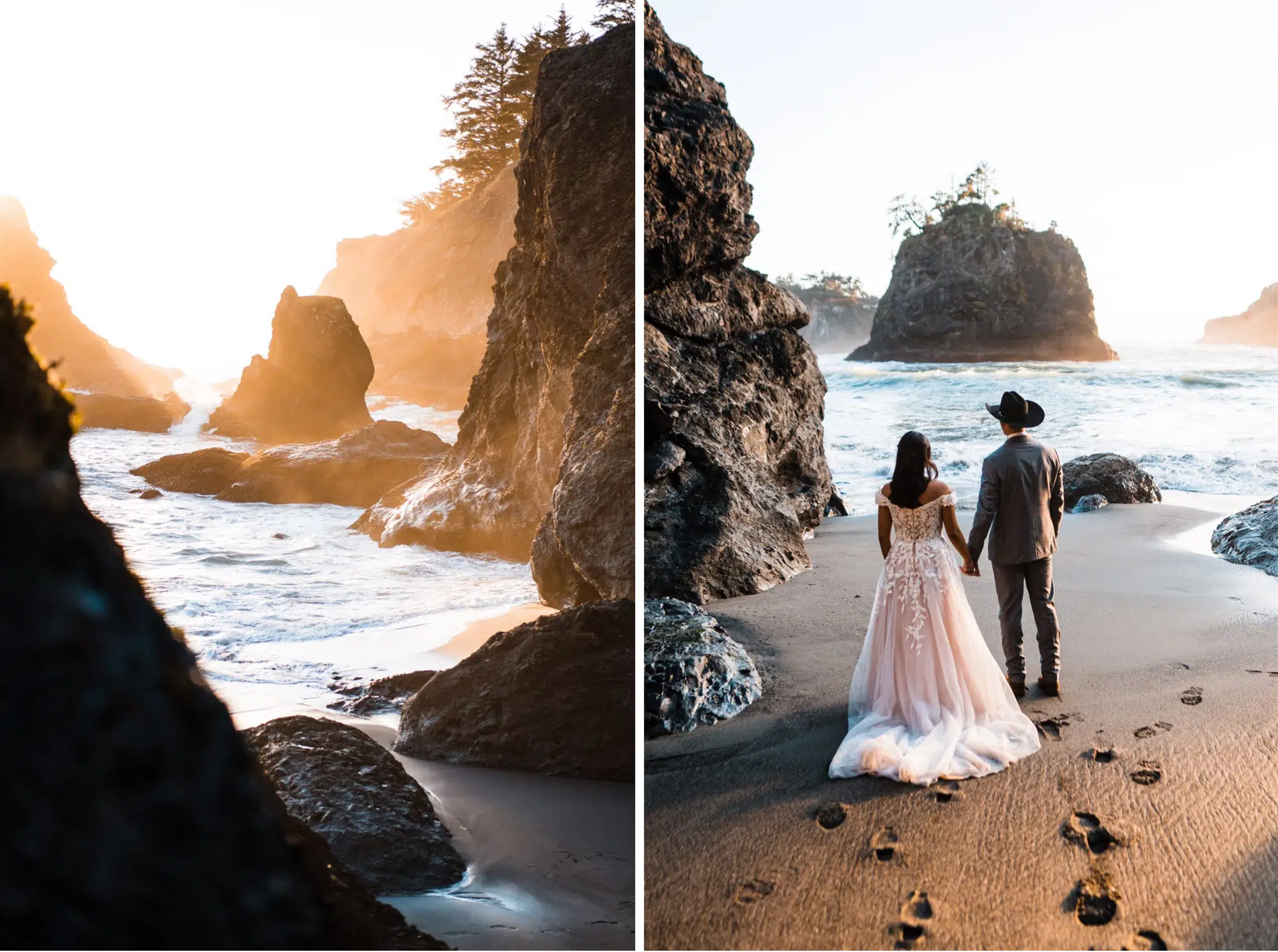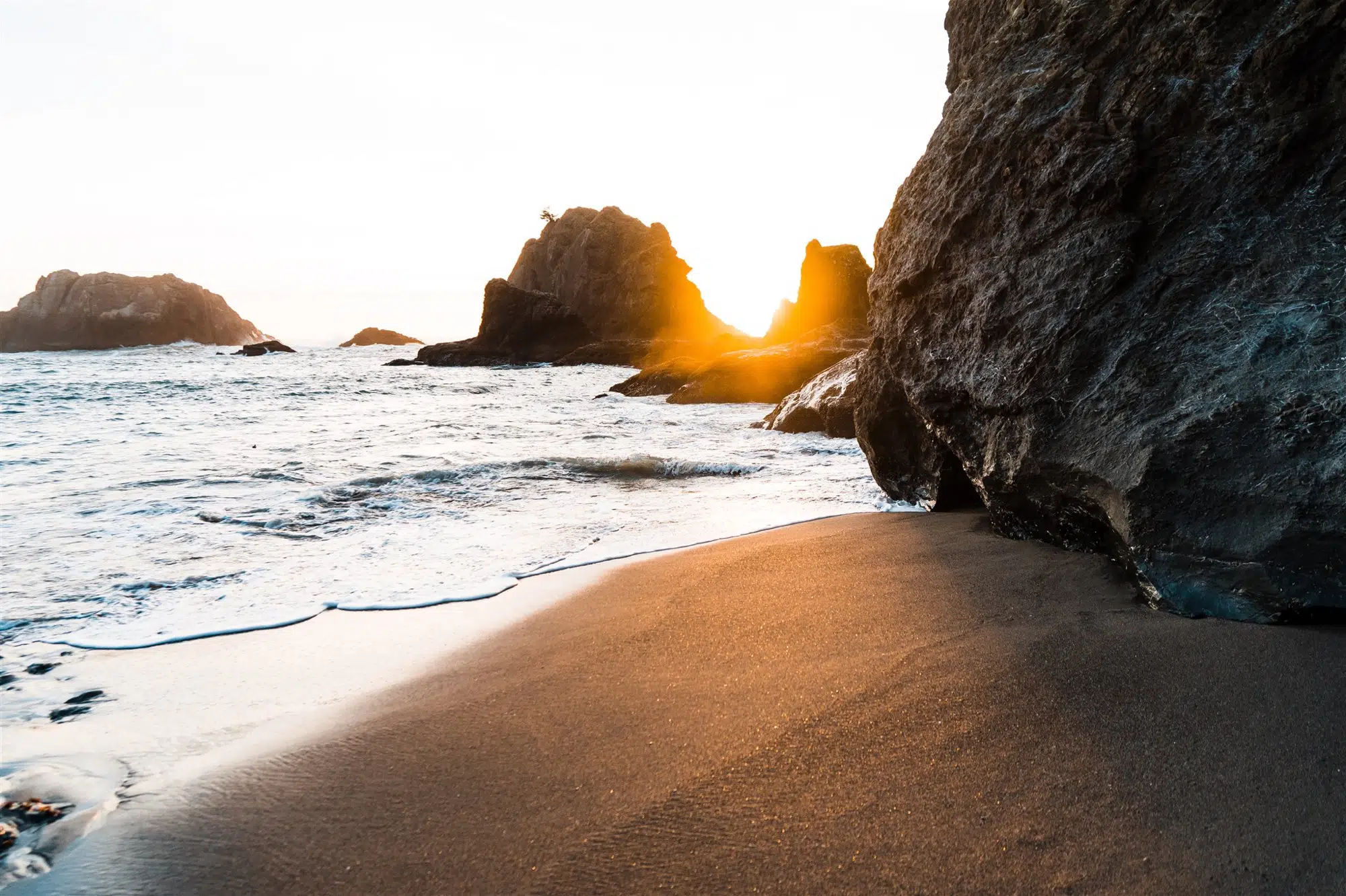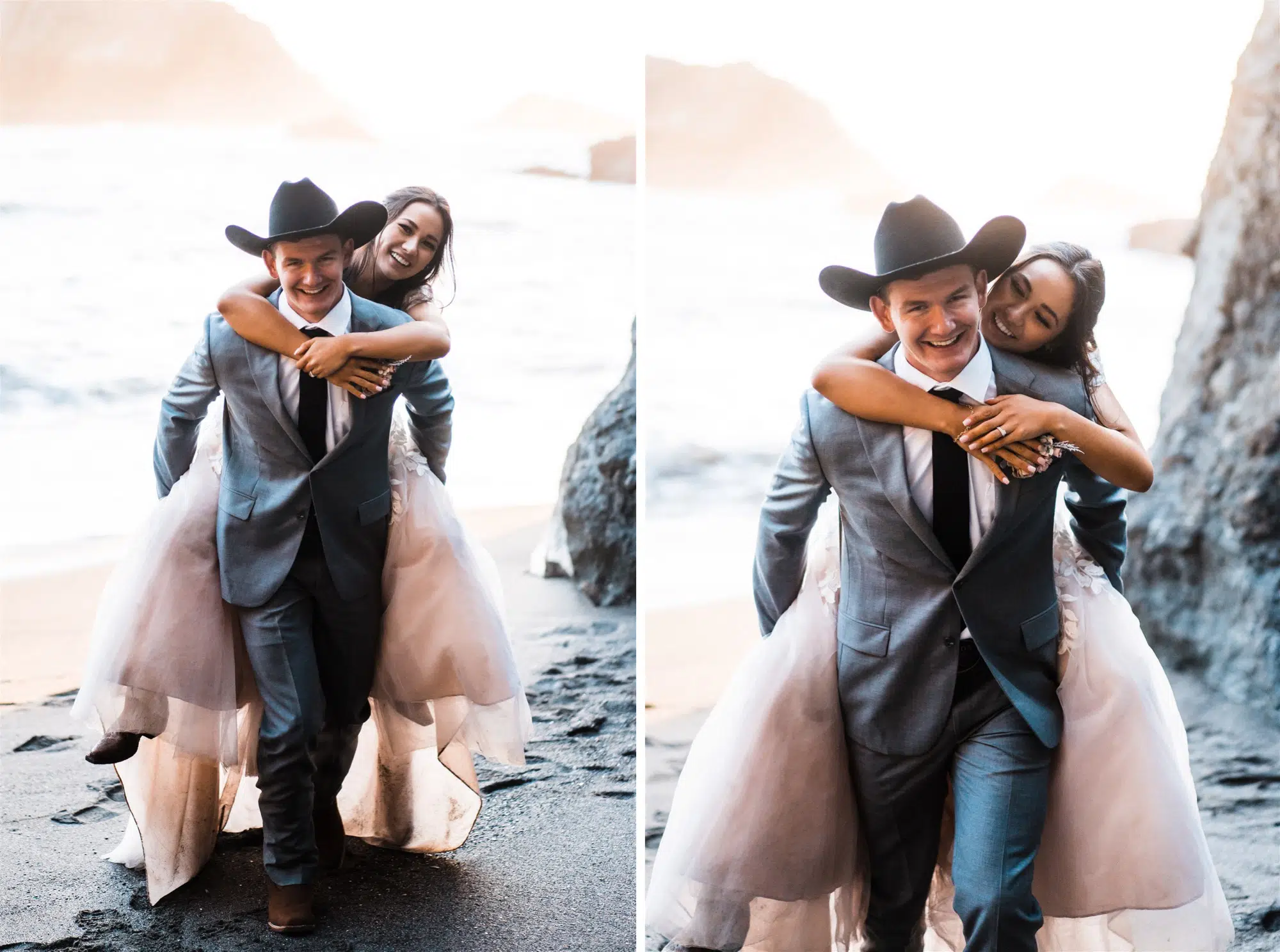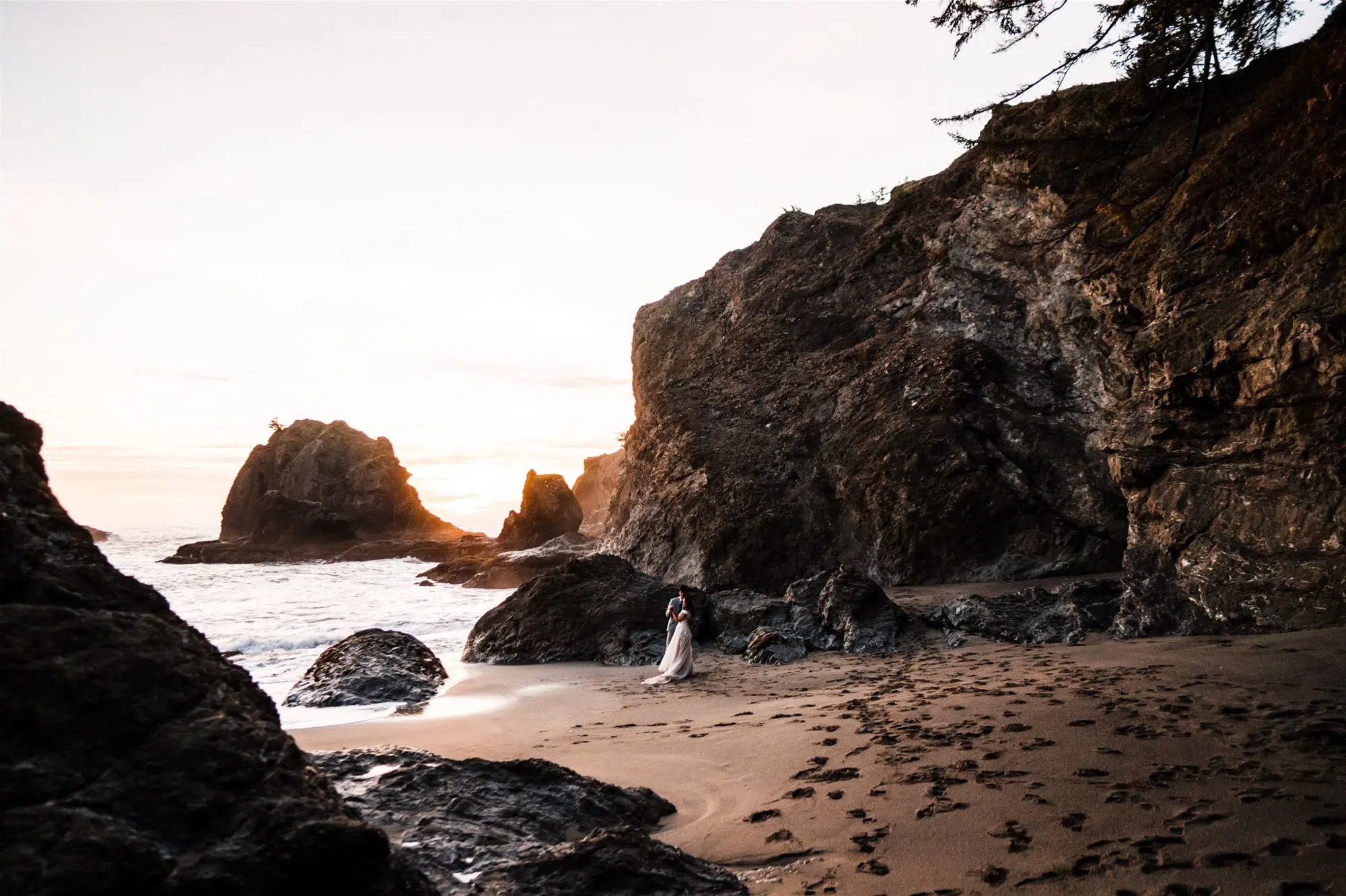 Until the next redwoods elopement
There's something about stepping into the redwoods that just makes you feel an overall sense of contentment and well-being. Perhaps it's the healing power of the forest that connects you back to your roots (accidental pun intended 😜), or knowing that you're surrounded by the tallest and oldest trees on Earth. We're stoked when couples choose to elope in the redwoods because you can go from walking through a majestic forest to a sandy coast in a matter of minutes. With so many special experiences to be had in between, you can really make your day feel genuine and intimate. We can't wait for more magical days among the redwoods!
Love this elopement destination? Check out all our Best Places to Elope in California
Sound like we're the ones for you?