With some good weather in the forecast and a whole lot of time to kill during the Covid-19 quarantine, we decided to build a DIY deck cover for our backyard deck patio. It totally transformed the space and now we spend approximately 100% of our time lounging and working out here.
↓ Keep reading to see how we built it ↓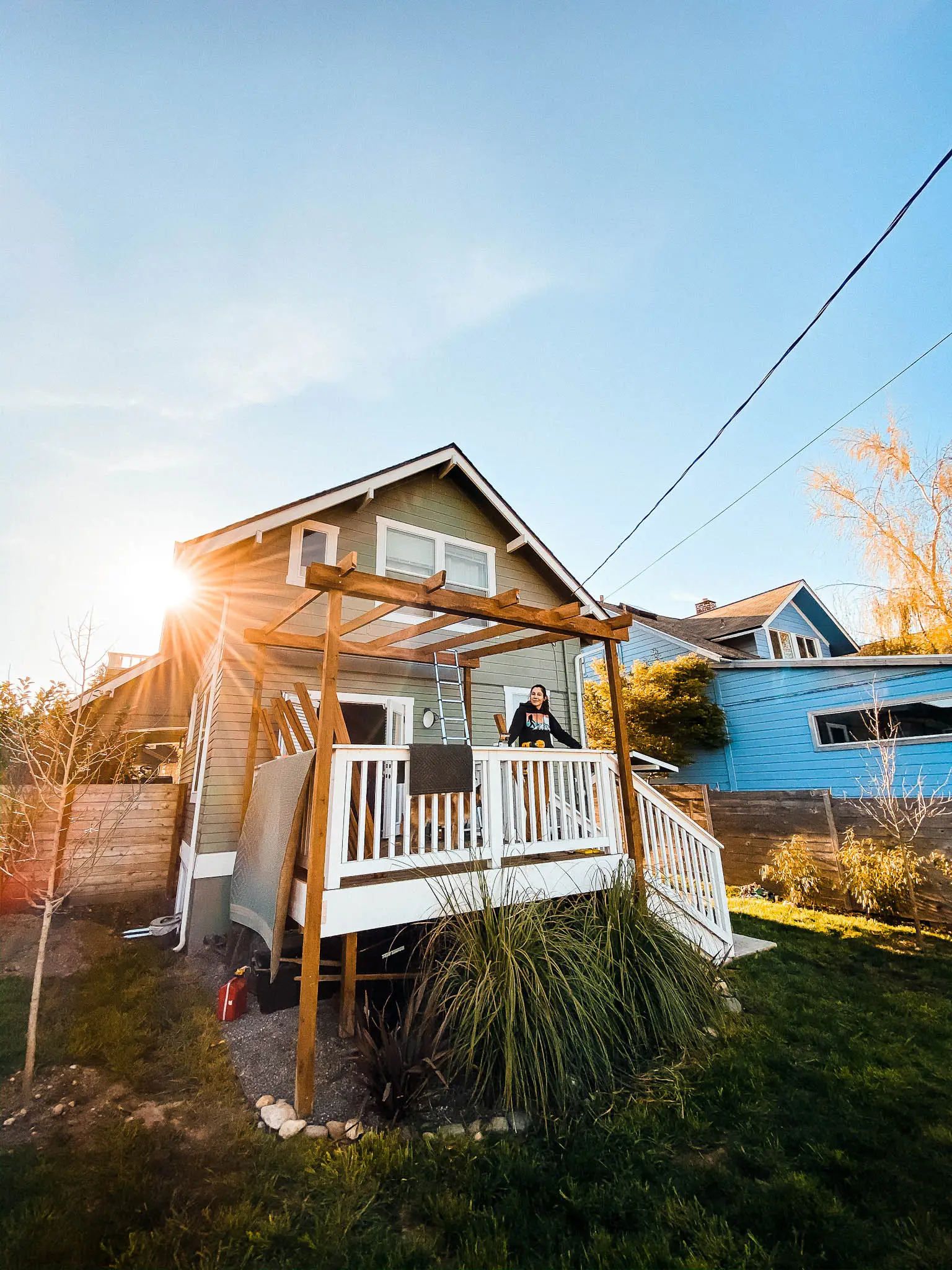 HOW WE BUILT OUR DIY DECK COVER
It had been raining in Washington for weeks, as it tends to do in early spring in the PNW. But then all of a sudden there it was – a glorious week long stretch of warm, sunny weather in the forecast of our weather app. Being April, 2020, we were in the thick of the Covid-19 pandemic quarantine and definitely starting to feel a bit of cabin fever. This stretch of good weather was the kick in the butt we needed to finally tackle a project we had long been talking about doing. 
Off our dining room/kitchen we have french doors that open up to a nice sized deck, probably about 11'x11′. Over the two years we've lived in this house, we've enjoyed hanging out here in nice weather. But it was never as cozy as we knew it could be. And when it rained (which it does A LOT), we could forget about going out there. The carpet would get soaked (along with everything we store under the deck). It was high time we finally built a shelter over this bad boy. 
The same day we noticed good weather was on its way, we sat down at our kitchen table to figure out our build plan. It was all pretty spontaneous, which can be a good thing with DIY projects sometimes. Getting too hung up on finding the perfect way to do something can be crippling, and it's something we've been guilty of before (cough Airstream renovation cough). But with this project it was the complete opposite. We found a design we liked online and ordered all the materials in the same night. Here's the exact order from Home Depot:
COST OF BUILDING THE PATIO DECK COVER:
All together, the materials for our DIY deck cover came in at a little under $1,000. And that's including the $50 post hole digger we had to buy. We didn't have one because we generally avoid digging holes this deep at all costs. After buying a few extra bags of concrete we ended up needing, and some more screws for the roof, the total cost was probably right around $1000 flat for all the materials. The next day, we picked everything up at HD and got to work!
BEFORE THE COVER: GIMME SHELTER
The first order of business in the build was digging the post holes for the four main support beams. Using a basic post hole digger, we got to work digging 48″ deep holes for our 16′ beams. Technically, the proper guidelines state you should bury the post 1/3 to 1/2 as deep as its height for sufficient support. But we were able to add brackets to secure the posts to our existing deck higher up in addition to cementing them in the holes, so we didn't have to dig to China, just halfway.

After the holes were dug, we set the posts in place and got to pouring the cement. We wanted a subtle pitch to the roof so rain would run off easily, so we cut the two front posts a foot shorter than the ones closest to the house. If you're planning to build a similar shelter yourself, just make sure all your posts are aligned properly at this point. There are probably better techniques than we used for this – I'm sure a quick Google search would help you on this front more than we could. But our method worked out alright in the end and soon enough we had four posts in place and ready for the next step. That was Day 1 of the build.
After the posts were up, the rest of it came together pretty quickly. We bolted in two cross beams on either side of the front and rear posts using 3.5″ lag screws. Then we cut notches in the beams that run lengthwise so they would set securely in place. We attached those with some more lag screws that we screwed in from the top. Lastly, we had to screw in the horizontal beams that would hold the mounting pieces for the roofing material. And voila, we had our basic structure! End Day 2.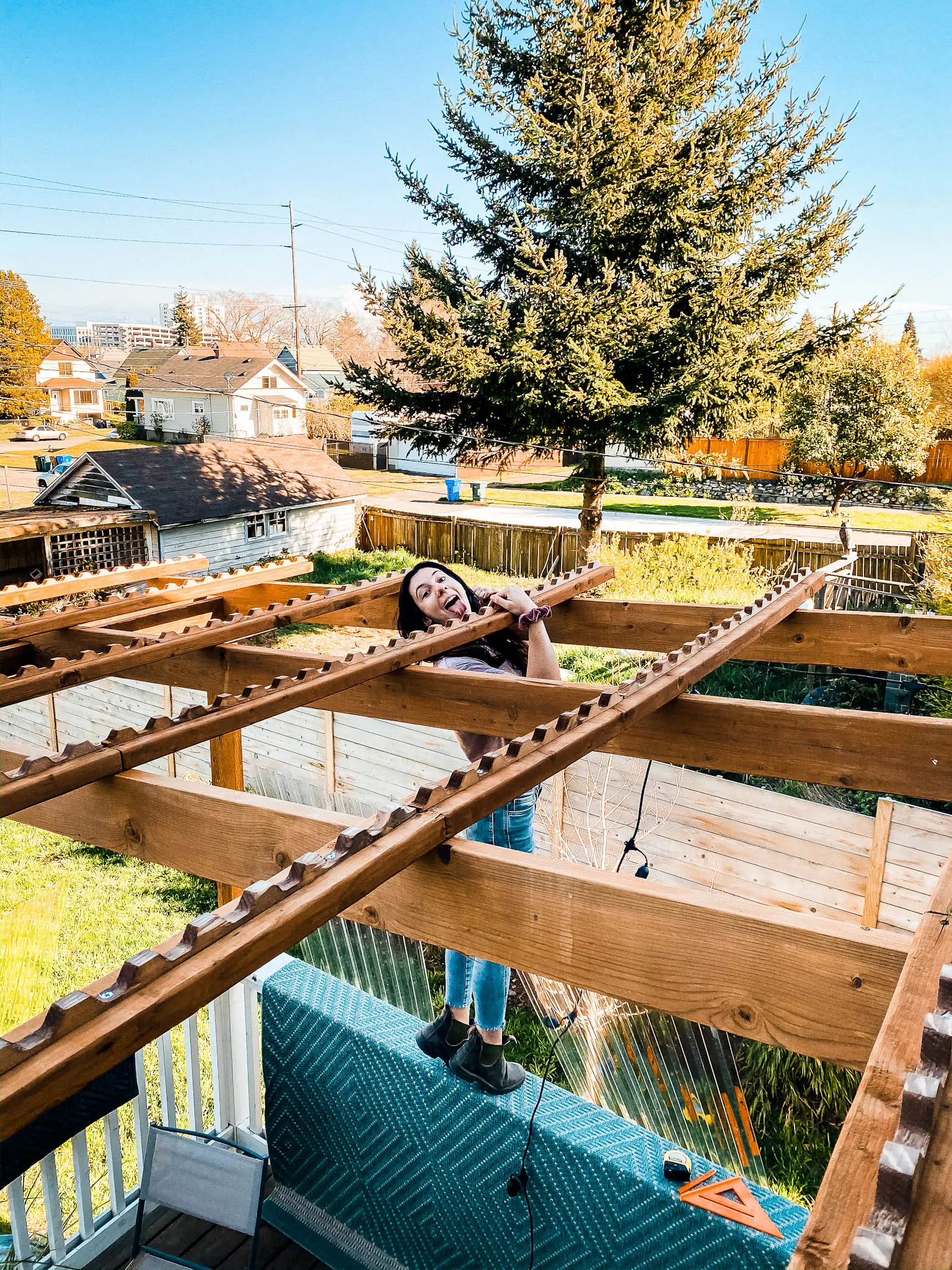 For the roof, we used a clear polycarbonate material by the brand SunTuf. This stuff is seriously awesome. It's super lightweight and easy to work with, mounts like a breeze, keeps the rain out, and lets the sun in. 1000% recommend it for an easy and aesthetically pleasing shelter cover. This is so much better than having a solid roof. When the sun is out, we can sunbathe on our deck. And when it's cloudy, it's not too dark underneath. Literally perfect. 
DIY DECK cover complete! SO. COZY.
Day 3 was just a few hours of work mounting the roofing panels and then we were finished. All said and done, this deck shelter went up in about 2.5 days of work. It was a super easy build and we are SO PSYCHED on the finished product. For $1000 this build is a no brainer. It completely transformed this outdoor space into something we can use year round. We also have very limited storage for yard equipment and other stuff you'd normally put in a garage, so we've been storing it under the deck. And in the winter, it gets soaked. Not good. But now it stays nice and dry. 
We decorated  the deck with some hanging plants, which upped the cozy factor by at least 10. And we ordered the incredible Sora Beach Sectional Sofa from Article plus a couple Poufs to finish off the new lounge area. We are obsessed with Article and this sofa is incredible – super comfy, great materials, and it looks amazing. To make the space extra chillable, we also mounted an outdoor heater above the sofa. HIGHLY RECOMMEND. We've hung out here comfortably when it was in the low 50s with this heater on.
This DIY deck cover has been a real sanity saver during the quarantine. We've been able to throw open the french doors and sit out here in rain or shine, breath some fresh air, and relax outside like never before. We strung up some lights too and foresee many a long night cozying up under the stars. And we can attest that sitting out here while it's raining is about the coziest thing ever. Can you tell we love it? We'll sign off here with a few more pics of the finished product. Happy deck hangs!