The Cascades, WA.
Guadalupe Mountains, TX.

If you've spent any time exploring our website, you probably noticed that we live and work out of an Airstream – a 27-foot 1972 Airstream Overlander, to be precise. But when we bought, it looked nothing like it looks today. It was basically just an empty shell, ready to be customized and brought back to life, which is exactly what we were looking for. When we towed it home after first picking it up, it was the beginning of a long, arduous, and dirty project that was way, way over our heads.
What our Airstream Looked like when we brought it home.
Rivets didn't stand a chance.
Drilling thousands and thousands of rivets to remove the interior aluminum skins.
Replacing the rear subfloor.
Chopping old rusty bolts (Brandon's favorite part…)
Brandon is just as scary as that 40 yr old insulation.
There's a hole in our trailer.
Old water tank. You don't want to know what we found in there…
Water tank housing.
Installing the new water tank. Lots of grunting involved.
Nevertheless, we got right to work like the naive, foolhardy DIYers we are. First order of business was to tear it apart even more, tackling all the structural issues first. We replaced some rotted floor in the rear, replaced the water tank, treated the frame, removed all the old, nasty insulation, updated the wiring…we basically took the trailer from 1972 to 2015, structurally speaking. We had no idea how to do any of this stuff, but thankfully the internet did. Still, it was A LOT of trial and error.
1st layer of insulation: the space-y lookin' reflectix.
2nd layer of insulation: the itchy-as-hell fiberglass batt
Drilling holes for recessed ceiling lighting.
Each LED light uses just 1 watt
Putting the interior aluminum skins back in, aka rivet madness.
Breaking bad?
Nah, just spray painting 😉
Window rehab – three days of cleaning, scraping, polishing, and putting in new weather stripping.
It was not a fun 3 days.
Sweet satisfaction.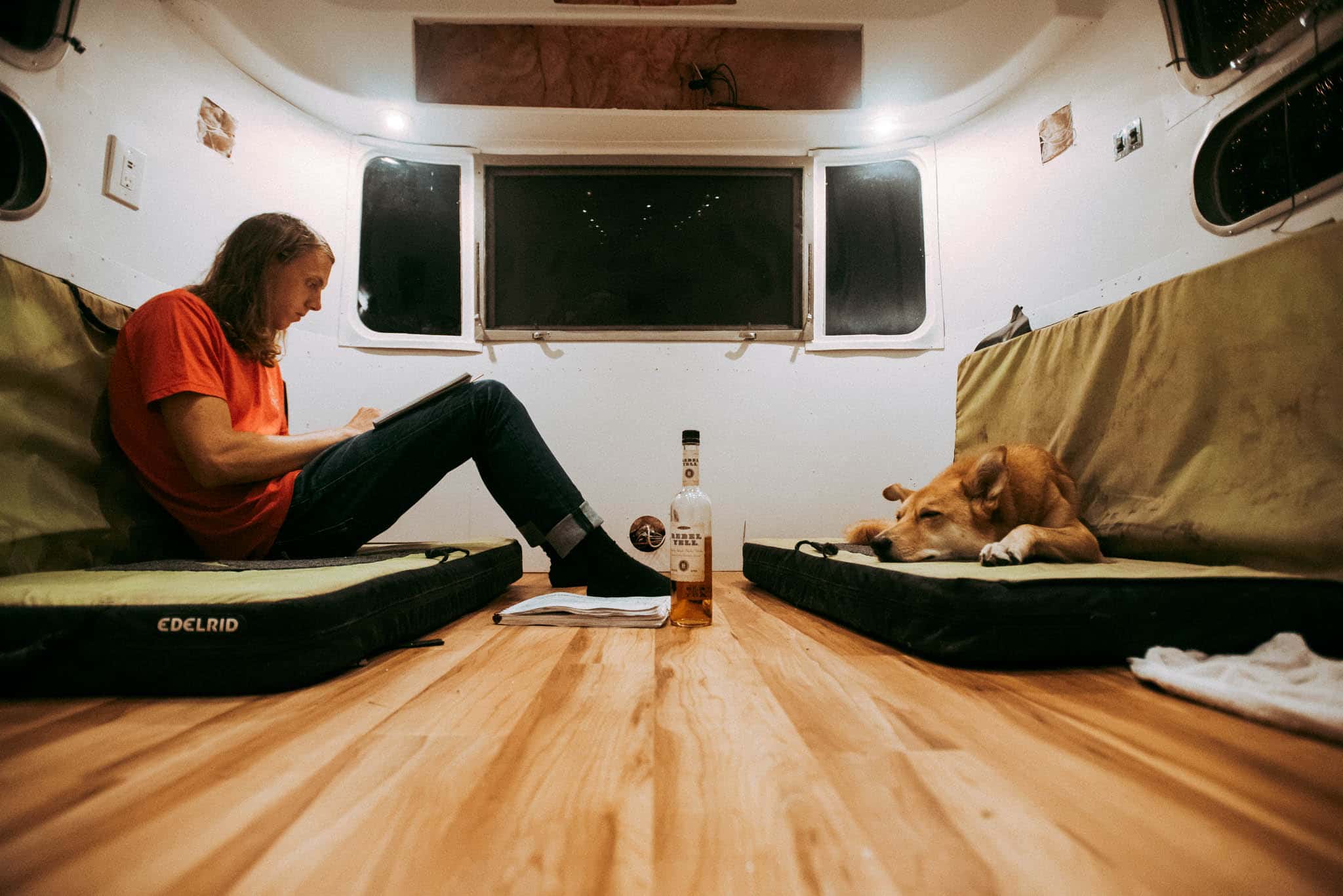 This was a major milestone in the entire renovation process, and one of our favorite moments. We had been working day and night in my parent's driveway for three months, and finally had the skins back in, the floors laid down, and the walls painted. We officially had our "blank canvas."
We were so excited and the idea of actually living in this thing finally seemed attainable. We ate take-out Chinese food in the empty trailer, with my parents and our dogs cozying in on the floor. We reflected on everything we had done up to this point, and fantasized about the next stage of renovation. Brandon and I were so giddy that we slept out there on our crash pads! This is my favorite memory from the entire renovation <3
Layout planning begins…we spent A LOT of time debating our different layout possibilities.
We landed on an open layout that was similar to the original, yet totally different. We wouldn't change a single thing.
With the help of our friend Dovi's woodshop (DBI Woodworks in MA) and his VERY handy CNC router, we had all the rough cuts for the furniture made in about three hours.
~22 sheets of plywood later…a lot of it was ready to be assembled, but there were still many custom cuts and scribing to be done to fit the curved shape of the Airstream.
Measuring and marking cuts for the butcher block countertop.


The raw walnut for our dinette table – so beautiful..
Gluing together the walnut for the table.
For the cabinet doors, we had to edge-band the plywood with 1/8″ strips of hardwood to hide the layers of ply around the edges. Lots of work, but it paid off.
Edge-banding.
Cabinet doors mid-completion.
After glueing the edge, we had to trim the corners and use putty to fill in tiny gaps.

Soon to be kitchen cabinets.
Starting to install the furniture.
It's coming together!


Brandon the plumber.
Back outside to replace the axles.
Changing the axles was surprisingly the easiest job of the entire reno (with the proper tools, of course).
Out with the old.
In with the new 🙂
Fresh coat of paint on the new furniture!
Our excitement at finally reaching this point was incomprehensible. We were constantly in awe of all that we had done. We had been renovating full time for six months, and we finally had something that resembled an actual camper that could be lived in. Sure, we still had a handful of projects left, but we had enough done for the time being to hit the road! We had been living on the road already for a year and a half, but we started a whole new chapter when we took off with the Airstream in early November, 2015.
Living off nothing but the land and sun in Leavenworth, WA.
Caravanning with our friends and fellow Airstream dwellers, Jess and Andy of Silver Egg Studios.
Truckin' through west Texas.
Since setting out in the Airstream, we've continued to chip away at projects here and there, making small improvements to things we left unfinished. But for the most part, we haven't changed a thing, nor would we. The layout has been perfect for our daily life and it tows like a champ! Here is a collection of photos that show what the Airstream looks like at present. We took these in early 2017 at one of our favorite climbing destinations and winter hangs, Hueco Tanks, just outside El Paso, TX.



Bottom left is our catalytic heater which runs solely on propane. It keeps us nice and toasty and is perfect for off-grid living.


The bed lifts up on gas springs to reveal lots and lots of storage space for our bulkier stuff like camera and camping gear, seasonal clothes, and our batteries and power inverter.
Did we even downsize?


Linoleum print by Hannah Dwyer
usb charger and phone cubby above bed
Original book cover designs by our friends at The Frontispiece

Aiko in his bed being cute n stuff








LOVE all the windows in Airstreams. Keeps the small space feeling light and airy.



Letterpress print by Hannah Dwyer
3d paper artwork by Jessica Lau


The wall-mount magazine/file holder is a recent addition that really helped declutter the dinette table. We now keep our laptops, hard drives, and other random things we use daily in there.



5 o'clock cheers!
The Foxes in their natural habitat.



Photos of us by our good friend and talented photographer, Andy Wickstrom.

We're so proud of the work we accomplished and love that we can now share our space with the greater community of wanderers and adventurers. We've taken TONS of inspiration from projects we've seen online, on instagram, and elsewhere, so we hope that sharing our home-on-the-road might do the same for others.
Photography and travel are easily our two favorite things in life, and it's amazing that we are fortunate enough to combine the two on a daily basis. There's never a shortage of inspiration when you can pick up go somewhere new at a moment's notice. Living in a small space and often far off the beaten path definitely has its struggles, but the forced spontaneity keeps us on our toes and influences our work in a wonderful way.
Watch our Airstream Renovation Before and After Video
It's pretty funny.
Thanks for looking! Happy trails 🙂
---
The Foxes Photography | Husband and Wife Traveling Wedding Photographers Based in the PNW
---