This Redwood Forest Wedding started out in the magic of Northern California's old growth forests. The day ended with the rush of the Pacific Ocean crashing against coastal cliffs for their sunset elopement adventure.
↓ Keep reading to for the full story + pics ↓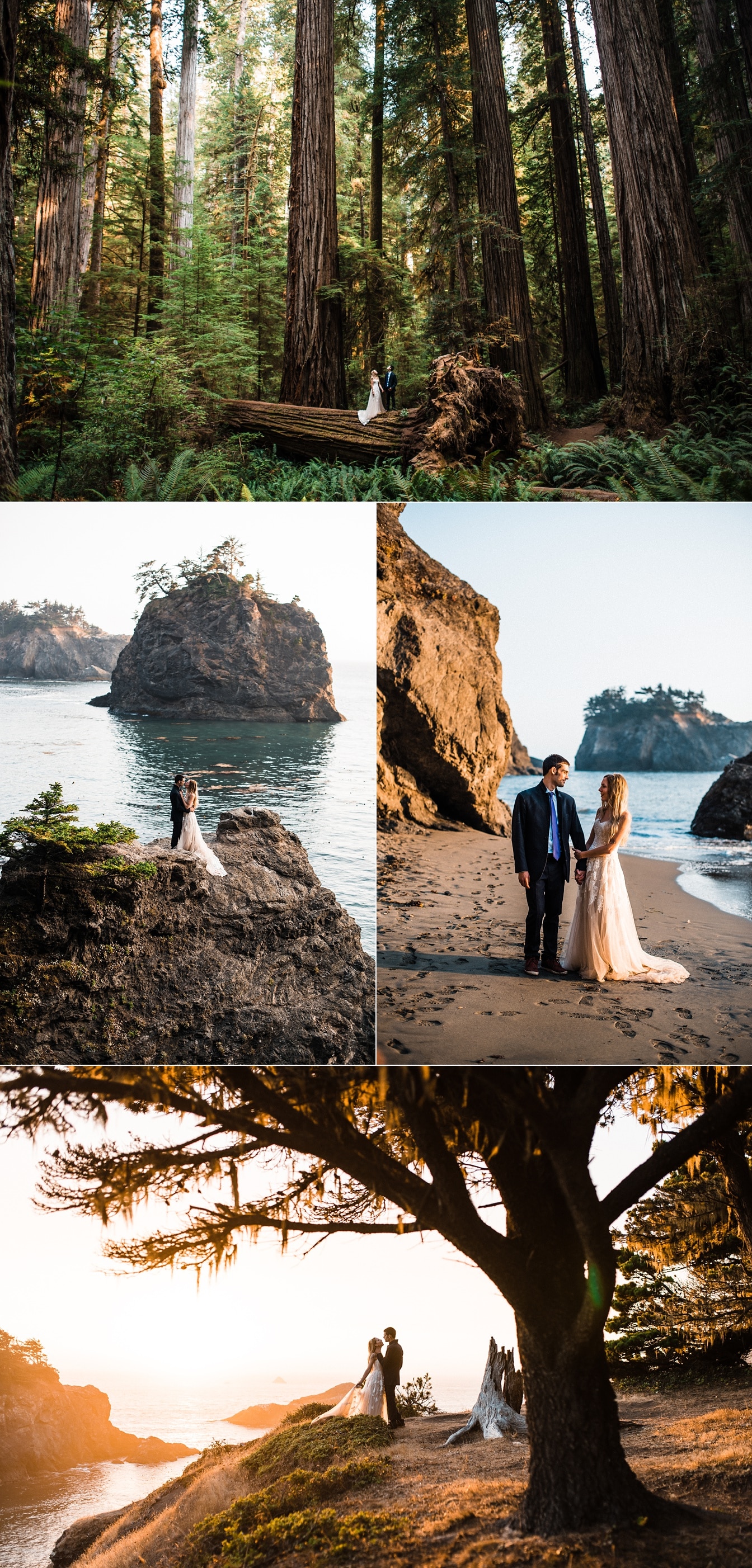 A REDWOODS FOREST WEDDING CEREMONY
Redwoods National and State Parks are home to some of the worlds oldest, tallest, and most beautiful redwoods in the world. Walking amongst these giants is awe inspiring as you gaze up into the canopy that seems to stretch on forever and ever. And what better place for a Redwoods forest wedding ceremony than smack dab in the middle of an old growth grove?
Makayla and Tanner were joined by their parents and siblings for their Redwoods elopement. The entire family stayed at a nearby campground in the Redwoods forest, dressed up in their fanciest attire, and gathered under the trees to witness these two say their I-do's. This particular grove was just outside the main area of the park and close to the road, which was perfect for easy access and privacy. There wasn't another soul out there and it truly felt like Makayla and Tanner had the entire Redwood forest to themselves – it was absolutely perfect!
Related: Check out this Mt. Rainier Wedding in a PNW Forest
Related: Check out this blog on how to find the best elopement dresses for your adventure wedding.
A REDWOODS ELOPEMENT ADVENTURE
After the ceremony, Makayla and Tanner went on a little Redwoods elopement adventure with us while their families went back to the campground. There are a handful of trails all in this area that are sprinkled with some of the most beautiful ferns and moss covered trees, and we were all in disbelief as we wandered around the forest. Jurassic Park vibes were going strong for their epic Redwoods elopement.
Fun Fact: Jurassic Park, Star Wars, ET, The Lost World, and The Tree of Life are just a handful of the films that had filming locations in the Redwoods. If you want to check out all the film locations for yourself, you can see all of the spots on this map!
AN OCEAN CLIFF ELOPEMENT ADVENTURE
The nearby coastal beaches are worthy of an elopement in and of themselves, which is why this particular area is incredible – you get 2 for 1! After the Redwoods, we all hopped in the car and drove as far west as possible to catch the sun setting over the pacific ocean. Our favorite thing about this particular stretch of ocean is you can climb up above the water for a cliff elopement experience, or you can walk down onto the sandy beaches, should you want to dip your toes into the ocean. Either way it's a perfect way to end a fairytale evening.
Related: Check out this Beach Elopement on the Oregon Coast.
COASTAL CLIFF ELOPEMENT AND SUNSET PORTRAITS
This entire area is sprinkled with little pockets of epic views, it's hard to pick just one spot to watch the sun set. After splashing around on the beach for a bit, we headed on up to another spot that gave us some elevation. We had scouted this area earlier in the year and knew this little gem of a spot would be the perfect place for Makayla and Tanner to end their day, and it truly was. We had the entire spot to ourselves as we watched the sun dip below the horizon.
Related: Check out this Ruby Beach Elopement Adventure.