It only took one trip to Iceland and we are completely obsessed! This Iceland elopement is truly where intimate and romantic elopement dreams come true. Not to mention, we had an unexpected fifth guest to Phoebe + Zach's elopement, a crazy Icelandic storm that REALLY wanted to be involved in their day 😅. Honestly, the weather was perfect in the end, and made for such a memorable and fun-filled day running free with the wind and dancing through the torrent of sleet and rain. If you're after an adventure elopement, Iceland is brimming with a million unique experiences and sights to see featuring seriously breathtaking landscapes that are sure to make you feel "some type of way."
cozy lodging for your iceland elopement
When it comes to lodging for your Iceland elopement, there are TONS of unique and cool places to stay depending on your vibe. Phoebe + Zach chose a classic yet extremely cozy and quaint Icelandic hotel, called Hotel Hofn. It provided a cute place for the couple to get ready with plenty of room, and was the perfect spot for our good friend and amazing makeup artist, Anne Timss, to get Phoebe all glammed up for the day. 
The hotel also features a restaurant serving up delicious local food, and the option for a breakfast included with your room. Iceland is actually known for having one of the healthiest cuisines in the world, due to their geographical location. But don't worry, you can definitely always find made-from-scratch Icelandic ice cream and pastries wherever you look!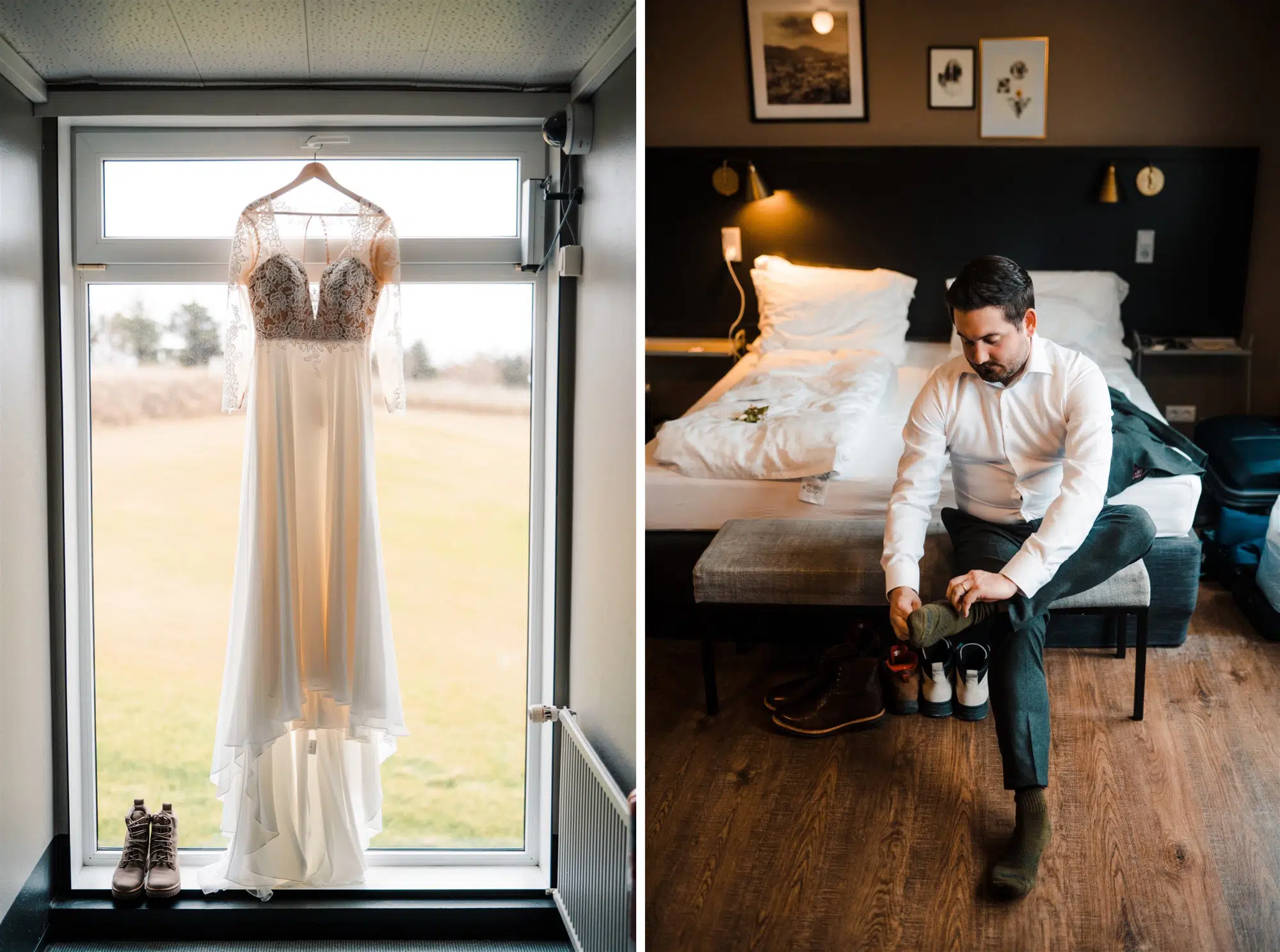 first up on the iceland elopement itinerary: the first look on a blustery bank
We LOVE first looks because they are the start to an amazing elopement day and are usually fueled with eager emotions and excitement. We never really know the emotions we are going to capture so it is always fun to watch the couple's reactions. 
First up on the agenda for their Iceland elopement had to be the first look! Phoebe + Zach chose a scenic bluff located right outside of the hotel that looked out over the water. It was gorgeous yet simple, with the wind flying like crazy whipping Phoebe's dress and veil every which way. The distant snow capped mountains even showed up to watch their intimate first look!
An Iceland elopement Winter weather adventure
Phoebe and Zach had never been to Iceland before, but they wanted to do something totally different for their wedding day. After seeing photos of this awe-inspiring island, the two felt drawn to it, and the prospect of a whole new experience that would create some amazing memories together. 
On the day of their Iceland elopement, it would be an understatement to say that the weather had a mind of its own. We're talking 50+ mph winds sending freezing sleet and rain pelted every which way (including at us 😝). The distant mountains became a little shy after their first look moment, and were hiding underneath a blanket of clouds. But the show (or elopement) must go on! 
We decided to take our chances with the weather, and for the first stop of the day, we ventured to a valley that offered some protection from the wind. It was definitely still ripping around pretty intensely, but Phoebe and Zach whipped out these adorable matching jackets, donned with a positive attitude, ready to embrace the storm. With so much movement in the air (thank you 50mph winds!), these two were definitely feeling the intense energy. Any sort of crazy weather outing usually makes a great story, and in the end isn't that what makes your wedding day memorable?
winter weather advisory: don't forget the cute props for your iceland elopement!!!
If you know that the weather is going to be anything less than blue skies, take this opportunity to pack some cool elopement props! These can work double duty in keeping you warm and dry while also looking super cute for photo ops, and they will be something you can cherish later on to remember your wedding day. 
iceland elopement props to bring:
Personalized or matching jackets (you can have almost anything personalized on Etsy) 
Patterned blankets like these fuzzy wool ones
 Clear plastic "bubble" umbrella (with an option for personalization)
Matching socks for you and your SOLE-mate…. brb already thinking of the cute photos 😍 (…and cringing from that pun 😭)
For more ideas on some props to bring to prepare for the elements, you can also check out our blog on the Top 3 Elopement Essentials!
Elope beneath one of Iceland's many waterfalls
With windswept waterfalls, fjords carved by ancient glaciers, black sand beaches and massive glaciers, Iceland is really a "choose your own adventure" island. We couldn't help but notice that there was definitely no shortage of waterfalls on this island. We're talking about an island that is a little smaller than the state of Kentucky, and it boasts more than 10,000 waterfalls. Whoa! 
don't go chasing waterfalls... but you most definitely should for your iceland elopement
Okay, okay, we had to throw in the classic TLC line somewhere in here while we're talking about waterfalls, but seriously, Iceland has some of the most amazing ones, sometimes just right off the side of the road!
Since we knew that they were going to get some mountains later on in the day at the black sand beach (we'll be getting there shortly…), we thought we'd take our first stop of the day at this waterfall we had scouted a few days prior.  
The couple got a little drenched standing so close to the windy waterfall, but they came armed with a positive attitude and a pocket full of smiles. 
keep calm and whiskey on...
As we explored the waterfalls, the wind was really picking up sending water droplets and crazy gusts of wind every which way. We huddled in a cave passing around a bottle of Icelandic whiskey, taking turns sipping to ease the cold. We watched Mother Nature in awe for a while, in-between sips as the whiskey and adrenaline of the day warmed our bones. 
Huddled under the shelter of a natural cave, we really had the best seat in the house to watch these overhanging waterfalls. We sat and watched for a while as an intense gust of wind would catch the waterfall, practically making it blow the water sideways!! 
The weather was quickly shifting and getting more and more intense by the second as it was initiating full-on storm mode. We love to embrace what some would refer to as "bad" weather, because usually it just makes all expectations for the day go out the window. By now we could feel the electricity in the air with all the action going on around us, and the couple was inspired in their own way to dance, move and run wild with the crazy weather, making for some pretty fun times and no shortage of unique photos.
Our favorite part of the day, as well as Phoebe + Zach's, ended up being the waterfall and sipping whiskey in the cave. There's something to say about the way Mother Nature makes you feel when you are in her lair, and there was just something so wild about this raging storm. It was an experience unlike any other and it ended up being such a fun day for their Iceland elopement, even though we weren't sure about the unpredictable forecast.  We love that it's always the most unexpected and uncontrollable parts of the day that end up making the most worthwhile memories, and definitely a day that these two (and us!) will never forget. 
Romance on the Icelandic black sand beaches
The only "must" that was on Phoebe + Zach's list for their Iceland elopement, was they were positive they wanted to read their vows at one of Iceland's most iconic black sand beaches. The original plan was that we were going to make it to the beach just in time for sunset after we left the waterfall, but the incremental weather had its own agenda (as it usually does 😅). Fun fact, they actually shut down the highway due to strong winds, a real raisin at the end of the hot dog, to quote an Icelandic saying (or the cherry on top, to translate 😉), so needless to say we had to alter the plan a little bit. We decided to call it a day after we left the waterfall, and test the weather's patience again in the morning. 
There are a couple white sand beaches on Iceland, but most people come to see the contrasting colors of the black sand beaches. They are almost otherworldly to witness. The mountains literally come right up to the ocean, the waves lapping against the base of a 454 meter bluff. 
The sand gets its black hue from the volcanic activity on the island, made up of the dark-toned mineral, basalt. The sand is actually formed from boiling lava that cools when it meets the sea and shatters into a million little pieces, creating the black sand you see dominating the tide. 
Not only is that cool as heck, it also creates the perfect moody and romantic vibe for your Iceland elopement! 
geography lesson over... onto the iceland elopement!!!
Fast forward to the next morning, and to our surprise, the weather did a complete 180 from what we were experiencing yesterday. We woke up to calm winds and clear skies, the perfect ambiance to their intimate exchange of vows.
We HIGHLY recommend getting up for sunrise if you plan on hitting one of these beaches as they can get pretty busy during the day depending on the season. Not to mention, sunrise and sunset can make you see a landscape in a whole new light (quite literally 😉). 
On this special morning, the sun slowly crept up over the horizon, illuminating the dreamy landscape ahead of us in shades of pink. It was quiet and oh so special in so many ways. These two chose the perfect little sandy knoll to hike up and read their vows aloud to each other. 
The wind picked up just a little bit as the sun inched its way over the landscape. Nothing near to what it was yesterday, but just enough to create a little movement in the air and stir the grasses to life. One of the amazing things about Iceland is that you can really feel the remoteness, and the landscape almost makes you feel as though you were on a different planet, all alone with your lover. We practically had the whole place to ourselves to run and play wherever we wanted!
Originally, they had planned to do this yesterday, but with the wind whipping so hard, they were glad that they waited until the morning so that they could actually focus and hear each other as they professed their promises of love. It was a beautiful moment between Phoebe + Zach, just the way they imagined it, yet not at all how they expected it – which made it perfect! 

the first dance featuring a little iceland magic
After they read their vows (and did some obligatory frolicking on the beach), we found a level sandy area where they could have their first dance together. The sun was shining a warm gold now, and it danced along with them as they sashayed across the beach for the first time as husband and wife. We started to wonder if the hills really were alive, because just like that, the clouds cleared and the jagged peaks of the distant mountains came out to watch their first dance, just as they did for their first look yesterday on the bluff.
The Iceland elopement of your (and our) dreams
Okay Iceland, we hear you. You have staked your claim in our hearts as an amazing destination for adventure elopements. From the mountains to the sea, and every waterfall in between, there is much to love and on this volcanic island. Speaking of which, it is also home to dozens of volcanoes that are currently active 😳 which lends to all the geothermal activity on the island. Not only does that create tons of natural hot springs across the island, but there are actual lava fields that you can go and check out, or even tour a volcano. 
Aside from the fact that you can just casually walk on a volcano, there are so many wild experiences to have in Iceland, from the amazing local food, the plethora of glaciers (including the largest glacier in Europe), volcanic moonscapes and probably a million more waterfalls that we will be back to explore! We will forever remember this elopement, and that crazy storm we experienced on the first day. We found out that Iceland's motto is 'Þetta Reddast' which means "whatever will be, will be!" And I'd say we embraced that one to the fullest – maybe with the help of a little Iceland magic!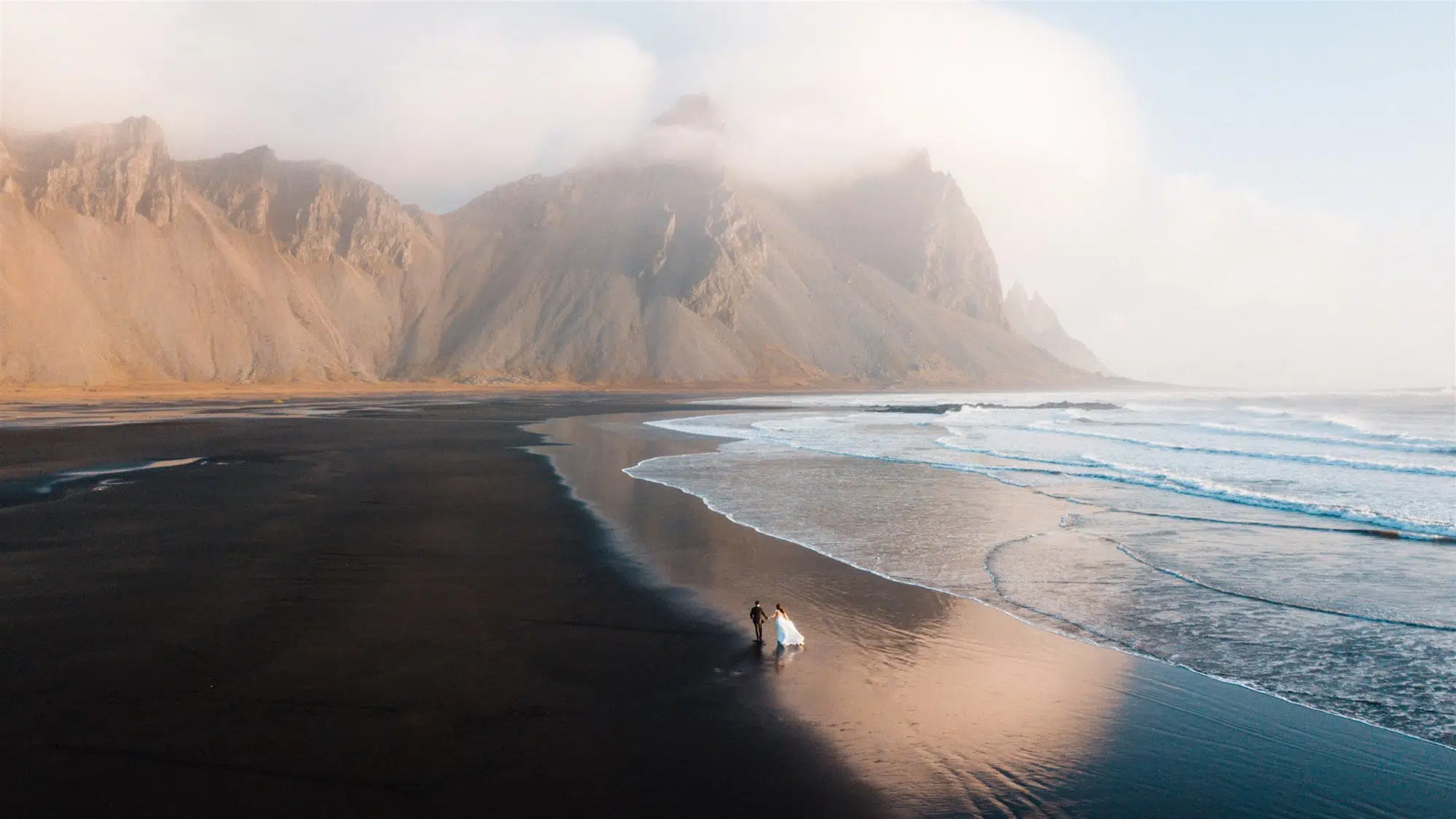 Sound like we're the one's for you?