When you plan a Colorado elopement in the Rocky Mountains, it's pretty much guaranteed to be epic. Colorado elopements in the Rockies are all about jaw-dropping mountains, snowcapped peaks, and this elopement even had a pristine alpine lake. Everything about this day was classic Colorado elopement goodness in the glorious Rocky Mountains.
↓ Keep reading to for the full story + pics ↓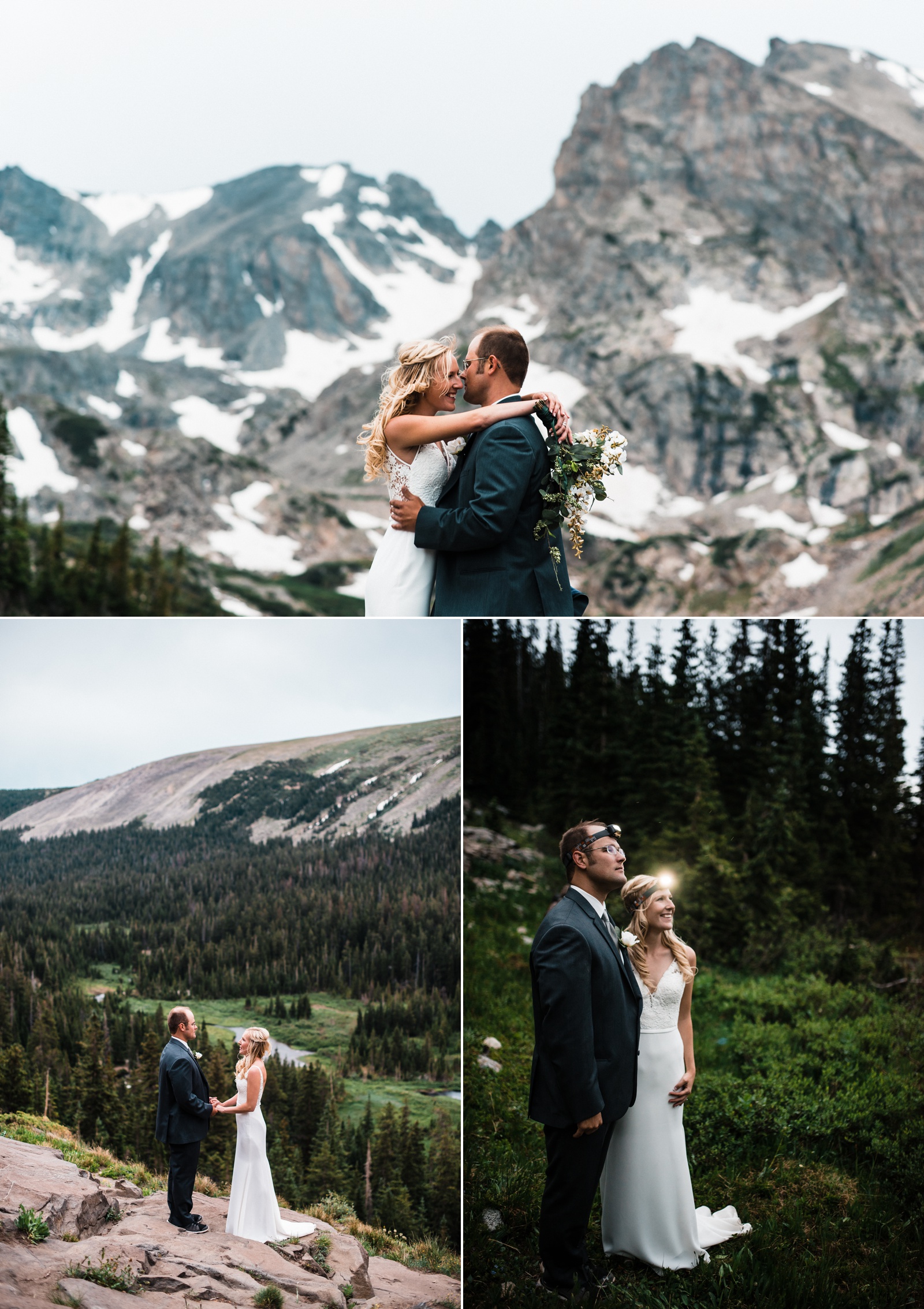 Colorado Elopement in the Rocky Mountains
When Amy and Bob told us they wanted to road trip out west from Minnesota and elope in the rocky mountains of Colorado, that didn't narrow down the location search much lol. The fact of the matter is that Colorado has SO MANY epic elopement locations. First of all, the Rockies stretch the whole length of the state from top to bottom, and within that stretch are countless hikes to explore, many of which make for classic Colorado elopement locations.
Want to see another Colorado elopement? Check out this Dunton Hot Springs Elopement in Telluride, CO.
One way to narrow down the search a bit is to decide on a specific section of the rocky mountains where you'll look for the perfect elopement spot. Since they were driving from Minnesota, it was already going to be a loooooong day driving out, so we decided to look no further south than the mountains west of Boulder, Colorado. However, between Wyoming and Boulder there are still endless elopement locations in that stretch of the rocky mountains. I mean, Rocky Mountain National Park is included in that region, and as far as Colorado elopements go that's probably the most popular place of all. So we narrowed it down a bit more – they decided they wanted to elope next to an alpine lake, and we chose to look for areas outside of Rocky Mountain National Park so we could avoid the crowds and the strict permitting regulations there. The hunt for their perfect Colorado elopement location was on!
Learn how to find the best elopement dresses for your adventure wedding.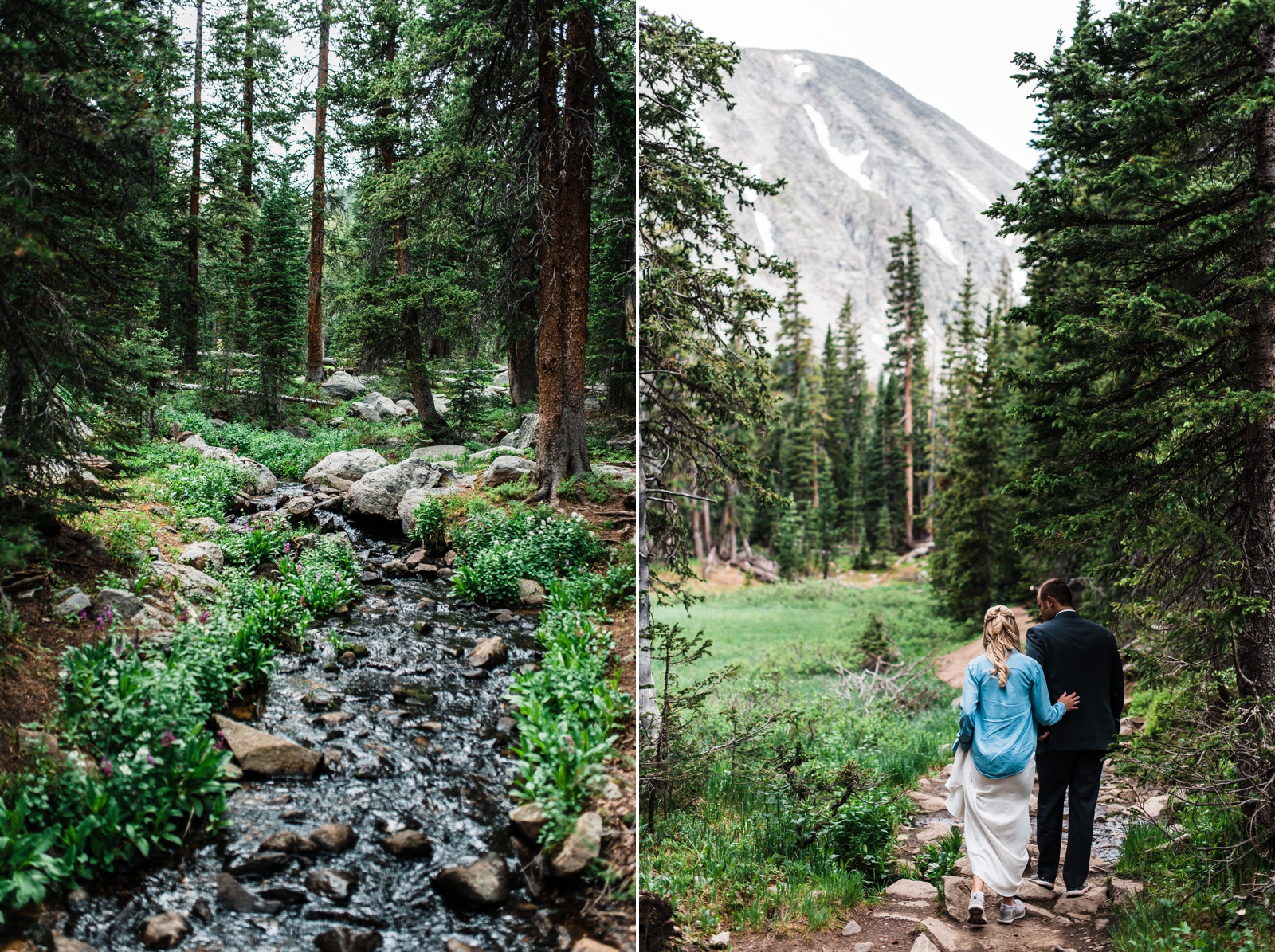 Colorado elopements have the best approaches <3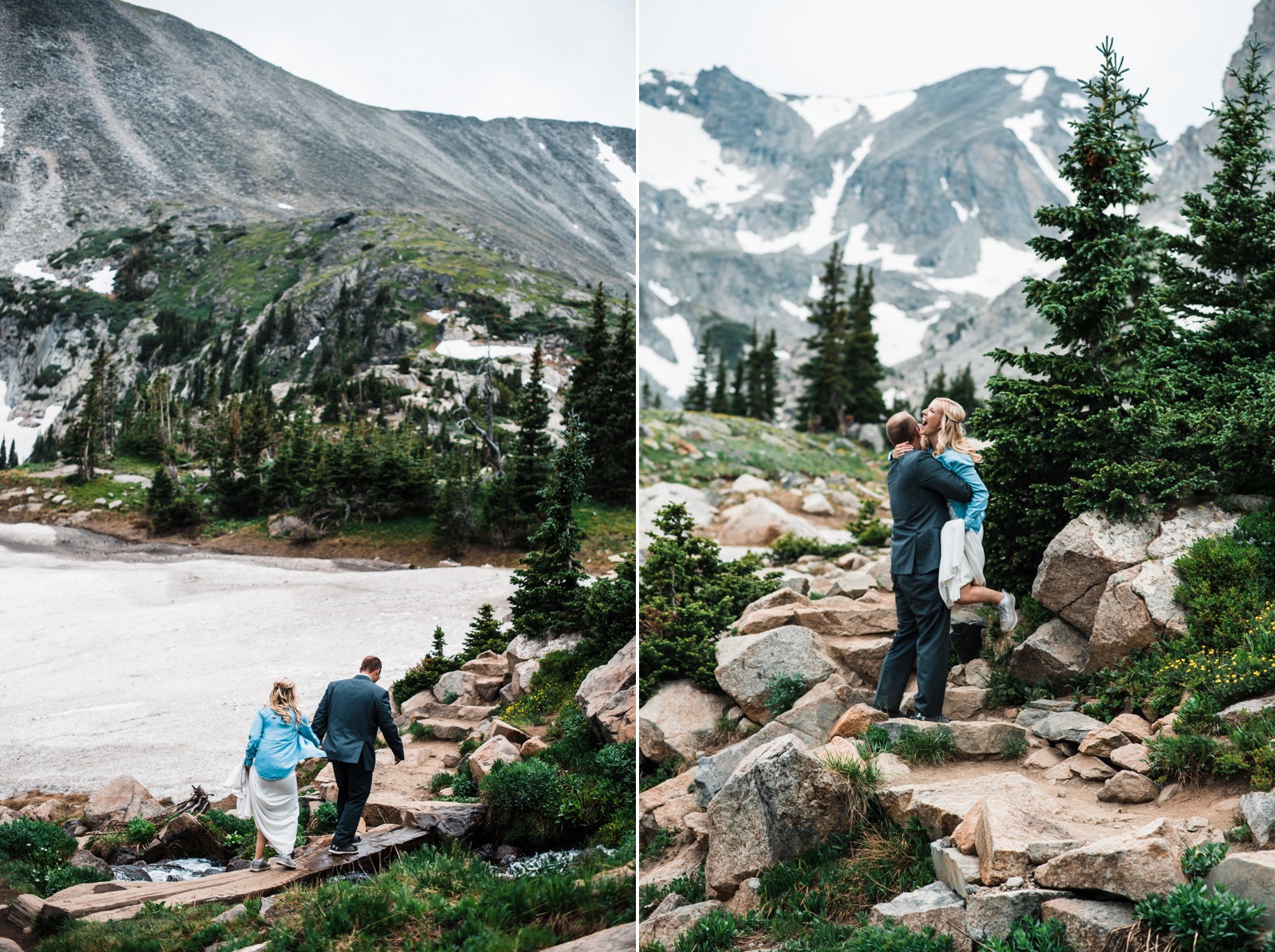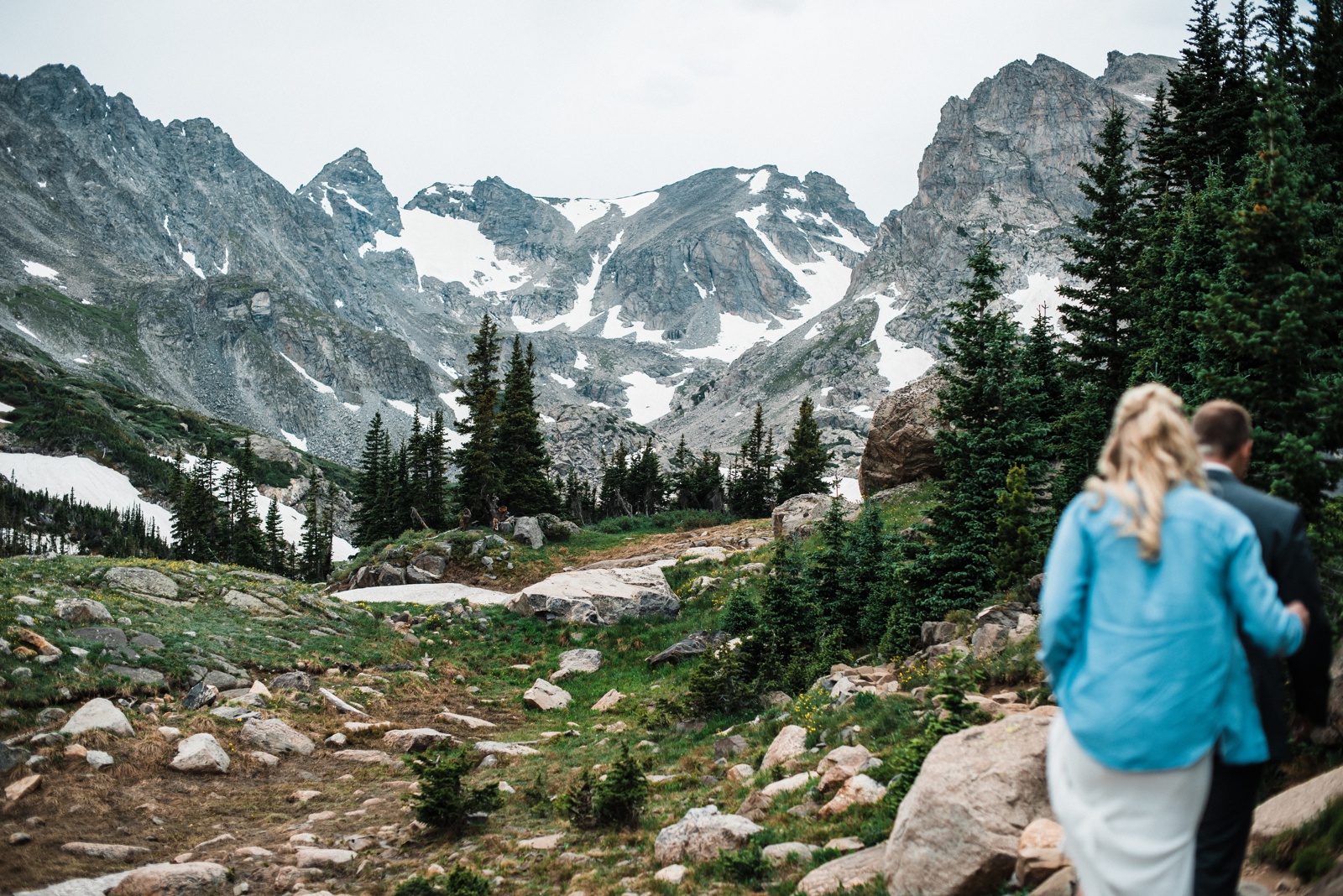 Found! A Damn Fine Colorado Elopement Location
Our search for the perfect Colorado elopement location with an alpine lake eventually led us to the Indian Peaks Wilderness region of the Rocky Mountains. Located deep in the mountains west of the tiny and quirky town of Nederland (known for such amazing events as Frozen Dead Guy Days), the Indian Peaks Wilderness is home to many amazing hikes into the Colorado backcountry. We found a hike that wasn't too long or too short or too steep and it just so happened to take us to one of the most amazing alpine lakes we've ever seen!
As we exited the forested part of the trail and neared the top, we all felt a rush of excitement as we saw a huge, rocky backdrop emerge on the horizon. We couldn't see the lake yet, but we knew our elopement spot was just above the waterfall we could see spilling down the mountainside. When we finally popped over the ridge, we were smacked with an even more epic view than we ever could have hoped for. Some lingering snow still clung to the steep, rocky face of the mountain and the lake rippled with some moody wind blowing through. We passed some hikers on the way up, but by the time we got to the lake we had it all to ourselves. Colorado was just going above and beyond for this elopement!
Want to see more mountain elopements? Check out this Mt Rainier elopement.
Across the lake, we spied the perfect spot for the elopement ceremony. We all skirted the edge of the water and soon Gabi and I found ourselves snapping like madmen as Amy and Bob posed down in front of an insane view. The wind was whipping pretty hard, which made for some awesome movement in the dress, but not so awesome for an elopement ceremony. So we dropped down to a more sheltered area where Amy and Bob would actually be able to hear each other. The view in the other direction turned out to be stunning as well. Shocker 😉
If you have a Colorado Elopement you'll probably get congratulated by strangers on the trail
Drooling at this Colorado elopement spot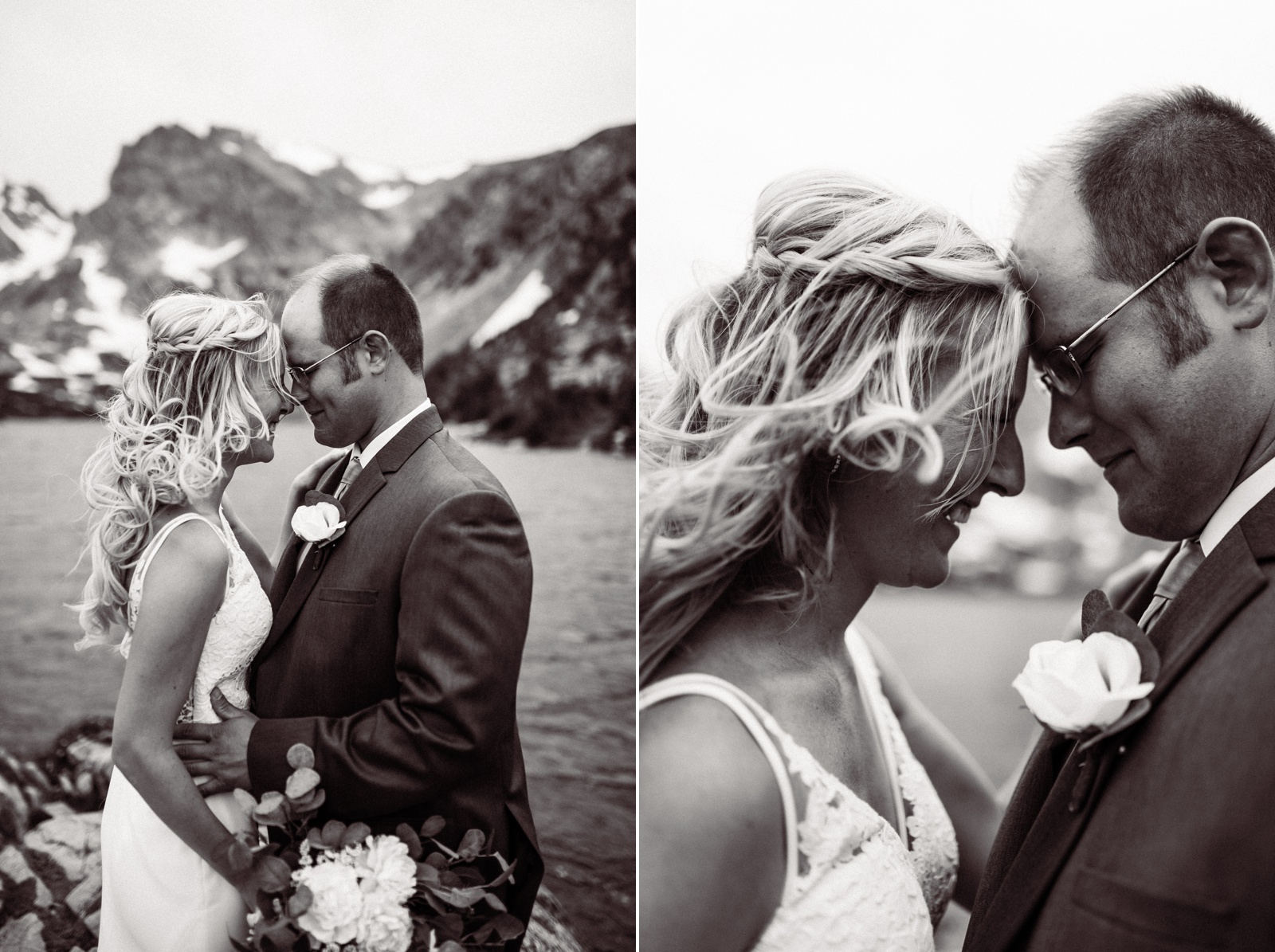 A Classic Colorado Elopement Ceremony
Mountains? Check. Snowcapped mountains? Check. Alpine Lake? Check. Waterfall? Check. Wildflowers? Check. A panoramic view that makes your jaw drop no matter which way you look? Check. No crowds? Check! This Colorado elopement had it all. Amy and Bob had complete privacy and serenity amongst the Colorado mountains for their elopement ceremony and it was the sweetest thing ever. There were some tears, some laughs, and the most epic kiss of their lives.
After the ceremony, we cracked some celebratory beers (a must in the mountains 😉 and ran around snapping some more photos as the sun set. As it grew darker and the temperature started to drop, we packed up and began hiking down. We supplied Amy and Bob with some headlamps for the hike out and couldn't help but stopping for a few more photos on the way down. These two rocked the headlamps and looked so good, we just couldn't resist! By the time we got back to the cars, we were all on a rocky mountain high. It was officially a perfect Colorado elopement.
Want to see another hiking elopement? Check out this North Cascades elopement.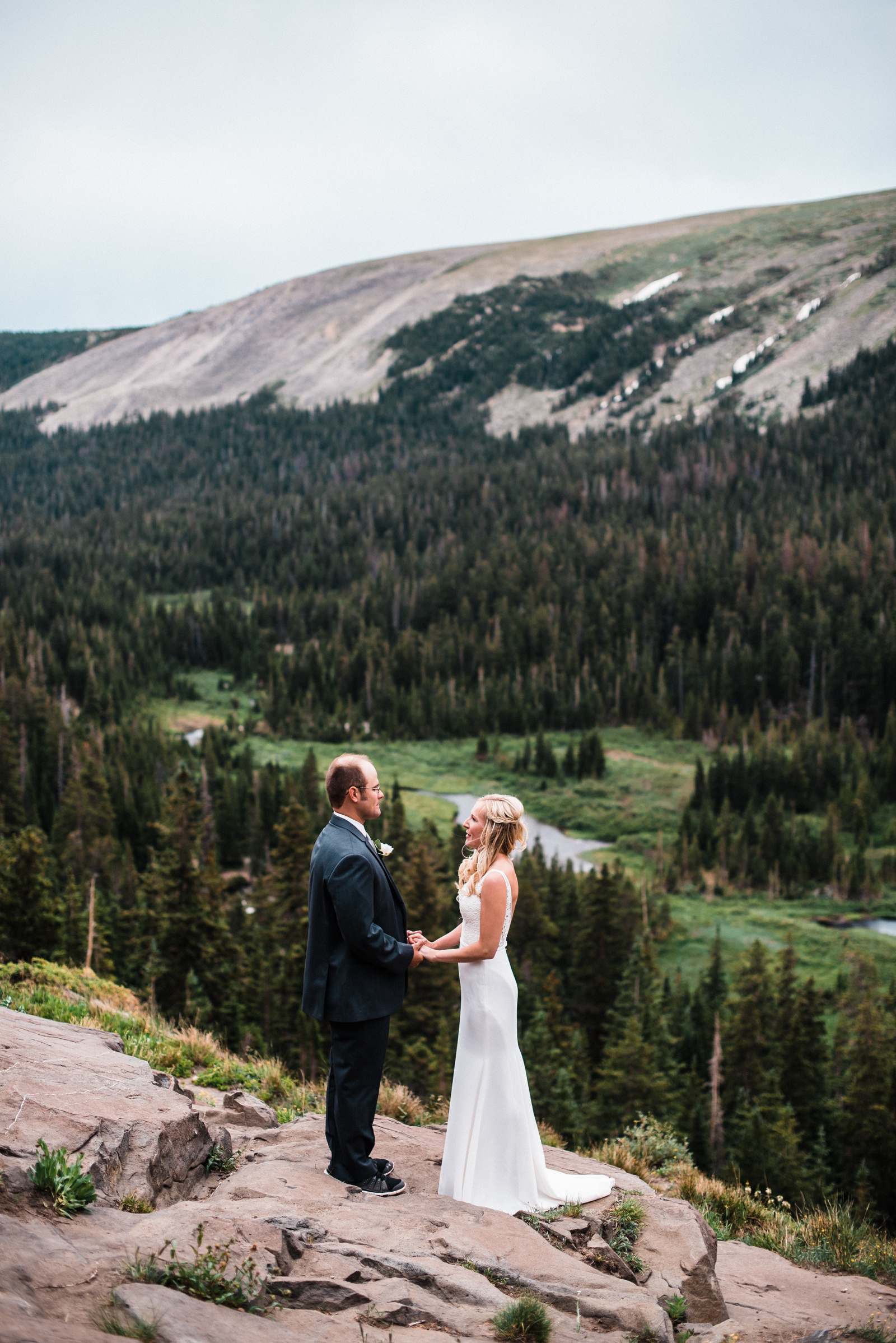 These two though, seriously. Best damn Colorado elopement.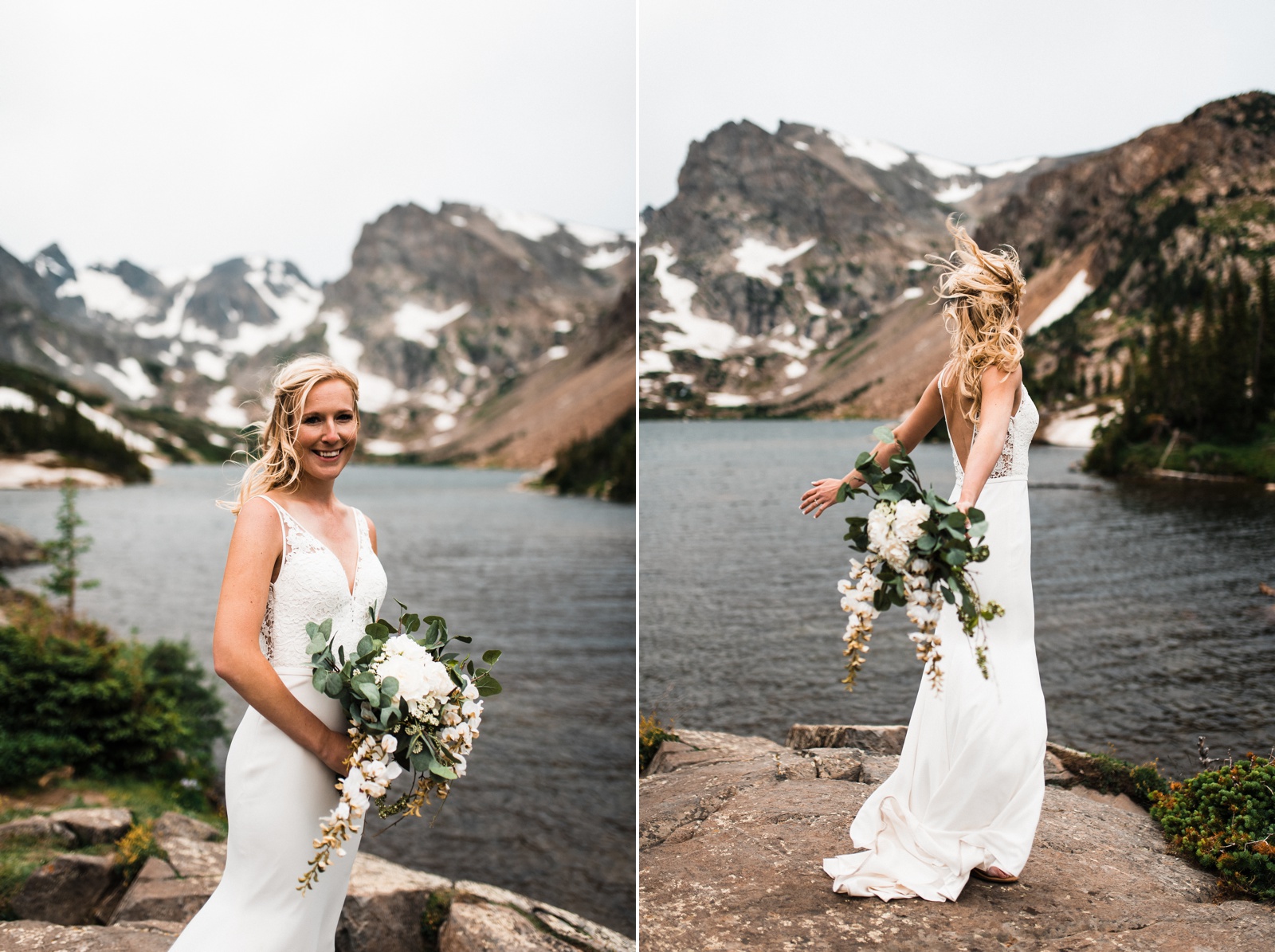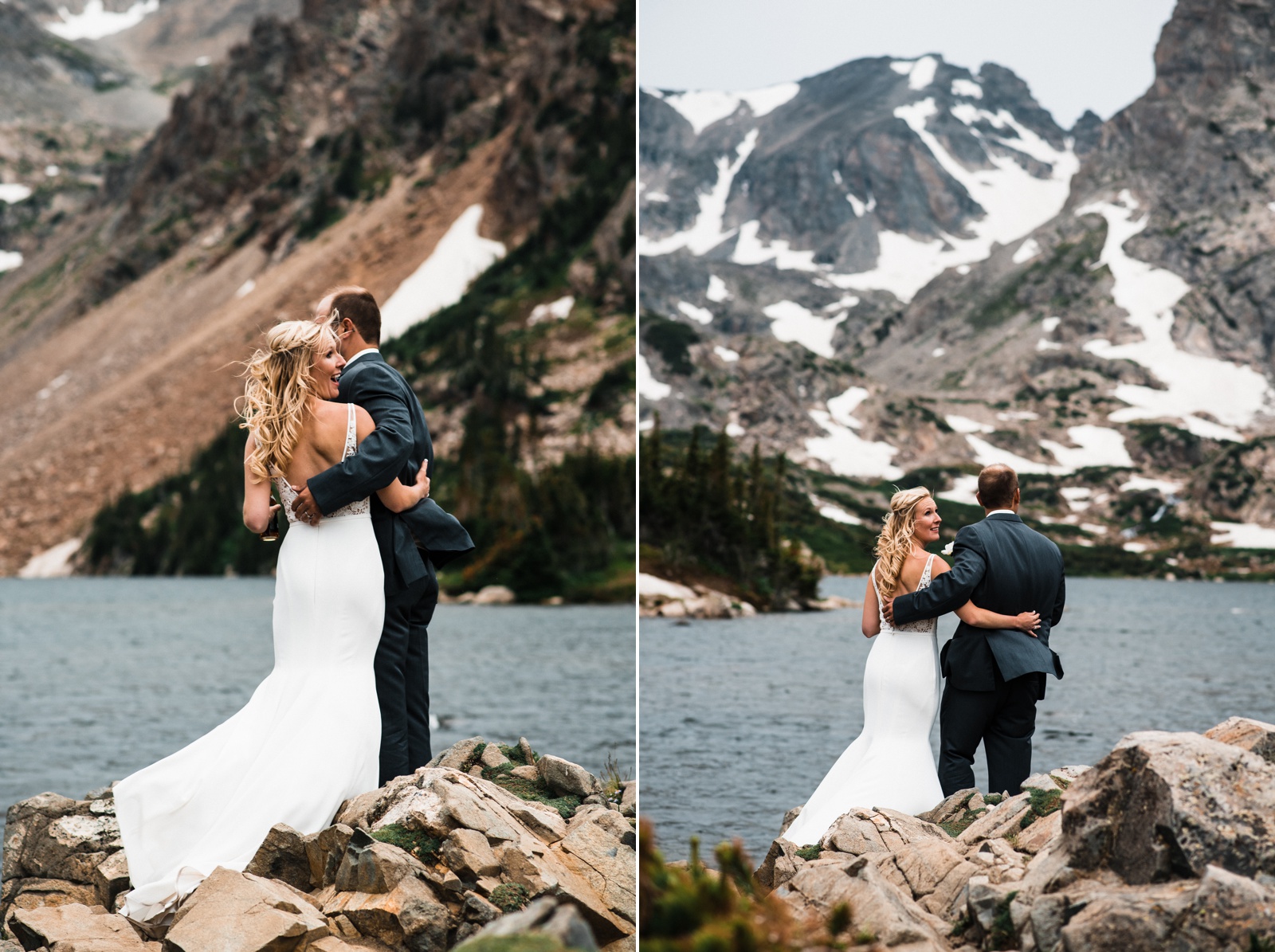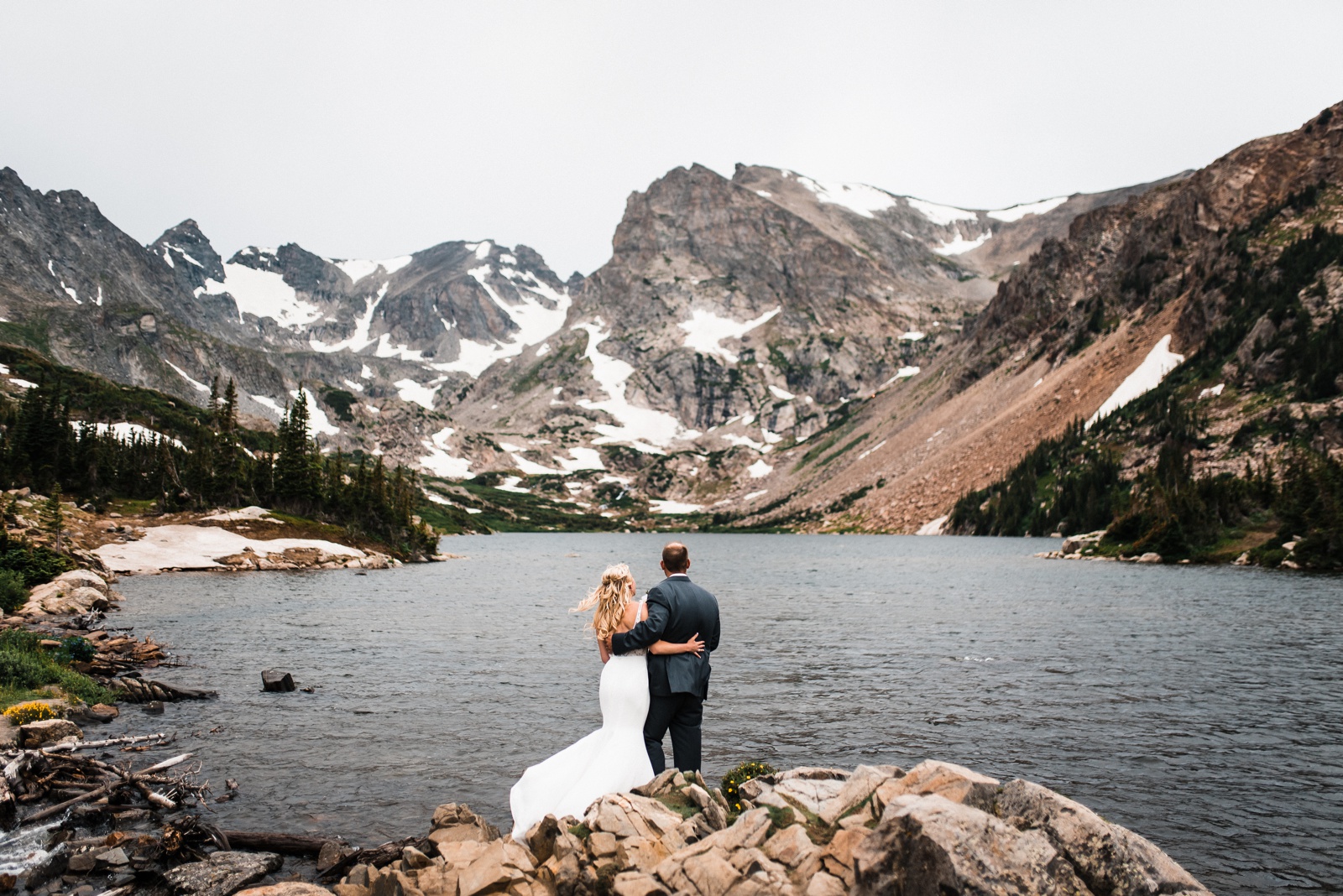 Soaking in those sweet Colorado mountain views just after eloping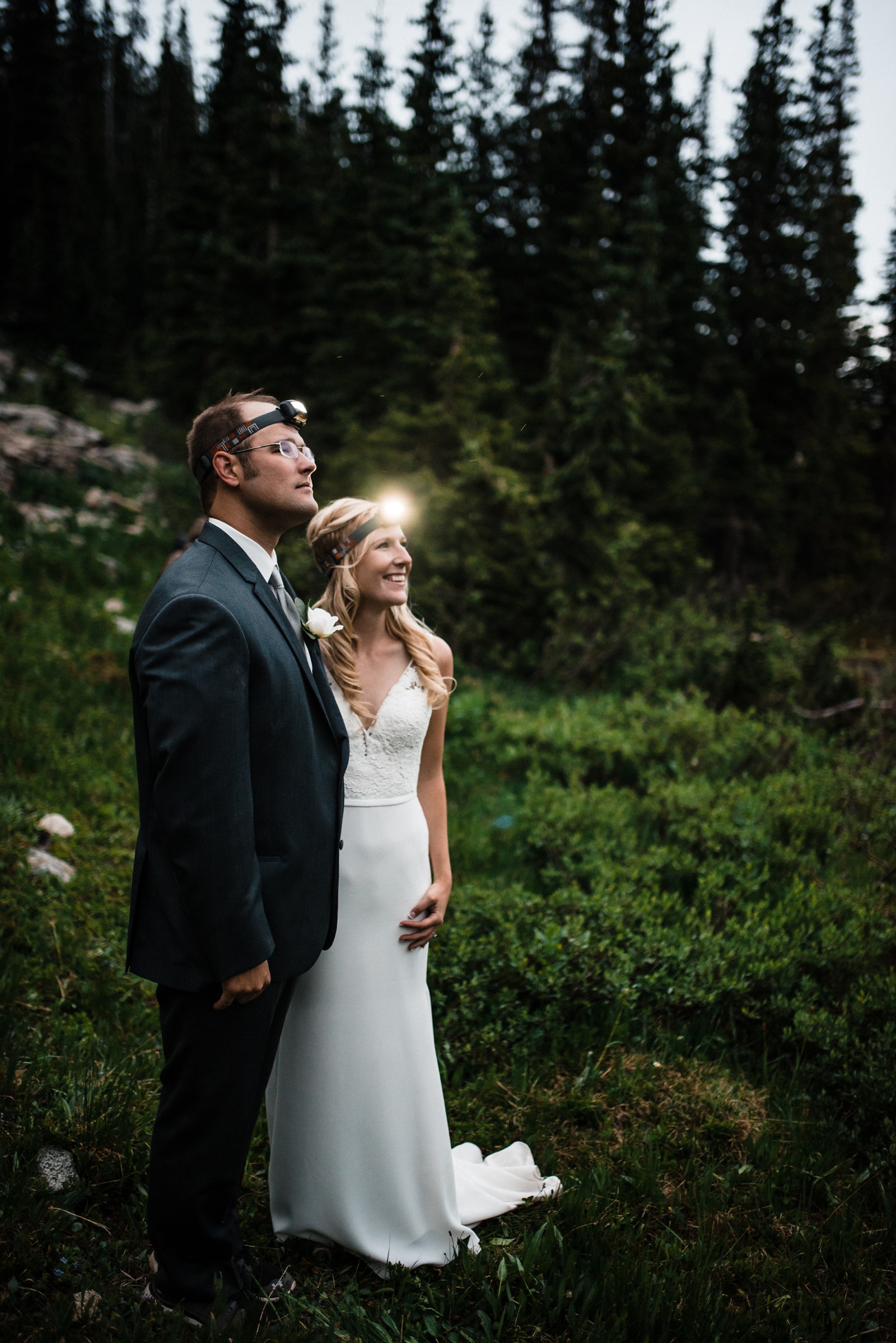 Obviously we ended this Colorado elopement with some headlamp shots 😉 Epic. Day.