Our big sur elopement Guide
Our pro-tips on how to plan the most fun and incredible Big Sur elopement.
Everything you need to know about eloping in Big Sur
best time to elope in big sur
If you're planning a Big Sur elopement, you'll be glad to know that it's a great place to visit year round. Winter and spring months tend to have a little more perspiration with an average of 8 days of rain per month, but on the plus side lodging and travel is less expensive during these months. April, May, and June you'll find the wildflowers blooming, making spring one of our favorite seasons to be there!
Pro Tip // Mid June through the end of September is usually incredibly busy with thousands of tourists visiting regularly, so we generally avoid these months.
cost of big sur elopement packages
On average our couples typically spend $6,000 – $10,000 on their entire Big Sur elopement package, which includes the photographer (us!), lodging, other vendors, permit costs, and travel. 
Photographer: $3,000 – $10,000
Vendors (hair & makeup and flowers): $500 – $1,500
Lodging: $500 – $1,500
Permit and license: $0 or $300-$5,000+
wedding permit for big sur
Some locations for a Big Sur elopement will require a Special Use Permit, some don't. Most locations limit the total group size to 10 people, so if you want to invite more guests, we recommend working with an airbnb or venue. We can help with navigating permits depending on which location you choose to elope in Big Sur! Click here for more info on permits.
Best locations in Big Sur for your elopement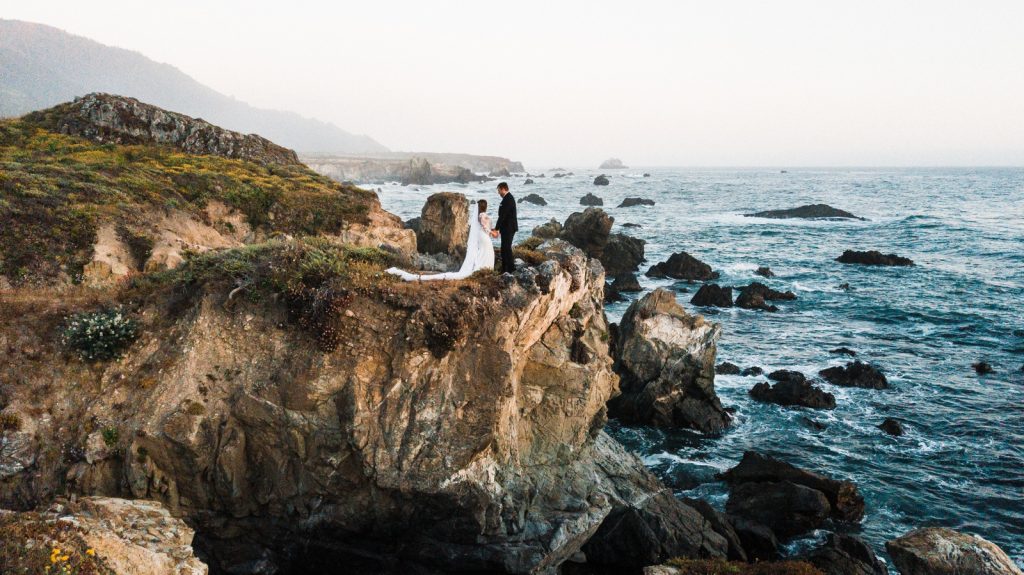 Garrapata State Park is one of the first stunning coastal scenes you drive through after you pass Carmel Highlands on your way down to Big Sur proper. You could consider Garrapata State Park a Big Sur light. It has trails that meander along a rugged coastline, and others that take you through succulent-covered hillsides into towering redwood forests. As a bonus, you can reach it all from the same parking area. 
Julia Pfeiffer Burns State Park
Julia Pfeiffer Burns State Park is one of the most popular stretches of the Big Sur area. This area is home to some of the classic redwoods in Big Sur, the iconic Big Sur beach, and McWay Falls. While we absolutely recommend checking out these Big Sur classic spots, we don't recommend them for elopement days. It's typically crowded, tough to find parking, and Special Use Permits can be expensive.
The farther south you drive down the 101, the quieter and more peaceful the coastline becomes. There are plenty of beautiful beaches and rocky outcroppings sprinkled all over that make it a beautiful place to elope.
While you may still be having an elopement with plenty of outdoor adventure exploring all Big Sur has to offer, choosing an elopement package with one of the venues along the coast might be a great option for you. There are a handful of great spots that offer incredible views, complete privacy for your ceremony, and a perfect space for a delicious meal. Some of our favorite venues are: Wind and Sea // Glen Oaks // Ventana // Tree Bones // Big Sur Stone House 
We're Gabi and Brandon (aka the Foxes) and Hannah and Zoe. Toegether we make the Foxpack – a team of adventure elopement photographers. Together we've shot nearly 200 elopements and are experts on creating and documenting epic days for our couples. We can help guide you through the nitty gritty details of your dream Big Sur elopement!
We'll be in Big Sur this May and June
Sound like we're the one's for you?