Rattlesnake Lake Engagement photos are popular because of its proximity to the city. But if you do the hike to Rattlesnake Ledge for sunset, you'll likely have it all to yourself and the views are unbeatable.
Rattlesnake Lake Engagement Adventure Session
To be perfectly honest, we've tried to avoid doing an engagement session at Rattlesnake Lake because of how busy it is. But for those that don't have a lot of flexibility with time, it's a really great spot because it's so close to Seattle. When we showed up for Stephanie and Niles' Rattlesnake Lake engagement shoot, there were at least five other parties having their photos taken. We didn't let it rain on our parade though and got some pretty stellar shots by the lake with all the leaves changing.
Want to see more adventure engagements? Check out our Tipsoo Lake Mt Rainier Engagement Session
After shooting around the lake for a bit we headed up the Rattlesnake Ledge trail. It's a 4 mile roundtrip trail with about 1,100ft elevation gain, so it's the perfect amount of hiking to do before you start sweating! When we got to the top we were SHOCKED to find out that we were the only ones up there. I thought for sure a 4 mile hike wouldn't scare away all the other photographers and their couples we saw at the lake, but apparently it did. We weren't complaining about it though, it was perfect to have Rattlesnake Ledge all to ourselves.
After the sun set, we headed back down in the dark with our headlamps on. It was a perfectly clear night so the stars were out and putting on a great show for us. We also saw a few deer on our way out! We're so glad Stephanie and Niles wanted to do the hike for sunset. Couples that are always up for an adventure are our favorite 🙂
Learn more about The Foxes Adventure Session Photography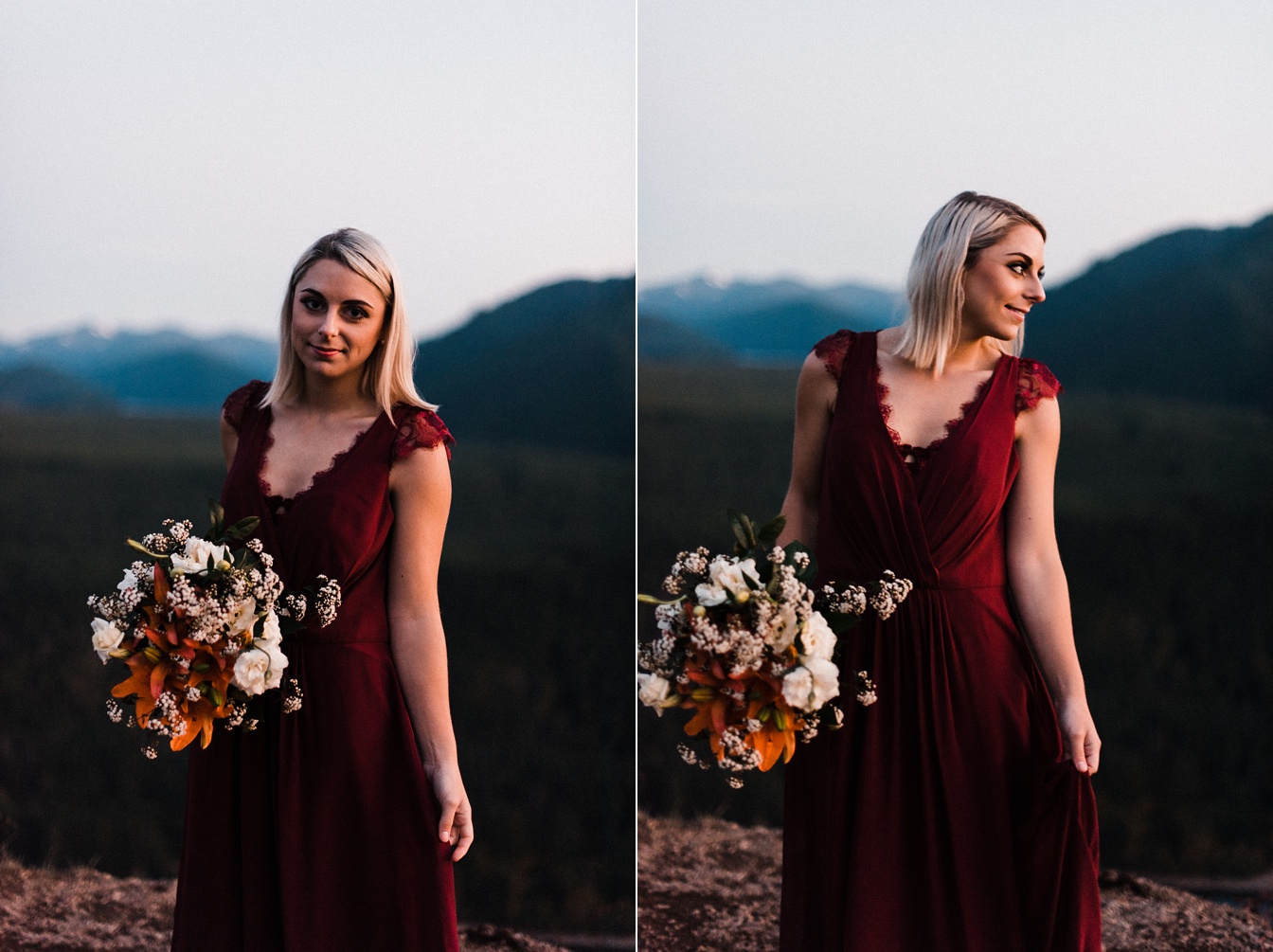 ---
↟↟↟
 The Foxes are Brandon and Gabi Fox, an adventurous husband and wife elopement and wedding photography team living full-time in their DIY renovated 1972 Airstream. They are loosely based in the Pacific Northwest, but travel for work and play throughout the western states. Their work is best described as candid photography that captures couples as they are, where they are, blending images of love and natural beauty in the great outdoors.
↟↟↟